MVLA Lightning: Welcome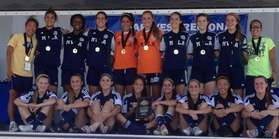 2012 Region IV Champions
The MVLA Lightning U17 ('95/'96) girls team is a competitive soccer team based in Mountain View/Los Altos, California. The Lightning girls are the US Youth Soccer NATIONAL Champions (2010), US Youth Soccer NATIONAL Finalists (2012), US Youth Soccer REGION IV Champions (2012, 2010), Far West Regional League-Fall Champions (2011,2010,2009), CalNorth State Cup Champions (2011,2009,2007) and 2-time Nike Surf Cup Champions (2011,2009). The team competes in the Elite Clubs National League (ECNL). They are professionally coached by former WUSA player, Erin Montoya, along with U17 US Womens National Team Coach, Albertin Montoya.

PLAY LIKE A CHAMPION TODAY
Friday, October 19
Lightning Players Make D1 Verbal Commitments
The following Lightning players have made verbal commitments to continue their soccer careers in college:
University of Oregon - Cailtyn Wong '13
University of California Berkeley - Melissa Wood '14
Stanford University - JayeCori Boissiere '14, Sarah Robinson '14, Zoe Pacalin '14
Long Beach State - Mimi Akaogi '13, Hannah Reed '13, Fatmata Kamara '13
University of Notre Dame - Paige Crowley '14
Harvard University - Gabriella Kaplan '14
University of California Los Angeles - Gabrielle Matulich '14
University of Pittsburgh - Alex Reckas '14
Monday, June 25
Lightning Reclaims Region IV Title
Phoenix, AZ .... Playing in weeklong 100+ degree weather, the Lightning girls took Arizona by storm. On the road to the championship they knocked off two local Arizona teams, Hawaii, Las Vegas, and Washington. With a few 6-0 routs in the preliminaries, the girls did not take the competition lightly. With the penalty kick elimination in Boise last year still burning in their minds, the girls came together with one objective. Captain
Caitlyn Wong
said, "We know we can do this, for the 6 seniors this is our last chance to get to Nationals. I've never seen the team so focused." The championship match against Arizona State Champ, Sereno, was all that it was hyped to be -- a very fast, skilled and physical game. Arizona seemed to hunker back on defense in the first half to see what Lightning was going to dish out. First half stats were quite telling (Sereno had 1 shot on frame and Lightning had 8). It didn't seem like Sereno would be able to hang on, but their familiarity with the blazing Arizona sun and the contingent of local fans kept them fightning. Lightning seemed to have jumped out in front when
Jaye Boissiere
ripped a shot that appeared to go into the upper, inside part of the net, bounce down and was quickly collected by the Sereno keeper. However the AR was not in position to make the call and the goal was denied. 0-0 at the end of regulation and two 15-minute overtime periods, the game fell to kicks from the spot. Lightning is no stranger to a penalty shoot out, having won the National Championships in 2010 by kicks. One of the original four Lightning players and keeper,
Jacq Caginia
said, "I wasn't worried about going to pks. We missed the frame a few times last year at Regionals in Boise and I knew everyone remembered that. Our kickers have been solid in practice, so I totally trusted them." And on to kicks it went. Sereno hit their first one,
Sarah Robinson
nailed the first MVLA kick. Jacq blocked the second Sereno kick,
Fatmata Kamara
nailed the second MVLA kick. Sereno hit their third kick,
Gabby Kaplan
blasted the third MVLA kick into the net. The Sereno fourth kick was blocked by Jacq,
Megan Keeth
punched in the fourth and final MVLA kick past the Sereno keeper who dove early. Then the on-field celebration began. Coach Montoya said, "This was a great week for the girls. I am so proud of each of them. They deserve another shot at the National Title." They are now back home and preparing for the National Championships the final week of July in South Carolina. Good Luck, girls!!
Tuesday, April 3
MVLA Player Profile Sheet - COLLEGE COACHES
The MVLA Lightning team player profile summary sheet is available for download here. Accredited college coaches may also receive them at Lightning matches throughout the year. Individual player profiles are maintainted by the players (see the "Roster" link for contact information).
Handout:
MVLA Player Profiles
Tuesday, June 26
FLASHBACK - MVLA Lightning Spring 2004 (U8)
U8 Jamboree. L to R: Erin (sister), Melissa, Sarah, Jaye, Jacq, Hope
Rosita Field, Los Altos ... It was the U8 season when
Sarah Robinson
,
Jaye Boissiere
,
Melissa Fulton
,
Jacq Caginia
, and a then pregnant
Coach Erin Montoya
launched the Lightning squad. With Erin sidelined with her pregnancy,
Coaches Nancy Ikeda
and
Maria Jones
filled in and started the girls on a regimen of ball juggling and foot skill training - those very skills that have catapulted Lightning to the stratosphere of "Nation's Best" teams. The girls played in multiple jamborees in their U8 year, winning nothing. Nada. The emphasis from the coaching staff was getting the girls comfortable with their touches on the ball. "Winning at U8 is not our objective," said MVLA Director of Coaching,
Albertin Montoya
. Those U8 parent meetings were certainly interesting. Albertin and Erin Montoya had bigger ideas for these girls and the program overall. Collecting trophies and medals was not the goal but would be a fruit of their labor in the later years as the girls continued perfecting their skills and applying them at the right time in game situations. (yes, the trophies came.) In the developing years the original four players went to weekly clinics together to improve their skills, they had many sleepovers, playdates, soccer-themed birthday parties, went to some summer soccer camps together, and guest played together with other local teams. They had fun. They were a silly group of 4 pigtailed girls with a love of soccer. They supported eachother through some heartbreaking losses as well as a laundry list of sidelining injuries.
As of June 2012, these four girls have played in an astounding 432 games together
. Now, at U16, this tight knit group have tasted success together winning Surf Cup twice, multiple State and Regional Championships, and a National title. At least two of them will remain teammates in their collegiate years as Sarah and Jaye have made verbal commitments to Stanford University. (Melissa and Jacq remain undecided at the time of this article.) The Montoyas provided the perfect blend of encouragement, reward, fun, intensity, and soccer education for these girls, and all the players that have since joined Lightning. Congrats on 9 incredible seasons together! Best of luck in the upcoming year.
Sunday, March 18
Lighting Prepares for Las Vegas Showcase
Los Altos, CA ... With high school soccer behind them, the Lightning girls resumed practice and games in order to regain their FWRL League Championship form. They used the preliminary round of State Cup games to get their feet wet (literally in the rain at Morgan Hill) and hone their possession style. The Santa Clara Sporting Green, East Madera Sharpshooters and Elk Grove FC '96 Navy each got a chance to dethrone the reigning State Cup Champs. However, the MVLA girls had something else in mind. Elk Grove went down 10-0 in an onslaught that included 5 goals from Gabby Kaplan (similar to Lionel Messi's recent feat). The Santa Clara Sporting Green couldn't contain the Lightning attack in their 3-0 defeat. The Sharpshooters were a little off target as the Lightning girls handed them a 3-0 loss. Jacq and Gal did a great job of keeping the Lightning net clean in the rain and gusting winds. Next up will be a true test as Lightning travels to Las Vegas to face some of the top-ranked teams in the nation. The schedule at the Las Vegas Players Showcase is:
FRIDAY, MARCH 23: vs. Leahi SC Premier '96 (HI) @ 3:30 p.m. Bettye Wilson #7
SATURDAY, MARCH 24: vs. Richmond Kickers (VA) @ 11:00 a.m. Kellogg Zaher #9
SATURDAY, MARCH 24: vs. Slammers FC 95ECNL (SoCal) @ 6:30 p.m. Bettye Wilson #8
SUNDAY, MARCH 25: vs. Rochester FC (NY) @ 9:20 a.m. Kellogg Zaher #2
Come out and support the Lightning girls!
Monday, March 5
Successful High School Seasons Conclude, Players Return to Lightning
Palo Alto, CA ... From the Thanksgiving break through early March, most of the Lightning players enjoy playing soccer for their high schools. Several Lightning players won the coveted CCS Championships for their schools. Jaye Boissiere was named WBAL MVP by her league and was instrumental for Menlo School's Division III CCS Championship. Gabby Matulich played a key role throughout the season (when not called to the U17 and U15 Womens National Camps) for Archbishop Mitty High, which were crowned Co-Champions in the Division II CCS Championship. Falling short in their quest for a 3rd-in-a-row Division I CCS Championship, St. Francis High fell in pks in the Semifinals after a 0-0 OT score. Representing St. Francis were: Jacquelyn Caginia, Melissa Fulton, Megan Keeth, Caroline Olivero and Paige Crowley. Reaching the Quarterfinals were Castilleja (Gabby Kaplan), Carlmont High (Melissa Wood), and Homestead High (Caitlyn Wong). Congratulations to the 2012 All-Daily News Girls Soccer Team selections:
First Team: Jaye Boissiere, Jacquelyn Caginia
Second Team: Gabby Kaplan
Third Team: Julia Goupil, Sarah Robinson
Honorable Mention: Zoe Pacalin
Tuesday, August 9
Lightning Coach, Albertin Montoya named U17 Womens National Team Head Coach
Albertin Montoya, MVLA's Director of Coaching and coach of the Lightning since their inception, has been named to lead the U-17 Womens National Team. After years of coaching youth soccer, collegiate soccer (volunteer assistant roles at Stanford and Santa Clara) and with the FC Gold Pride professional team, Albertin has been tasked with taking the WNT program to higher levels. Congratulations to Albertin. His professional bio is here.
Thursday, March 27
MVLA Lightning History
| | |
| --- | --- |
| FINALISTS | U16G USYSA National Championships (7/12) |
| CHAMPIONS | U16G Far West Regional Championships (6/12) |
| CHAMPIONS | U16G PDA Showcase - Memorial Red Division (5/12) |
| CHAMPIONS | U16G Las Vegas Players Showcase - Aria Division (3/12) |
| CHAMPIONS | U16G Far West Regional League Fall Season (11/11) |
| CHAMPIONS | U16G Nike Surf Cup (8/11) |
| CHAMPIONS | U15G USYSA State Cup (4/11) |
| CHAMPIONS | U15G Juventus Spring Showcase - Premier Division (3/11) |
| CHAMPIONS | U15G Far West Regional League Fall Season (11/10) |
| CHAMPIONS | U14G USYSA National Championships (7/10) |
| CHAMPIONS | U14G Far West Regional Championships (6/10) |
| FINALISTS | U14G USYSA State Cup (4/10) |
| CHAMPIONS | U14G Juventus Spring Showcase - Premier Division (3/10) |
| CHAMPIONS | U14G Far West Regional League Fall Season (11/09) |
| CHAMPIONS | U14G Abronzino Divison 1 Fall League (10/09) |
| FINALISTS | U14G Nike Surf Cup (7/09) |
| CHAMPIONS | U13G USYSA State Cup (2/09) |
| FINALISTS | U13G US Club NorCal Cup (1/09) |
| CHAMPIONS | U13G Nike Mustang Winter Turf Invitational (1/09) |
| CHAMPIONS | U13G Abronzino Division 1 Fall League (10/08) |
| CHAMPIONS | U13G Nike Mustang Stampede - Premier Division (8/08) |
| CHAMPIONS | U13G Nike Surf Cup (7/08) |
| CHAMPIONS | U13G District II Spring League (5/08) playing up |
| FINALISTS | U12G USYSA State Cup (2/08) |
| CHAMPIONS | U12G Nike Mustang Winter Turf Invitational (1/08) |
| CHAMPIONS | U12G Abronzino Division 1 Fall League (11/07) |
| CHAMPIONS | U12G Soccer by the Bay (8/07) |
| SEMI-FINALISTS | U12G Nike Mustang Stampede - Premier Division (8/07) |
| SEMI-FINALISTS | U12G Nike Surf Cup (7/07) |
| CHAMPIONS | U11G USYSA State Cup (2/07) |
| CHAMPIONS | U12G Off-the-Wall Winter Indoor Soccer (2/07) |
| CHAMPIONS | U11G Nike Mustang Winter Turf Invitational (1/07) |
| CHAMPIONS | U11G District II Cup (11/06) |
| CHAMPIONS | U11G Abronzino Division 1 Fall League (11/06) |
| FINALISTS | U11G Nike Mustang Stampede (8/06) |
| CHAMPIONS | U11G Juventus Tournament of Champions (8/06) |
| CHAMPIONS | U10G District II Spring League (6/06) |
| SEMI-FINALISTS | U10G Nike Girls Surf Cup (11/05) |
| FINALISTS | U10G NorCal Premier Cup (11/05) |
| CHAMPIONS | U10G Abronzino Division 1 Fall League (11/05) |
| FINALISTS | U10G Sonoma State Harvest Cup (10/05) |
| SEMI-FINALISTS | U10G 2005 Nike Mustang Stampede (8/05) |
| CHAMPIONS | U9G District II Spring League (6/05) |
| CHAMPIONS | U9G Delgado Division 1 Fall League (11/04) |