Mukilteo Junior Football & Cheer: Welcome
Thursday, January 1
Welcome to Knights Territory
Please see our new website at www.mukilteojrfootballandcheer.com for all the updated information!
Established in 1998 as a positive opportunity for youth in Snohomish County to gain character, pride & sportsmanship through junior football and cheer.
Please register early to guarantee YOUR spot!!!
Safety is #1! Teams are organized by Age & Weight!
Nothing is more important than the safety of your child. Comprehensive "Heads Up" Training is the foundation of our league and the new gold standard for Junior Football.
Teams are organized by age and weight with six levels of play for ages 6 - 14. This is the most common approach in Junior Football and has been so for decades. Other leagues may not account for weight variations and may offer fewer levels of play. Our approach is structured to increase participation opportunities and safety for all players.
Here are our 6 levels of teams and the age and weight information:
76er's

89er's

PeeWee's

Bantam's

Junior's

Senior's

6yrs +

8yrs +

9yrs +

10yrs +

11yrs +

12yrs +

7yrs +

9yrs - 94 lbs

10yrs - 108lbs

11yrs - 123lbs

12yrs- 139lbs

13 yrs +

Age on Aug 31st

11yrs - 90lbs

12yrs - 103lbs

13yrs - 116lbs

14yrs - 167lbs

12yrs-78lbs

13yrs - 80lbs

14yrs - 99lbs

For Football & Cheer Information contact: Yma Lopez Phone: 425-241-8636 Email: ymaalopez@gmail.com
Mukilteo Junior Football- 10924 Mukilteo Speedway #102, Mukilteo, WA 98275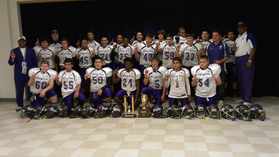 2013 Sr Division Champs!!