Mississippi Dixie Boys and Dixie Majors Baseball: Welcome
Welcome to the Mississippi DIxie Boys & Majors Website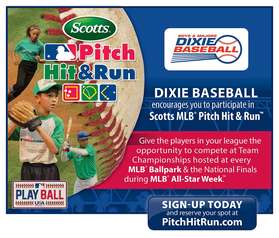 Click on logo for more information!
The 60th season of Dixie Boys Baseball will begin with the 2016 Mississippi Dixie Boys and Dixie Majors State meeting to be held Saturday January 30th, 2:00PM in Laurel at the Sports Complex on Hwy 84. If you are bidding to host a state tournament, please bring your sealed bid with you. Please bring your $50.00 scholarship payment to the meeting as well.
---
The 2015 Dixie Boys Scholarship award was awarded to Noah Clark of Lamar Christian High School. He will be attending Jones Jr. College and then on to William Carey University. Congratulations to Noah.
---
Mississippi Dixie Boys and Majors would like to welcome Kevin Britt, the new State Umpire In Chief, Tony Olney, District 5 Director and Phillip Coon, District 4 Director to the Dixie Family. Thank you for your time and service.
---
MISSISSIPPI DIXIE BOYS AND MAJORS STATE OFFICERS FOR 2016.
STATE DIRECTOR - BOYS - JIMMY PENTON, P.O. Box 1406 Columbia, Ms., 39429, 601-441-3967(C), E-Mail: srtech1@aol.com
ASSISTANT STATE DIRECTOR - BOYS- JOEY SIBLEY, P.O.Box 407, Foxworth, Ms., 39483, 601-674-0736 (C) E-Mail: lsilbey70@yahoo.com
STATE DIRECTOR - MAJORS - JIMMY BLAINE, 2076 Attala Road, Kosciusko, Ms, 39090. 662-289-5240(H), 662-416-6116(C), E-Mail; blainebaseball@bellsouth.net
STATE UMPIRE CHIEF - BOYS AND MAJORS - KEVIN BRITT, 17 Dove Hollow, Petal, Ms. 39465. 601-964-0417 cell 601-964-3229 fax, E-mail: kevinbritt27@gmail.com
SCHOLARSHIP CHAIRMAN - Russ Hendley, P.O. Box 16026, Hattiesburg, Ms. 39404. E-mail: rhendley@ccbcu.com
---
At the 2013 State Meeting for Boys and Majors, a new program was voted in. Each franchise in Boys and Majors is required to pay $50.00 to the scholarship fund to help pay for the scholarships awarded to deserving seniors each year. As of July, we only have 5 franchises that have met this obligation. If you have not paid, please send your check to Mr. Russ Hendley, the scholarship chairman asap. If you need an invoice to pay off of, let us know and we will get you one asap.
---