Mississippi Dixie Boys and Dixie Majors Baseball: Welcome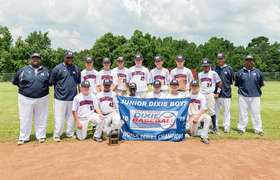 2016 Junior Boys World Series Champions - Hattiesburg
Mississippi Welcomes you to our Website!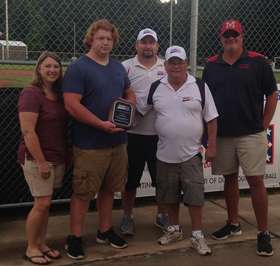 Patrick Zila - Mississippi 2016 Scholarship Winner
Hattiesburg Dixie Boys won the Junior Dixie Boys World Series in Pineville, La. Hattiesburg went 6-0 in the tournament. Congratulations to the 2016 Junior Boys World Series Champions.
---
2017 Dixie Boys umpire certification is due. Please get certified asap. You cannot work Dixie baseball tournaments without your certification.
---
14 Year Old Dixie Boys State Tournament starts July 8th in Hattiesburg.
13 year old Jr. Dixie Boys State Tournament starts July 15th in Hattiesburg.
Pre-majors and Majors State Tournament starts July 15th in Laurel.
The 15 and under State Tournament starts July 1st. Site to be determined.
---
Roster and Franchise forms for Dixie Boys, 15U, Pre-Majors & Majors are now available. Click on the Handouts section in the left menu.
---
MISSISSIPPI DIXIE BOYS AND MAJORS STATE OFFICERS FOR 2017
STATE DIRECTOR - BOYS - JIMMY PENTON, P.O. Box 1406 Columbia, Ms., 39429, 601-441-3967(C) E-Mail: srtech1@aol.com
ASSISTANT STATE DIRECTOR - BOYS- JOEY SIBLEY, P.O.Box 407, Foxworth, Ms., 39483, 601-674-0736 (C) E-Mail: lsilbey70@yahoo.com
STATE DIRECTOR - MAJORS - JIMMY BLAINE, 2076 Attala Road, Kosciusko, Ms, 39090. 662-289-5240(H), 662-416-6116(C), E-Mail; blainebaseball@bellsouth.net
STATE UMPIRE CHIEF - BOYS AND MAJORS - KEVIN BRITT, 17 Dove Hollow, Petal, Ms. 39465. 601-964-0417 cell 601-964-3229 fax, E-mail: kevinbritt27@gmail.com
SCHOLARSHIP CHAIRMAN - Russ Hendley, P.O. Box 16026, Hattiesburg, Ms. 39404. E-mail: rhendley@ccbcu.com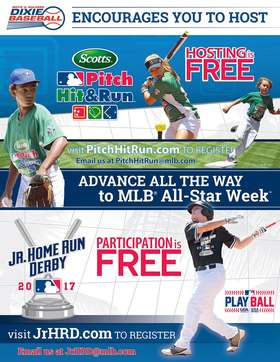 FREE Events Available!