Maple Shade Babe Ruth: Welcome
2019 Registration
While Registration is officially closed, we will accept a player for a Waiting list.
The following process must be followed.
A request must be made asking to add the player to the Wait List.

The name, contact information and Date of Birth is required.

The request must be mailed to the PO Box in an envelope with no return address and the word 'WAIT' printed on the bottom left.

The Board will maintain the envelope unopened until a player is needed.

At that time the envelope with the oldest post mark shall be opened and that player assigned to a team.
MSBR

PO Box 122
Maple Shade, NJ 08052
Handout:
2019 Registration form
Wednesday, June 20
2018 Champions
Happy Hour
2018 Champions
Happy Hour defeated the Lions Club 22-14 to win the
2018 Maple Shade Babe Ruth Championship.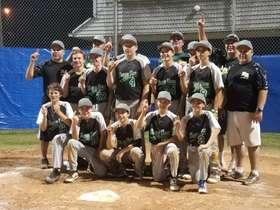 2018 Champions
The Best Baseball Monologue ever
We invite you to click on the picture or the link below to listen to
Abbott & Costello's fabulous
"Who's on First?"

We suggest that you stop the site's music by clicking on the stop button on the music player near the top of the page, then click on the play button for "Who's on First?"

Be advised that it is a large file and may take a while to load.
who1st.wav
You can reach our website by typing http://www.msbr.org/