Maple Shade Babe Ruth: Welcome
Wednesday, August 1
FALL REGISTRATION
On Line Registration for the Fall Baseball program is now open
There was an issue with the link, which is now resolved
$60 per player
Wednesday, June 20
2018 Champions
Happy Hour
2018 Champions
Happy Hour defeated the Lions Club 22-14 to win the
2018 Maple Shade Babe Ruth Championship.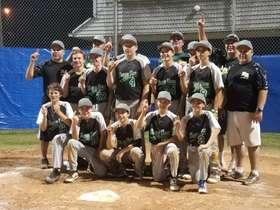 2018 Champions
Thursday, October 5
The Board
The 2018 Executive Board
President - Dan Smith
Vice President - Mike Boyle
Treasurer - Steve Matthews
Secretary - Sonny Frett
Trustee - Anthony Tursi
The Best Baseball Monologue ever
We invite you to click on the picture or the link below to listen to
Abbott & Costello's fabulous
"Who's on First?"

We suggest that you stop the site's music by clicking on the stop button on the music player near the top of the page, then click on the play button for "Who's on First?"

Be advised that it is a large file and may take a while to load.
who1st.wav
You can reach our website by typing http://www.msbr.org/