Mount Vernon Wolverines: Welcome
Registration dates and Pricing!
POP WARNER FOOTBALL AND CHEER INTRODUCTION
2012 VA North League Pee Wee Champions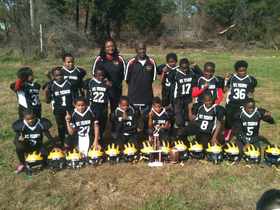 2012 VA North League Mighty Mite Champions
Wednesday, July 25
Did You Know?
WHO ARE THE WOLVERINES?
MT VERNON WOLVERINES Pop Warner Association (MVPWA) is an association of the Pop Warner Little Scholars, Inc., a non-profit organization that provides youth football, cheer, and dance programs for participants in 42 states and several countries around the world. We inspire youth to practice the ideals of sportsmanship, scholarship, and physical fitness, as well as giving back to the community. MVPWA seeks to bring national recognition for the athletic and academic achievements of the youth of Northern Virginia.
TRUSTED STAFF
Our coaches and staff are volunteers with years of experience working with children in the community. All staff must pass a background check prior to acceptance to the MVPWA team. MVPWA BENEFITS INCLUDE Pop Warner programs have no tryouts or cutting of rosters, and everyone participates under mandatory rules of play. Pop Warner Little Scholars, Inc. is the only national youth sports organization in America that requires its participants to perform adequately in the classroom before permitting them to play and rewards them for outstanding performance in the classroom. Through our Nutrition program we will ensure that all student athletes compete with athletes of similar age and size. Pop Warner is the ONLY youth football program (local, regional and national) that sets and enforces a strict age and weight matrix that reduces the risk and reality of injuries.
COOL FACT
The National Football League Players Association (NFLPA) estimates that between 60 and 70 percent of all NFL players began their careers playing Pop Warner Football. Pop Warner seeks to provide fun athletic learning opportunities for children, while emphasizing the importance of academic success.