MOT Little League: Welcome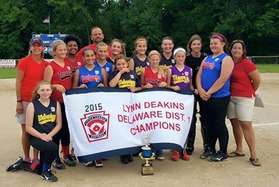 2015 Lynn Deakins Softball 11-12 year old Champions!
MOT Little League
Established 1955
Serving Middletown-Odessa-Townsend and the surrounding area for 60 years!
MOTLL is hosting the Jr. Softball Tournament July 7-9, July 10-11 and We need volunteers!
Below is the link to sign up on Volunteer Spot. We are in need of announcers, scorekeepers, field crew, and cleanup.
Here's how it works in 3 easy steps:
1) Click this link (or copy it to your browser) to see our Sign-Up on VolunteerSpot: http://vols.pt/oBx5Yw
2) Review the options listed and choose the spot(s) you like.
3) Sign up! It's Easy - you will NOT need to register an account or keep a password on VolunteerSpot.
Note: VolunteerSpot does not share your email address with anyone. If you prefer not to use your email address, please contact me and I can sign you up manually.
All Tournament Schedules are posted on the Delaware District 1 website. Please visit and follow Delaware District 1 Facebook book for more info and link to their eteamz site.
www.eteamz.com/dedistrict1
We communicate with our MOTLL Families in the following ways:
Managers and Coaches (Phone and Email)
http://www.eteamz.com/motll/ (Website)
https://www.facebook.com/MOTLL (Facebook)
https://www.rainedout.net/ (Weather related field closure and other text alerts)
Please contact Tara Greathouse for questions and information about our league, at informationofficer@motlittleleague.com.
Please contact Christine Shipengrover at volunteerscoordinator@motlittleleague.com for opportunities to redeem your retainer refund.
To contact a board member or your league coordinator, please click on the 2015 Board Members page on the left hand side and you can reach them by email or phone. Please remember, the MOTLL Board is a group of dedicated volunteers for the children and we will respond to you at our earliest opportunity. Thank you for being a part of our MOTLL family!
Our address is MOT Little League, P.O. Box 215, Middletown, DE 19709.
Background Checks Required for ALL Volunteers
Little League requires all volunteers to have a background check completed and approved to be on the field. This includes all managers, coaches, parents, umpires and board members. You will only be given a lanyard when you are approved. Safety is our top priority when it involves children. NO BACKGROUND CHECK MEANS YOU ARE NOT ALLOWED ON THE FIELD.
Summer Sports Camps
Cavaliers Baseball Camp, June/July - Please click handout below for registration form and contact information.


Handout:
CAVALIERS SUMMER BASEBALL CAMP 2015