Morrisville Little League: Welcome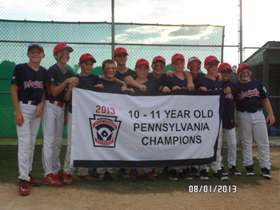 The 10-11 All-Stars are PA State Champs!
Morrisville 10-11 Year Old All-Star Team Wins The PA State Championship!
Hosted by Southern Tioga Little League, Mansfield, PA (July 26-August 1st)
Game 1: MLL wins 6-5 over Back Mountain LL!
Game 2: Lionville LL wins 8-7 over MLL.
Game 3: MLL wins 3-0 over Council Rock Northampton!
Morrisville qualifies for the Semi Finals!
MLL wins 20-2 over West Point LL!
MLL wins 10-3 over Montoursville LL to win PA State Title!
Way to go Boys! We are very proud of you!
---
Welcome to Morrisville Little League
... the home of the 1955 Little League World Series Champions!
Our home fields are located in Williamson Park on Delmorr Avenue in Morrisville, Pennsylvania. We provide a positive, organized sporting experience for nearly 500 children from the ages of 4 through 16. Our league's geographic area is bordered on the east by the Delaware River. The remaining borders of our geographic area are formed by following Tyburn Road to Newbold Rd to Route 13 North to Highway Route 1 South to Interstate 95 North to Newtown Yardley Road West to the Pennsbury School District line on the West and North (essentially Mt. Eyre Road to the North) to the Delaware River.
View Morrisville LL Territory in a larger map
Our calendar provides a lot of great information about our upcoming events. Also, our league would not be as successful as it is without the support of our many sponsors. We thank them all for their tremendous support.
Our league is comprised of many divisions. Below is a listing of the divisions and the covered age groups. Click on the name of the division for more information.
Intro to Tee Ball (First year players ages 4, 5 or 6)
Tee Ball (Second year players ages 5, 6 or 7)
Transition Division Baseball (Players ages 6 or 7 who have played 2 years in the Intro to Tee Ball / Tee Ball divisions or players age 8, as drafted)
Transition Softball (Players ages 5, 6 and 7)
Minor Division Baseball (Players ages 8, 9 or 10, as drafted)
Minor B Softball (Players ages 8 and 9)
Minor A Softball (Players ages 9 and 10)
Major Division Baseball (All players ages 11 and 12 and players age 10, as drafted)
Major Softball (Players ages 11 and 12)
Intermediate Division Baseball (Players age 13)
Junior Division Baseball (All players ages 13 or 14)
Junior Softball (Players ages 13 and 14)
Senior Division Baseball (All players ages 15 or 16)
Senior Softball (Players ages 15 and 16)
Big League Softball (Players ages 17 and 18)
Thank you, again, for visiting our website. Be sure to save our website as a "Favorite" and visit it frequently. We are constantly updating the information on our web site. Please do not hesitate to email us at morrisvillelittleleague@gmail.com with any comments or questions. We would love to hear from you!!
Dan O'Connell
President
Morrisville Little League
The Softball 11-12's are District 21 Champs! Good Luck in Sections Girls!
Are you receiving our email updates and notifications? If not...do we have your updated email address?
If you wish to receive emails from Morrisville Little League in order to keep up on league events, please forward your email address to me at morrisvillelittleleague@gmail.com
Thank you,
Andy Brick
Information Officer