Montrose Roselea: Welcome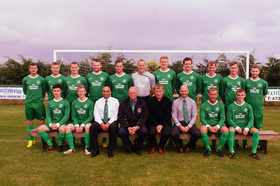 Montrose Roselea 2014-15 with Kevin Young of the Golf Inn Montrose
"AWAY THE LEA"!! Welcome To The Official Website Of Montrose Roselea JFC
(LATEST NEWS)
MONTROSE ROSELEA v LINLITHGOW ROSE
SCOTTISH JUNIOR CUP 3rd ROUND
SAT NOV 22nd 2014 1.45pm KO
MATCH ARRANGEMENTS
Admission will be £5 & £2 (Concessions £2)
Only Official Linlithgow Committee members will be allowed free entry to the ground.
A no parking policy will be operated on Broomfield Road leading to the Ground entrance (will be coned off) Buses will have full access to the Car Park and cars will be parked down past the ground on the old runway/grass at back of Broomfield Park
No drink allowed in the Ground and those under the influence of alcohol may be refused entry.
Entry to the Club Lounge pre match, half time & post match will be limited to Roselea Hospitality Guests and Linlithgow Officials with a pass issued by MRJFC due to limited space. Entry should be made from the rear of the Building. There are Toilets at the rear of the Clubhouse with additional Womens inside the front door of the Clubhouse as well.
There are Toilets at the rear of the Clubhouse with additional Womens inside the front door of the Clubhouse as well
Latest News from our Facebook feed
Montrose Roselea are a Scottish Junior Football Club (Non League/Semi Professional Mens). The East Region covers from Dunbar to Montrose taking in Lothians, Fife & Tayside. The new setup in 2013 formed North & South Regional Leagues, a Premier League and a Super League. The 2 winners of the regional leagues are promoted to the Premier League (16) with the 4 bottom teams in the Premier League being relegated back to their respective local League. The winners and runners up in the Premier League are promoted to the Super League with two teams coming down from the Super League. The third placed side in the Premier and 3rd bottom of the Super have a play off for the remaining spot. Montrose Roselea are in the Premier League for season 2014-15
Club Details:
Montrose Roselea Junior Football Club
Broomfield Park Montrose
Registered Colours: Green (Royal Blue)
Formed 1930
Honours:
Angus League Champions 1947/1948
Angus District Cup 1947/1948
Angus League Champions 1952/1953
Barrie Cup 1957/1958
Downfield Social Club League Cup 1993/1994
Intersport Trophy 1996/1997
Rosebank Cars Trophy 1998/1999
Scottish Cup 1/4 Finalists 1998/1999
NCR Division 1 Champions 2001/2002
D J Laing League Cup Winners 2002/2003 & 2010
GA Cup Winners 2007
The site welcomes any feedback via the Guestbook or Administrator and would welcome any suggestions or old photographs that could be used on the site. Access to Guestbook & Messageboard are only given once an eteamz account is opened(free). Please click on either link to register.
The club reserves the right to remove any messages that are judged to be inappropriate or offensive. The Club do not take any resposibilty for any information that is inaccurate or not up to date.