Montrose Roselea: Welcome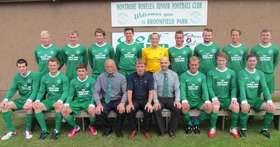 Team 2013-14 with Main Sponsor Kevin Young of Golf Inn
"AWAY THE LEA"!! Welcome To The Official Website Of Montrose Roselea JFC
(LATEST NEWS)
LATEST FIXTURES
After we play Oakley Utd away on Sat 26th April we have a home match against Penicuik Athletic on Sat May 3rd. Penicuik Athletic are hunting for points to have a chance of securing a Superleague place as they play catch up with games in hand. Roselea will be offering Hospitality packages for the match. Please contact your usual contact should you wish to book.
MONTROSE ROSELEA 1 KINNOULL 0
McBOOKIE.COM EAST PREMIER LEAGUE
SAT APRIL 19th 2014
Roselea had a massive win over visitors Kinnoull to leapfrog Violet into the 5th bottom place. Another Ryan Taylor penalty in 9 minutes after Dale Reid was tripped in box was all that separated the sides. Roselea had plenty of chances to seal the win but just couldn't get the vital second goal. With Violet drawing at Livingston and Kirrie going down by a goal at home to Fauldhouse gives the survival hopes a major boost.
Well done to the boys!
MONTROSE ROSELEA v KINNOULL
McBOOKIE.COM EAST PREMIER LEAGUE
SAT APRIL 19TH 2014 KO 2.30PM
Roselea face Kinnoull today on the Easter weekend with 8 games to go as they fight for survival in the Premier League. Paul Taylor is missing through work and James Collier serves the second of his three game suspension. Jo Reoch should come back into the reckoning following his flu last week. It is very much starting to look like a 3 way tussle between Roselea, Violet and Kirkcaldy YM to stay up and every point will be vital.
Away the Lea!
MONTROSE ROSELEA 2 V BATHGATE THISTLE 2
MCBOOKIE.COM EAST PREMIER LEAGUE
SAT APRIL 12TH 2014 KO 2.30PM

Roselea battled in tough conditions for a share of the spoils with Bathgate Thistle in an entertaining game. Roselea went two up within 16 minutes through a penalty by Ryan Taylor and a Dale Reid goal but Thistle pulled one back through Jack. A penalty from White in 48 minutes levelled things and although there was to be no further scoring there were chances on both sides which could have seen the three points go to either side. Another great point for Roselea and they stay in fifth bottom spot.
LEAGUE FIXTURE SATURDAY 19th APRIL
We have a home East Region Premier League fixture against Kinnoull. Kick Off is 2.30pm
JEANFIELD SWIFTS 3 v MONTROSE ROSELEA 3
Roselea travelled home from Perth with a point and a great team performance with only a late penalty saving the Swifts from defeat. Goals from Calum Watson and Dale Reid 2 helped the cause in a game full of incident.
MONTROSE ROSELEA 0 v HERMES 1
GA CUP 1/4 FINAL
SAT MARCH 29th 2014

Roselea were frustrated by a very organised Hermes side who took the lead in 13 minutes with a deflected shot from Shaw spinning over keeper Gray to take Hermes through to the Semi Final. Hermes were the better side in the first half but failed to create any more chances, however in the 2nd half Roselea were the team who looked more likely to score. Calum Watson had a penalty saved in in 70 minutes and Danny Ross cut in but only to shoot against the keepers leg. Roselea wish Hermes all the best in the Semi Final against Luncarty who beat Islavale on Penalties.
MONTROSE ROSELEA 0 v HERMES 1
GA CUP 1/4 FINAL
SAT MARCH 29th 2014
Roselea welcome North Premier League side Hermes to Broomfield Park on Sat for a GA Cup 1/4 Final tie. The winners will play either Luncarty or Islavale at home in the Semi Final with the actual final itself set to be played at Tannadice so there is much for all to play for. Roselea welcome back Calum Watson, Stuart Richardson and Craig Anderson following injury. Surprise addition from last week Colin Kennedy has signed along with 16 year old Craig Taylor to make them available for selection. With Ross Mcleod and back up Ronnie Massie both on holiday Roselea are looking to fix up a keeper from a Senior club in time for the match.
There will be a full house at Hospitality so should be a great atmosphere if you can come along and support the Lea! £5 for Adults and £2 for concessions surely represents great value.
LIVINGSTON UTD 0 MONTROSE ROSELEA 3
Roselea returned from West Lothian with a valuable three points and also a jump up the table into 5th bottom spot. Goals from Whyte, Reid & Watson made sure of the points and the only danger was when Paul Whyte was sent off 20 minutes from the end. Roselea now take a break from League duty with a GA Cup 1/4 final tie at home at home to Hermes on Sat March 29th KO 2.30pm
KINNOULL v MONTROSE ROSELEA
McBOOKIE.COM EAST PREMIER LEAGUE
SAT MARCH 15th 2014 KO 2.30pm
Roselea travel to Perth with the confidence that the 1-0 win over League leaders Fauldhouse Utd will bring. Roselea are hoping to have Calum Watson back fit after missing the last two games however Craig Anderson will sit out the last of a three game ban. A win could possibly pull them out of the bottom 4 for the first time this season.
GA CUP SEMI FINAL DRAW
Should Roselea manage to beat Hermes in their 1/4 final tie on March 29th they will face the winners of the Luncarty v Islavale tie. In the other Semi Final Lochee Utd or Downfield will face the winners of the Maud v Deveronside match. Full Draw on Latest News Section. Date TBA.
FIXTURES
Roselea now have their remaining fixtures for March. Following the trip to Kinnoull on Sat 15th they will travel to Livingston Utd on Sat 22nd then the eagerly awaited GA Cup with Hermes will be on Sat March 29th.
MONTROSE ROSELEA 1 v FAULDHOUSE UTD 0
Roselea had a great win over League leaders Fauldhouse Utd with the winning goal coming from a confident finish from Dale Reid in 57 minutes. It was a fairly even game but Ross Mcleod was in top form and kept a clean sheet.
Away The Lea!
BROUGHTY ATH v MONTROSE ROSELEA
MCBOOKIE.COM EAST PREMIER LEAGUE
SAT MAR 1ST 2014
Roselea travel to Whitton Park to face Broughty Ath in a Premier League match. After a good run of form against Super League sides the vistors will be hoping they can convert that form into league points against a home team in a bad run of form. Kick off is at 2.30pm
Roselea are also playing a friendly on Monday night against Luthermuir Amateurs at Broomfield Park KO 7.15pm. The kiosk will be open for hot drinks and food.
SCOTTISH JUNIOR CUP 1/4 FINAL DRAW
Our own direct interest in the Scottish Cup ended when Yoker were beaten by Whitletts in the 5th Round. Whitletts now face a tough away game to either Sauchie or Camelon in the quarters. Full Draw in the Latest News Section and good luck to all the teams
GA CUP DRAW
Roselea have landed a home tie in the 1/4 Finals of the GA Cup where they will play Hermes from the North Region on March 29th. Kick Off 2.30pm. Full Draw in Latest News section.
FIXTURE CHANGE
Due to Scottish Cup replays and postponments we will now be playing Broughty Athletic away on Sat March 1st Kick Off 2.30pm. We also have a home League match against Fauldhouse utd on Sat March 8th KO 2.30pm
DYCE v MONTROSE ROSELEA
GA Cup 3rd Round Sat Feb 22nd 2014
Please note that the Kick off for Saturdays game has been changed to 2.15pm and the bus will now leave the Golf Inn at 11.45am. We will be picking up in Brechin & Laurencekirk on route to Aberdeen. Supporters please note that there will be no Bar facilities at the Dyce Ground before the game but we can drop at the Sponsors Pub the Greentrees.
CARNOUSTIE PANMURE v MONTROSE ROSELEA
EAST OF SCOTLAND CUP 2ND ROUND
SAT 15TH FEB KO 2.15PM
Roselea travel to Carnoustie in the 2nd Round of the EOS with the winners reward a home tie to Blairgowrie in the 3rd Round. Roselea were given a boost ahead of the tie with Calum Watson being successful in his appeal for the red card he received against Kirrie Thistle. Ryan Taylor is the Leas only fitness concern and all other players were given a good work out in the 2-2 friendly draw with Forfar West End on Monday night. Should the match be off at Carnoustie we will be contacting them to see if they will play the match at Montrose, pitch playable of course!
Away the Lea!
MONTROSE ROSELEA v FORFAR WEST END
Following the postponment of Sats game with Violet, Roselea have arranged a friendly on monday Feb 10th at Broomfield Park with a 7.15pm ko. The food kiosk will be open serving pies and hot drinks.
DUNDEE VIOLET v MONTROSE ROSELEA Sat Feb 8th 2014
Todays match against Dundee Violet is postponed due to a flooded pitch.

MONTROSE ROSELEA DINNER 2014
10th ANNUAL SPORTSMANS DINNER

A massive thanks to all 226 who attended the Town Hall, drank merrily, ate great food, listened respectfully and dug deep into their pockets for the Auction & Raffles for our Dinner to make it probably the best one yet.

It was also great to see club Legends Dave Robertson and Mike Simpson being the first two inductees into the clubs Hall of Fame. We could not have asked for two better servants over the years. We will have some photos shortly and will display them when received from Tony.

The Town Hall proved to be a great venue thanks to the decorating skills of Marshall Wilkie Design and the music & lighting by Colin Redpath. Also thanks to the Golf Inn for the bar service.

Planning is now in place for 2015.......back at the Town Hall.

Thanks to all!!
MONTROSE ROSELEA v PUMPHERSTON
McBOOKIE.COM EAST PREMIER LEAGUE
SAT FEB 1st 2014 KO 1.45pm

Roselea look to build on their 4-2 win over Kirkcaldy with another home win over visitors bottom side Pumpherston. With injury and suspension woes easing Roselea will have a squad which will only be missing Stewart Fletcher through work. Roselea are also hopeful that despite the wet weather expected on Friday that Broomfield Park will be in good condition again for the game to go ahead. Should any inspection be required we will try and keep updates on here.

Preparation will also be completed for the 10th Sportsmans Dinner on Saturday night at the Town Hall.
MONTROSE ROSELEA 4 KIRKCALDY YM 2
A very welcome 3 points for the home in what may have been a must win game for the home side having started 5 points behind the visitors. After falling behind to an Oneill penalty that could have resulted in a red card for keeper Mcleod Roselea led 2-1 at HT thanks to goals from Dale Ried and Paul Whyte. Kirkcaldy equalised with a great 25 yard strike from Orrock. Roselea missed chances before YM hit the post then goals from Crucikshank and Reid sealed it for Roselea in the last 15 mins.
A great morale boosting win and with games against Pumpherston and Violet coming up it could hoist them back up into the safety pack.
Well done to the team for a hard fought win in a great game to watch!
FIXTURES
Latest Fixtures are Sat Feb 1st Pumpherston (H) KO 1.45pm (A big thank you to the Committee and Management of Pumpherston for agreeing to switch this fixture at our request due to having our Sportsmans Dinner at night). Sat 8th Feb Dundee Violet (A) KO 2.00pm
MONTROSE ROSELEA v KIRKCALDY YM
McBOOKIE.COM EAST PREMIER LEAGUE
SAT JAN 25TH 2014 KO 1.45pm
Todays match against Kirkcaldy YM will definitely be on with the overnight rain not affecting the Broomfield sponge.
Roselea will see the return of Danny Ross from injury and Craig Anderson from suspension but James Collier is a doubt. Three points are a must against the team a place above, 5 points ahead however having also played two games more.
Get down to Broomfield Park and support the lads!
Away the Lea
YOKER ATH 3 v MONTROSE ROSELEA 2
Scottish Junior Cup 4th Round
Sat Jan 18th 2014
Roselea travelled to Holm Park, Clydebank to face Carlos Silvas ex team Yoker in the cup. After doubts about the game on Weds the match went ahead in wet conditions. After a fairly level first half Roselea took the lead through a great individual goal from Calum Watson who caught the home keeper out in 48 minutes. Yoker then scored two goals in 79 and 81 minutes before Dale Reid equalised with a great finish. Calum Rae then had a chance which was well saved by the keeper before the punishment of a very late winner coming in 95 minutes! A draw would have been a very fair result.
MONTROSE ROSELEA 1 v KIRRIE THISTLE 4
Roselea managed to get their game against Kirrie Thistle on with it just being passed Ok by the Match Official just before Kick Off. Roselea took an early lead with Dale Reid following up his own shot to volley home in 4 minutes. He then had a chance to increase the lead with the keeper stranded but missed target and Roselea also missed more chances in the first period. Kirrie looked a different side and equalised 2 minutes into the second half when Lunan scored from close range. Calum Watson saw a straight red for a block tackle on 57 then further disaster was to follow just a minute later when Millar made it 2-1 with his head. Further goals from Smith (75) and Russell (88) made it a miserable afternoon for the home side. Kirrie deserved their win on the 2nd half performance. Full Report to follow.
DUNDEE VIOLET v MONTROSE ROSELEA
Todays Premier League match has been postponed due to a waterlogged pitch.
PUMPHERSTON MATCH OFF
With the pitch waterlogged it was good to get an early shout that the referee had deemed the pitch unplayable especially at this time of the year. Next up Violet away on Sat 4th Jan 1.30pm KO
FESTIVE GREETINGS
The Club would like to wish all our website visitors a Very Merry Christmas and a Happy New Year!
KICK OFF TIMES CHANGED
Please note that the Kick Off times for the next three Premier League matches is now 1.30pm. The bus to Pumpherston will now leave at 10.00am.
LATEST FIXTURES
Sat Dec 28th Pumpherston (A) League 1.30pm
Sat Jan 4th Dundee Violet (A) League 1.30pm
Sat Jan 11th Kirrie Thistle (H) League 1.30pm
Sat Jan 18th Yoker Athletic (A) Junior Cup 1.45pm
CUP DRAWS
GA CUP 3rd ROUND
Dyce v Montrose Roselea or Blairgowrie (Prov Feb 22nd)
DJ LAING EAST OF SCOTLAND CUP 3RD ROUND
Whitburn/Hill Of Beath Hawthorn v Kinnoull
Tayport v Fauldhouse United
Carnoustie Panmure/Montrose Roselea v Blairgowrie
St Andrews United v Linlithgow Rose
Musselburgh Athletic v Camelon Juniors
Penicuik Athletic v Bo'ness United
Dalkeith Thistle v Sauchie Juniors
Arniston Rangers v Bonnyrigg Rose Athletic
Montrose Roselea 10th Annual Sportsmans Dinner
Montrose Town Hall
Roselea are delighted to announce the line up for their 10th Annual Sportsmans Dinner which will be held at the Town Hall, Montrose on Sat Feb 1st 2014. Master of Ceremonies will be Sheriff Lindsay Wood
with guest speakers Tosh Mckinlay, the former Dundee, Hearts & Celtic full back and Gary Marshall one of the top comedians on the English After Dinner Speaking circuit.
Unfortunately the event is already a 230 sell out after tickets were offered to previous attendees. The club would like to thank all for their continued support of the event.
Plans are afoot to commence a Roselea "Hall of Fame" which will mark those who have made outsanding contributions to the club, over the years with 3 members being inducted over each of the next three years and more to be added on the Clubs 100th year in 2030. These inductees will have their name displayed on a "Hall of Fame" Board at the clubs Broomfield Park Hospitality Lounge.
MONTROSE ROSELEA 0 JEANFIELD SWIFTS 2

A game played in atrocious conditions with Swifts taking advantage of the wind to record a 2-0 HT lead with goals from Holden after a keeper error and then Mackie scored a cracker from the corner of the box into the top corner. Roselea pressed and perhaps created more pressure than Swifts did in the first half but found visiting keeper Bruce in great form to make sure the three points went back to Perth. There were two red cards, Mackie of Swifts for a terrible foul on Reoch which he received a straight red for and Anderson of the home side for the afters but possibly a case of mistaken identity??
MONTROSE ROSELEA v JEANFIELD SWIFTS
MCBOOKIE.COM EAST PREMIER LEAGUE
SAT DEC 14th 2013 KO 1.45pm

Roselea entertain Jeanfield Swifts in a League game at Broomfield Park sitting eight points behind the visitors with a game in hand. The sides met three times last season on Cup duty and following a 1-1 draw at Broomfield in the Scottish, Swifts romped home 5-0 in the replay. A 3-0 win over the Lea in the GA Cup ended the season on a low however it is a much changed side that will travel from Perth and like most of the clubs in this Division their form has been indifferent. Roselea welcome back Stuart Richardson and James Collier but Danny Ross and Aaron Thomson may miss out due to injury.
SCOTTISH CUP 4th ROUND DRAW
Roselea have been paired away to Yoker Athletic in todays Scottish Cup 4th Round draw. Yoker play in the West Super 1st Division and currently sit mid table. This will be a return to his former club for our recent signing Carlos Silva! The full draw will appear on the website shortly. Ties to be played Sat Jan 18th 2014
LATEST FIXTURES
Sat Dec 21st Blairgowrie (H) GA Cup 1st Round 1.30pm, Sat Dec 28th Pumpherston (A) McBookie.com Premier League 1.45 (Bus Leaving Golf Inn 10.15)
BLAIRGOWRIE MATCH OFF
Following a pitch inspection at 9am todays match is off. Roselea will play Brechin Vics in a friendly on Monday 9th Dec at Broomfield Park with a 7.30pm KO.
ABERDEEN EAST END v MONTROSE ROSELEA
Scottish Junior Cup 3rd Rd Replay Sat Nov 30th 1.45pm
After Saturdays 2-2 draw the teams will do it all again to try and get to the 4th Round of the Cup. Roselea's task will be made harder with Calum Rae, Stuart Richardson' Jo Reoch and James Collier all absent. On the plus side Danny Ross completes his suspension picked up in the previous round v East Kilbride and Roselea will have new signing 24 year old Carlos Silva in the squad. The Venezuelan has moved to the area from Glasgow and has Yoker Athletic as his previous Scottish club. He has signed after impressing in training over the last few weeks.
The club bus will leave the Golf Inn at 11.15am

MONTROSE ROSELEA 2 ABERDEEN EAST END 2
Scottish Junior Cup 3rd Round

Well we didn't see that score coming but well done to a plucky East End who took the lead twice only to be pegged back. From the off the game was littered with free kicks and bookings apart from the one missed in 2 minutes! East End had 7 booked and Roselea 2.
On to the game, slack marking allowed Fraser to score in 9 minutes th

...
en Roselea equalised through a great finish from Calum Watson on 29 minutes. East End edged ahead in 38 minutes with a great finish from Reid only for Riach to square things in 52 when he followed up Watsons block. East End were reduced to ten men in 70 when Thomson was cautioned for a second time but there was little push from Roselea to win the game.

It will be a trip up the A90 next week to New Advocates Park and although nothing to fear it will be a tough job going by todays match.
MONTROSE ROSELEA v ABERDEEN EAST END
SCOTTISH CUP 3rd ROUND
SAT NOV 23rd 2013 1.45pm

Roselea face North Superleague side Aberdeen East End in the 3rd Round of the Junior Cup with Jo Reoch & Calum Rae (injured), James Collier (holiday),Danny Ross (suspended) and Stuart Richardson (work). Paul Taylor & Michael Cruickshank will return after work kept them out at Dalkeith.
MONTROSE ROSELEA 0 EAST KILBRIDE THISTLE 0 (Roselea win 4-2 on pens)
Roselea are just glad to get through after a very physical battle at Broomfield. A harsh sending off for Danny Ross and a Thistle player set the tone for the match in which the referee needed eyes in the back of his head. Paul Whyte had Roselas best chance in 55 minutes then East Kilbride were reduced to ten men in 80 mins. Roselea could not make an impact and if anything EK Thistle could have snatched it with a breakaway at the end. On to Pens and Ross Mcleod was the man with two saves as Roselea scraped through to Round 3! Full Match report now posted
SIGNING ON EVE OF CUP TIE
Danny Ross will be a welcome addition to tomorrows squad after re signing from ACSC. The midfielder will be available for selection and thanks go to ACSC for allowing his release to go through in time.

MONTROSE ROSELEA v EAST KILBRIDE THISTLE
Scottish Junior Cup 2nd Round Replay
Sat Nov 9th 2013 KO 2.00pm

Roselea will be looking to progress in the Junior Cup after last weeks draw at East Kilbride means a replay at Broomfield Park. Roselea will have a few of the missing players from last week back and also hope to have a new signing. A tough game is in prospect against a much improved Thistle side and the winners will receive a home tie to Aberdeen East End in the 3rd Round on Nov 23rd. The match will be decided on penalty kicks if all square at the end of the 90 mins.
SCOTTISH CUP 3rd ROUND DRAW
Roselea will face Aberdeen East End if they can beat East Kilbride Thistle on Saturday in their 2nd Round Replay. East End defeated Brechin Vics 2-1 with a late winner in the 2nd Round. Ties played Sat Nov 23rd. Full draw now in Latest News Section
LATEST FIXTURES:
Sat Nov 9th East Kilbride Thistle (H) Scottish Cup 2nd Round Replay 2.00pm
Sat Nov 16th Dalkeith (A) Premier League 2.00pm
Sat Nov 23rd Scottish Cup 3rd Round
The draw for the 3rd Round of the Scottish Cup will take place at the Offices of the Scottish Sun at 12.30 on Mon 4th Nov
SCOTTISH CUP 2nd ROUND
EAST KILBRIDE THISTLE (A) SAT NOV 2nd 2013 2.00pm
This tie will hopefully get played at the Showpark at the second time of asking after heavy rain put paid to the game last week. With a 2.00pm KO Roselea's travel arrangements will be adjusted with the bus now leaving at 9.15 and again stopping over at Baxters Blackford en route. This was one of three ties which were postponed and will join the 7 replays being played on Saturday looking to make it into the 3rd Round.
SCOTTISH CUP MATCH OFF
The Scottish Cup tie at East Kilbride Thistle is off due to flooded goal areas and will now take place on Sat Nov 2nd. The players will train on Saturday morning ahead of the postponed tie.
RYDER CUP RESULT!
Forgot to post the result here at the weekend however the winning captain even forgot to bring the trophy so on a par there. Golf Inn 6 Roselea 4. A different scoring format with only singles counting but same old outcome. Captain Gill of the club side did score a victory over Young of the Golf Inn but that was the only boast of the day. After a hastily arranged event this year we will look to make it bigger again next year with many speaking about Gleneagles. Two problems: Could we all afford to stick away £10 a week and would they take us??? Kes seems to think yes!
ANNUAL ROSELEA RYDER CUP SUN SEPT 29th FORFAR GOLF CLUB
The date has been set for the Annual Roselea Ryder Cup which will be at Forfar Golf Club on Sunday September 29th. Cost will be £35 for Bacon Roll, Round of Golf and High Tea. Current Players will receive a £10 discount. A bus will run from the Mercantile Golf Club at 9am. Names & Deposits of £10 to Ross McLeod (07764 498225).

Another fine day of Golf with all the connected drama is sure to unfold as the teams battle it out for the hallowed Roselea Ryder Cup trophy.
SCOTTISH CUP 1st ROUND DRAW
Roselea have received the customary bye in the Scottish Cup 1st Round, ties to be played Sept 28th. The second Round will be played on Sat Oct 26th. Full Draw in Latest News Section (Addendum added with 4 additional ties)
Roselea will be looking to go one better this season after reaching the final of the GA Cup last season and make it to the final for a fourth time. A home tie awaits in the first round and they will play the winners of the Brechin Vics v Blairgowrie tie. As always the dates will be advised later. (Full Draw in Latest News Section)
MCBOOKIE TEAMS UP WITH THE LEA
We have signed an affiliate deal with McBookie.com. This means the club can earn a revenue from every account that is opened via the link.

As part of our new partnership McBookie will give all fans a free £10 Treble on the Juniors. Simply open an account by clicking on the logo and then place your £10 bet. McBookie will then put it back into your account if it doesn't win. Basically you can't lose. Junior odds appear on the site on a Thursday/Friday. Click on the logo below to register for your free bet. Please gamble sensibly.

T&C - one free bet per person/household. McBookie can refuse the offer at anytime if it is being abused.
Montrose Roselea are a Scottish Junior Football Club (Non League/Semi Professional Mens). The East Region covers from Dunbar to Montrose taking in Lothians, Fife & Tayside. The new setup in 2006 gives a local league from each of these areas, a Premier League and a Super League. The 3 winners of the regional leagues are promoted to the Premier League (12) with the 3 bottom teams in the Premier League being relegated back to their respective local League. The winners and runners up in the Premier League are promoted to the Super League with two teams coming down from the Super League. Montrose Roselea are in the Premier League for season 2009/2010

Club Details:

Montrose Roselea Junior Football Club
Broomfield Park, Broomfield Road, Montrose, DD10 8TZ
Registered Colours: Green and Black (Change Royal Blue)
Formed 1930

Honours:
Angus League Champions 1947/1948
Angus District Cup 1947/1948
Angus League Champions 1952/1953
Barrie Cup 1957/1958
Downfield Social Club League Cup 1993/1994
Intersport Trophy 1996/1997
Rosebank Cars Trophy 1998/1999
Scottish Cup 1/4 Finalists 1998/1999
NCR Division 1 Champions 2001/2002
D J Laing League Cup Winners 2002/3 2003/4 2009/10
GA Cup Winner 2006/7
Bukta East Region North League Champions 2008/9
&