Montrose Roselea: Welcome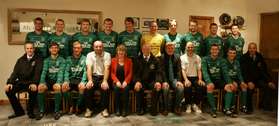 Kevin & Alison of Golf Inn- Main Sponsors and team 2012/13
"AWAY THE LEA"!! Welcome To The Official Website Of Montrose Roselea JFC
(LATEST NEWS)
Montrose Roselea 2 Kirrie Thistle 3.
Playing with the wind and rain at their backs Kirrie scored in 10 mins from a Smith Free Kick then Sievewright scored a second in 40 mins. John Farquharson saw red for Kirrie in 44 mins to give Roselea a glimmer. Roselea took the game to 10 man Kirrie and pulled level with goals from Anderson 55 and Watson 67. A further blow for Kirrie with 20 mins to go when keeper Stewart had to leave the field and was replaced by winger Russell. Roselea plugged away but could not break down a resolute Kirrie defence well marshalled by Garry Archibald. The killer blow came four minutes into stoppage time when Sievewright cut in and squared for Cooney to score from close in.

Roselea can still make it a successful season with a win over Forfar Albion on Monday night 7.15pm and a GA Cup Final to look forward to on Sat May 25th against Jeanfield Swifts

Congratulations to Kirrie Thistle on a well deserved double and a fitting tribute to a club legend who passed away earlier this year.
GA CUP FINAL SAT MAY 25th 2.30pm- MONTROSE ROSELEA v JEANFIELD SWIFTS @ WHITTON PARK home of Broughty Ath
Roselea will face Jeanfield Swfits in the final of the GA Cup after the Perth side defeated North End 2-0 in their Semi Final. The Perth men playing 3 times a week to catch up on fixtures were well worth their win and will start favourites in the final. Roselea will be running a bus to the final and seat can be booked by contacting the Golf Inn on 01674 672047 or Roy Gill on 07908763219. A deposit of £8 is required

MONTROSE ROSELEA v KIRRIE THISTLE SAT MAY 18th 2.30pm &
v FORFAR ALBION MON MAY 20th 7.15pm
Roselea face two massive games which will hopefully see them promoted and/or League Champions with a home double header. A big support will be appreciated to help cheer the team on. The Lounge will be open before both games from 1pm on Sat and 6pm on Monday night.
Away the Lea
GA CUP SEMI FINAL SAT MAY 11th
MONTROSE ROSELEA 3 BANKS O DEE 1
Roselea made it through to the final of the GA Cup with a comprehensive win against the North side. After a goal-less first half Roselea went a head with a goal from a headed goal from James Collier then Calum Watson made it two for the home team. Dee pulled one back from the spot when Reoch was adjudged to have fouled and Sciafe scored from the spot. Reoch was sent off after a dive in the Box. As Banks o Dee gambled forward Roselea broke and Danny Ross made it 3-1 from 16 yards.
ARBROATH VICS 1 MONTROSE ROSELEA 3
Another great win as the team made it 12 unbeaten and 9 straight wins with a strong performance at Ogilvy Park today. After hitting the post a minute earlier Calum Watson made it 1-0 in 10 mins with Vics finishing the half stronger with the win at their backs. Mowatt equalised with a header in 50 minutes before a Collier header put the Lea back in front in 71 minutes. A great Watson goal in 80 minutes gave Roselea the breathing space they required for the 3 points.
The win takes Roselea back to the top after the North End v Craigie game was off however Kirrie Thistle remain in contention with a great 4-1 win at Downfield.
Roselea with two home games left against Kirrie and Forfar Albion know that two wins will win the league however anything less and even promotion may not happen.
The joys!!
GA CUP SEMI FINALS
Banks o Dee beat Stoneywood 4-0 to set up a Semi Final clash with Roselea on Sat May 11th KO 2.30pm. In the other Semi which will be an all Tayside affair Dundee North End will face Jeanfield Swifts on a date still to be advised. In last nights North Division match Kirrie Thistle beat Coupar Angus 10-1 to haul their goal difference up.
STONEHAVEN 2 MONTROSE ROSELEA 3
On a great afternoon for football at a sheltered Glenury Park, Montrose Roselea progressed to the Semi Finals of the GA Cup. in a ding dong battle goals from Calum Watson (2) and Jo Reoch settled the tie on a bumpy pitch. Roselea will face either Banks o Dee or Stoneywodd in the Semi Finals at Broomfield Park.
DOWNFIELD 0 MONTROSE ROSELEA 1
A James Collier goal in just 4 minutes was all that separated the sides in what was expected to be a tight match. Roselea did have the better chances and should have increased their lead before half time. A sending off for Downfield 15 minutes from time only made them try harder and Bremner had a shot from 25 yards strike the post. With all the other top sides winning this was a great win. Match Report will follow later. Well done to the boys!!!
FORFAR ALBION 1 MONTROSE ROSELEA 5
Goals from Dale Reid(2), Danny Ross, Craig Anderson and birthday boy captain Paul Whyte kept them in top spot. Draws at Arbroath Vics v North End and Downfield v Kirrie Thistle bolstered Roselea's chance however East Craigie kept up the pressure with a 3-2 win at Blair. Its hotting up!
MONTROSE ROSELEA 3 NORTH END 0
A brilliant disciplined performance saw the Roselea overcome leaders North End with goals from Collier 11, Reid 17 and Watson 66. The win takes Roselea top of the league on goal difference. Next weeks fixture away to Forfar Albion ko 2.30pm
RAYMOND DYCE
It is with great sadness that we report that Kirrie Thistle stalwart Raymond Dyce sadly passed away at the age of 49 following a short illness. The former Keeper, Secretary and President of the Westview Park club has been instrumental in the successes and was a well known face in Junior circles. A minutes silence will be held at all East Region matches on Saturday as a mark of respect.
MONTROSE ROSELEA v DUNDEE NORTH END SAT APR 6th
Roselea have a massive game on Saturday April 6th when current League leaders Dundee North End visit Broomfield for a McBookie.com North Division match. With Roselea sitting 3 points behind the Dundee side having played the same games the outcome will have a massive bearing on the seasons outcome. Hospitality is available
MONTROSE ROSELEA 4 LOCHEE HARP 1
Another fine win for the team with Cruickshank opening for Roselea in 10 mins only to be pegged back by a soft Gormley penalty 10 mins later. Reid put Roselea back in front and Watson increased the lead seconds into the 2nd half before Rae sealed the win late on. The win takes Roselea up to 2nd place, three points behind leaders North End with 6 games remaining. Match Report now added
MONTROSE ROSELEA 2 ARBROATH VICS 0
Firstly well done to both sets of players for putting on a decent show in horrendous conditions. Roselea made a dream start scoring in 10 seconds when Danny Ross's shot from 20 yards was deflected into his own net by Steven Florence. A Calum Watson penalty mid way through the half which also saw a red card for visiting keepers Hutcheson looked to have killed the game however plucky 10 man Vics made life difficult in the 2nd half and could have dragged themselves back into it. The win pulls Roselea up to 4th and three points behind leaders Dundee North End. Roselea have a changed fixture for Sat 30th March with Lochee Harp now coming to Broomfield in place of North End.
GA CUP 1/4 FINAL AND SEMI FINAL DRAWS
The Lea have been drawn way to Stonehaven in the 1/4 Final of the GA Cup with the winners at home to Forfar West End/Banks o Dee or Downfield/Stonehaven in the Semi finals. Full Draw on Latest News and Dates for all matches TBA
BRECHIN VICS 0 MONTROSE ROSELEA 6.
Great display from the team today and emphatic win. Calum Watson with a hatrick, Dale Reid, Michael Cruickshank & Danny Ross scored the goals. Roselea should have increased theit tally in the 2nd half missing numerous chances. With Blairgowrie & Kirrie Thistle drawing and North End idle some ground was made up on the leaders. Match Report now on. Next up Arbroath Vics (Home) Sat March 23rd 2.30pm
MONTROSE YOUTH FC U15s v CELTIC BOYS SUN MAR 17th Broomfield Park 12.30pm.
Roselea have allowed the Youth U15s to play at Broomfield Park on Sunday. The team have all but won their League with a 100% record. Please go along and support the boys in a match which kicks off at 12.30pm. This is part of Roselea's aim to help support Youth football in the town. The U16s Vics played a cup semi final in February and the U14s Youths who are also in line to win their League will feature soon.
BRECHIN VICS v MONTROSE ROSELEA SAT MAR 16th 2.30pm
After some doubts about the weather earlier in the week this looks like it will go ahead. Team News: James Collier is on holiday and Graeme Allan has been released by mutual consent due to work commitments
KIRRIE THISTLE 3 MONTROSE ROSELEA 3
Well this was one of these draws that felt like a defeat. After a pretty uneventful first half bar a pretty valid claim for a Kirrie penalty the game certainly livened up with 6 goals shared in the second half. John Farquharson opened the scorring in 55 with a blistering shot from the edge of the box before Whyte equalised on 60 with a stab at the back post. Sievewright restored Kirries lead with a penalty which he converted himself after being brought down by Mcleod who was lucky to stay on the pitch on 70 mins. Calum Watson blasted Roselea back level on 75 before Collier lobbed in on 83. The ever dangerous Sievewright had the last say with an 87th minute equaliser which neither side could argue was the correct result.
MONTROSE ROSELEA 1 LOCHEE UTD 1 (Roselea win 3-2 on pens)
Great GA Cup win for Roselea today as they continue to have the Indian Sign over their Superleage opponents. A Calum Watson penalty in 2 mins was cancelled out by Craig Robertson equaliser in 6 mins. Veteran Dougie Craig scored the winning penalty before Blackwoods kick was saved by Mcleod. Roselea now have the long treck to Portgordon on March 9th in the 3rd Round.
Next Week Roselea travel to Westview Park Kirriemuir to face Title favourites Kirrie Thistle KO 2.30pm
TRANSFER AHEAD OF GA CUP TIE
Big game v Lochee Utd tomorrow in the GA Cup at Broomfield which kicks off at 2.30pm. Also some transfer news with Bob Urquhart moving to Premier League side Dundee Violet. The club wish him well in the future and thanks for his contribution both on and off the Pitch at his time at Broomfield Park
ROSELEA BACK ON TRACK
Roselea earned a hard fought 3-1 victory over Forfar West End. James Collier opened the scoring in 28 minutes with the visitors equalising through Darren Scott on 30 minutes.Two early goals from David Beedie 46 mins and Dale Reid 50 mins sealed the 3 points for the lea.
SWIFTS FLY IN TO ROUND 5
After a bright start Roselea fell behind to a Holden goal in 9 mins before their task was made harder with a second goal on the stroke of half time. A double from Gavin Anderson and a late John Anderson goal sealed their trip to Linlithgow Rose in the 5th Round
EMIRATES JUNIOR CUP 5th ROUND DRAW
The winner of the 4th Round replay between Roselea and Jeanfield Swifts will face Linlithgow Rose in the 5th Round at Prestonfield Park. The ties are due to be played on Feb 16th. Full Draw in Latest News Section
JEANFIELD SWIFTS SCOTTISH CUP 4th ROUND REPLAY 9th Feb
Our request for an earlier Kick Off than the allocated 2pm due to our Annual Dinner being at night has been turned down by Jeanfield so it will be the same arrangments as last Sat with the bus leaving the Golf Inn at 11.15 picking up in Brechin then Forfar. The Bus will return straight after the game.
JEANFIELD SWIFTS SCOTTISH CUP 4th ROUND
Roselea and Jeanfield Swifts fought out an exciting 1-1 draw in todays Scottish Cup tie. Tony Holt converted a desputed 78th minute penalty after Roselea had claimed the ball had hit the station from a James Collier header. Roselea got a deserved equaliser when Calum Watson held off a challenge from a defender and slotted home for a well deserved equaliser. Replay at the Riverside next week it is!
COUPAR ANGUS
Coupar Angus 1 Montrose Roselea 5 (Reid, Collier, Whyte, Watson & Urquhart)
LATEST FIXTURE
Latest Fixture- Lochee Utd (H) GA Cup Sat Jan 12th 2013 KO 1.45pm.
ALL THE BEST FOR 2013
We would also like to wish all our followers a Happy New Year and all the best for 2013!
LEA FAIL TO FINISH CRAIGIE OFF
Roselea came from behind after two early goals gave Craigie a 2-0 lead. A James Collier free kick and two Dale Reid goals put Lea in front and a disallowed header for offside denied Reid a hattrick before Craigie netted a penalty equaliser in 79 to make it 3-3.
FESTIVE GREETINGS
We would like to wish all our Players, Supporters, Sponsors, Committee and Web followers a very Merry Christmas and a prosperous New Year in 2013. Have a good one!
GA CUP 3rd ROUND DRAW
The winners of the Postponed tie between Roselea & Lochee Utd will travel to Buckie to face Portgordon Vics in the 3rd Round of the GA Cup. The full draw is on the Latest News Section
FRIENDLY WEDS 19th DEC
Roselea will face Brechin Vics in a friendly match on Weds 19th at Links Park KO 7.00pm
EMIRATES JUNIOR CUP 4th ROUND
Roselea have drawn a home tie against Jeanfield Swifts in the 4th Round of the Emirates Junior Cup. Tie to be played Saturday 19th January 2013. Full draw in latest news section.
DOWNFIELD BAG POINTS IN CLOSE TUSSLE
A goal by Scott Reynolds in 87 minutes was enough to give Downfield all three points in a close match at Broomfield today. Ross Mcleod had saved an earlier Ferrie penalty with an absolute wonder stop before Paul Whyte had a goal disallowed in 85.
EMIRATES JUNIOR CUP 4th ROUND
Following Saturdays excellent 3rd Round win over Maryhill the 4th Round will be played on Jan 19th 2013 with the draw expected to take place on Monday December 17th.
ROSELEA GET BACK ON THE RAILS
Roselea got back on the rails with a deserved 1-0 win over Blairgowrie with Calum Rae netting in the 69th minute seal the points. Roselea had numerous chances to clinch the points and should have added to their tally. After 3 straight League defeats the relief all around Broomfield was evident as the final whistle blew.
EMIRATES JUNIOR CUP 3rd ROUND DRAW
Roselea have been paired with Maryhill at home in the 3rd Round of the Emirates Junior Cup. The ties will be played on Sat Nov 17th KO 1.45pm. Full Draw now on Latest News and Facebook Pages.
MONTROSE STRIKER ON LOAN
Prior to the match with Dundee North End, Roselea completed the loan signing of Dale Reid until the end of the season. The 19 year old came on as sub and made his mark after tapping home Paul Whytes header in the 2-1 defeat. His photo and profile will follow in due course.
ROSELEA SLUMP TO 3rd LEAGUE DEFEAT
Roselea are not getting things easy and fell to a decent North End side by 2-1. McComiskie gave North End a first half lead before debutant Dale Reid equalised just after the break. Muckersie scored what proved to be the winner in 59 minutes. Only consoloation is that Roselea remain on the chase in a group of 7 teams on 12pts who are three points behind joint leaders North End and East Craigie.
Blairgowrie are next visitors to Roselea on Sat Nov 10th (2.00pm) and the 3rd Round Draw of the Junior Cup is made on Tues 6th Nov (played 17th)
ROSELEA REACH 3rd ROUND
Despite a tough first half where Roselea found themselves 1-0 down to a penalty Roselea had enough in the tank to reach the 3rd Round. Goals from Rae and Collier put Roselea in front but Alber equalised before Anderson and Collier put the tie beyond doubt. The 3rd Round is played on Sat Nov 17th with the draw taking place on Tues 6th. Roselea now travel to North End for a cruical League fixture
EAST CRAIGIE 2 ROSELEA 0
Roselea came up against a stubborn East Craigie team who fought hard for their deserved win. Two first half goals from Birmingham (16) and Scrimegour (44) both came from free kicks which Roselea struggled to defend. The win gives Craigie 5 wins out of five in the League with Roselea sitting 3 points behind on 12 but have played one more game.
WEST END TAKE 100% RECORD AWAY
Forfar West End 3 Montrose Roselea 1

A well earned victory for the home side but didnt get everything their own way. It was 1-0 in 3 minutes when Cox went down the left and slotted home, a poor goal to concede from the visitors point of view. Scott made it 2-0 from the spot early in the second half and Roselea piled on the pressure from there on in and Whyte got them back in it with 2 minutes remaining. With the visitors pushing for the equaliser the inevitable happened at the other end and Scott broke free and finished well. A decent game on a decent day and not a lot between the teams.
RYDER CUP DRAMA
With some drama to rival what happened a few hours later in Chicago, Kes Youngs Golf Inn side did enough to retain the coveted trophy by defeating Club Captain Paul Whyte's side. It was another great day with the weather revovering from its early gloom and thanks go to the Catering Staff at Kirriemuir who served a tremendous meal.
ROSELEA ON EASY STREET
Roselea at times made things diffcult but still recorded a 9-0 win over Coupar Angus today with scorers Calum Watson 3, Callum Rae 2, Collier, Fletcher, Cruickshank & Anderson on mark.
ROSELEA RYDER CUP ARRANGEMENTS
Now on the Latest News Page:
http://www.eteamz.com/montroseroselea/news/
ARNISTON WIN ON PENS
This East of Scotland cup game was evenly matched throughout with goals from Stewart Fletcher (22) and Arnistons Ryan Sommerville (44). The game finished 1-1 with Arniston winning 3-1 on penalties.
TWO WATSONS TOO HOT FOR HARP
Goals from Eric Watson (51) and Calum Watson (83) were enough to sink Lochee Harp today. Harp were reduced to 10 men in 56 minutes when McHugh was sent off for two yellow cards. The win keeps Roselea at the top with 3 wins from their 3 games. Eric Watson is on loan until Sept 29th from Cove Rangers.
LADIES DINNER SUCCESS
The club held their 4th Ladies Dinner on Saturday night and it was voted an overwhelming success. The Ladies were entertained by Sandy Strang & Patrice and served an excellent meal by the Links Hotel. There are some photos from the night on our Facebook Page:
http://www.facebook.com/media/set/?set=a.274593042651789.58121.160937000684061&type=3
ROSELEA 5 BRECHIN VICS 0
Roselea had a comprehensive win over Brechin Vics today in a match that kicked off at 1pm. A Calum Watson hat-trick and goals from James Collier & Scott Riach saw the home side cruise to victory despite a promising start from the Vics
LATEST FIXTURES IN
We have received two McBookie.com League fixtures with Coupar Angus coming to Broomfield Park on Sat Sept 29th and we then travel to Strathmore Park to renew our old rivalries with Forfar West End on Sat Oct 6th. Both KO at 2.30pm
NEW TEAM PHOTO ADDED
As you can probably guess we are delighted to get the Team/Sponsors team photo added and updated thanks to Tony Morrison. Despite the brilliance of the new photo there is always the retake. Manager Ralph Brand was caught with his eyes shut and minus the Minimee pose in the first snap...
http://www.flickr.com/photos/15998285@N05/7902763384/in/photostream
Fine for the Boss!
9 MAN LEA GRIND OUT WIN AT DAVIE PARK
It was a gritty determined performance from Roselea who edged our Blairgowrie by three goals to two. James Collier opened the scoring for Roselea with a header late in the first half before Blair equalised from an own goal on the hour mark. Sub Calum Watson put Roselea ahead then Calum Rae was shown a second yellow. Nicholl scored a screamer for Blair to equalise just before Anderson saw red in 82 minutes. James Collier scored a great winner for Roselea in 89 minutes. The win allowed Arbroath Vics to reach the Semi Finals for the third year running at Roselea's expense. Roselea return to Davie Park next week on opening day League business and as always their should be drama!
SCOTTISH CUP 1st ROUND DRAW
Roselea managed to escape a First Round Draw in the Scottish Cup when they received their 12th bye in 13 years in Todays draw made at Hampden. The Full Draw is on the Latest News Page and Facebook Page.
ROSELEA DOMINATE AND DISAPPOINT
Roselea went down by 2 goals to 1 at Ogilvy Park today as home side Arbroath Vics got the better of them by taking their chances. Walker opened for Vics in 10 minutes before Michael Cruickshank scored a great goal to equalise on 25. The winner came in 81 minutes from a Sturrock header and puts Vics in the driving seat to qualify. Roselea will be kicking themselves after dominating proceedings but failed to sink the killer blow
JOE GOES ON LOAN TO VICS
Roselea have today agreed to Joe Aitken joining Brechin Vics on loan until he sees how his move to University in Edinburgh pans out.
GOALKEEPING PROBLEM FOR OGILVY PARK
Roselea head to Arbroath Vics for the second of their DJ Laing League Cup matches and have a goalkeeping crisis with both Ross Mcleod and back up Ronnie Massie. Manager Ralph Brand is using all his contacts to get someone in place for the weekend. The match kicks off at 2.30pm
ROSELEA MAKE GOOD START
Roselea made a good start to their season with a 7-0 win over luckless Forfar Albion today at Broomfield Park. Goals from Urquhart (2), Riach (2), Cruickshank, Watson & Ross saw of Albion whose own cause was not helped by a double sending off of two players during the Half Time interval. Match report now added
READY FOR THE OFF
Roselea finished off their Pre Season preparations with a final friendly against Lochee Utd who were without several of their regular starting line up. A Paul Whyte goal in 57 minutes seperated the sides however the performance was more important to co Managers Ralph Brand and Doug Craig who both agreed they felt the team were ready for the off against Forfar Albion at Broomfield Park on August 11th.
WEDS 1st AUGUST FRIENDLY
Roselea met ACSC at the neutral venue of Friockheim. In a night of some heavy rain showers Roselea put in another good display against a decent team who never gave up the fight and will have taken a lot from the game. In the end Roselea ran out 7-0 winners with Calum Watson 3 Joe Aitken 2, Riach and Chris Milne. It looks as if all four trialists will be signing after impressing and will make it a very strong squad for the coming season. Lochee Utd now visit Broomfield Park on Sat August 4th for the final warm up game ahead of the August 11th start.
BUILD UP CONTINUES
Roselea's build up to the season continued with two four goal victories firstly over Aberdeenshire Amateur League Champions Woodside with a 4-1 scoreline then a 4-2 victory over old friends Dyce. Both games provided all 19 players some time but also proved that too many substitutions is not a good thing. Roselea will now take on Arbroath CSC in midweek with a venue still to be advised and the toughest of the pre season games with Lochee Utd at home on August 4th at 2pm.
KINNOULL TOO SLICK FOR LEA
Roselea commenced their pre season fixtures with a trip to old foes Kinnoull in a match played at Strathallan School. Kinnoull were the better side in the first period and were three up at the interval. Roselea tweaked things and held their own in the second half. It was a worthwhile excercise for Managers Ralph Brand & Dougie Craig as with several players absent they got to run the eye over some trialist players.
Roselea now face Aberdeenshire Amateur Premier Division champions Woodside on Weds 25th in a match that kicks off at 7.15pm
AGM FULL OF OPTIMISM
On the night that the players returned for their first training session the Club AGM was held on Weds 20th June at Main Sponsors Lounge in the Golf Inn. Bryce Whyte replaced Jock Skinner as President after he stepped down in 2011, Stuart Robertson will combine his Treasurer role with that of Vice President with Roy Gill continuing as General Manager and Alan Simpson as Secretary. Andrew Brett and Paul McGurk stepped down from the General Committee which otherwise remained unchanged. New President Whyte gave a good summary of the previous season complimenting all who had done a good job including the team which had done well considering the changes and average age. He looked forward to a new season which sees the club start on a firm Financial footing, the signing of Calum Watson, several new faces coming into the squad and the reconstruction in 2013 meaning there will now be 2 promotion places at the end of the season. He said there were many reasons for the club to be optimistic for the coming season.
RECONSTRUCTION FOR EAST REGION
Following many months of debate, discussion and consultations the East Region of the Junior Leagues will see reconstruction come in for season 2013/14. Jeanfields proposal of 4x16 Leagues was voted in and will see no relegation in the Super League or Premier Leagues for this season. These two Leagues will be boosted to 16 teams and the Premier will be swelled by 4 Teams from the South Division plus 2 teams from the Central and North Divisions at the end of season 2012/13. This will leave 32 teams in the North & South Divisions which will be split in Fife. At the end of season 2013/14 4 teams will be relegated from the Premier and will return to their respective North/South Division and replaced by the winners and runners up of these Leagues. McBookie.com have happily announced that they will continue Sponsorship of all East Region Divisions.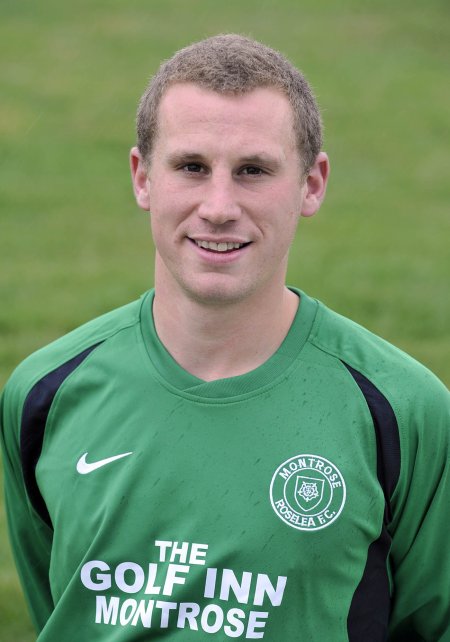 CALUM WATSON RETURNS FOR 3rd SPELL
Roselea are delighted to announce that Calum Watson has agreed to sign for the club for 2 years, returning from Cove Rangers in the Highland League. Calum, who originally signed in 2000 from St Laurence went on to play for Montrose FC before returning to Broomfield Park in 2008. A move to Cove Rangers to join brother Eric came in 2010 and he banged in 21 goals in his first season. An injury blighted second season saw him go on loan to Carnoustie Panmure and his goals helped them to survive in the East Region Superleague. Co Managers Doug Craig & Ralph Brand are delighted to have got their man and hope that others will follow to strenghthen the clubs title bid and aim to get into the East Premier League.
LINKS PARK COMMUNITY TRUST
Having been personally involved in a project for around 18 months to get a new Charitable Trust in Montrose underway, the LPCT will be for the benefit of providing local children with the Foundations to take part in Sport, Health & Education. I was delighted to be involved in a launch day which had around 75 children involved at Links Park today with Peter Davidson (General Manager), Craig Ferguson (Sports Co-ordinator) and several local coaches at the fore. In the coming weeks and months the aims of the Trust will become clear to the public however here is a link to the LPCT website to check for yourselves- http://www.linksparkct.org.uk/home/
This is something that has been spoken about for far too long and hopefully the Trust as an Independent body will be the start of a long road to improving things locally on many fronts. The LPCT will be added to the Links page of the Roselea website.
CLUB CAPTAIN MAKES IT SEASON NO 16
Club Captain Paul Whyte has signed for another season making it his 16th for the the Club. Signed from the Neptune Bar team on August 14th 1997 "Whytie" has almost been an ever present for the club during that time missing only a handful of games and even played around a dozen games between the sticks for a season. It is hoped that along with his signing and most of the current side resigning it will trigger a push for promotion to the Premier League.
LEAGUE RECONSTRUCTION TALKS
Following the Regional Meeting in April the Management Committee of the East region presented their favoured set up for the 2013/14 season with a new Championship Region wide League of 12 coming in below the Premier League. That would leave the Super and Premier Leagues as they are with 12 in each and a North and South Division League below the Championship with around 13/14 in each. One automatic place will go to the Winners of the Divisional Leagues with a play off between the runners up and the third bottom of the Championship securing the last place. Jeanfields proposal of 4x 16s will likely go in opposition to this and the Status Quo. Jeanfields plan would see the removal of the League Cup and a straight 2 up from the North/South Divisional Leagues and 4 down from the Premier. This will also guarantee 30 games per season. The East Region AGM will take place on the third Tuesday in June (19th).
8th MENS SPORTSMANS DINNER
Apologies for the delay in getting some feedback on here, work dictates! Another great night was enjoyed as Janey Godley, Sheriff Lindsay Wood and Tam Cowan entertained a merry but very well behaved crowd. An emotional presentation was made to Honorary President Jock Skinner to mark his 24 years to the club by Paul Whyte (Captain) and Bryce Whyte (Vice President) with a silver salver.
On a very sad note Jim Hodson (Huddy) who attended the Dinner died suddenly with a suspected Heart Attack on Tues Feb 1st. A great player in his day (scoring 28 goals from midifeld for ASC in one season) for most he will be remembered for being on Arbroath Vics Committee and as Manager of Arbroath Vics and a spell at Brechin Vics in the same role. The thoughts of all at Roselea are with his family in what must be a hard time for them.
Link to Dinner photos http://www.facebook.com/profile.php?id=100001257973545&v=wall&ref=profile#!/pages/Phoenix-Photo-Shop/128201713927661
Thanks again to Tony and Mike of Phoenix photoshop for supplying these photos and if you want to purchase any please speak to them at the Shop opposite the Library.
LEA HELP THE BLUE TOON PREPARE
A request from Peterhead FC to use Broomfield Park to train on before their Scottish Cup tie with Celtic FC was granted and they will train on Broomfield Park tonight (Jan 5th) at 7pm. Sun Story:
http://www.thescottishsun.co.uk/scotsol/homepage/sport/leaguedivision3/4039947/We-pitch-in-to-help-Peterhead.html
100k HITS
On Saturday December 3rd the Roselea website which was formed in 2004 was sitting with 99,953 hits. Although it is nearly impossible to watch, the 100,000 barrier will likley be breached today with the usual views of the Match Report. If the person who makes the 100,000th hit wishes to contact me by email we will try and publicise the fact (should they wish of course)! gill.fin@btinternet.com See bottom of each page for the counter.
Dec 6th- It was our own young Supporter Tayler Gill who got the 100,000th hit on the site thus prompting a celebration so Dad got the Red wine out!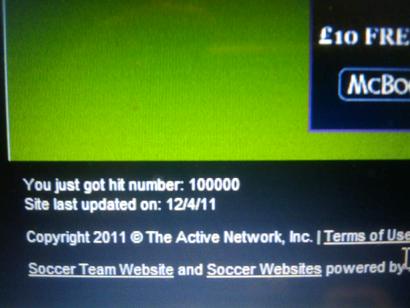 LOCHEE HARP MATCH ACTION PHOTOS
Thanks to Tony Morrison we now have Match photos from the Lochee Harp match which are now on the Phoenix Roselea Facebook Page. Hopefully Tony will be able to come back and take photos on a regular basis. I am sure that if anyone wants to purchase any of the photos they can be purchased at the Phoneix Photo shop in Castle Place Montrose- Link to the page: http://www.facebook.com/profile.php?id=100001257973545&v=wall&ref=profile#!/media/set/?set=a.196236670457498.49280.128201713927661&type=1
BEEFS MOHICAN
A recent Pie & Bovril thread was asking about the worst haircuts in Junior football which led me to search for Wayne "Beef" Keiths green Mohican and a search found it on Ian Patersons archive website. It was indeed very,very green but I liked it: http://www.pbase.com/ianpaterson/image/108997981
More old Roselea photos are available on Ians site and I will try and get a link to it set up on the Photo Archive Section. Here it is for just now:http://www.pbase.com/ianpaterson/montrose_roselea_jfc
And the link to the P&B Forum: http://www.pieandbovril.com/forum/index.php/topic/154206-worst-hair-cut-in-junior-football/page__st__25
RYDER CUP SUCCESS
A total of 33 players took part in the Roselea Ryder Cup at Forfar on Sunday Sept 11th. It was the closest one for many years with Kes Youngs Golf Inn side pipping Dean Milnes club side by 111/2 to 101/2. The coveted trophy is now back in the Golf Inn for another year. Dean Milne has stepped down as Club captain. It was another great days golf and some of the usual stories circulated long into the night. Roll on 2012!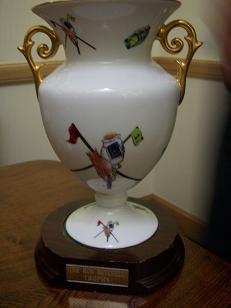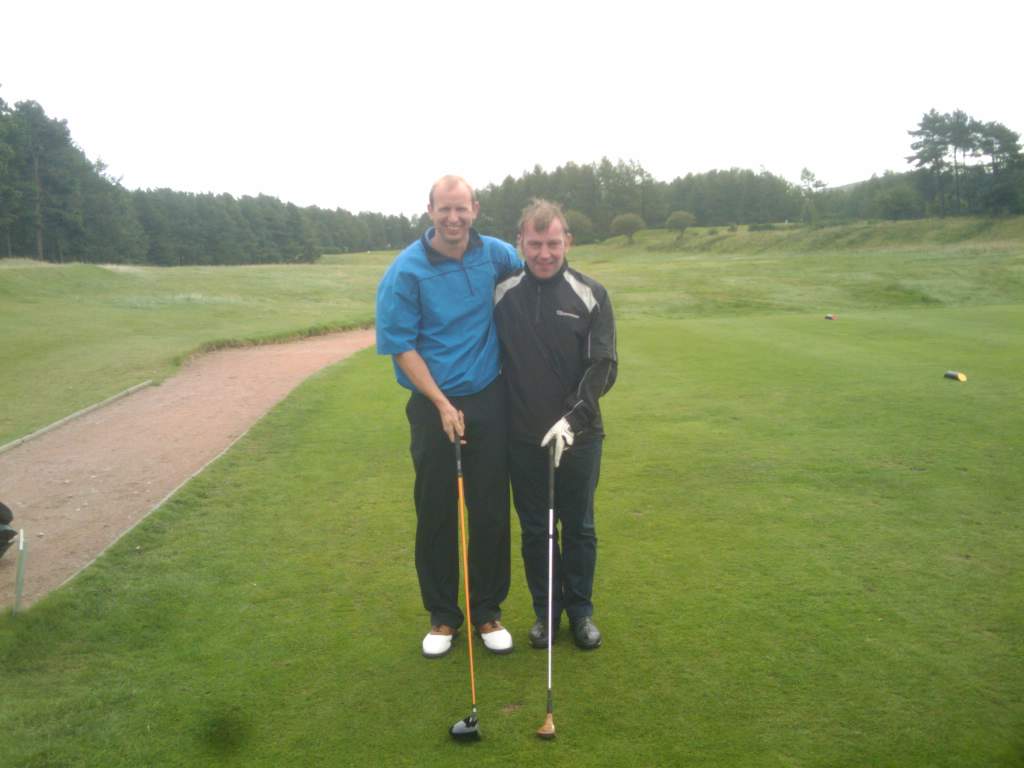 JOCK STEPS DOWN
Jock Skinner who has served the club for 22 years has stepped down from his position as President at the Clubs Sept Committee meeting. After being Main Sponsor of the Club as the owner of the Neptune Bar Jock took on the role of President nad has looked after the club in many ways during his time. The club have made him an Honarary President.
http://www.flickr.com/photos/15998285@N05/sets/72157627610027114/
MCBOOKIE TEAMS UP WITH THE LEA
We have signed an affiliate deal with McBookie.com. This means the club can earn a revenue from every account that is opened via the link.

As part of our new partnership McBookie will give all fans a free £10 Treble on the Juniors. Simply open an account by clicking on the logo and then place your £10 bet. McBookie will then put it back into your account if it doesn't win. Basically you can't lose. Junior odds appear on the site on a Thursday/Friday. Click on the logo below to register for your free bet. Please gamble sensibly.

T&C - one free bet per person/household. McBookie can refuse the offer at anytime if it is being abused.
Montrose Roselea are a Scottish Junior Football Club (Non League/Semi Professional Mens). The East Region covers from Dunbar to Montrose taking in Lothians, Fife & Tayside. The new setup in 2006 gives a local league from each of these areas, a Premier League and a Super League. The 3 winners of the regional leagues are promoted to the Premier League (12) with the 3 bottom teams in the Premier League being relegated back to their respective local League. The winners and runners up in the Premier League are promoted to the Super League with two teams coming down from the Super League. Montrose Roselea are in the Premier League for season 2009/2010

Club Details:

Montrose Roselea Junior Football Club
Broomfield Park, Broomfield Road, Montrose, DD10 8TZ
Registered Colours: Green and Black (Change Royal Blue)
Formed 1930

Honours:
Angus League Champions 1947/1948
Angus District Cup 1947/1948
Angus League Champions 1952/1953
Barrie Cup 1957/1958
Downfield Social Club League Cup 1993/1994
Intersport Trophy 1996/1997
Rosebank Cars Trophy 1998/1999
Scottish Cup 1/4 Finalists 1998/1999
NCR Division 1 Champions 2001/2002
D J Laing League Cup Winners 2002/3 2003/4 2009/10
GA Cup Winner 2006/7
Bukta East Region North League Champions 2008/9
The site welcomes any feedback via the Guestbook or Administrator and would welcome any suggestions or old photographs that could be used on the site. Access to Guestbook & Messageboard are only given once an eteamz account is opened(free). Please click on either link to register.
The club reserves the right to remove any messages that are judged to be inappropriate or offensive. The Club do not take any resposibilty for any information that is inaccurate or not up to date.