Montrose Roselea: Welcome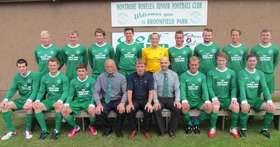 Team 2013-14 with Main Sponsor Kevin Young of Golf Inn
"AWAY THE LEA"!! Welcome To The Official Website Of Montrose Roselea JFC
(LATEST NEWS)
OAKLEY UTD v MONTROSE ROSELEA
McBOOKIE.COM EAST PREMIER LEAGUE
SAT AUGUST 16th 2014 KO 2.30pm
The Lea travel to Blairwood Park on Saturday surely one of the hardest pitches to find in deepest Fife full of promise after the 2-2 draw with Broughty Athletic on Sat past. The squad will be strengthened by the return of Calum Watson from injury although Scott McDowell is still a doubt. The club know little of their opponents other than that Manager Lee Dair from last season has departed and replaced by the Manager of Lochgelly Albert so it will also be a trip into the unknown. Kick Off at Blairwood Park is 2.30pm and the Postcode for any Satnav followers is KY12 9RA
MONTROSE ROSELEA JFC PRESENTS
6th ANNUAL LADIES DINNER
SAT OCT 25th 2014 @ LINKS HOTEL MONTROSE

We are delighted to announce the line up for our 6th Annual Ladies Dinner in the Links Hotel Montrose. Guests will be treated to the usual 3 Course meal followed by our after Dinner Speakers Keara Murphy and Patrice. It always proves to be a fantastic night and a chance to catch up with friends in a relaxing atmosphere.


Keara Murphy- Keara is a regular comedian and MC on the UK Stand up Comedy circuit and is also a popular host and speaker at many clubs and After-Dinner Events across the country. She is known for her canny impersonations of female celebrities, her character comedy creations and her mischievous stories and observations on life. She has produced eight solo shows for the Edinburgh Festival Fringe. Keara is also a professional Actor and has appeared in ITV's Taggart, the BBC1 sketch show, Velvet Soup, and films, The Best Man (Hat Trick Productions) and Joy Division (Dreamtool Entertainment). She began performing stand-up in 1998. Her first Fringe run came in 1999 as part of Stand Up Scotland, a showcase of new talent at The Stand in Edinburgh. Also a writer for Stage & Radio Mistress MacKenzie and Friends starring herself, produced by The Comedy Unit will go out on BBC Radio Scotland in October 2014 and she has a number of shows in development.
http://kearamurphy.com/ Follow on Twitter @KearaPatrica

Patrice- The Hairdresser to the Stars needs no introduction having wowed the women on two previous occasions. Also known as the 'Cock o the North' has become one of the top after dinner speakers in Scotland. Against his mothers advice he gave up a lucrative hairdressing career some ten years ago to make his name in public . Since then he has toured the country with his unmistakable brand of camp humour. As well as his comedy talent Patrice is an accomplished singer and violinist. "Whenever I play the violin people clap their hands" says the camp crimper, "Over their ears". http://www.patrickwight.co.uk/index.html

Tickets which cost £35 are now on sale to book for any Table sizes by contacting Roy Gill @ gill.fin@btinternet.com or 07908 763219 or by contacting the club via their Facebook page.

Please Like and Share with your friends!

Roselea have been drawn at home to Arbroath Vics in the Preliminary Round of the GA Cup and will have another home tie in the 1st Round proper should they win with Dundee Violet travelling to meet the winner.
MONTROSE ROSELEA v BROUGHTY ATHLETIC
MCBOOKIE.COM EAST PREMIER LEAGUE
SAT AUGUST 9TH 2014 KO 2.30PM

After Roselea's disappointing defeat to Forfar West End on Wednesday night they get a quick chance to redeem the 4-1 reversal when Broughty Athletic visit Broomfield Park. Things wont be easy however against a team packed full of ex Senior players. Roselea will be along the same lines with Calum Watson still serving the second match of a suspension carried over from last season.
Away the Lea!
FORFAR WEST END 4 MONTROSE ROSELEA 1
McBOOKIE.COM EAST PREMIER LEAGUE
WEDS 6th AUGUST 2014

Roselea opened up their 2014-15 East Premier League campaign against Forfar West End and returned home pointless after a 4-1 defeat. After what appeared to be a foul on Scott McDowell, Darren Scott broke free and slotted home in 20 mins then slack marking following a corner saw Gary Robertson head home in 2

...

7 minutes. A superb solo goal from Dale Reid in 43 minutes gave Roselea a half time lifeline. Graham Hart struck a great free kick in 48 minutes which saw the ball hit the bar then bounce off keeper Ross McLeods back and into the net. Roselea had a good spell of pressure in the following 20 minutes however the breaks did not come and sub Mark Pirie finished the game off with a fine finish in 71 minutes. West End deserved their win and things wont get any easier for Roselea on Saturday as big spending Broughty Athletic arrive at Broomfield Park.
FORFAR WEST END v MONTROSE ROSELEA
McBOOKIE.COM EAST PREMIER LEAGUE
WEDS 6th AUGUST 7.00pm

Roselea open up their 2014-15 Premier League campaign with a trip to Strathmore Park, Forfar to visit old foes Forfar West End. Roselea, after a decent pre season will be looking to start better after last seasons slow start, against a team who were promoted following a 12 game unbeaten run.
On the eve of the game Roselea have signed 16 year olds Liam Bailey & Ross Mitchell and 17 year old Kyle Findlater who have all come from Montrose FC & Arbroath FC. They will join the other new signings Andrew Tringham and Scott McDowell with the bulk of last seasons squad for the match.
Away the Lea!!
MONTROSE ROSELEA COMPLETE PRE SEASON BUILD UP
Roselea completed their pre season build up with three games in four days. On Tuesday July 29th they played a much improved Forfar Albion side and won 3-0 with goals from Danny Ross, Ryan Taylor & Calum Rae. On Friday August 1st they travelled through to Brechin to face the Vics with the homeside winning 5-4. Roselea's scorers were Calum Watson (2) Scott Mcdowell & Liam Bailey. The final warm up match was at home to Bonnybridge Amateurs and Roselea recorded a 3-1 win with Dale Reid claiming a first half hat-trick.
Roselea will face Forfar West End away in their opening Premier League on Wednesday 6th August KO 7.00pm then face Broughty Athletic at home on Sat August 9th KO 2.30pm.
Roselea have the following matches available for Hospitality packages: St Andrews Utd on Sat Aug 23rd, Dalkeith Thistle on Sat Sept 6th and Tayport on Sat Sept 13th. For more details and to book please contact Roy Gill on 07908763219 or gill.fin@btinternet.com
WORLD CUP SWEEPY 2014 PRESENTATION
The Club presented winner Graham Machir with his £1,000 prize on Saturday July 26th. See Latest News Section for photo and story
LATEST FOOTBALL LOTTERY WINNER
Alan Sefton became the latest winner of the highly successful Football Lottery when he picked up a cheque for £2,500. See Latest News Section for photo and story
MONTROSE ROSELEA 1 v WOODSIDE AMATEURS 2
SAT JUL 19th

Roselea opened up their pre season friendly schedule 6th against Woodside from the Aberdeenshire Amateur League ahead of the opening Premier League fixture on August . Roselea opened the scoring with a goal from Dale Reid in 20 minutes before ex Roselea favourite Bryan Forbes equalised in 40 minutes. A penalty in 75 minutes secured a good win for the Aberdeen side. Roselea managed to field several trialists all under 18 years of age to give them their first taste of Junior football.

Roselea now travel to Luthermuir on Weds 23rd July with a 7.15 KO as they continue their pre season build up.

Roselea have signed two players from the Amateur ranks with Andrew Tringham joining from Johnshaven Athletic and Scott McDowell from Arbroath Community Sports Club. Both players are midfielders. All players from last season have now re-signed bar Danny Ross who may not be available due to work commitments & Scott Riach who may drop back to the Amateur ranks.
WORLD CUP SWEEPY WINNER!
1st Place with 60 points - Graham Machir who wins the £1,000 prize
2nd Place with 59 points – Jim Peter
3rd Place with 57 points – 5 Entries
Booby Prize - Keira Gill who came last and enjoyed her 10th birthday on the day of the final!
The prize will be paid out after Friday 18th July to allow any claims to come in. The checking was a massive task as you will understand and we must thank Mike Murray and Peem Milne for undertaking the job.
Finally a massive thank you to all who took part and we hope it enhanced your World Cup Finals experience.
WORLD CUP SWEEPY UPDATE (Error)

Apologies there has been an error and after another check there are only two in with a chance of winning the £1,000 prize. The leaders are

Paul Munro 57 Pts
Graeme Machir 56 Pts

Gordon Lindsay on 55pts cant win due the fact that he has the same choice of winner as the leaders.

There will be a final check before Sundays final and once again apologies for confusion.
WORLD CUP SWEEPY FINAL UPDATE

As we enter the final with the Germans now facing Argentina after last nights penalty shoot out over Holland the Sweepy will be decided between three people. To add to the excitement we will not disclose who each of the three have selected as the winner!

Leaders:
Gordon Lindsay 53 points
Paul Munro 53 points
Graeme Machir 52 points

Good luck to all three and also to all who entered the competition.

We will update with the result shortly after the final is played
WORLD CUP SWEEPY UPDATE AFTER 60 GAMES

48 Pts- Ryan Taylor c/o Roselea,
47 Pts Andrews Andrews c/o Seadfield Club & David Reid C/O Talisman
46- 5 Entrants 45- 12 Entrants
Everyone with above 40 points still in with a chance
Booby Prize - Keira Gill 26 pts (she is only 9)!!
Good luck to all in with a chance at the Semi and Final stage
EAST OF SCOTLAND 1st ROUND DRAW
Roselea were drawn at home to Dalkeith Thistle in the first Round of the East of Scotland Cup at last nights East Regions AGM. Full Draw in Latest News Section and ties will be played on Sat Sept 6th.
WORLD CUP SWEEPY UPDATE AFTER 40 GAMES
26 Pts- Doug Smart c/o Duthies Glenn Andrews c/o Seadfield Club
25 Pts- Ryan Taylor c/o Roselea, Alan Botfield c/o Dennis Robertson, Jack Noble
24 Pts- 11 Entrants 23 Pts- 15 Entrants
10 Pts- Mark Phillps c/o Dennis Robertson (Booby Prize)
Still 46 Points to play for so plenty of time for more drama! Good Luck
PRE SEASON TRAINING & FRIENDLIES 2014-2015
Pre Season Training Dates & Venues
Monday 30th June Edzell Park- Meet 6.45 Edzell
Weds July 2nd Broomfield Park Meet 6.45
Sat July 5th- Day Off
Monday July 7th & Weds July 9th Broomfield Park Meet 6.45
Sat July 12th – Lunan Bay 10.00am
Monday July 14th & Weds July 16th Broomfield Park 6.45
Sat July 19th Friendly v Woodside Ams (H) KO 2.00pm Meet Broomfield Park 1.00pm
Monday July 21st Training Broomfield Park Meet 6.45
Weds July 23rd Friendly v Luthermuir (A) KO 7.15pm Meet Luthermuir 6.15
Sat July 26th Friendly v Dyce Jrs (H) KO 2.30pm Meet Broomfield Park 1.30
Tues July 29th Friendly v Forfar Albion (TBA) KO 7.15pm Meet 6.15
Thurs July 31st Light Training Session Broomfield Park Meet 6.45
Friday August 1st Friendly v Brechin Vics (A) KO 7.15 Meet Brechin 6.15
Sat August 2nd Day Off
Monday August 4th Training Broomfield Park Meet 6.45
Weds August 6th Premier League 1st Fixture TBA
Sat August 9th Premier League 2nd Fixture TBA
****Please bring boots and trainers to each Training session****
****Some sessions and times subject to changes****
ROSELEA AGM 2013-14
The club held their 2013-14 AGM at the Golf Inn on June 18th. There was much optimism but also words of caution from President Bryce Whyte. Full Report available in Latest News Section
WORLD CUP SWEEPY LEADERBOARD
After 17 games we have a tie for the £1,000 prize with Gary Mcleod and Gordon Lindsay both on 13 points. There are two just a point behind with John Duff & Lorna c/o Bryce in second place and 31 on eleven points. For a bit of fun we have added a consolation prize donated by Mike Murray for the last place and at the moment Brian P and John Sinclair share that award with 4 points each. There is still a long way to go and we hope it can remain competitive right to the end!
19th June 2014-Just had an update from the checker and there are a further 3 people in joint second place with 12 points who are Derek Sinclair, Jack Noble, David Doig. There are 4 people in last place with 4 points! With Spain out we could see a lot losing points in the Knockout stages. Its heating up!!
WORLD CUP SWEEPY LEADERBOARD (£1k Prizepot)
Leaders after 7 games 6 points Barry Davidson, Gary McLeod & Gordon Lindsay. We will update every few matches. One poor sould is on zero points after 7 games but will remain nameless!
WORLD CUP SWEEPY POT £1,000

Sorry for the delay but we have finalised the winning pot for our World Cup Sweepy. We had an amazing 384 entries which we are thankful for. The club have agreed to increase the winners prize pot to £1,000 thanks to some extra donations. We will have a leader board at various points of the tourney and as always the World Cup is throwing up some great games and even shocks so far. Good luck to all entrants and we will see who is the winner come July 13th.
Away the World Cup!
ARNISTON PHOTOS
ARNISTON RANGERS 3 MONTROSE ROSELEA 3

They say that football is decided by fine lines, well these lines were waver thin today as Roselea deservedly hung on to their Premier League status by clinching a 3-3 draw with a 90th minute equaliser coming back from 3-0 down at Half Time. Roselea set up with a defensive formation but very quickly a slick Arniston side were stroking the ball around and giving Roselea no end of problems. A Kateleza double in 12 and 26 minutes got the home side in front with only glimpses of Dale Reids pace showing them any problems. Just before Roselea could get in to reassemble at Half Time Craig Thomson curled a low free kick around the wall to give the home side what looked like an unassailable 3-0 HT lead. There was worse news to follow at Half Time as news filtered through that Dundee Violet were 1-0 up against Glenrothes meaning relegation was beckoning.

Manager Brand made a couple of changes with both Paul Taylor and Aaron Thomson being replaced by Andy Tringham & Calum Watson neither having played badly. There was early signs that this might spark Roselea when Reid sent Watson in but his low shot was saved. There was a slight reprieve for Roselea when Glenrothes had equalised at Violet and REID clawed a goal back for Roselea. Violet then retained their lead and went further in front which was bad news for Roselea. Paul WHYTE then headed home to set up a grandstand finish. In the 90th minute Calum WATSON latched on to an misplaced Anderson shot and coolly finished from close range to spark jubilant scenes of celebration with Roselea players, Coaches and Fans piled high on the slope in the corner of the ground. The referee found 5 minutes of added time and it also gave Roselea a few scary moments before he blew for full time. The results mean that Roselea and Violet are safe and Kirkcaldy YM who looked as if they would be safe are relegated.

Congratulations go to the players who have worked hard all season and deserve to stay in this league, the Management for their dedication and to the Fans who have stuck with the team through some hard times and long travels this season.

From a personal point of view in 27 years of playing and watching Junior football I have never been involved in such a dramatic day for which it turned out so well for Roselea.

Bring on Season 2014-15 and if it brings as much excitement as this I may not still be around to witness it!!

Away the Lea! RTID
OAKLEY UTD v MONTROSE ROSELEA
McBOOKIE.COM EAST PREMIER LEAGUE
SAT APRIL 26TH 2014 KO 2.30pm
Roselea head to Blairwood Park in Fife to face Oakley Utd yet another team who fought back to turn around a Roselea lead earlier in the season. Roselea travel without Stuart Richardson, Craig Taylor & Arron Thomson and James Collier serves the last match of his 3 game suspension. Roselea hope to include an "experienced" defender in their squad and look to continue their fine run of form as they look to stay in the Premier League.
Away the Lea!

Sunday, July 20
Montrose Roselea JFC