Montrose Roselea: Welcome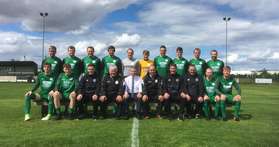 Squad 2017-18 with Shirt Sponsor Derek Mitchell of Gurthie Bros Montrose (Ford)
"AWAY THE LEA"!! Welcome To The Official Website Of Montrose Roselea JFC
APOLOGIES AS YOU CAN SEE OUR FACEBOOK FEED IS NOT WORKING AND ETEAMZ ARE CURRENTLY LOOKING INTO THIS FOR US
Montrose Roselea are a Scottish Junior Football Club (Non League/Semi Professional Mens). The East Region covers from Dunbar to Montrose taking in Lothians, Fife & Tayside. The new setup in 2013 formed North & South Regional Leagues, a Premier League and a Super League. The 2 winners of the regional leagues are promoted to the Premier League (16) with the 4 bottom teams in the Premier League being relegated back to their respective local League. The winners and runners up in the Premier League are promoted to the Super League with two teams coming down from the Super League. The third placed side in the Premier and 3rd bottom of the Super have a play off for the remaining spot. Montrose Roselea are in the Premier League for season 2014-15
Club Details:
Montrose Roselea Junior Football Club
Broomfield Park Montrose
Registered Colours: Green (Royal Blue)
Formed 1930
Honours:
Angus League Champions 1947/1948
Angus District Cup 1947/1948
Angus League Champions 1952/1953
Barrie Cup 1957/1958
Downfield Social Club League Cup 1993/1994
Intersport Trophy 1996/1997
Rosebank Cars Trophy 1998/1999
Scottish Cup 1/4 Finalists 1998/1999
NCR Division 1 Champions 2001/2002
D J Laing League Cup Winners 2002/2003 & 2010
GA Cup Winners 2007
The site welcomes any feedback via the Guestbook or Administrator and would welcome any suggestions or old photographs that could be used on the site. Access to Guestbook & Messageboard are only given once an eteamz account is opened(free). Please click on either link to register.
The club reserves the right to remove any messages that are judged to be inappropriate or offensive. The Club do not take any resposibilty for any information that is inaccurate or not up to date.