Montrose Roselea: Welcome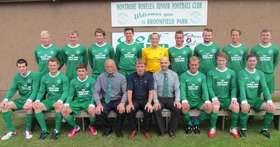 Team 2013-14 with Main Sponsor Kevin Young of Golf Inn
"AWAY THE LEA"!! Welcome To The Official Website Of Montrose Roselea JFC
(LATEST NEWS)
BLAIRGOWRIE MATCH OFF
Following a pitch inspection at 9am todays match is off. Roselea will play Brechin Vics in a friendly on Monday 9th Dec at Broomfield Park with a 7.30pm KO
ABERDEEN EAST END v MONTROSE ROSELEA
Scottish Junior Cup 3rd Rd Replay Sat Nov 30th 1.45pm
After Saturdays 2-2 draw the teams will do it all again to try and get to the 4th Round of the Cup. Roselea's task will be made harder with Calum Rae, Stuart Richardson' Jo Reoch and James Collier all absent. On the plus side Danny Ross completes his suspension picked up in the previous round v East Kilbride and Roselea will have new signing 24 year old Carlos Silva in the squad. The Venezuelan has moved to the area from Glasgow and has Yoker Athletic as his previous Scottish club. He has signed after impressing in training over the last few weeks.
The club bus will leave the Golf Inn at 11.15am

MONTROSE ROSELEA 2 ABERDEEN EAST END 2
Scottish Junior Cup 3rd Round

Well we didn't see that score coming but well done to a plucky East End who took the lead twice only to be pegged back. From the off the game was littered with free kicks and bookings apart from the one missed in 2 minutes! East End had 7 booked and Roselea 2.
On to the game, slack marking allowed Fraser to score in 9 minutes th

...
en Roselea equalised through a great finish from Calum Watson on 29 minutes. East End edged ahead in 38 minutes with a great finish from Reid only for Riach to square things in 52 when he followed up Watsons block. East End were reduced to ten men in 70 when Thomson was cautioned for a second time but there was little push from Roselea to win the game.

It will be a trip up the A90 next week to New Advocates Park and although nothing to fear it will be a tough job going by todays match.
MONTROSE ROSELEA v ABERDEEN EAST END
SCOTTISH CUP 3rd ROUND
SAT NOV 23rd 2013 1.45pm

Roselea face North Superleague side Aberdeen East End in the 3rd Round of the Junior Cup with Jo Reoch & Calum Rae (injured), James Collier (holiday),Danny Ross (suspended) and Stuart Richardson (work). Paul Taylor & Michael Cruickshank will return after work kept them out at Dalkeith.
MONTROSE ROSELEA 0 EAST KILBRIDE THISTLE 0 (Roselea win 4-2 on pens)
Roselea are just glad to get through after a very physical battle at Broomfield. A harsh sending off for Danny Ross and a Thistle player set the tone for the match in which the referee needed eyes in the back of his head. Paul Whyte had Roselas best chance in 55 minutes then East Kilbride were reduced to ten men in 80 mins. Roselea could not make an impact and if anything EK Thistle could have snatched it with a breakaway at the end. On to Pens and Ross Mcleod was the man with two saves as Roselea scraped through to Round 3! Full Match report now posted
SIGNING ON EVE OF CUP TIE
Danny Ross will be a welcome addition to tomorrows squad after re signing from ACSC. The midfielder will be available for selection and thanks go to ACSC for allowing his release to go through in time.

MONTROSE ROSELEA v EAST KILBRIDE THISTLE
Scottish Junior Cup 2nd Round Replay
Sat Nov 9th 2013 KO 2.00pm

Roselea will be looking to progress in the Junior Cup after last weeks draw at East Kilbride means a replay at Broomfield Park. Roselea will have a few of the missing players from last week back and also hope to have a new signing. A tough game is in prospect against a much improved Thistle side and the winners will receive a home tie to Aberdeen East End in the 3rd Round on Nov 23rd. The match will be decided on penalty kicks if all square at the end of the 90 mins.
SCOTTISH CUP 3rd ROUND DRAW
Roselea will face Aberdeen East End if they can beat East Kilbride Thistle on Saturday in their 2nd Round Replay. East End defeated Brechin Vics 2-1 with a late winner in the 2nd Round. Ties played Sat Nov 23rd. Full draw now in Latest News Section
LATEST FIXTURES:
Sat Nov 9th East Kilbride Thistle (H) Scottish Cup 2nd Round Replay 2.00pm
Sat Nov 16th Dalkeith (A) Premier League 2.00pm
Sat Nov 23rd Scottish Cup 3rd Round
The draw for the 3rd Round of the Scottish Cup will take place at the Offices of the Scottish Sun at 12.30 on Mon 4th Nov
SCOTTISH CUP 2nd ROUND
EAST KILBRIDE THISTLE (A) SAT NOV 2nd 2013 2.00pm
This tie will hopefully get played at the Showpark at the second time of asking after heavy rain put paid to the game last week. With a 2.00pm KO Roselea's travel arrangements will be adjusted with the bus now leaving at 9.15 and again stopping over at Baxters Blackford en route. This was one of three ties which were postponed and will join the 7 replays being played on Saturday looking to make it into the 3rd Round.
SCOTTISH CUP MATCH OFF
The Scottish Cup tie at East Kilbride Thistle is off due to flooded goal areas and will now take place on Sat Nov 2nd. The players will train on Saturday morning ahead of the postponed tie.
RYDER CUP RESULT!
Forgot to post the result here at the weekend however the winning captain even forgot to bring the trophy so on a par there. Golf Inn 6 Roselea 4. A different scoring format with only singles counting but same old outcome. Captain Gill of the club side did score a victory over Young of the Golf Inn but that was the only boast of the day. After a hastily arranged event this year we will look to make it bigger again next year with many speaking about Gleneagles. Two problems: Could we all afford to stick away £10 a week and would they take us??? Kes seems to think yes!
ANNUAL ROSELEA RYDER CUP SUN SEPT 29th FORFAR GOLF CLUB
The date has been set for the Annual Roselea Ryder Cup which will be at Forfar Golf Club on Sunday September 29th. Cost will be £35 for Bacon Roll, Round of Golf and High Tea. Current Players will receive a £10 discount. A bus will run from the Mercantile Golf Club at 9am. Names & Deposits of £10 to Ross McLeod (07764 498225).

Another fine day of Golf with all the connected drama is sure to unfold as the teams battle it out for the hallowed Roselea Ryder Cup trophy.
SCOTTISH CUP 1st ROUND DRAW
Roselea have received the customary bye in the Scottish Cup 1st Round, ties to be played Sept 28th. The second Round will be played on Sat Oct 26th. Full Draw in Latest News Section (Addendum added with 4 additional ties)
Roselea will be looking to go one better this season after reaching the final of the GA Cup last season and make it to the final for a fourth time. A home tie awaits in the first round and they will play the winners of the Brechin Vics v Blairgowrie tie. As always the dates will be advised later. (Full Draw in Latest News Section)
MCBOOKIE TEAMS UP WITH THE LEA
We have signed an affiliate deal with McBookie.com. This means the club can earn a revenue from every account that is opened via the link.

As part of our new partnership McBookie will give all fans a free £10 Treble on the Juniors. Simply open an account by clicking on the logo and then place your £10 bet. McBookie will then put it back into your account if it doesn't win. Basically you can't lose. Junior odds appear on the site on a Thursday/Friday. Click on the logo below to register for your free bet. Please gamble sensibly.

T&C - one free bet per person/household. McBookie can refuse the offer at anytime if it is being abused.
Montrose Roselea are a Scottish Junior Football Club (Non League/Semi Professional Mens). The East Region covers from Dunbar to Montrose taking in Lothians, Fife & Tayside. The new setup in 2006 gives a local league from each of these areas, a Premier League and a Super League. The 3 winners of the regional leagues are promoted to the Premier League (12) with the 3 bottom teams in the Premier League being relegated back to their respective local League. The winners and runners up in the Premier League are promoted to the Super League with two teams coming down from the Super League. Montrose Roselea are in the Premier League for season 2009/2010

Club Details:

Montrose Roselea Junior Football Club
Broomfield Park, Broomfield Road, Montrose, DD10 8TZ
Registered Colours: Green and Black (Change Royal Blue)
Formed 1930

Honours:
Angus League Champions 1947/1948
Angus District Cup 1947/1948
Angus League Champions 1952/1953
Barrie Cup 1957/1958
Downfield Social Club League Cup 1993/1994
Intersport Trophy 1996/1997
Rosebank Cars Trophy 1998/1999
Scottish Cup 1/4 Finalists 1998/1999
NCR Division 1 Champions 2001/2002
D J Laing League Cup Winners 2002/3 2003/4 2009/10
GA Cup Winner 2006/7
Bukta East Region North League Champions 2008/9
&