Monticello Babe Ruth Baseball: Welcome
Welcome
Welcome to our web site. Monticello Babe Ruth Baseball is a non-profit organization which administers and promotes amateur baseball for all youth in Drew County, Arkansas ages 13-18. Monticello Babe Ruth is affiliated nationally with Babe Ruth League Inc., the largest youth baseball organization in the world. Monticello is located approximately 90 miles south of Little Rock, and 85 miles north of Monroe. La. in Southeast Arkansas. Thanks for visiting our site. Please take time and sign our guest book.
Site Last Updated 05-10-11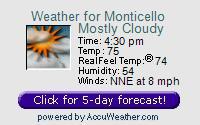 Tuesday, May 10
2011 District Schedules Now Available
Click on the handout link below to download schedules.
Handout:
2011 District Schedules
Monday, July 26
2010 World Series Schedule Of Events
Wednesday August 18th -
Teams check in - Gibson Center (UAM)
Thursday August 19th -
8:00am Coaches Breakfast - Second Baptist Church
2:00pm Games begin (Game Schedule)
Saturday August 21st -
5:30pm Opening Ceremonies - Burlington Field
Sunday August 22nd -
6:00pm Banquet - Gibson Center (UAM) - Guest Speaker: Tom Pagnozzi - Admission $20.00
Handout:
2010 World Series Game Schedule
Saturday, July 25
Monticello To Host 2010 13-15 Year Old World Series
Monticello has been awarded the 2010 15Yr Old Babe Ruth World Series. League officials from Trenton, New Jersey were in town June 30th to sign the world series contract. Tournament dates are August 20th through August 28th, and all games will be played at Burlington Field. For more information visit Monticello Live.
For information on Monticello area motels click here.
Sunday, July 30
Burlington Field Renovated
With the 2006 16yr old World Series coming to Monticello, Burlington Field needed a major upgrade. The existing lights did not meet World Series standards, so a new state of the art lighting system has been installed. The old dugouts and backstop have been removed, and replaced. Also a new bathroom facility, and pressbox addition were constructed. Work was completed in time for Monticello to host the 16yr old Babe Ruth World Series August 11th 2006.
View
more construction pictures.
E Mail Monticello Babe Ruth Baseball.
Cal Ripken Baseball Official Site