Mercer Island Select Baseball: Welcome
Mercer Island Select Baseball tryouts are
Saturday, November 12th and Sunday, November 13th.
Saturday, November 12

Sunday, November 13

9U

12:00 PM – 2:15 PM

9U

9:00 AM – 10:45 AM

10U

2:30 PM – 4:30 PM

10U

11:00 AM – 12:45 PM

11U

4:45 PM – 6:45 PM

11U

1:00 PM – 2:30 PM

12U

7:00 PM – 9:00 PM

12U

2:45 PM – 4:15 PM
Saturday tryouts are at PEAK. Sunday tryouts are at PEAK or South Mercer Playfields depending on the weather.
Tryouts are open. No invitation or pre-registration is required.
Participants are required to attend both days of tryouts.
There is a $25 tryout fee (cash only) payable at Saturday's tryout.
Monday, May 4
MI Thunder 12U and 9U Win May Day Mayhem Tournament in Yakima
Wednesday, October 9
MI Select Baseball Information Night Presentation
Handout:
Information Night Power Point 2014
Monday, June 3
10U Thunder Win Bend Elks Memorial Day Tournament
Tuesday, April 30
Mercer Island Select Dominates Yakima May Day Mayhem Tournament
10U Thunder 2013 Yakima 1st Place
Several Mercer Island Select teams participated in the annual May Day Mayhem tournament in Yakima over the April 27-28 weekend, bringing home trophies in all 4 age groups. Placing first in their brackets were the 12U Thunder and 10U Thunder teams. The 10U Lightning and 9U Thunder teams both placed second. The 11U Thunder team took home 3rd. Congratulations to all the players and coaches!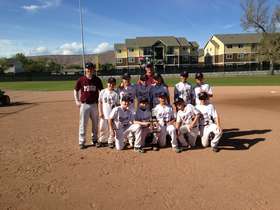 11U Thunder 2013 Yakima 3rd Place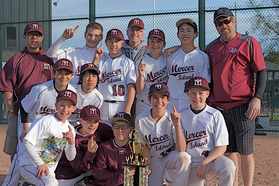 12U Thunder 2013 Yakima 1st Place
Wednesday, May 1
Yakima Tournament Photos
9U Thunder 2013 Yakima 2nd Place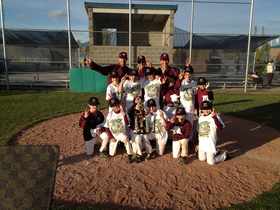 10U Lightning 2013 Yakima 2nd Place
Tuesday, May 7
Monday, February 4
Select Tournament Dates
2013 Select Tournament Dates:
Each season the Select teams will compete in 3 travel tournaments in addition to the local games scheduled on Sundays during the season.
Tentative Tournament Dates:
April 13th and 14th
April 27th and 28th
May 25th, 26th, 27th
--------------------------------------------------------------------------------
Our Mission:
Provide Mercer Island's most talented 8-12 year olds opportunities for higher level skill development and competition.
Create a well rounded baseball player. Develop physical, mental and emotional skills as well as teach fundamental game strategies.
Prepare our kids to play competitive baseball after age 12.
Provide the MI community (kids and families) with a unique on-island opportunity to support and celebrate Mercer Island baseball.
Mercer Island Select Baseball will begin scheduling games for the spring/summer 2012 season soon. Please email our competition committe at info@mittbaseball.org to send your contact information.
We typically have 8 teams each season:

9U Thunder/Lightning

10U Thunder/Lightning

11U Thunder/Lightning

12U Thunder/Lightning

The Thunder teams typically play the highest level of competition while the Lightning teams play at a slightly lower skill level but are still very competitive.
Founded in 2006 as the Mercer Island Travel Team and renamed Mercer Island Select Baseball club, we are a select baseball progam for kids that live on Mercer Island, Washington aged 8-12. All of our kids are required to play in the Mercer Island Little League program. More...
Monday, April 23
11 Thunder Seals Championship with Shutout
The Mercer Island 11U Thunder select baseball team won the Triple Crown Washington Season opener tournament in Wenatchee in mid-April. The tournament featured 120 teams in the 9U to 14U levels from across Washington and the greater area.
The Thunder started off in pool play on Saturday, taking an extra-inning defeat in game one 7-6. In their second team, the team bounced back to beat Bothell 12-6. During three games on Sunday, Mercer Island pitchers gave up two hits, and the defense allowed only two runs, beating Washington Senators 6-1, Eastside Select 2-1 and the Senators against 3-0 in the title game.
Letter to 10U Parents
Parents of 10U Parents. Click on the handout below to read about the upcoming 10U season which, like last years 9U class, is larger than 12 months. Please review the letter and let us know if you have any questions.
Handout:
Letter to 10U Parents