MILWOOD LITTLE LEAGUE, PO BOX 2786, KALAMAZOO, MICH., 49003: 2010-12 Season Highlights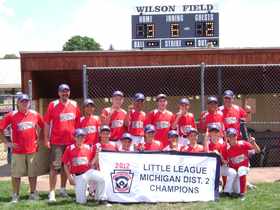 Milwood Little League, 2012 District 2 Major Baseball Champions
2012 MILWOOD TOURNAMENT SCOREBOARD
Major Softball (11/12)- 6/28 W 21-2 vs. Westwood, 6/30 L 17-1 vs. South Portage, 7/2 W 1-0 vs. Parchment, 7/5 W 9-7 vs. Northwood/Plainwell, 7/6 L 9-3 vs. West Portage. Final record 3-2
Little Major Softball (9/10)- 7/7 L 20-4 vs. West Portage, 7/9 L 19-11 vs. Northwood/Plainwell. Final record 0-2
Junior Baseball (13/14)- 7/7 W 12-1 vs. Delton/Kellogg, 7/11 L 6-2 vs. Parchment, 7/12 W 13-2 vs. Westwood, 7/13 L 11-2 vs. West Portage. Final record 2-2
Major Baseball (11/12)- 7/3 W 4-2 vs. West Portage, 7/7 W 15-0 vs. Quad Cities, 7/11 W 8-2 vs. South Portage, 7/13 L 8-1 vs. West Portage, 7/14 W 3-2 vs. West Portage. Record 4-1, District 2 Champions
10/11 Baseball- 7/13 L 3-2 vs. Westwood, 7/14 W 15-5 vs. West Portage #2, 7/16 W 2-1 vs. South Portage, 7/17 W 5-4 vs. Parchment, 7/18 L 8-1 vs. Alamo. Final record 3-2
Little Major Baseball (9/10)- 6/30 W 26-12 vs. South Portage #2, 7/3 L 11-10 vs. Parchment, 7/6 W 14-2 vs. Lakeview, 7/7 W 18-3 vs. Alamo, 7/9 W 13-12 vs. Westwood, 7/10 L 14-2 vs. South Portage. Final record 4-2
Milwood finishes 16-11 overall for the tournament season. It is the best record and most wins for Milwood in recent years. The Major Baseball District Championship is the first for Milwood since 1991.
---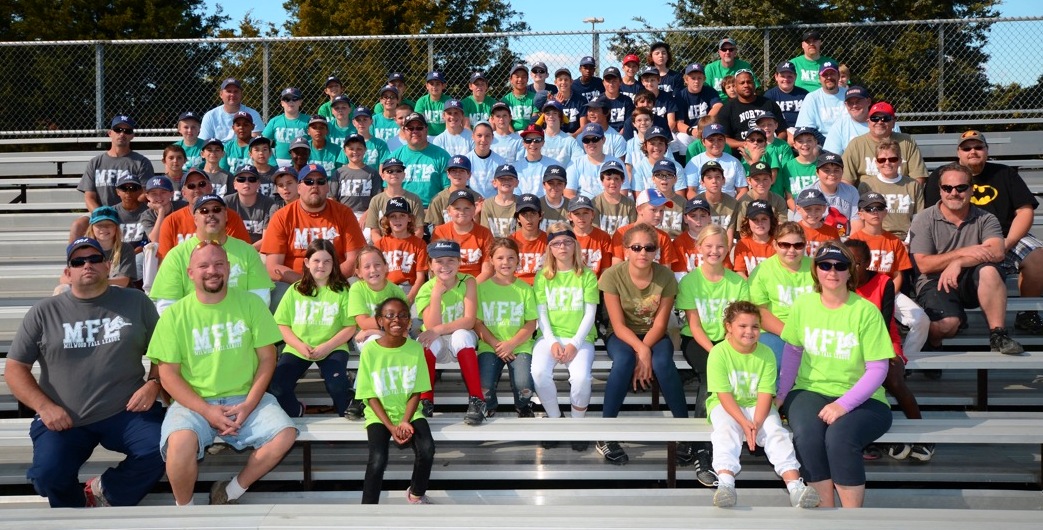 2012 MFL Baseball & Softball teams. -Mike Lanka
ANOTHER GREAT FALL SEASON WRAPS
The 2012 Fall Ball season has come to an end. Over 120 kids extended their baseball and softball seasons with our fall league. What a grand new program we have now at Milwood Little League. There is no truth to the rumor, however, that our winter league begins soon! Our clinic season will begin the first of the year.
Our MFL Picnic followed the final games. Thanks to everyone who brought food for our huge spread! We had a great time celebrating the completion of another successful fall season!
---
PHILIPPINES MAKE HISTORY IN BLSBWS
The Asia-Pacific Champs from Manila, Philippines became the first international team to capture the Big League Softball title with a convincing 14-2 victory over the West Champs Wednesday afternoon at Vanderberg Park. It was a monumental win for a team that had lost in the championship game the previous 2 seasons and became the first international victor of the tournament in the over three decades it's been held here in Kalamazoo. Longtime Tournament Director, Bud Vanderberg, threw out the first pitch of the game.
---
WEST FACES ASIA-PACIFIC FOR BLSBWS TITLE
The West Champs from California's Los Angeles area will battle The Asia-Pacific Champs from The Philippines Wednesday afternoon for the Big League Softball Championship. The West finished with a tournament best 7-1 record. AP was 6-2. Game time is 4:00pm on Wilson Field and will be telivised live on ESPN2. On-field festivities begin at 2:00pm.
District 2 ended their round robin play with an 8-1 victory over The Southeast on Tuesday. D2 finished the tournament with a 4-4 record.
DISTRICT 2 CLOSES OUT TOURNAMENT TUESDAY
Although the aspirations of the D2 girls were much higher than a middle of the pack finish in this year's BLSBWS, they have played hard and would like nothing better than to end with a big win Tuesday in their final game. They face the Southeast Champs at 1:00pm. The girls in powder blue lost Monday to Latin America, 10-4, dropping their tournament record to 3-4.
The girls from the West improved their record to 7-1 and assured themselves a spot in the Championship Game on Wednesday. Central Region's District 9 was still in contention for the title game starting Tuesday's play, but with Asia-Pacific's victory over the East, they qualify for the Championship Game.
---
Alex Elwell preserves 6-0 win. -G. DeYoung
.BLOODY SUNDAY ENDS D2 BID
A 3-2 defeat at the hands of a tough West team in the early game was bad enough, but a come from behind win by the Asia-Pacific Champs in the second game made for a rough Sunday for the D2 girls. After building a 7-3 lead, Asia-Pacific put up 8 runs in the fifth to capture a 12-9 win, ending District 2's chance of winning the championship. Their record stands at 3-3 and leaves them in sixth place in the round-robin standings.
D2 GIRLS BOUNCE BACK
After a gut wrenching 6-4 walk-off loss to District 9 Friday night, Michigan's District 2 girls returned to form with a 6-0 victory over Canada on Wilson Field Saturday. The win improves D2's record to 3-1 and keeps them in the hunt for the Championship Round of the

Visit www.softballworldseries.org for all your game results and standings.
---
HOST TEAM NOT VERY CORDIAL
The D2 Big League girls thumped another opponent Thursday night with a 7-1 drubbing of the Southwest Champs from Texas. District 2 moves to 2-0 in the tournament.
DISTRICT 2 GIRL'S BATS ERUPT IN 11-2 WIN
The District 2 Big League Softball Champs began play Wednesday evening with an 11-2 victory over the East Champs in the Big League Softball World Series at Vanderberg Park. The D2 girls are back in action Thursday night against the Southwest representatives from Alice, Texas. Game time is 6:00pm on Wilson Field.
---
THANKS EVERYBODY!
Midland defeated Ira, 12-2, Wednesday afternoon and were crowned Michigan State 9/10 Baseball Champions for 2012. Our 'little' Little League had thousands of folks come through over the last week who had a great time either as participants or spectators at our tournament. 16 teams played 31 games on Lee & Wilson Fields- 24 over a 3-day weekend. There were many hours of preparation and many volunteers working many more hours throughout the tournament. Once again, our Milwood families came through, working very hard to meet every challenge to insure our guest teams and their families had a memorable experience. Thanks to each and everyone of you who helped this past week. Your efforts are very much appreciated and absolutely necessary for the success of an event such as this. THANKS EVERYBODY!
WELCOME 9/10 ALL-STARS!
Milwood Little League welcomes all of Michigan's 16 Districts to Kalamazoo and the 2012 Michigan 9/10 Baseball State Tournament. Opening Ceremonies begin Friday at 9:00am on Wilson Field at Vanderberg Park. Tournament games begin immediately after. 24 games are scheduled for the three day weekend, with the championship round beginning Monday and the title game on Wednesday. Check http://www.eteamz.com/llbmichigan/files/9-10BBState.pdf for updated tournament bracket.
MAJOR BOYS FALL TO ROCKFORD, END STATE RUN
Milwood's District Champion 11/12 Baseball team fell 11-1 to Rockford Monday night, ending their quest of a state title. They finished the tourney in Schoolcraft with a 1-2 mark. In a season where the strong Portage teams were expected to again be the teams to beat in the D2 Tournament, the Milwood boys fought their way to the title game and the championship. Congratulations to manager Greg Cavey, coaches Bill Feenstra and Scott Pease and of course the players and their families for the hard work and dedication it takes to reach the State Tournament. Nice job boys!
---
MAJOR BOYS EVEN RECORD IN STATE TOURNEY
After an opening round 2-1 victory over Taylor SW, the 11/12 District 2 Champs dropped a 6-2 decision to Saginaw Township on Sunday. Milwood plays Rockford from District 9 on Monday at 3:00pm at Schoolcraft Little League's Swan Park. Swan Park is located next to States Golf Course on VW Ave., just west of Portage Road. Get out and support our boys!!! GO MILWOOD!!!
---
YEAH BABY!
A team who loses handily the night before and gets down 2-0 late in the pressure-packed Championship Game would seem to be destined to go home and congratulate themselves on what a 'nice' tournament run they had. That would be alright. We love our kids and they have played good baseball throughout. They have hit, pitched and fielded the ball well. They have behaved like young men of the finest character. Win or lose they have shown real class towards their opponents, their coaches and their families. What could be better.......
A DISTRICT TITLE!!!!
MILWOOD WINS MAJOR BASEBALL DISTRICT 2 TITLE
These boys weren't done yet! Keaton Ashby was very sharp before issuing a fourth inning 2-run homer to West Portage. Although understandably dejected when he was later pulled, he kept the game close until his teammates managed to tie the game late at 2-2. In the sixth, Milwood put runners on second and third with two out. After fighting off several pitches, Aidan Luma lofted a soft liner to left, singling in the winning run in dramatic fashion. Milwood 3, West Portage 2. Congratulations to all the boys and coaches on a fantastic tournament. Off you go to the State Tournament, hosted by District 15. Your first game is next Saturday. GO MILWOOD!
10/11 BASEBALL TEAM FALLS
Milwood dropped an 8-1 decision to Alamo and was eliminated from this year's 10/11 Baseball District Tournament. Milwood finished 3-2, winning three straight after an opening game defeat. Congratulations to Manger Andy Wenzel's team on a nice tournament run. Good job boys!
---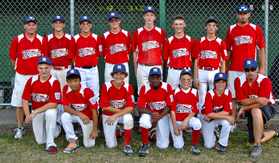 2012 Milwood Junior Baseball All-Stars
JUNIOR BASEBALL TEAM ELIMINATED
Milwood's Junior boy's were eliminated from this year's All-Star Tournament after an 11-2 loss to West Portage on Friday night. They had wins against Delton/Kellogg and Westwood this season and finished with a 2-2 record. Congratulations to the boys and coaching staff for their success in the tournament!
---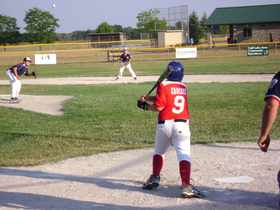 Reed Crocker lines a 2-run double to the gap in comeback win over South Portage.
MILWOOD MOVES TO 3-1 AFTER WIN
Milwood's 10/11 All-Stars move on after a 5-4 victory over Parchment Tuesday night. They face a tough Alamo team tonight who has allowed only one run in their 3 games. Game time is 6:00pm at Gull Lake. GO MILWOOD!
10/11 STARS ELIMINATE SOUTH PORTAGE
Milwood's 10/11 Baseball team pulled out a dramatic 2-1 victory over South Portage on Monday night. Milwood trailed 1-0 most of the game until they put together singles by Will Dales and Eric Wenzel in the bottom of the 5th, followed by a 2-run double off the bat of Reed Crocker. Crocker, Ben Cramer and Wenzel pitched well for Milwood, limiting SP to the early run and very few hard-hit balls the entire game. Nice job boys! GO MILWOOD!
---
ROUGH NIGHT FOR MILWOOD TEAMS
Milwood's Major Baseball team fell to West Portage, 8-1, Friday night to set up a winner take all finale on Saturday for the District title. Both teams now have a single loss in this double elimination tournament. The showdown is on Wilson Field, Saturday, July 14th at 11:00am. Note the time change from 2:00pm to 11:00am. Come out and support the boys!
The 10/11 Baseball team dropped game one of their tournament by a 3-2 score to Westwood. They need a win Saturday to stay alive. They play West Portage 2 at 11:00am in Gull Lake. Go Milwood!
---
MAJOR BASEBALL IN CHAMPIONSHIP!
The Major All-Stars pounded South Portage, 8-2, Wednesday night to remain undefeated and earn a spot in Friday's District 2 Championship Game. Milwood overcame a 0-2 deficit with timely hitting and dominant pitching to go to 3-0. Milwood plays the winner of Thursday's South Portage/West Portage matchup. They have already defeated both teams. A win on Friday will put Milwood in the State Tournament. Good luck boys! Go Milwood!
JUNIOR BASEBALL STARS FALL TO 1-1
Milwood's Junior Baseball team lost it's first game 6-2 to Parchment at home Wednesday. Following a win over Delton/Kellogg last Saturday, they square their record at 1-1. The boys play Westwood on Thursday at Westwood Little League.
9/10 BASEBALL TEAM BOWS OUT OF TOURNEY
Milwood's 9/10 boys finally ended their tournament run with a 14-2 loss to South Portage on Tuesday. Milwood had won three straight to improve their record to 4-1 before being eliminated. Congratulations to the 9/10 players and coaches on a great tournament run!
---
Smiley Verduzco throws out the first pitch of 2012
SOGGY DAY DOESN'T DETER MILWOOD FAMILIES!
It wasn't exactly the day we ordered up to start our 2012 season, but hearty Milwood families did come out for our annual parade and abbreviated Opening Day ceremony on Saturday, despite the rain. With more rain expected and sloppy field conditions, the decision was made to cancel the games for the entire day. We still had a fun parade, gave away some fundraiser prizes and had all the hot dogs we could eat!
T-baller Aubrey Rowlson was our top fundraiser. She earned a $100 gift card and helped Coach Martin's team top all other teams with their donation total. The entire team was awarded a team party at Putters! Thanks to all of our families for their fundraising efforts for this season's Kids Run the Bases FunRaiser.
Kevin Hart opened our Wilson Field festivities with prayer. Chris Powell was awarded the 2012 President's Award and Smiley Verduzco was honored for his nearly 40 years of coaching and mentoring with a plaque from his friends here at Milwood Little League. He threw out the first softball pitch and his grandson, Will, threw out the first baseball pitch. Jill Archie once again opened another Milwood season with a wonderful rendition of the National Anthem and Chris Bullard recited the Little League Pledge.
After the opening ceremony, lunch was served by the Portage Suburban Kiwanis. A loud fire engine, free food and Slappy....what more could a kid ask for?! Oh, yeah...some games!
Noel Cavey blasts third inning homer in Milwood win. -Kim Feenstra
MILWOOD'S MAJOR BASEBALL OPENS WITH A BANG!
Milwood's Major Baseball All-Stars team began tournament play Tuesday night with a 4-2 victory versus a well coached and experienced West Portage team. The game was a pitcher's duel led by Milwood's Keaton Ashby who gave up only one run in 4 innings of work. West Portage got on the scoreboard first with one run in the first inning and no outs but their momentum was halted by an unassisted double play by Noel Cavey at shortstop and a timely strike out pitch by Keaton to end their threat.
In the third inning Milwood evened the score 1-1 on a one hop, ground rule double to the right corner off the bat of Tony Dougherty to score Jhamil Davis. Jhamil got on base with a walk after working out of a 1-2 count. An error by West Portage off a ball put into play by Sidney Richardson put runners on the corners and led to a four run third inning when Noel Cavey drove a high outside fastball over the fence in left center. Milwood gave up one run in the 5th but held its composure and lead as Issac Geiger came in for two innings of pressure packed pitching backed up by outstanding defensive plays by Aiden Luma, John Cramer, and Adam Dorstewitz.
The Major team plays Saturday, 2:00pm at Milwood against Quad Cities. Come on out and cheer them on! -Greg Cavey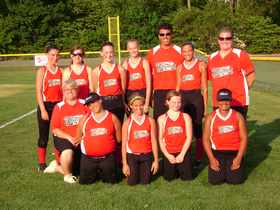 2012 Milwood Major Softball team finishes tournament at 3-2
MSB BOWS OUT AFTER STRONG TOURNEY
From the outset, these Major girls were living dangerously with only 9 rostered players. They played hard without regard to injury and pulled out 3 victories before being eliminated Friday night. Their second tournament loss came at the hands of West Portage, 9-3, to finish 3-2 in the tournament. Congratulations to Manager Tim Harding and Coaches Kristi Johnson & Cheryl Knight and their team on a great run. Go Milwood!
---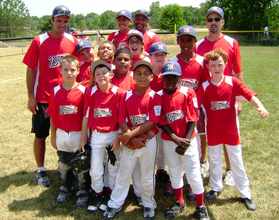 9/10 All-Stars have some fun after win over Alamo.
9/10 BASEBALL STARS MOVE TO 3-1
Milwood's 9/10 Baseball tournament team won twice over the weekend, 14-2 over Lakeview Friday and 18-3 over Alamo on Saturday. They move to 3-1 and ever closer to the championship round of this year's District 2 Tourney. After a one run loss to Parchment last week the boys seem refocused on winning, combining timely hitting, excellent speed and steady pitching to put together a couple of big wins. They resume play Monday night against Westwood, at West Portage. Go Milwood!
---
2011
70 TO PLAY MILWOOD'S FALL BASEBALL!
The Milwood Board of Directors has discussed adding a fall program for the last couple of years. This year they decided to test the waters by first asking our families if there was any interest. The response was overwhelming as dozens of families almost immediately said "we're in"! With all the other fall sports programs and with school just around the corner, we were somewhat surprised there would be so much interest. So, with little time to spare, coaches were selected and players drafted to form 4 teams, ages 9-12, that begin play this week. We also formed an instructional division for 7-8 year olds.
We are excited about our new league and giving our players the opportunity to play more baseball this year. We will focus less on the final score and more on instruction and having fun in the MFL games. Our goal for next year is to expand this program to the District level and place players in the same age divisions as the regular season. This year, ages 9-12 will be placed together and rules will be modified for the safety and equity of the younger players. Games will be played Wednesday nights and Saturday afternoons. Come check out the MFL!
---

2011 Milwood Fall League 9-12 Players & Coaches

2011 Milwood 7&8 Fall Instructional Team
7 & 8 YEAR OLDS EXCEL IN MFL
Our Milwood Fall Ball experience is extended to our Minor Division through an instructional league that focuses on skill development. The clinic style format helps accelerate skill levels to better prepare kids for the next level of play. It also helps younger players gain confidence for their final year of machine-pitch baseball. The boys are having a great time- especially when it's time to scrimmage!
---
MFL-one more chance to smile!
.
FALL BALL-WHAT TOOK US SO LONG?!
On a beautiful August night, Milwood Little League kicked-off the inaugural season of it's fall baseball league. It was great to see Vanderberg Park full of smiling ball players once again, attired with their fresh new fall colored jerseys and picking up right where they left off nearly 2 months ago. Conversation in the stands was typically "Why haven't we done this before?!" or "What a great idea!". After game one, all indications are that we are going to have a great fall season. Go MFL!
---
.

2011 Big League Softball Champs, District 9
DIFFERENT YEAR, SAME RESULT; D9 REIGNS
In a rematch of last year's championship game, Grand Rapids District 9 defeated The Philippines 9-2 to claim the 2011 Big League Softball World Series championship. A standing room only crowd packed Wilson Field as they cheered on both sides in the nationally televised game. Congratulations D9! Visit www.softballworldseries.org for final standings & stats.
---
PHILIPPINES STING D2 AGAIN
The Asia-Pacific Champs from the Philippines stung the District 2 girls Sunday night with a 10-1 beating, handing D2 their first loss. Again, the District 2 team was at the mercy of the Philippines, and this time the sting was deadly. After the D2 girls took care of business by winning their morning game 15-1 over Italy, all they could do was wait for the results of the other games to go their way. And they did, right up to the last of the 7th inning in the Puerto Rico- Philippines game. The Latin America Champs led 7-4 and a win puts D2 in the championship game. The Philippines rally, scoring 4 runs in the bottom frame and win the game 8-7. They will face the Central Region Champs from District 9 for the World Championship, Wednesday at 5:00pm on Wilson Field. And the D2 girls end their tournament very disappointed. No need to hang your heads, girls. You had another great tournament run with a 7-2 record. Congratulations!
---

Vanderberg Park's Wilson Field packs in a big crowd for a big game.
D2 NEEDS HELP TO ADVANCE TO TITLE GAME
After an 11-7 victory over the Southwest Champs Monday afternoon, the D2 girls dropped a 5-1 decision to the Central Region's Disctrict 9 Champs. The much anticipated game turned into a pitcher's duel after D9 put 4 runs on the scoreboard in the first. Becca Shemberger settled in and pitched well after that first inning, but the D2 bats just couldn't get going. A run scoring double off the bat of Megan McQueen in the sixth was the lone D2 tally. District 2's record fell to 6-2.
The District 9 girls could help District 2 with a couple of wins against two other 2 loss opponents in Tuesday's action. D2 must win their morning game against Italy to stay in the championship game mix. Check www.softballworldseries.org for updated standings and real-time scores.
Philippine girls celebrate big win over District 2.
DISTRICT 2 SUFFERS FIRST LOSS
The D2 girls fell to an inspired Philippines team Sunday, 10-1, for their first defeat in this year's Big League Softball World Series. The girls held on for 5-4 in their second game against the East Champs from Maryland.
The District 2 Champs enter Monday's games with a 5-1 record and a much anticipated 6:00pm match-up with the Central Region Champs from District 9. First things first, though, they face the Southwest girls at 1:00pm on Lee Field.
Due to Sunday's weather delays, Monday's schedule has been modified. Please visit the BLSBWS website at www.softballworldseries.org for updated game times,
---
D2 4-0
The District 2 girls remain undefeated in the BLSBWS after slipping by the Southeast Champs from Florida, 5-2, Saturday night. They play back-to-back games Sunday beginning at 1:00pm on Wilson Field. The girls play the Philippines in the first game and the East Champs from Maryland at 3:30. For the box scores and game summaries, visit .
---
DISTRICT 2 GIRLS CONTINUE TO DOMINATE
Kalamazoo's District 2 Softball Team moved to 3-0 in this year's Big League Softball World Series after 2 more convincing wins Friday. In the matinee game, D2 defeated the Latin America Champs from Puerto Rico, 9-1. In the nightcap, the girls put on an offensive show with a 20-6 drubbing of the West Champs from California. District 2 plays Clearwater, Florida from the Southeast bracket on Saturday at 6:00pm on Wilson Field. Visit www.softballworldseries.org for updated scores & standings.
D2 THUMPS CANADA IN OPENER
District 2 began this year's 2011 Big League Softball World Series with a 17-0 victory over Canada. Milwood's lone D2 Tournament Team respresentative, Alex Elwell, helped her team's cause with a double and a sacrifice fly, as well as pitching a scoreless 3rd inning. Congratulations on a great start to Alex and all the District 2 girls.
It gets a little more difficult on Friday as the girls play 2 games on Wilson Field beginning with Puerto Rico at 3:30pm. As always, visit www.softballworldseries.org for updated scores and standings. New to the site this season is live game coverage of all BLSBWS games, which includes instant stats and player profiles.
---

In true Southern California style, the West Champs pose for the cameras.
This cold spot was the hot spot
GIRLS READY TO PLAY AFTER OPENING FESTIVITIES
The 2011 Big League Softball World Series is officially underway after the team introductions and medal ceremony on Wilson Field Wednesday night. The Voice of the BLSBWS, Brian Kelley, introduced the players from all around the world as they received their participation medallions from longtime Tournament Director, Bud Vanderberg. The teams, tournament staff and grounds crew were all treated to a Taco Bob's buffet and Coldstone's ice cream. Games begin Thursday, featuring our District 2 girls vs. Canada at 6:00pm on Wilson Field. Check the World Series website www.softballworldseries.org throughout the tournament for scores and updated standings.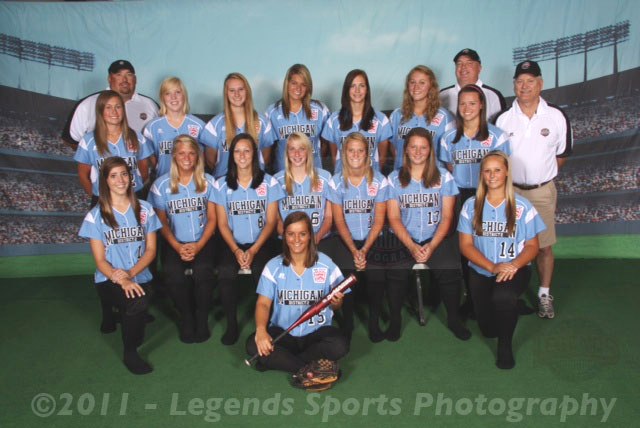 2011 District 2 Big League Tournament Team
WORLD SERIES HAS BEGUN!
Girls from around the world have arrived to participate in Little League's annual Big League Softball World Series hosted each year by Milwood Little League at Vanderberg Park. Bud Vanderberg is once again Tournament Director and expects another exciting tournament with teams from around the country as well as entries from Europe, Latin America and The Far East. This event is a favorite of Kalamazoo softball fans who will swarm to Vanderberg Park to watch dozens of games during the tournament week with teams from Italy to Puerto Rico, as well as our very own District 2 entry! The Championship Game will once again be broadcast live on ESPN. Games begin August 4th. Visit www.softballworldseries.org for schedules and more information.
---
MILWOOD ENDS TOURNAMENT SEASON EVEN
Congratulations to all of our 2011 All-Star teams. The hard work and dedication of our coaches and players during the regular season and post-season is appreciated by all of the Milwood family. Thanks for proudly representing our league!
Milwood's tournament record this season was 14-14, highlighted by the Junior Baseball team's championship game appearance and 5-2 record. The 9/10 Baseball team finished with a winning record at 3-2 and was just a few runs away from being 5-0.
TOURNAMENT SUMMARY
9/10 Baseball (3-2) 19-9 W South Portage, 16-2 W Northwood-Plainwell, 9-7 L West Portage 1, 17-9 W West Portage 2, 8-7 L Alamo
10/11 Baseball (0-2) 10-0 L South Portage, 12-0 L Westwood
Major Baseball (1-2) 13-5 L Gull Lake, 14-6 W Lakeview, 7-2 L South Portage
Junior Baseball (5-2) 9-8 L Lakeview, 10-3 W Gull Lake, 23-7 W Gobles, 7-5 W Westwood, 9-5 W Lakeview, 7-6 W, 12-0 L S. Portage
9/10 Softball (2-2) 26-17 W Gobles, 10-4 L Gull Lake, 12-2 W Northwood-Plainwell, 24-17 L Eastwood
Major Softball (2-2) 4-3 W Gull Lake, 20-0 L South Portage, 7-1 W Eastwood, 15-3 L Parchment
Junior Softball (1-2) 13-10 L Gobles, 16-4 W Delton-Kellogg, 13-0 L Gobles
---
JUNIOR BOYS FALL IN CHAMPIONSHIP GAME
Milwood held on for a 7-6 win against South PortageTuesday night. It was a different story on Wednesday. It was all South Portage in a 12-0 loss in the District 2 Junior Baseball Championship game at South Portage Little League. Milwood played their third game in as many nights in the excessive heat and that may have been a major factor for their uncharacteristicly lathargic play Wednesday. This team need not hang their heads, though. They finished 5-2 in the tournament and their only two losses came to teams they also beat. Congratulations to Coaches Rickstad, Mitchell and Yelton for facing adversity and getting the most out of their players in the past couple of weeks. Great tournament boys!
---
9/10 GIRLS MOVE TO 2-1 WITH BIG WIN
Milwood's girls thumped Northwood-Plainwell, 12-2, Wednesday night at Parchment Little League. The 9/10 Softball Stars are the only game in town now! All the other Milwood tournament teams have fallen and Coach Knight's girls look to keep it going. They can use Milwood's support at their Thursday night game. They face Eastwood at Parchment. Game time is six. Hope to see you all there!

2011 Milwood 9/10 Softball All-Stars
Manager Knight goes over strategy with Nikia Harris.
9/10 GIRLS FALL, EXIT TOURNEY
In a back and forth marathon game Thursday night, the Milwood 9/10 Softball Stars fell 24-17 to Eastwood at Parchment Little League. The loss evened their record at 2-2 and eliminated them from the tournament. Down 9-2 at one point, the girls stormed back to take a 13-10 lead, but Eastwood went back in front when they matched Milwood's 8 run inning with one of their own. In the end the girls comeback fell short after three straight nights of 90 degree heat. They played very hard and represented their league extremely well. Some did not expect much from this team and they were proven wrong. This team was in every game and scored 59 runs in their 4 games! Congratulations girls and Coaches Cheryl Knight, Patrick Sehy & Kristi Johnson on a great tournament run!
---
Eric, DeAndre & Scott feeling good about win!
TOURNAMENT ENDS FOR 9/10'S
After building an early 7-3 lead, the Milwood 9/10 Baseball All-Star's bats went cold and Alamo came back with a walk-off 8-7 win Wednesday night. It was a difficult loss for the boys, but they had a great tournament, finishing 3-2 with 2 close losses. Congratulations to Coaches Curtis, Wenzel & Santiago on a good run with a relatively young group. Nice job boys!
*
9/10 BASEBALL STARS WIN 17-9
Milwood's 9/10 boys shelled West Portage 2 Tuesday to move one victory closer to a District 2 title. Milwood moves to 3-1 and reaches the 'final four' of the tournament. They face Alamo Wednesday night at West Portage Little League.
.
---
JUNIORS ONE WIN FROM TITLE
It all comes down to this. One game for all the marbles. After 5 consecutive wins, with elimination being the only other option, the Milwood Junior Baseball All-Stars need one more win Wednesday to be crowned District 2 Champs. Their opponent will once again be South Portage. In this double elimination tournament, Milwood had to beat the undefeated South Portage team twice to become champs.
The first win came Tuesday night at South Portage. After Milwood jumped out to a 5-0 lead, South Portage came back to tie the game at 6-6 in the sixth inning. Milwood scored a lone run in the 7th, which was all they needed to take the win, 7-6. It will certainly be a busy night for Milwood families on Wednesday. With 3 All-Star teams playing, they will have to be decide which game to attend. The 9/10 Baseball team plays at West Portage and the 9/10 Softball team is in Parchment, as well as the Junior game in South Portage. All games are at 6:00pm. Pick one- or two!- and go support our Milwood teams! GO MILWOOD!
---
Paul Vallier pitched 6 innings.
BRING ON SOUTH PORTAGE!
Milwood's Junior boys exacted revenge on the Lakeview squad with a 9-5 win Monday night. Lakeview handed Milwood it's only loss in the first game of the tournament. The loss eliminates Lakeview from the tourney and lifts Milwood into the championship round. They will face undefeated South Portage Tuesday night at South Portage. Milwood must win two in a row on back-to-back nights to claim the championship.
No league's fans travel like Milwood. Let's bring everyone out to that "league to the south" to cheer on our boys Tuesday night. Our 9/10 All-Stars will also be there to face West Portage in an elimination game. Games start at six. See you all there! Go Milwood!
---
9/10 TEAMS EACH TAKE FIRST LOSS SATURDAY
Both of Milwood's 9/10 All-Star teams lost on Saturday. The girls 9/10 softball team fell to Gull Lake 10-4 at Parchment Little League. The 9/10 baseball team lost to West Portage #1, 9-7. The girls even their record at 1-1 and return to Parchment on Wednesday, July 20th for their next matchup. Milwood's boys fall to 2-1 and play Tuesday at South Portage Little League. Both games begin at six. Get out and support our teams! Go Milwood!
Molly Harding smacks 2-run single in Milwood win.
JUNIOR BOYS MOVE TO 3-1
Milwood's Junior boys held on for a 7-5 victory over Westwood Friday and are one win away from the championship round of the District 2 Tournament. The victory sets up a rematch with Lakeview, who handed Milwood their only loss in game one of the tourney. Game time is 6:00pm on Monday at South Poratge Littlle League.
*
9/10 SOFTBALL OPENS WITH WIN
Milwood's 9/10 girls outlasted Gobles 26-17 in a 3-hour marathon Friday night in Parchment. Hopefully they saved a few runs for their next game against Gull Lake on Saturday afternoon! Game time is 2:00pm, again in Parchment. Go Milwood!
---

2011 Milwood 10/11 Baseball All-Stars
10/11 BASEBALL STARS BOW OUT OF TOURNEY
Milwood's 10/11 Baseball All-Stars finished a disappointing tournament with an 0-2 record after a 12-0 loss to Westwood at West Portage Little League. Although the boys would have preferred a different outcome, they offered no excuses and conducted themselves in a truly professional manner after the loss. It didn't take long for the smiles to return to their faces and the talk of 'next year' filled the air! Thanks Coach Conley and boys for your hard work and proudly representing your league.
---
9/10 STARS MOVE TO 2-0 WITH DRUBBING OF NWPL
Milwood's 9/10 Baseball All-Stars remain undefeated after a 16-2 win over Northwood-Plainwell Wednesday night at Vanderberg Park. The boy's bats remain hot and they produced runs a plenty! They earned two days off and will play at West Portage on Saturday at 2:00pm. Go Milwood!
JUNIOR BOYS BLAST GOBLES 23-7
Milwood's Junior Baseball All-Stars raised their record to 2-1 with a big win over Gobles Wednesday night. Their tourney continues at South Portage Little League on Friday night against Westwood. Game time is 6:00pm.
---

Milwood's 9/10 All-Stars having fun during big 6th inning.
9/10 BOYS ROMP IN 20 HIT ATTACK
Milwood's 9/10 Baseball All-Stars turned a close game into a route with a couple of big innings in Tuesday's 19-9 win over South Portage #2, in Portage. There was plenty of offense in this game with several players with multiple hits, back-to-back doubles off the fence for Reed Crocker & Eric Wenzel and 3 bunt singles for Scott Gillespie. In between all the hits & runs were some sparkling defensive plays by the Milwood boys. In the fourth inning, catcher Dominic Monendo grabbed a pop-up of a failed bunt and fired down to first to complete a double play after a lengthy rundown play in which the South Portage player was finally tagged out. Great offense, great defense, great win! The victory earns the boys a home game against Northwood-Plainwell Wednesday night on Lee Field at 6:00pm. Come out and support the boys!
10/11 STARS FALL TO SOUTH PORTAGE
The SP 10/11 Baseball stars put a hurting on the Milwood boys Tuesday night in a 10-0 win at Parchment Little League. The boys resume play on Thursday at West Portage Little League at 6:00. Head to West Portage to support the Milwood stars!
---
JUNIOR GIRLS FALL OUT OF TOURNAMENT
Milwood's 13/14 Softball All-Stars ended their season with a thud Monday night, suffering a 13-0 loss to Gobles. The girl's record drops to 1-2. The combined Milwood-West Portage team simply couldn't get it going against Gobles. The Milwood girls had a great regular season and really shined Saturday in their tournament win over Delton-Kellogg. Gobles advances to the State Tournament.
JUNIOR BOYS SCORE 8 UNANSWERED RUNS FOR WIN
After trailing 3-2, the Milwood Junior Baseball All-Stars stormed back for a 10-3 victory over Gull Lake, to even their tournament record at 1-1. Milwood resumes play Wednesday night in South Portage.
---
JUNIOR GIRLS EVEN RECORD WITH 16-4 WIN
The Junior Softball All-Stars handed Delton-Kellogg a 16-4 thumping at Eastwood on Saturday to even their record at 1-1. The win sets up a rematch with Gobles on Monday. A win puts them in a championship game with Gobles. First things first, though. Monday's game is again in Eastwood at 6:00pm. Good luck girls!
JUNIOR BOYS LOSE TIGHT ONE
The Junior Baseball All-Stars are in a must-win situation now after a 9-8 loss to Lakeview on Saturday. To even their record, Milwood must win Monday night against Gull Lake. The game begins at 6:00pm at South Portage Little League. Good luck boys!
---
FRIDAY FATAL FOR MILWOOD MAJORS
Milwood's Major Softball & Major Baseball teams were both eliminated from tournament play Friday night. The girls suffered a 15-3 loss to Parchment at Eastwood Little League. The combined Milwood/Gobles team surprised many with their 2 wins in the tournament. Congratulations to Manager Tim Harding and his girls and the girls from Gobles for a great run.
The Major boys fought hard, but came up short in their 7-2 loss to South Portage at Milwood. They finish the tournament at 1-2. This young team played well for Manager Greg Cavey. Congratulations to him and his players.
---
Bruce Allen strokes ball in Wednesday night loss. -K. Feenstra
THURSDAY UPDATE
MILWOOD BOYS GAIN FIRST WIN
The Major Baseball All-Stars bounced back from an opening game loss with a big 14-6 pounding of Lakeview Thursday night at Milwood's Lee Field. The 1-1 boys advance in their bracket to face South Portage on Friday, back at Lee Field. Support our team by coming out to Milwood Little League and cheering on the boys! Game time is 6:00pm.
GOBWOOD GIRLS MOVE TO 2-1!
The Milwood/Gobles Major Softball team rode another strong outing from Rachel Harding to a 7-1 win over Eastwood Thursday. The girls also play their next game Friday night, against Parchment at Eastwood Little League. Go Girls!
JUNIOR SOFTBALL FALLS, 13-10
The 13/14 Softball All-Stars will look to get their first win Saturday after losing to Gobles Thursday night. Milwood's team is combined with West Portage Little League. They will play the winner of the Delton-Kellogg/Gobles game at Eastwood, Saturday at 11:00am.
---
MILWOOD BOYS LOOK FOR FIRST TOURNAMENT WIN- AT HOME
Milwood plays host to Lakeview in the next round of the District 2 Major Baseball Tournament on Thursday night. Come support the boys as they fight to stay alive in the tourney. The game is on Lee Field at 6:00pm. Go Milwood!
JUNIOR GIRLS BEGIN TOURNAMENT PLAY THURSDAY
The 13/14 Softball All-Stars begin their run towards a District 2 title Thursday night. They join the Major girls in Eastwood for a 6:00pm game. If you travel to Eastwood, be sure to support both teams. Go Milwood!
ROUGH NIGHT FOR MILWOOD MAJOR TEAMS
Milwood's Major Baseball Stars lost their tournament opener 13-5 to Gull Lake Wednesday night at West Portage Little League. No time to stew about it though. The boys will look to stay alive with a home game on Thursday night.
The Major Softball Stars had a night to forget with a lopsided 20-0 loss to South Portage at Eastwood Little League. They too, have no time to hang their heads as they go right back to Eastwood Thursday night to face the home team. They will look to return to their great play from game one. Game time is 6:00pm at Eastwood. Go Milwood!
MAJOR SOFTBALL STARS WIN FIRST TOURNEY GAME
The 11/12 All-Star girls go to 1-0 with a hard fought 4-3 victory over Gull Lake Tuesday night in Milwood's first tournament game in this 2011 season. In a well played match-up, the combined Milwood-Gobles stars made several great defensive plays, including Jenna Behrje's game saving double play in the final inning. Jenna leaped and snared a line drive and doubled off a Gull Lake runner to help preserve the complete game win for Rachel Harding. Congratulations girls!
---
Callie, Halley & Annie celebrate 11-10 win.
---
MINORS ALL-STAR UPDATE
LOSS DOES LITTLE TO DAMPEN 7/8 GIRLS SPIRIT; BOYS FINISH 2-2
Milwood's Minor League Softball All-Stars were beaten soundly by Vicksburg on Monday night, but the girls and coaches came away feeling good about advancing to the championship round a year after they lost every game in the tournament . Manager Chris Kilduff and his coaches did a fine job of preparing this year's team and helping to advance the Milwood program at this level. Nice job girls! Can't wait 'til next year!
Milwood's Minor League Baseball All-Stars finished 2-2 in the tournament, as did the softball stars. After dropping their first 2 games and falling out of championship consideration, the boys fought back to win their last two. The combined 4-4 record of both teams this season is a major step forward for Milwood, considering we had a total of 1 win last season. Credit coaches like Mike Mason for their leadership this season and Ted Rafferty who did a fantastic job this year as Minor Baseball Director. Go Milwood!
GIRLS LOSE, BUT ADVANCE TO NEXT ROUND
Despite a rough 13-3 loss to Schoolcraft Friday night, the 2-1 Milwood 7/8 All-Star girls advance to the championship round of their tournament. The girls will look to get back on the winning track Monday night in Mattawan. Good luck girls!
MILWOOD GIRLS ROMP, MOVE TO 2-0
Milwood's 7/8 girls remain undefeated after a big 23-8 win over Vicksburg in the second round of District 15's Machine Pitch Softball Tournament Thursday. The girls have their eye on a championship as they look to go 3-0 in Friday night's game. Go Milwood!
WHAT A GAME!
Milwood's Minor Softball girls (ages 7&8) traveled to Schoolcraft for the first game of this year's District 15 Machine Pitch Softball Tournament. After a weather cancellation on Tuesday, the Milwood girls were eager to play. And play they did! In a tight, competitive battle, Milwood found itself down 3 runs in the bottom of the last inning. The girls rallied, scoring the final two runs after 2 were out, to take an exciting 11-10 victory over Mattawan.
MILWOOD BOYS BATS POUND OUT 2 WINS TO CLOSE TOURNEY
After suffering 4-0 & 12-6 losses, Milwood's 7/8 boys rolled up an 18-6 victory Thursday night in District 15's Machine Pitch Baseball Tournament in Mattawan. They followed up that big win with an 8-5 win Friday night. Congratulations boys on coming back to square your tournament record at 2-2!
---
JUNIOR BOYS UNFRIENDLY HOST IN 15-10 THUMPING OF NWPW
Milwood's Fletcher's Pub claimed our 2011 JBB Special Games Tournament title by beating Northwood-Plainwell 15-10 in the championship game June 5th at Gazley Field. Congratulations to Coach Rickstad and his team after going 3-1 in the tournament.

Eric Wenzel & Reed Crocker win Derby 9/10 Division with 11 homers each.
Cole Luma wins 13/14 Division.
BAILEY HANDLEY HOME RUN DERBY A BIG HIT!
Kids came out to Hassan Field by the dozen on May 7th to help raise funds for the Handley family. Major Baseball player Bailey Handley underwent successful surgery last Thursday and the Home Run Derby Fundraiser will help his family with expenses. Bailey had a rare heart condition since he was very young and required surgery in Ann Arbor. The Derby raised over $600.00 for the Handley's! Thanks to everyone for participating and helping out at the event. We are sure that Bailey's family appreciates it very much!
---

2011 Milwood Little Major Baseball Champs- Crocker & Crocker, P.C.
COME FROM BEHIND WIN COMPLETES PERFECT SEASON
Crocker & Crocker completed their undefeated season with a hard fought 12-11 win over Zatkoff Monday night in the Little Major Baseball Championship game. Zatkoff led the entire game until Crocker & Crocker pushed across the winning run in the bottom of the sixth inning. Zatkoff hit the ball well early and rolled up an 8-2 lead before C&C mounted their comeback. Both teams played very well in a classic game. Congratulations to the blue team on a great win!

Bailey Handley prepares to toss first pitch of 2011 season.
A VERY SPECIAL OPENING DAY
The 2011 Milwood Little League season is off and running after an emotional and festive start. Our annual parade was a lot of fun for all the kids (adults too!) as they carried their sponsor's banners. The KPS fire truck led the way as familiy & friends lined the streets, cheering on the teams.
Pastor and coach, Kevin Hart, delivered the opening prayer when everyone arrived back to Wilson Field. Kevin asked for healing in the Milwood community, where families have recently suffered and lost so much.
Highlighting this year's opening ceremony was 12-year old Bailey Handley throwing out the first pitch. Bailey will be undergoing heart surgery in a couple of weeks to correct a condition he's had since he was little. He threw a ball signed by all the members of his Zoo City Cycle team to his catcher, Travis Pease. He'll be back to join his teammates in the dugout shortly after his procedure and just maybe he'll get back in his team's lineup before the end of the season! Mayor Hopewell was on hand to throw out the first softball pitch to MSB catcher, Kendra Curtis. Kendra was dreading catching one of Mr. Hopewell's "pitches", but he actually kept it in the air for an easy catch! Thanks Bobby!
The 2011 President's Award was also announced. This year's recipient is Matthew Beck. Matt was a long time Milwood player who volunteers every year at the Big League Softball World Series. He graduated with honors from Kalamazoo Loy Norrix High School and is now attending Kalamazoo College after earning the Heyl Scholarship. Congratulations, Matt!
Our Kids Run The Bases top fundraisers were issued their well deserved prizes. This year's top earner was MIBB player, Chris Bullard. He was very happy to receive a $100.00 Toy-r-Us gift card for his efforts! He also helped his team, Bullard Brother's Electric, earn top team honors and win a team party at Putter's! Congratulations, Chris.
Everyone was off to their games after a classic vocal rendition of the National Anthem by Jill Archie. Colin Tichvon recited the Little League Pledge earlier. 21 games and 100's of hot dogs later, our day was complete! Thanks to all who helped make it another great Opening Day, Bailey Handley Day!

KID'S RUN A HUGE SUCCESS!
Milwood players came out to Wilson Field to return their stuffed donation envelopes and run the bases in our first ever Kids Run The Bases Fun'raiser' on a rainy Saturday. What an absolutely fantastic group of families we have here at Milwood! Braving the cold and rain, hundreds of folks came out for the fun! Thanks to all the volunteers who helped out, Slappy from the K-wings and the crew from Taco Bobs for providing food to all our participants. We raised a lot of money for our league from this fundraiser and more will be coming in! We will announce the total on Opening Day. Kids and teams who collected the most donations will receive their prizes on Opening Day as well.
Thanks again Milwood Families!
---
2010
D9 THUMPS PHILIPPINES 14-4 TO CLAIM TITLE
Power and pitching propel Central Region Champs to victory
Steady pitching and a 6-run first inning was all Grand Rapids District 9 needed to be crowned this year's Big League Softball World Series Champions. Pitcher Alexa Gehrls took a 10-0 lead into the fifth, but several errors yielded late runs to the Philippines in the 14-4 win over the Asia-Pacific Champs. Liz Hamming clubbed 2 of D9's 3 home runs, including a two-out, two-run walk-off shot in the bottom of the sixth. The home run put D9 up by ten runs, which by rule made them the winners. This is the second title in 3 years for the District 9 girls. Their last championship, in 2008, ended with a walk-off home run against the Philippines as well. View the entire game replay at www.espn3.com.
Volunteers make 2010 Tournament a success
This year's tournament was another great success thanks to the countless volunteers who work long, hot hours putting it all together. Thanks goes out to Tournament Director, Bud Vanderberg, the BLSBWS Committee and their workers. A huge thank you goes to the hardest working bunch of all, Jason Buss and the grounds crew, who as usual, went above and beyond expectations. Thanks goes to the concession workers and all the others who volunteered their time one way or another in helping to make this tournament happen! Thanks everyone!
Big League Tournament great for Milwood and Kalamazoo
We are very fortunate as a league and as a community to be able to host such a prestigious tournament here on our very own fields every year. There are only a handful or so of Little League championships held each year in the entire country... and one is right here. Families can come out to the park and have fun for free and be a part of a top tier athletic event. And how many sporting events in this area are broadcast live on national TV... at night?! It is certainly a fun experience each year. Just think how many memories these girls will take away from this past week. What an experience for the team from Manila. You can imagine how difficult it was for them to come to our Little League, about as far around the globe as you can go, to play in this tournament. What a classy group of players and coaches they are. Other teams could have learned a lot from them this year.
The friendships and experiences of all the players, host families, volunteers and fans will be remembered long after the game scores...except for maybe the Championship Game! Welcome each year, girls.
Tuesday, August 10
TIE-BREAKER ELIMINATES D2 FROM TITLE CHANCE
The District 2 girls looked very good at times this past week in the Big League Softball World Series tournament, but two close losses proved fatal. On Tuesday the girls slammed Canada, 15-2, but with the Philippines beating Louisiana, D2 was eliminated. District 2's only losses this week were to the Championship Game teams, Central Region Champs, District 9 and the Philippines from the Asia-Pacific Region. Congratulations to both teams! It should be a great game Wednesday night.
It was great to see Alex Elwell come in and pitch 2 scoreless innings for District 2. Alex is one of the younger players on this year's team and had not gotten many opportunities to play with so many veteran players on the team. Nice job Alex, we'll really need you next year!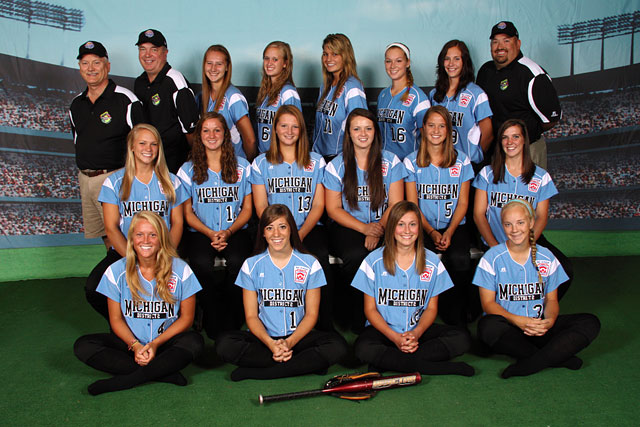 2010 MICHIGAN DISTRICT 2 BIG LEAGUE SOFTBALL TOURNAMENT TEAM
Monday, August 9
D2 LOSES AGAIN, NEEDS HELP TO PLAY FOR TITLE
The Philippines came out determined and energized and beat a D2 squad that might have still been feeling the sting of a D9 defeat the night before. District 2 battled back late, but finally fell to the Asian-Pacific Champs, 6-4. The loss puts the D2 girls in a tough spot, having to win Tuesday morning and hope that the Southwest team from Louisiana can knock off the Philippines. All three teams have two losses, but District 2 would lose the tie-breaker if they have the same record as the Philippines. They win a tie-breaker with Louisiana because they beat them earlier in the tournament. Central Region's D9 team has already clinched a spot in the Championship Game by going 7-0 thus far.
Both key games begin at 9:30am on Tuesday at Vanderberg Park. Visit www.softballworldseries.org for game results, standings and updated schedules.
D2 GIRLS DROP FIRST, 2-1 TO D9
District 9, Central Region Champs out of Grand Rapids, continue their fine pitching in this year's Series with another 2-1 victory over District 2. D9 remains undefeated and is in great shape to be one of the participants in the BLSBWS Championship Game. D-2 is second in the standings, but drops to 5-1 and must win out to guarantee their spot in the title game Wednesday night.
D2 plays the Asian Regional Champs from the Philippines on Monday. Game time is 6:00, on Wilson Field. For game updates and standings, visit www.softballworldseries.org .
---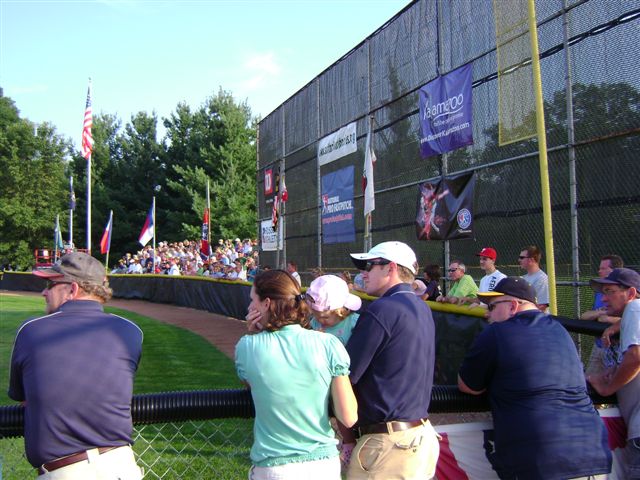 Standing room only on Wilson Field for classic D2 vs. D9 matchup.
---
DRAMATIC WIN SETS UP SUNDAY SHOWDOWN
District 2 pulled out another dramatic win against the East Champs from Delaware on Saturday night. Trailing 1-0 in the top of the 7th, Alyssa Foy came to bat with two out and delivered a two-run home run to left and put D2 up 2-1.
In a tournament that hasn't been short on controversy, one play somewhat soured an otherwise exciting game. D2 pitcher Kristen Kuhlman battled all night and got into trouble in the bottom of the seventh. With the bases loaded and 1 out, a soft liner was hit low toward D2's Megan McQueen at third base. She appeared to catch the ball and touch third for a game ending double play. The umpires were not sure and after a brief discussion, the plate umpire signalled out and ended the game. Needless to say, many of the East fans saw it quite differently, contending that the ball hit the ground before going into the glove. East players and fans went away very disappointed.
Something's gotta give Sunday night. Undefeated District 9 from Grand Rapids will take on the undefeated D2 girls in a 6:00 showdown on Wilson Field. Be prepared for another tight one, even after D2 dismantled previous unbeaten West Monroe, Louisiana, 10-3 Sunday afternoon. Both Michigan teams have battled in close games throughout the first 3 days of the tournament.
D2 WINS MARATHON GAME TO GO TO 3-0
After leading 2-0 for nearly the entire game on Friday night, District 2's girls gave up two runs in the bottom of the seventh to send the game with Dunedin, Florida, into extra innings. D2 put 4 runs on the board in the 10th inning, including a 3-run homer off the bat of Emily Corning and held on for a 6-3 win. Becca Schemberger turned in a stellar pitching performance in going the distance. The team from Kalamazoo is once again in the thick of the chase for another championship as they move to 3-0. D2 will face the East Champions from Laurel, Delaware, Saturday night at 6:00 on Wilson Field. The Delaware girls slammed 4 home runs in a 12-9 win over Antelope Valley on Friday.
D2 OPENS WITH 2 WINS!
In Game 1 for the District 2 Big League Champs they faced the Latin American team from San Juan, Puerto Rico. D2 pounded out 11 hits, including a Shannon Cleveland home run, on their way to an 8-1 victory. Becca Schemberger and 3 other relievers held Puerto Rico to 2 hits in the win.
In the nightcap, the D2 girls defeated the West Champs from Antelope Valley, California, 3-1. Kristen Kuhlman tossed a 1-hitter for the victory. District 2 is 2-0 and faces the Southeast Champs from Dunedin, Florida on Friday night.
For updated scores and brackets throughout the tournament, visit the Big League Softball World Series website at www.softballworldseries.org .
---
.
DISTRICT 2 BIG LEAGUE GIRLS OPEN PLAY TONIGHT
The Big League Softball World Series begins Thursday, with games starting at 1:00pm. The District 2 girls play at 6:00 on Wilson Field against the West representative, Antelope Valley, California. For more information and schedules click on the BLSBWS link www.softballworldseries.org
---
2010 BIG LEAGUE SOFTBALL WORLD SERIES BEGINS AUGUST 5TH
District 2 goes about the business of defending it's BLSBWS title this week here at Vanderberg Park. Nine teams from around the world converge on Kalamazoo to play for this year's Big League championship. Games begin at 1:00pm daily. The August 11th Championship Game begins at 8:00pm EST and will be broadcast live on ESPN2. This is one of the premier sporting events held in the Kalamazoo area and is hosted annually by Milwood Little League. Joining the D2 squad this year is Milwood's very own Alex Elwell. Alex is one of the youngest members of the team, but has a long resume of success here at Milwood as well as in high school and travel ball. We'll be cheering for you Alex!
---
2010 TOURNAMENT RESULTS
7/7 Major Softball- Milwood (1-0) 18, Parchment 3 @ Milwood
7/8 Major Softball- Milwood (2-0) 4, Eastwood 3 @ South Portage
7/9 Major Baseball- Milwood (1-0) 18, Gull Lake 0 @ Alamo
7/10 Major Softball- Milwood (3-0) 21, Gobles 16 @ Eastwood
7/12 10/11 Baseball- Lakeview 12, Milwood (0-1) 5 @ Lakeview
7/12 Junior Baseball- Alamo 13, Milwood (0-1) 3 @ South Portage
7/13 Major Softball- West Portage 7, Milwood (3-1) 3 @ Eastwood
7/13 10/11 Baseball- West Portage 3, Milwood (0-2) 2 @ Alamo
7/14 Major Baseball- West Portage 5, Milwood (1-1) 1 @ Parchment
7/14 Major Softball- South Portage 9, Milwood (3-2) 1 @ Parchment
7/15 Major Baseball- Milwood (2-1) 4, Northwood-Plainwell 3 @ South Portage
7/15 Junior Baseball- Lakeview 6, Milwood (0-2) 1 @ South Portage
7/16 Major Baseball- Milwood (3-1) 13, Gull Lake 2 @ Milwood
7/17 9/10 Baseball- Milwood (1-0) 11, Delton-Kellogg 1 @ Milwood
7/17 9/10 Softball- Milwood 4 (1-0), Alamo 1 @ Parchment
7/17 Major Baseball- Milwood (4-1) 7, West Portage 0 @ Eastwood
7/19 Major Baseball- Milwood (5-1) 12, South Portage 9 @ Milwood
7/20 Major Baseball- South Portage 2, Milwood (5-2) 0 @ Milwood
7/20 9/10 Softball- Gull Lake 15, Milwood (1-1) 4 @ Eastwood
7/20 9/10 Baseball- South Portage 5, Milwood (1-1) 4 @ West Portage
7/21 9/10 Softball- West Portage 8, Milwood (1-2) 6 @ Gull Lake
7/21 9/10 Baseball- Milwood (2-1) 12, Parchment 2 @ Milwood
7/22 9/10 Baseball- Milwood (3-1) 12, Westwood 0 @ West Portage
7/24 9/10 Baseball- Milwood (4-1) 20, Gull Lake 10 @ South Portage
7/27 9/10 Baseball- Milwood (5-1) 13, Alamo 9 (10 innings) completion of 7/26 game @ Milwood
7/27 9/10 Baseball- West Portage 5, Milwood (5-2) 1 @ Parchment
Two losses eliminated teams marked in red. Final League Tournament Record- 14-12.
---

Sore loser coaches immediately crush team after tough loss.
Noel Cavey steals home to spark win
SEASON ENDS FOR 9/10 ALL-STARS
Milwood's last team standing finally fell in the 9/10 Baseball Tournament, 5-1 to West Portage at Parchment Little League on Tuesday night. The boy's end a very exciting run in the tournament with a 5-2 record. Milwood was riding high after completing the suspended game from the night before with a 13-9 victory over Alamo. They followed that win with their game against West Portage.
The Alamo game was a classic battle that featured one of the tournament's most exciting plays. With Milwood trailing 8-7 in the 6th, and with 2 out and 2 strikes on the batter, Noel Cavey stole home to tie the game and force extra innings. The Milwood throng erupted, but would not be able to celebrate the victory until the next day. This team hit and pitched very well throughout the tourney and will have many great memories to take from it. Congratulations players, coaches and families on a fantastic season and tournament!
---
9-9 AFTER 9
Milwood and Alamo played a marathon game that must be completed Tuesday night at 6:00pm in Parchment. These evenly matched teams went back and forth before succumbing to darkness after Alamo batted in the bottom of the 9th. The loser of this game is done for the year. Winner advances to the regularly scheduled game against West Portage immediately following completion of the Alamo game. Come out and support the team! Go Milwood!
---
Saturday, July 24
Tony Dougherty joins the hitting party in Milwood's win over Gull Lake.
BOYS PUT UP 20, ADVANCE
Milwood's 9/10 Baseball Stars continue their attack on tournament pitching, pushing across 20 runs in their victory over Gull Lake on Saturday afternoon. The game was rescheduled from 11:00am to a 2:00pm start because of the weather. The boys didn't seem to mind as their bats continued to produce. Even with two strikes and 2 outs, Milwood managed to get hits and score runs. Gull Lake fought back from a 12-5 deficit in the top of the fifth to make the score 12-10. Milwood stormed back with 8 runs in the bottom of the inning, which proved to be the winning number as they went up by 10 after 4 innings. The winning run scored just prior to a runner being tagged for the third out. Milwood has now outscored it's opponents 59-18 in it's 5 games. Great going boys and welcome home! Your next game is on Wilson Field, Monday night!
Friday, July 23
DISTRICT 2 WINS STATE TITLE, FALLS IN REGIONALS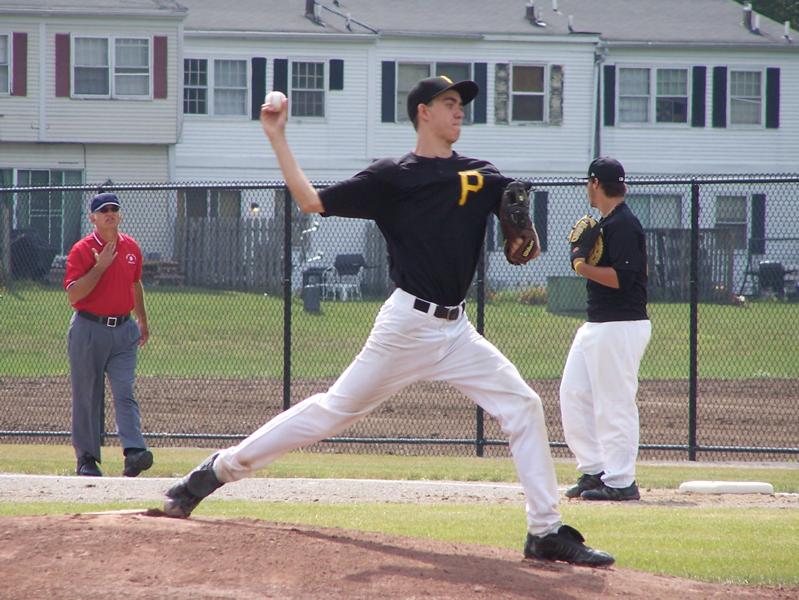 Milwood's Matt Baker started and left the game with a10-0 lead in Michigan's win
Michigan District 2 Won the Big League Baseball State Championship last week. Matthew Baker was Milwood's lone representative on the team. Michigan advanced to the Regional Tournament in Wyoming, Michigan this past week. After dropping the first game of the tournament to Grand Rapid's District 9 team 6-3, D2 beat Ohio's representative 10-3. Matt pitched one hit, shutout ball until he was relieved late in the game.
Michigan was eliminated in their third game after dropping another game to D9, 6-1. Congratulations to all of the District's players on winning the Big League State Championship and thanks Matt for doing Milwood proud!
---
Wednesday, July 21
GIRLS LOSE HEARTBREAKER TO WEST PORTAGE
Rachel Harding pitched another complete game for the 9/10 Stars in an 8-6 loss to West Portage on Wednesday night. Milwood left the bases loaded in the final inning, unable to come up with that game tying hit to keep their tournament hopes alive. Milwood bows out with a 1-2 record. This was a young group of girls with new coaches and we congratulate them on a great tournament and hope to see them all back next season! Go Milwood!
---

Keaton Ashby smacks first of two home runs in 12-0 win. -K. Feenstra
9/10 BOYS BATS BOOM!
Milwood's lone remaining All-Star representative, the 9/10 Baseball team, took another step closer to a District crown by pounding Westwood 12-0 on Thursday night. Milwood pitched extremely well again. They have allowed only eight runs in their first 4 games. The big story Thursday night was on the offensive side where Keaton Ashby led the attack with 2 home runs.
Milwood advances to play Saturday, July 24th in South Portage at 11:00am. We encourage all Milwood families to come down to Portage to support our boys this Saturday. Go Milwood! 9-10 Baseball Bracket
Tuesday, July 20
Mitch Yelton threw out runner at home.
MAJOR BOYS LOSE PITCHER'S DUEL
South Portage wins District title, advances to State Tournament
Milwood's 11/12 boys played exciting baseball throughout this year's tournament and found out how good pitching will usually beat good hitting. After an explosive game at the plate the night before, the boy's were shutout Tuesday, 2-0, by South Portage in what was surely one of the fastest, most well played games in Milwood tournament history. Milwood's Traver Parlato pitched pretty good himself, allowing one unearned run and the other scored on a botched rundown. Milwood had several solid defensive plays including Mitch Yelton gunning down a runner at home from right field with a perfect strike to catcher Zach Mason.
Milwood ends their tournament run with a 5-2 record and can be very proud of how hard they played. Congratulations to all the boys, coaches and families on a great season!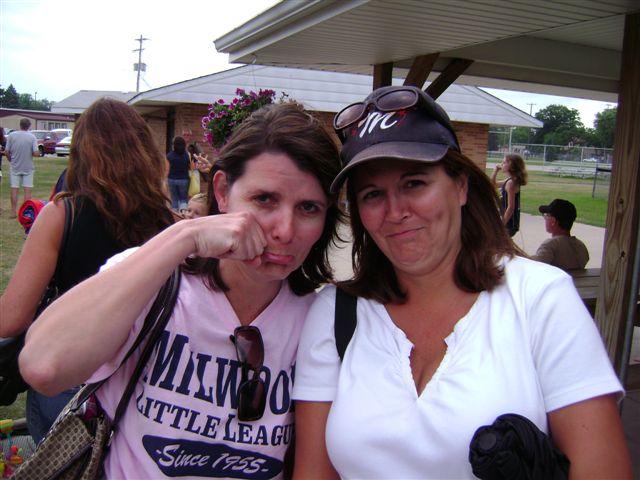 Major moms shed major tears after tough defeat.
9/10 STARS FALL IN BASEBALL AND SOFTBALL
It was a tough night for both Milwood's 9/10 tournament teams. The softball team lost 15-4 to Gull Lake and faces West Portage at Gull Lake on Wednesday night. Game time is 6:00pm. If you're not watching games at Milwood, go support our girls!
The baseball team lost 5-4 to South Portage and will play at home on Wednesday night. Support the boys at 6:00pm on Wilson Field.
---
Monday, July 19
Cole Luma's grand slam puts Milwood up to stay.
POWER BARRAGE!
The Milwood boy's came into the game knowing they had to win to force another game before they could be champs. They quickly fell behind 2-0 and could have packed it in and blamed the pressure. They could have ended a great season with plenty of hugs from mom and dad and gone for pizza. And then BOOM!, it happened! More of that Milwood home run power. Austin Thompson stroked a pair of three-run homers and Cole Luma capped off the scoring with a grand slam in the 12-9 win over South Portage. The victory means that Tuesday's game is for the championship. One of these talented teams is headed to the State Tournament. Let's all do what we can to make sure it's Milwood! Come out Tuesday night to support the Major boys. Game time is 6:00 on Wilson Field.
---

2010 Milwood 9/10 Baseball All-Stars
9/10 BASEBALL MOVES ON AFTER BIG WIN
Milwood's 9/10 All-Stars go to 2-1 in this year's tournament after a 12-2 pasting of Parchment on Wilson Field Wednesday night. The win earns them a game against Westwood at West Portage on Thursday night at 6:00pm. This is Milwood's last representative in a tournament, so come out to West Portage and cheer on the boys! Go Milwood!
---
.
11/12 BOYS 3-1, EARN REMATCH WITH WEST
Milwood's Major boy's slammed Gull Lake 13-2 Friday night and are a single win away from a championship series with South Portage. They face West Portage on Saturday at Eastwood. Game time is 2:00pm. Come out and support Milwood!
.
---
9/10 SOFTBALL WINS PITCHER'S DUEL!
The Little Major girls from Milwood pulled out a 4-1 win against Alamo on Saturday in the opening game of this year's 9/10 Softball tournament. Rachel Harding pitched a complete game and did not allow a a run until the 6th inning. Great job girls! Milwood plays next at Eastwood on Tuesday at 6:00. Go Milwood!
---
Milwood families fill stands for first tournament game Saturday.
9/10 BOYS OPEN WITH BIG WIN OVER D-K
The home fans were treated to a 11-1 win Saturday as the Milwood 9/10 All-Stars thumped Delton-Kellogg in their first game of the district tourney. A 9-run second was enough to advance Milwood to the next round against South Portage at West Portage on Tuesday 7/20. Game time as always is 6:00. Good luck Milwood!
---
Saturday, July 17
Austin Thompson cools off after victory.
MILWOOD'S REVENGE, 7-0 OVER WEST PORTAGE
The only tournament blemish on Milwood's 11/12 Baseball team's record was a 5-1 loss earlier in the week to West Portage. The second time around was a different story as the boy's prevailed with some timely hitting and solid pitching from Austin Thompson, who also added a home run in the sixth. Now Milwood advances to the championship round with South Portage on Monday night. South Portage is undefeated and Milwood is 4-1. Milwood must win to force a second game on Tuesday in the double elimination format for this tournament. Let's fill the stands Monday night on Wilson Field! Go Milwood!
---
Thursday, July 15
JUNIOR BOYS FALL AFTER ROCKY START
Milwood's 13/14 Baseball Stars were eliminated from the tournament with a 6-1 loss to Lakeview. After six early runs, Milwood held Lakeview scoreless the rest of the way, but could manage only one run. A Jacob Lincoln single scored Keith Archie. Congratulations guys for hanging tough in this year's tourney!
---
MAJOR BOYS STAY ALIVE
Milwood's 11/12 All-Stars went up 4-0 early and had to hold on for a 4-3 victory Thursday night against Northwood-Plainwell in Portage. The victory puts Milwood in the final four of this year's District 2 Tournament and advances them to a rematch with Gull Lake Friday night at Milwood. Game time is 6:00pm on Lee Field. Let's pack the place! Go Milwood!
Wednesday, July 14
MAJOR BOYS COME BACK DOWN TO EARTH
Milwood's 11/12 Baseball team faced a tough foe in Parchment Wednesday night as West Portage silenced the Milwood bats in taking a 5-1 victory. After scoring 18 runs in their opener, Milwood could manage only a single last inning run. Coaches were concerned with their team's chances coming off such a big win. Now the boys must put it behind them as they have less than 24 hours to recover before they face Northwood-Plainwell on Thursday night. South Portage will host the game. Our Junior Baseball team also plays at South Portage Thursday and both teams are in elimination games, so be sure to head out to South Portage to support our teams! Go Milwood!
---
Wednesday, July 14
GIRLS RUN ENDS WITH LOSS TO SOUTH PORTAGE
After a 3-0 start in this year's tournament, Milwood's 11/12 Softball team lost it's second in a row at Parchment Wednesday night. The 9-1 defeat to South Portage eliminated the girls from this year's tournament. This team worked hard the last week and played two very tough teams these last two games. Congratulations girls on a great tournament and thank you for being great representatives of Milwood wherever you played!
9/10 STARS OPEN PLAY SATURDAY
Both Milwood's Baseball and Softball 9&10 year-old All-Stars begin play this Saturday, July 17th. The baseball team opens at home against Delton-Kellogg on Wilson Field at 11:00am. Be sure to come support your team! If it's softball you prefer, head over to Parchment Little League as Milwood opens against Alamo. Game time is also 11:00am. Go Milwood!
---
2010 Milwood 10/11 Baseball All-Stars. -B.Gregory-Wallis
10/11 BOYS BOW OUT WITH TOUGH LOSS
Milwood's 10/11 Baseball team was eliminated in a heartbreaking 3-2 loss to West Portage Tuesday night. Milwood's Bruce Allen pitched a fine game, allowing only one run until the bottom of the last inning when West Portage pushed across 2 runs to escape with the win. The boys played a solid game and showed great character in coming back after a sloppy 12-5 loss the night before at Lakeview. Nice job guys!
---
MAJOR GIRLS SUFFER FIRST LOSS
Milwood's 11/12 Softball team lost 7-3 to West Portage on Tuesday. The girls record drops to 3-1 and forces them into an elimination game Wednesday in Parchment against South Portage. Game time is 6:00pm. Go Milwood!
---
10/11 & JUNIOR BASEBALL HAVE ROUGH NIGHT
Milwood's 10/11 Baseball All-Stars lost 12-5 at Lakeview on Monday night in their tournament opener. The boys will go after their first victory Tuesday night against West Portage in Alamo. Game time is 6:00 and the team could use your support in Alamo!
The Junior Baseball Stars dropped a 13-3 decision to Alamo Monday. The Junior boys fall to 0-1 in the tourney and are ready for their first win on Thursday at South Portage. Please support our tournament teams at all of their games. Go Milwood!
---

Milwood's 11/12 girls undefeated after 4-3 win over Eastwood.-R. Lohner
Saturday, July 10
MAJOR GIRLS GO TO 3-0 WITH WIN OVER GOBLES
Milwood's 11/12 girls remained perfect with a 21-16 victory over Gobles on Saturday. This win, coupled with the 4-3 victory over Eastwood onThursday, keeps them undefeated heading into their Tuesday night clash with West Portage. Game time is six at Eastwood. Go Milwood!
---
BAM! MILWOOD ROMPS 18-0!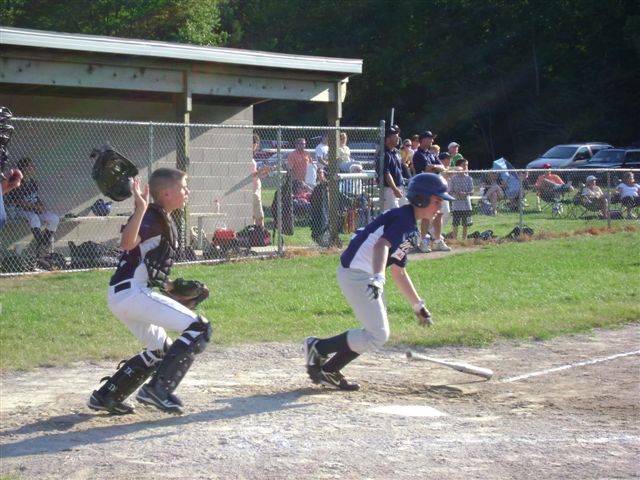 Austin Thompson blasts second home run in Milwood's win over Gull Lake.
Friday, July 9
Traver Parlato tosses a no-hitter in win.
Traver Parlato threw 6 hitless innings and Milwood's bats were on fire as they blasted Gull Lake in their Major Baseball tournament opener. Milwood smacked 5 home runs en-route to the 18-0 victory. Austin Thompson & Collin Rickstad each hit two round-trippers and Keegan Banks added another.
Traver only surrendered a few hard hit balls and helped his own cause by fully extending to snare a hard line drive in the fourth inning. Congratulations to Traver and all the boys on a memorable game
Milwood moves on to Parchment to play West Portage on Wednesday, July 14th. Game time is six. Go Milwood!
---

Cole Luma rips double to right in Milwood 18-0 win over Gull Lake..
Milwood's 11/12 Major Team beats Parchment 18-3 for first tournament win.
Wednesday, July 7
MAJOR SOFTBALL DOMINATES IN FIRST WIN!
Parchment's 11/12 girls fell 18-3 to Milwood Wednesday night. Although Milwood hosted the game, they did not treat their guests very well on the field! They played aggressive against a sluggish Parchment squad en-route to the win. The play-in game puts Milwood back on the road Thursday night as they face Eastwood @ South Portage. Go Milwood!
---
2010 MAJOR BASEBALL CHAMPS!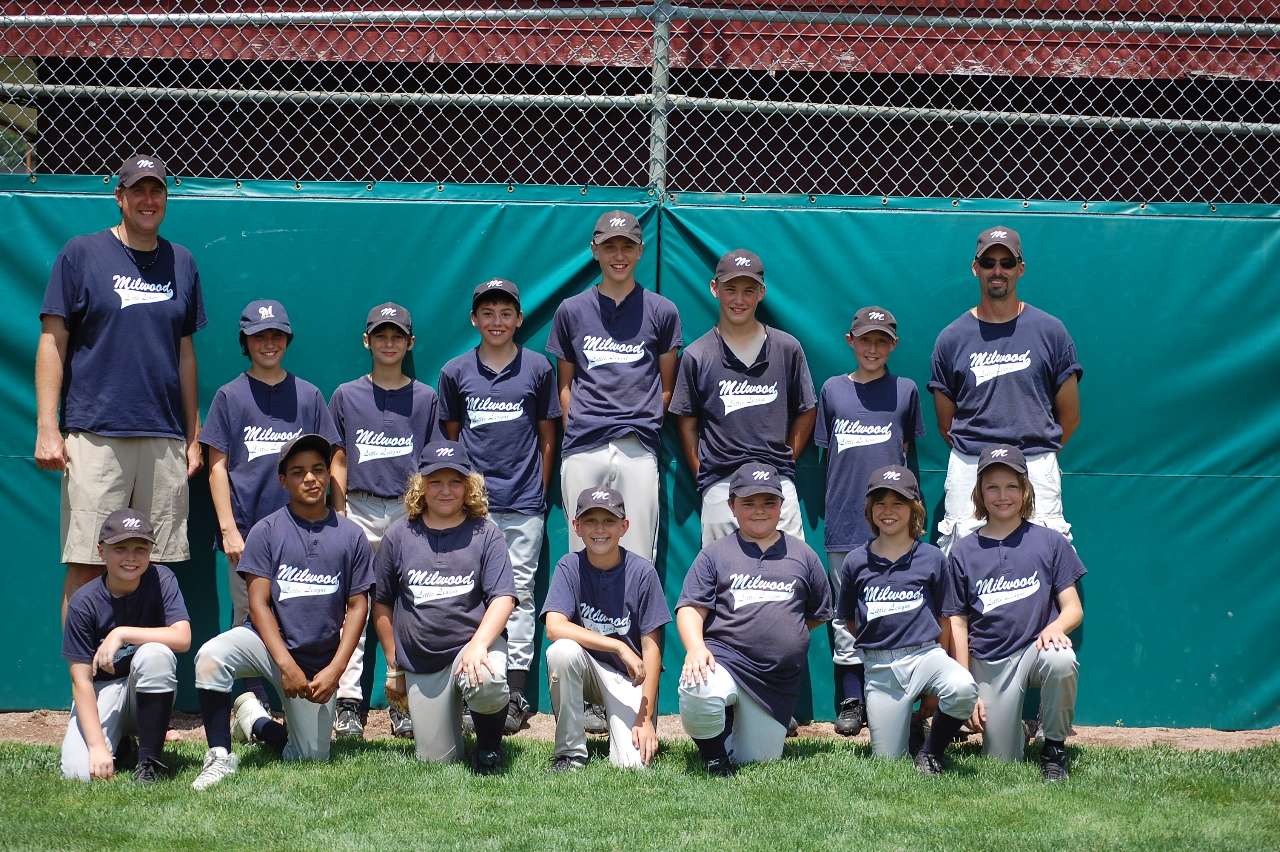 Zoo City Cycle captures 2010 Major Baseball Championship with win over HBC.
2010 MINOR BASEBALL CHAMPS!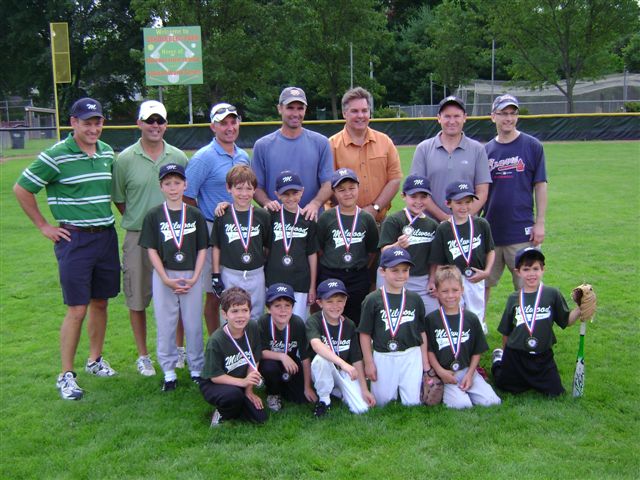 Crocker & Crocker beat Dan Wood Co.13-12 on June 19th to take the 2010 title.
Saturday, June 26
2010 Milwood Blue 7/8 All-Stars
DISTRICT 15 HOSTS 7/8 MACHINE PITCH TOURNEY
Milwood sent 2 baseball teams and one softball team to the 8th Annual District 15 Machine Pitch Tournament this week. Blue and Red All-Star teams in baseball were hosted by Schoolcraft and Three Rivers. The girls also played at Three Rivers. Although the game results weren't what we would have liked, these kids had fun and learned a lot about tournament play. They found that expectaions must be high to compete at this level and subsequent levels as they progress through Little League. This photo goes a long ways towards explaining why the Blue Team only won one game....
Milwood players stroll down Lover's Lane in Opening Day parade
OPENING DAY A BIG SUCCESS!
After a lively parade around Milwood, over 600 participants filed onto Wilson Field for an opening ceremony to kick-off the 2010 Milwood Little League season. 19 games were played, hundreds (maybe thousands!) of hot dogs were consumed and fun was had by all in what turned out to be a beautiful Saturday afternoon. We are all looking forward to another great year here at Vanderberg Park as Milwood Little League embarks on it's 56th season. Let's Play Ball!
.
---
Click here to view field renovations photo album
WILSON FIELD DRAWS RAVES
The field upgrades made here at Milwood Little League this past year served us well in the 2009 season and we were proud to host the Big League Softball World Series championship game on beautiful Wilson Field. Many heaped on the praise as Milwood was in the national spotlight for the entire week. Thanks must go to Little League and Bud Vanderberg's coordination in securing the bulk of the funding through them. Thanks must also go to the Milwood Board of Directors and all of the families of Milwood Little League for their patience and support of this project. Future Milwood families will enjoy these fields for many years to come.
---