MILWOOD LITTLE LEAGUE, PO BOX 2786, KALAMAZOO, MICH., 49003: Welcome
On-Line Registration has begun for Senior and Big League Baseball and Softball. Register Today!



Fun for All Champions
Congratulations to our three Fun for All Champions from May 17th. Our Juniors team (coach Buzz Powell) defended our home field by capturing first place on Sunday. Similar to Juniors, our Majors team (coach Ted Rafferty) stayed home at Milwood to capture the first place medals. Finally our Majors team (coach Mike Modugno) went on the road to Westwood to win that sites title.
Tuesday, May 5
Opening Day 2015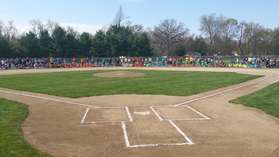 Opening Day May 2, 2015
Tuesday, May 5
Opening Day 2015
2015 Milwood Opening Day

THANKS 2015 LEAGUE SPONSOR