MILWOOD LITTLE LEAGUE, PO BOX 2786, KALAMAZOO, MICH., 49003: Welcome
WELCOME TO MILWOOD LITTLE LEAGUE!
Milwood Little League offers T-ball, Baseball and Softball programs for ages 4-18, who reside within our residential boundaries.
Check the boundary map on the above menu to see if your league is Milwood.
NEW BOARD DIRECTORS ELECTED FOR 2014
New Directors were elected to the 2014 Milwood Board at the October 1st Annual Meeting. Kim Feenstra was elected President, Dave Bieszk, Vice President, Lauren Apperley, Secretary and Buzz Powell, Safety Officer. John Bradshaw (Treasurer), Ed Overhiser (Information Officer) and Ted Rafferty (Player Agent) were reelected to their same positions to round out the Executive Board. Sue Geiger was reelected Concessions Manager. In three new Board positions, Bill Feenstra was elected Director of Baseball, Pat Conley, Director of Softball and Mark Snapp, Properties Director. As Past President, Jack Bullard will sit on the Board and Bud Vanderberg remains as a Lifetime Member.
Congratulations to all!
---
2013 FALL SEASON ENDS WITH GAMES & PICNIC
Milwood Little League's 3rd season of Fall Baseball & Softball ended September 28th following a full slate of games. Another great MFL season wrapped up with a potluck picnic for all the fall ball players and their families. Thanks to all the families who helped make this fall season the best ever, with approximately 120 participants! MFL Rocks!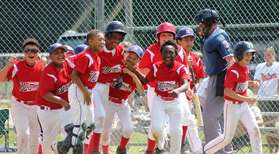 2013's 10/11 Baseball All-Stars finished as runner-up in their tournament.
MILWOOD COMPLETES TOURNAMENT SEASON
Milwood's All-Star teams have completed tournament play for the 2013 season. Congratulations to all of our All-Star players for being selected to represent our league! Your hard work and competitive spirit is appreciated by everyone in your league! Our 10/11 Baseball and 50/70 Intermediate Baseball teams both reached the Championship Round of their tourneys, finishing as runner-ups. Our Major Baseball team finished their tournament with a 3-2 record to match the 50/70 team with the most wins for a Milwood team this season. Overall, Milwood tournament teams finished 9-10 for the season.
2013 TOURNAMENT SUMMARY
Little Major (9/10) Baseball- (All games at West Portage) L-Westwood 11, Milwood 5; W-Milwood 28, South Portage #2 27; L-South Portage #1 11, Milwood 9. Final record 1-2
10/11 Baseball- (All games at Alamo) W-Milwood 12, South Portage 2; L-West Portage #1 14, Milwood 11; W-Milwood 20, Westwood 12; L-West Portage #1 11, Milwood 2. Final record 2-2
Major (11/12) Baseball- (At West Portage) W-Milwood 11, Parchment 6; (At Gull Lake) L-West Portage 26, Milwood 0; W-Milwood 9, Lakeview 3; W-Milwood 11, Parchment 0; L-South Portage 8, Milwood 1. Final record 3-2
Intermediate 50/70 Baseball- (All games at Milwood) W-Milwood 14, Westwood 4; L-West Portage 8, Milwood 2; W-Milwood 17, Westwood 5; W-Milwood 7, West Portage 5; L-West Portage 17, Milwood 4. Final record 3-2
Little Major (9/10) Softball- (All games at Eastwood) L-Parchment 28, Milwood 10; L-West Portage 11, Milwood 7. Final record 0-2
Visit our Facebook page for game highlights and photos.
GO MILWOOD!