MILWOOD LITTLE LEAGUE, PO BOX 2786, KALAMAZOO, MICH., 49003: Welcome
Baseball and Softball Fielding Clinc This Saturday
MILWOOD LITTLE LEAGUE SPRING CLEANUP THE THIS SATURDAY
Opening day is a week from this Saturday and there's still plenty of work to do the this Saturday, April 25th to get our facility ready for the start of the season. We will be raking, weeding & trimming, picking-up debris, moving bleachers and whatever else is needed to get us ready for the the season. Bring the whole family down to the ballpark to help for a few hours this Saturday, April, 25th, beginning at 10:00am. Also to speed up the process, please bring along rakes and shovels. Bring the the kids as well...all ages welcome. The more bodies we have, the more we can get done! Hope to see you there!
2014 MILWOOD DISTRICT CHAMPIONS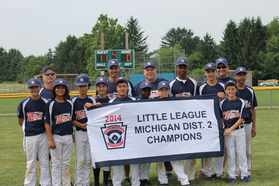 2014 Distrct 2 Major Baseball Champs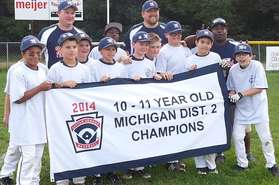 2014 District 2 10/11 Baseball Champs
.

THANKS 2014 LEAGUE SPONSOR