MILWOOD LITTLE LEAGUE, PO BOX 2786, KALAMAZOO, MICH., 49003: Welcome
On-Line Registration is on-going.
New Registration Dates Announced:
Saturday, March 7th from 9 am-Noon at Loy Norrix Gym.


2015 Makeup Tryout Schedule and Hitting Clinic Schedule
Make-up Tryouts - Saturday March 7th
Baseball and Softball 9 - 10 years old 9:00am - 10:00am
Baseball and Softball 11 years and up 10:00am - 11:00am
Don't let the weather fool you, baseball season is right around the corner. If you missed Tryouts last Saturday, our makeup date is next Saturday, March 7th. Also next Saturday will be hosting a first in series of FREE Clinics. Our first clinic is for hitting. Both the makeup tryouts and clinic will be at the Loy Norrix Auxiliary Gym. Times our listed below. Finally, due to a schedule conflict at Milwood Elementary we will not holding registration on March 4th. That date will be rescheduled. However, you can register next Saturday, March 7th at the makeup tryouts from 9am-noon. Thanks.
Hitting Clinic - Saturday March 7th
Baseball: 7/8 11:00am - noon
9/10 Noon - 1:30pm
11 and up 1:30 - 3:00pm
Softball: 7 - 10 3:00 - 4:00pm
,p> and up 4:00 - 5:00pm
Registration - Saturday March 7th 9:00am - noon
Additional registration date : TBD
2014 MILWOOD DISTRICT CHAMPIONS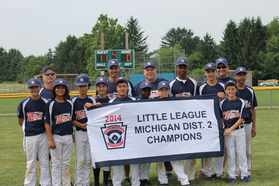 2014 Distrct 2 Major Baseball Champs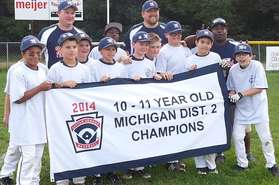 2014 District 2 10/11 Baseball Champs
.

THANKS 2014 LEAGUE SPONSOR