MILWOOD LITTLE LEAGUE, PO BOX 2786, KALAMAZOO, MICH., 49003: Welcome
HELP NEEDED FOR 50/70 DISTRICT & REGIONAL TOURNAMENTS
We have two important events coming to Milwood Little League and we need your support to make sure they are a success! As I mentioned earlier this week, Milwood will be hosting the 50/70 District All Star tournament from July 2nd-July 10th.
Please consider volunteering to help either with a game or in the concession stand.
To help in concessions click here
To help with a game click here
Also this year, Milwood will once again be hosting the 50/70 Intermediate Regional Tournament. This tournament will be bringing in 11 teams from across the Central Region with the winner earning a spot in the World Series in California. T
he Tournament dates are July 24 - July 30. We need your help in concessions and with scoring and announcing games to make this tournament a success.
To help in concessions please click here
To help with scoring, announcing and pitch count for games click here
Thanks in advance for your support!
Night with the Kalamazoo Growlers
Lets look back at our night with the Growlers from Friday, June 12th. Here is the first pitch from Aubry Rowlson, who sold nearly 300 tickets for the fundraiser!
First Pitch
Monday, June 15
Milwood Little League's Night with the Kalamazoo Growlers June 12, 2015
Monday, June 15
Kalamazoo Growlers and Challenger Division
Members of the Kalamazoo Growlers met members of the Challenger Division on Saturday, June 13th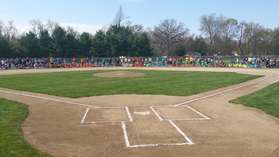 Opening Day May 2, 2015
Tuesday, May 5
Opening Day 2015
2015 Milwood Opening Day

THANKS 2015 LEAGUE SPONSOR