Millville Soccer Association: News
Spring 2015 Fundraiser
JOE CORBI's FUNDRAISER IS BACK!
By popular demand, this season's fundraiser is Joe Corbi's Family Favorites. Joe Corbi's has combined their famous pizza kits and now included in their family favorites are Mrs. Fields Cookies and Auntie Annes Pretzels, along with their cheesecakes and pies.
Each family must sell at least 7 items or a $50 buyout. See flyer for incentives for selling more items. Orders and money must be turned in to your coach in the envelope provided. Coaches, turn in orders and money by Saturday April 11th.
**IMPORTANT** Product pickup is scheduled for Thursday May 7th. Product needs refrigeration! Pick-up is crucial. Pick-up location will be at the clubhouse at 1400 McCafferty Blvd between the hours of 5pm – 8pm. Items not picked up on the pickup date will be distributed to others. No items will be saved. They must be picked up that night.
Upcoming Events at Millville Soccer
There are a lot of events happening at Millville Soccer in the next few months. Mark your calendars now! Here are just a few:
- Saturday April 11th - Fundraiser Orders Due.
- Friday May 1st 6pm - 9pm - Friday Night Lights. All Recreation games are held "under the lights"
- Monday May 4th - Elks Youth Week Soccer Shoot. Starts at 6pm, register at 5:45pm. Open to all boys and girls in Millville in 1st through 6th grade.
- Thursday May 7th 5pm - 8pm - Fundraiser Pick up 5pm-8pm
- Saturday June 6th 10am - 2pm - Family Fun Day - Inflatables, games, raffles, food and prizes!
- June or July - Coaching "F" License Course (TBA)
- Saturday August 29th - Millville Soccer Association night at PPL Park (More information to follow).
We hope to see you at these events. Check back for more updates. If you have any questions, fell free to email publicrelations@millvillesoccer.com or call 856-293-8700.
Travel Team Tryouts
U12 Girls:
The current Millville Pride and a newly formed girls team are looking for interested and committed players for the Fall 2015 season. Open tryouts will be held on Tuesday, May 19th at 6pm and again on Sunday, May 31st at 3pm, at the Millville Soccer Complex. All interested players born between August 1st, 2003 and July 31, 2005 are encouraged to tryout. Please email Coach Dan Greco at djggreco@excite.com if you would like to attend or have any questions.
Reminder
Visitors to our McCafferty Blvd complex are reminded that there is No Smoking in the complex and No Pets are allowed. Please keep our new complex clean and safe for all participants and visitors. Thank you!
Refund Policy
Recreation Refund Policy
1. If a player requests to cancel their registration prior to the close of the Registration Period, they shall receive a 100% refund.
2. If a player requests to cancel their registration after the close of the Registration Period, but before Draft meeting (player/team placement), they shall receive a 50% refund.
3. No refund if a player requests to cancel after Draft meeting (player/team placement).
4. If after the season has started and the player has suffered an injury or something causes the player to be unable to continue playing, the parents may submit a written request to the Registration Committee for review.
5. No Late Fees will be refunded!

Travel Refund Policy

1.If a player requests to cancel their registration prior to the State Roster and/or Player Passes being completed, they shall receive a 100% refund.
2. If a player requests to cancel their registration AFTER they have been rostered to a team and/or player passes being completed, they must submit a written request to the Registration Committee for review.
3. No Late Fees will be refunded!
Millville TOPSoccer Program Is Looking For help!
Millville Soccer's TOPSoccer program is looking for Buddies and Coaches!

TOPSoccer is an inclusive program open to children age 5-19 with special needs. The program offers a modified version of the game of soccer designed to provide a fun, relaxed and active environment for children with special needs to gather and participate with the help of a "Buddy". Buddies are volunteers who pair up with a player to support, encourage and assist them throughout the season.

We need coaches to help with the program too. Coaches can be parent volunteers, adults friends or other relatives or anyone who wants to help with the program. Soccer experience is not required, but encouraged. TOPSoccer Coaches Training will be held as needed.
If you are interested in being a TOPSoccer Buddy or Coach, please email publicrelations@millvillesoccer.com (Subject: TOPSoccer Buddy) or call 856-293-8700
We Need Volunteers
Millville Soccer Association is a volunteer non-profit organization that concentrates all its efforts on the development of youth soccer in our community, not on profits or high salaries for coaches. Our club won't work without your help. Historically, Millville Soccer has asked for volunteers as needed, but it has become more and more challenging to get help when needed. The costs to maintain our facilities continue to rise. Without support from all participants (including parents and family members), it will cause the system to break down and the costs will be handed down to the parents.
One very easy way to volunteer is to work in the Concession Stand. Each team is assigned one hour each season to work in the Concession Stand. We only require one or two parents at a time in concession stand. That time is split up among all parents on the team. If everyone participates, it will only require a few minutes from each person. (If your team has ten players, and your team has two parents working at a time, then it will only be 12 minutes for your assigned time). There are many areas where you can volunteer with the league. They include, but are not limited to: Team Coach, Assistant Coach, Concession Stand, Field work, Line painting, Registration, Fundraisers, Tournaments and Special Events.
This season, we will begin a Volunteer Incentive Program. Any time you are volunteering for an event, we will log your time (in hrs). The log will be kept in the Concession Stand. It is your responsibility to have your time recorded in the log. Make sure it is signed (verified) by a Board Member. At the end of the season, we will randomly select a name from the log and award a set of tickets to a Philadelphia Union game.
In the future, we will have more incentives as we get more volunteers involved. Incentives may include: MSA Clothing, Union Tickets, reduced registration fee, and more.
Get involved! We can all win with a little help. Remember, the more people involved, the easier it is on each individual.
Thank you!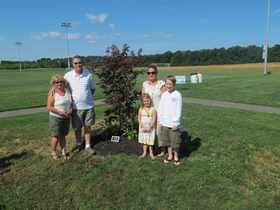 Doug Cossaboon's Family
Thank You to the Cossaboon Family for the dedication of a Red Maple tree in Memory of their son and brother, Doug Cossaboon.
Please contact us if you are interested in dedicating a tree, bench or picnic table to a family member.
Also, Thank You to the Chance Family for the dedication of a Red Maple tree in Honor of their husband, father and grandfather, Edward Chance's Retirement!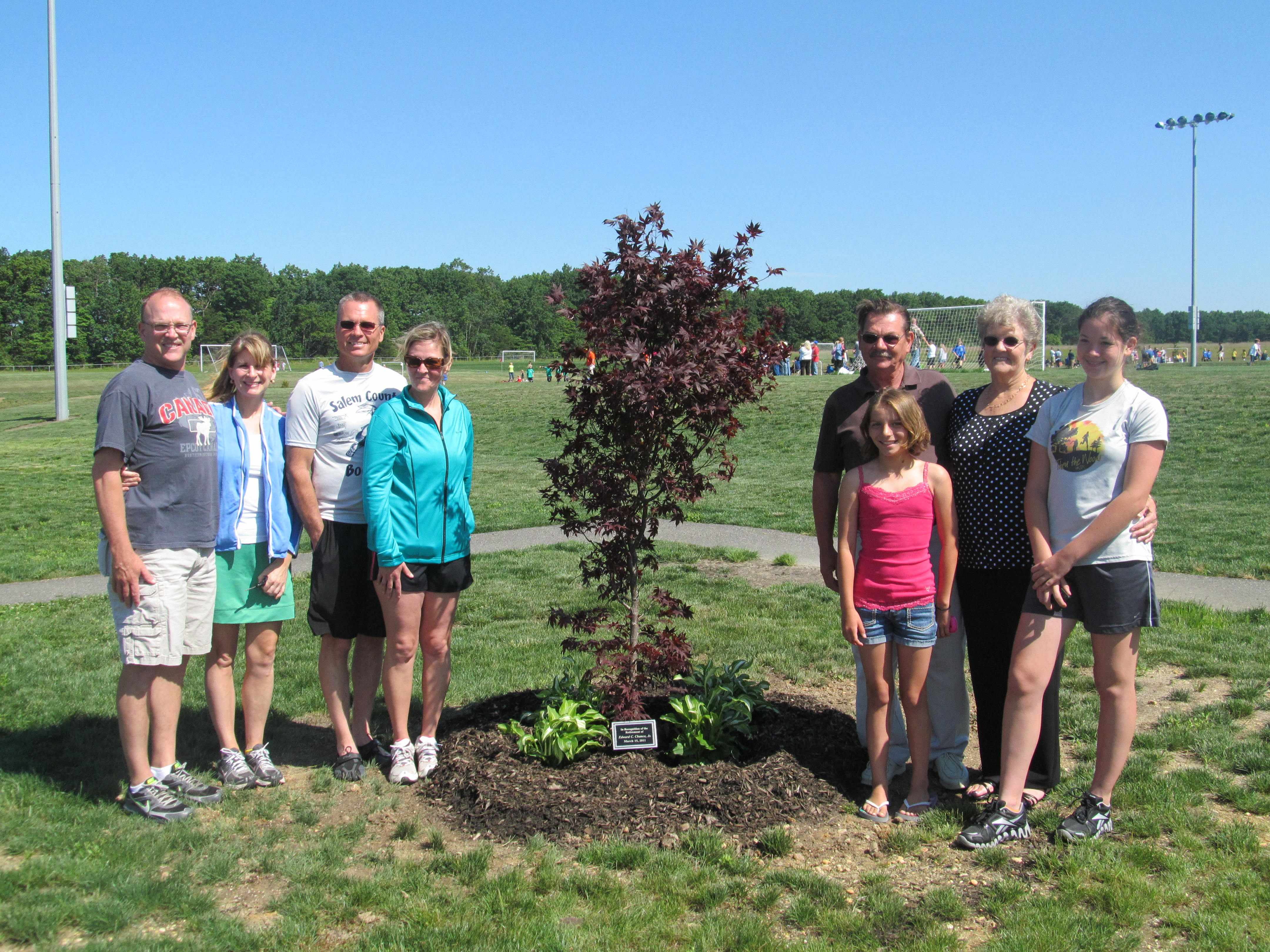 Edward Chance's Family
Click Here To Learn More About Us
Here's An Easy Way To Raise Money For Our Organization
And it doesn't cost you anything!
TD Bank makes it easy to raise money for our organization.
With their new Affinity Banking Program, TD Bank will donate money to the Millville Soccer Association.
Here's how it works. Open an account with TD Bank and tell them you want to take part in the Affinity Banking Program and you want them to donate to the Millville Soccer Association.
Already have an account? Stop by TD Bank and tell them you want your Checking, Savings, Money Market, CDs and Retirement accounts to be a part of the Affinity Banking Program.
TD Bank will donate 1/2 of 1% based upon the total balances of the participants Checking Accounts and 1/4 of 1% based upon the total balances of Savings and CD accounts.
It's simple, just stop in or call today. All account information will be kept strictly confidential. It's totally free!
Complaints?
We know we are not perfect but please remember our
league is run by volunteers. If you have a complaint, we
want to hear about it. We prefer, however your complaint
includes a suggestion on how we can correct a problem,
avoid it, or make it better. Thank you and have a fun
season!
Please Support Our Concession Stand
This is important because proceeds go towards paying the referees, cleaning the building and adding to the kitchen's amenities and food. The concession stand also has T-shirts, sweat shirts, soccer magnets and other items that you can purchase to show your league spirit.
All team parents are required to work in the concession stand. A team schedule has been made to make this as painless as possible for everyone. You can find this year's schedule under the Handout section. Your cooperation and participation is appreciated.
Please Do Your Part
We need all players, parents, friends and family members to pick up their trash after games and place it in the proper receptacle. It is not just the coaches or league's responsibility to throw away trash, water and sports drink containers. The new trash receptacles have a separate place for recyclables and trash. The larger our league becomes, the more important it is for all of us to pitch in. Also please refrain from smoking on or near the playing fields. Your cooperation is appreciated.
With registration at an all time high, the MSA is looking for a few more volunteers to help out with the many details of running the league. Please contact any MSA official.
Rain & Inclement Weather Policy
Parents and Coaches, please check the website for updates. If there is a cancellation, a Weather Cancellation icon and message will be posted at the top of the screen. If there are no messages, all games are on as scheduled.
Click here to Join Millville Soccer Association on RainedOut and get text alerts!