Milford Softball: Welcome
CLICK THIS BUTTON TO REGISTER
FOR THE 2017 IN TOWN SEASON
Welcome to Milford Girls Softball League
MGSL is a girls fastpitch softball league for residents of Milford MA. This is a recreational and travel league for players in grades Kindergarten through 8th.
All inquires can be mailed to: Milford Girls Softball, P.O. Box 651, Milford MA 01757
or emailed to : milfordsoftball@gmail.com
---
Milford Softball Leagues
Thursday, October 26
TRAVEL TEAM TRYOUTS - MAKEUP SESSION RESCHEDULED
The make up session scheduled for Wednesday October 25th has been cancelled due to weather. It is rescheduled for Sunday October 29th 10:00 am at the High School softball field for all age groups. The make up is for players that could not attend at least one session last weekend, please email the League at milfordsoftball@gmail.com if you are planning to attend this Sunday. Please fill out registration form to hand in at the make up session.
Thursday, September 28
2018 SEASON - MILFORD TRAVEL TEAM TRYOUTS
Milford Girls Softball has a travel program for girls ages 8-14 that offers players a chance to play at a higher competitive level. Milford fields teams at the 10U, 12U & 14U divisions. Opportunities exist to field multiple teams for each division. The program may consist of 2-4 monthly indoor practices in the off-season (January – March); during the season (April – July) 2-3 practices per week, 10 Twin Valley League games (2x per week) and/or 3-6 weekend Tournaments, which may include holiday weekends. All travel players are required to participate in the in-town program, which runs 2 nights per week from late April until mid June.
Tryouts for all age groups will be held:
Saturday October 21st & Sunday October 22nd
Times for each age group on each day will be: (Each age group is based on the child's age prior to January 1, 2018)
10U / 9:00 AM – 10:00 AM
12U / 10:00 AM – 11:00 AM
14U / 11:00 AM – 12:00 PM
Each player is required to fill out a registration form prior to the start of the tryout so please arrive 15 minutes before the scheduled start. Players are encouraged to attend both sessions. A makeup session will be held on Wednesday October 25th from 6:00 - 7:00 PM for all ages.
For those unable to attend any of the dates provided, please email milfordsoftball@gmail.com by no later than October 20th to request an individual tryout.
Location: Milford High School Softball Field, 31 West Fountain Street, Milford
What to Bring: Players should bring their gloves and sneakers/cleats. Bats & helmuts will be provided, however, if a player is more comfortable with her own bat and helmut, bring it.
Cost: The fees for participation on these teams will be determined by the number of players selected for each team, Twin Valley League participation, as well as the number of tournaments each team decides to participate in. A deposit of $150 will be immediately due upon each players acceptance to a team.
PARENTS: Please make sure that each player understands the commitment it takes to play softball at the travel level. It is not fair to a team to select a player or cut others if an individual is going to be unavailable for scheduled practices and/or games during the weekdays and/or weekends.
Sunday, June 25
CALENDAR RAFFLE WINNERS
2017 Calendar Raffle Winners - Congratulations and Thank You for Supporting MGSL!!
1- June -Alison Nelson: $25
2 -June -Cori Casilli: $50
3 -June -Kristie Medeiros: $75
4 -June -Mariana Najera: $25
5 -June -Kayleigh Morin: $50
6 -June -Emily Hartman: $100
7 -June -Paul Hough: $25
8 -June -Eileen Krikorian: $50
9 -June -Jonathan Jencks: $75
10 -June -Calvin Chan: $25
11 -June -Molly Hartman: $50
12 -June -Jason Stokes: $100
13 -June -Summer Baisley: $25
14 -June -Jason Stokes: $50
15 -June -Dawn Marshall: $75
16 -June -Scott Michelson: $25
17 -June -Brynne Rivard & Chris Kirwan: $25
18 -June -Gail Belmore: $75
19 -June -Donna Hennessy: $25
20 -June -Dina Kedski: $100
21 -June -The Stoker Family : $75
22 -June -Patricia Plante: $25
23 -June -Beth Soldo: $50
24 -June -Dom Senske: $50
25 -June -Andy Rosario: $100
26 -June - Susan Buckley: $25
27 -June - Robert Chiccarelli: $50
28 -June - Colleen Annantuonio: $25
29 -June -Tommy O'Toole : $50
30 -June - Any Schmitt: $500
Friday, June 23
THE 2017 MILFORD HIGH SCHOOL SCARLET HAWKS Softball Link
Support Coach Steve DiVitto and the Milford Scarlet Hawks Girls Softball team by attending one of their games.
CONGRATULATIONS TO THE MILFORD SCARLET HAWKS!!
2012,2013 & 2017
DIVISION ONE STATE CHAMPIONS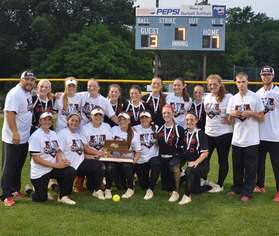 2017 Division 1 State Champioms