Milford Predators Softball: Predator World
This is PREDATOR WORLD....
The PREDATOR shirt photographed around the globe!!
Our PREDATOR shirt has been to North America, South America, Europe, Asia and Australia. Only the continents of Africa and Antarctica to go! We have taken the PREDATOR shirt all over the world, including England, Brazil, China, France, India, Italy, Mongolia, Haiti, Turkey, the Dominican Republic and more!
Check out these photos!
Wednesday, July 8
ASIA - THAILAND
Laurie poses with the Predator shirt on at The Grand Palace in Bankok, Thailand - July 2009
Wednesday, July 8
ASIA - SINGAPORE
Laurie in front of the Hong Kong skyline - July 2009
During her July 2009 trip, Laurie also visited Hong Kong, Singapore sporting the PREDATOR shirt...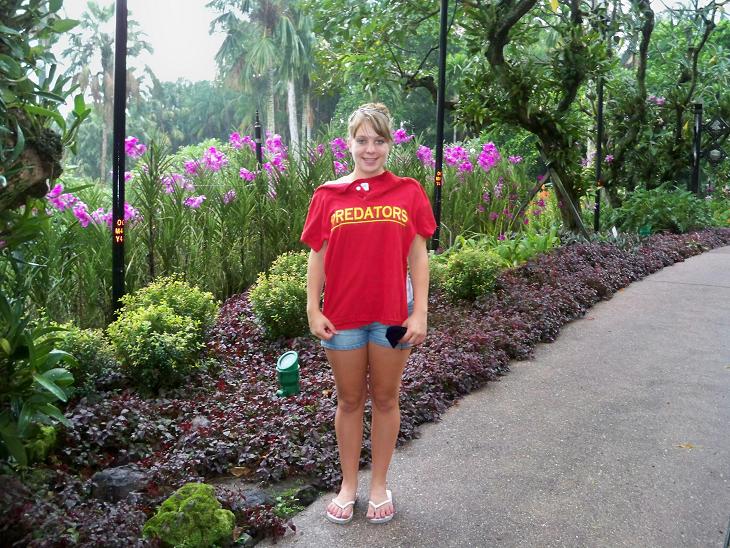 Laurie at the Botanical Gardens of Hong Kong
Friday, March 28
Magan's Bay, St. Thomas U.S. Virgin Islands
Ryan Kraynak and Matt Kraynak visiting Magan's Bay in St. Thomas - February 2008.
Friday, March 28
San Juan, Puerto Rico
Matt in Old San Juan, Puerto Rico visiting a statue of Christopher Columbus - February 2008.
Thursday, March 6
Labadee, Haiti
On Monday February 18th, Matt visited Labadee, Haiti. Although no softball prospects were found there, Matt used his time in Haiti to relax at the beach and even try out the "Dragons Breath" Zip Line.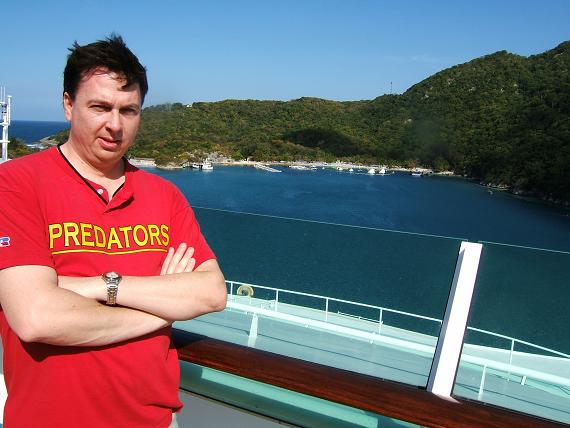 Matt overlooking Labadee, Haiti
Thursday, March 6
Casa De Campo, Dominican Republic
While on vacation, Matt stopped by the PREDATORS Developmental Team facility in Casa De Campo, Dominican Republic. Matt reports that there are some top-notch shortstops just about ready to make a move up to the Milford Predators squad - but they need to finish their education first. King Carl Malinosky will need to stay healthy at least one more season...

Matt visits the Predators Developmental Team facility in the Dominican Republic
ASIA - INDIA
Friday, February 16
Mumbai (formerly Bombay)
Anand Chaudhary wearing a Predator Shirt at The "Gateway to India" in Mumbai
Mumbai, formerly known as Bombay, is the capital of the state of Maharashtra, the most populous city of India, and by some measures the most populous city in the world with an estimated population of about 13 million (as of 2006). Mumbai is located on Salsette Island, off the west coast of Maharashtra. Along with its neighboring suburbs, it forms the world's sixth most populous metropolitan area with a population of about 25 million. The metro population ranking is projected to rise to 4th in the world by 2015 due to an annual growth rate of 2.2%. The city has a deep natural harbor and the port handles over half of India's passenger traffic and a significant amount of cargo.

Mumbai is the commercial and entertainment capital of India , and houses important financial institutions, such as the Reserve Bank of India (RBI), the Bombay Stock Exchange (BSE), the National Stock Exchange of India (NSE) and the corporate headquarters of many Indian companies. Mumbai has attracted migrants from all over India because of the immense business opportunities, and the relatively high standard of living, making the city a potpourri of various communities and cultures. The city is home to India's Hindi Hindi film and television industry, known as Bollywood. Mumbai is also one of the rare cities to accommodate a national park, the Sanjay Gandhi National Park, within its city limits.
Taj Mahal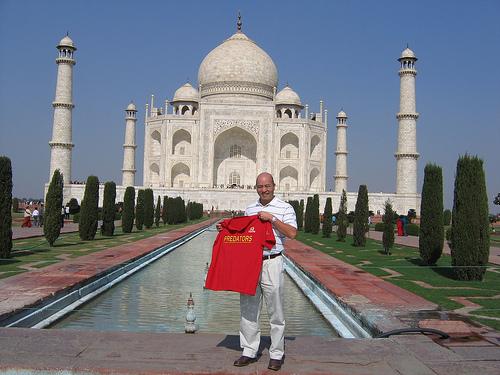 Our good friend Pat Lien took some time out in November 2005 to represent the Predators at the Taj Mahal. The PREDATORS red shirt goes very nicely against the palace on a sunny day...

The Tâj Mahal is a mausoleum located in Agra, India. The Mughal Emperor Shâh Jahân commissioned it as a mausoleum for his favourite wife, Mumtaz Mahal. Construction began in 1632 and was completed in 1648. Some dispute surrounds the question of who designed the Taj; it is clear a team of designers and craftsmen were responsible for the design, with Ustad Isa considered the most likely candidate as the principal designer.

The Taj Mahal (sometimes called "the Taj") is generally considered the finest example of Mughal architecture, a style that combines elements of Persian and Indian. While the white domed marble mausoleum is the most familiar part of the monument, the Taj Mahal is actually an integrated complex of structures. It was listed as a UNESCO World Heritage Site in 1983 when it was described as a "universally admired masterpieces of the world's heritage".
Taj Mahal - with Kresen's Shirt!
Barry Kresen's Predator shirt #31 presented in from of the Taj Mahal in India....
Wednesday, July 12
NORTH AMERICA - BAHAMAS
Wednesday, July 12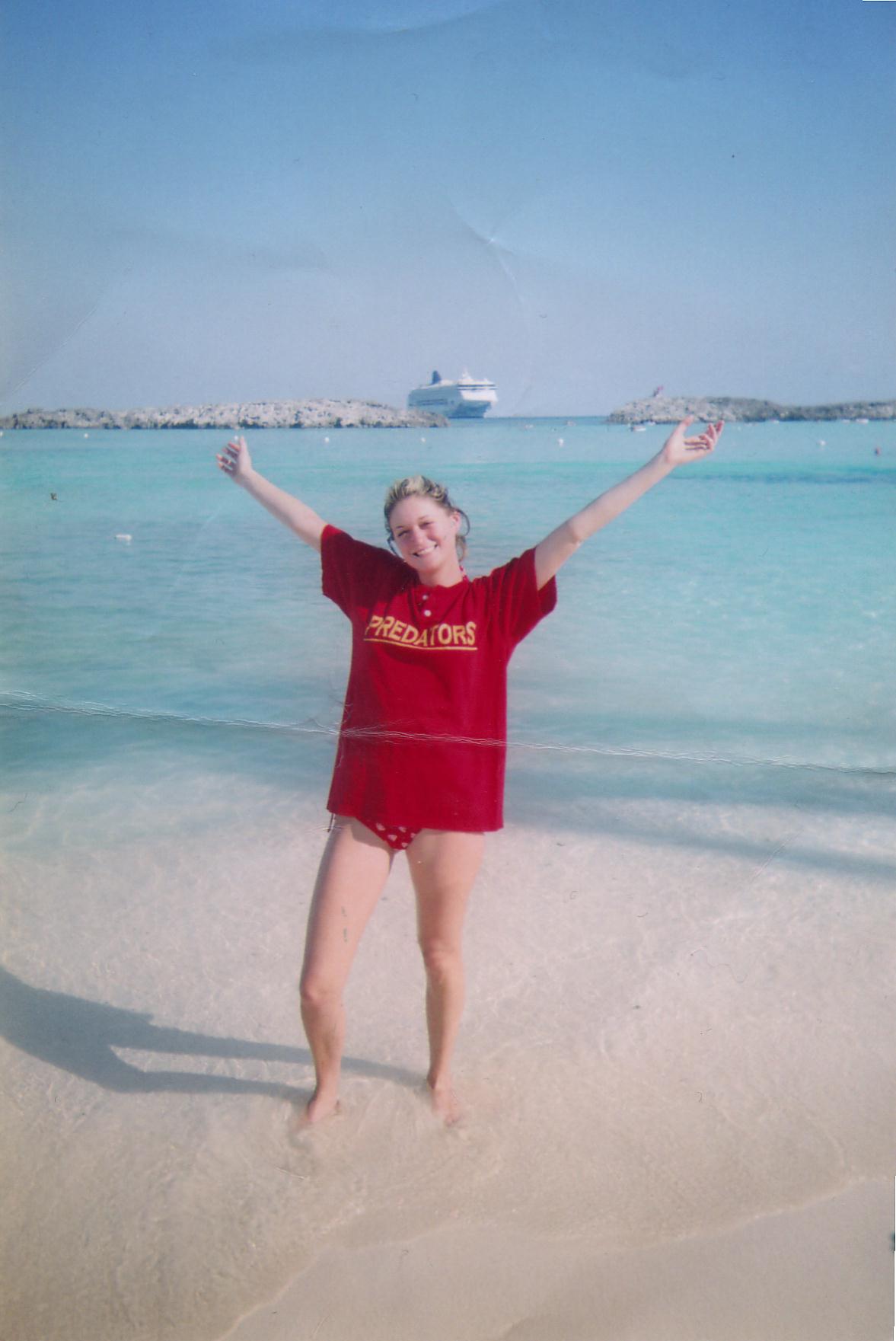 Enjoying the Beach in the Bahamas...
Tuesday, February 28
NORTH AMERICA - MEXICO
Tuesday, February 28
Cabo San Lucas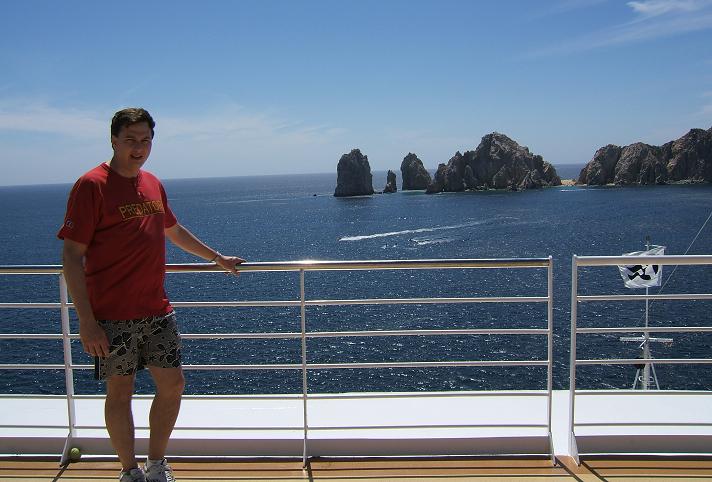 Matt aboard the Sapphire Princess cruise ship in Cabo San Lucas, Mexico
At the very southernmost tip of Baja California in Cabo San Lucas is where this photo was taken. Known as the "playground of the rich and famous" - "Cabo" is absoultely breathtaking. In addition to the awesome scenery - we viewed many pelicans and sea lions here.

On shore - we were greeted by a gauntlet of Mexican locals all begging for our business. Whale watching, glass bottom boat, kayaking, parasailing, guided city tours, photos with lizards, whistles, and jewlery were among just a few of the things we were offered. We made our way into town and checked out some of the local shops and found the Hard Rock Cafe. Of course - we had the PREDATORS shirt with us.
Tuesday, February 28
Ryan and Brianna holding our Predator shirt at the Hard Rock Cafe in "Cabo"
Tuesday, February 28
Mazatlan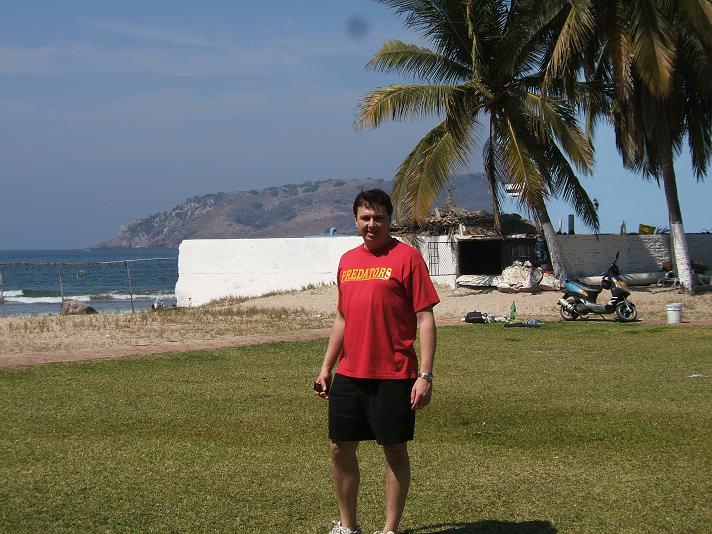 Matt in Mazatlan - A place where paradise and poverty share the same space
Matt found a refuge from the bustling "Golden Zone" of shopping in Mazatlan to capture this photo. Mazatlan - on the west coast of Mexico - is referred to as "The Place of the Deer" and features a statue of a deer in the center of town. Matt did not have the heart to tell the taxi driver how deer are viewed in Connecticut - particularly as roadkill along the Wilbur Cross Parkway...
Our first taxi driver this day could not speak a stitch of English - and his Spanish consisted of a disjointed series of short grunts and gestures. (Matt was able to muster a few phrases in Spanish - finally making use of the Spanish he learned in high school). Mr Hogan and Miss Fortunes would have been proud!!
We were driven through some really BAD parts of this city (extreme poverty, filth and desperate conditions) giving us a real perspective on how fortunate we are to have been born in the United States.
Tuesday, February 28
Puerto Vallarta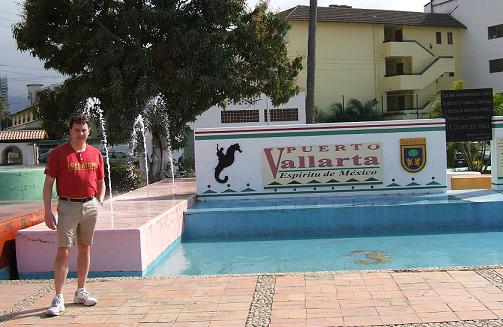 Matt stands by a Puerto Vallarta sign in 85 degree weather (Mid February 2006)
Matt stops for a quick photo opportunity in Puerto Vallarta. It turns out that there were no softball prospects in this city - so it was crossed off a list for a potential Predator Developmental team.
SOUTH AMERICA - BRAZIL
Rio De Janeiro Harbor - Pao de Acugar (Sugar Loaf)
Another good friend of the PREDATORS - Sergio Stanko - took time off December 2005 to spend time in his native home of Rio de Janeiro, Brazil. Here Sergio wears Matt Kraynak's #3 shirt in the Harbor of Rio de Janeiro - one of the Wonders of the Natural World. This photo was in front of the famous Pao de Acugar (Sugar Loaf) land formation.
Rio de Janeiro Harbor - Corcovado Mountain
EUROPE - ENGLAND
Stonehenge
Tower Bridge over the Thames River
Westminster Abbey
Tower of London Guard
Big Ben
David Brunetti represents the Predators at Big Ben in London.
King's Cross Station
Karen Brunetti looks for Harry Potter at the King's Cross Station in London...
EUROPE - FRANCE
Disneyland Paris
Notre Dame
Palace at Versailles
Eiffel Tower
David Brunetti wearing the Predator standard at the Eiffel Tower. Perhaps he is looking for love...? Now THIS is getting good!
Venus de Milo
David has found his new love in Paris! Say hello to new girlfriend Venus...Another successful Predator hookup! ;)
Mona Lisa
As you all know - David took Venus over his previous flame - Mona....
Louvre
Another David sighting wearing the Predator colors for all of France to see..
Arc de Triumph
David wears the Predator jersey as he thinks about Triumph...
Georges Pompidou Center
According to the locals in Paris - the Georges Pompidou Center is the most visited site in Paris. Know anyone who has been there? We do now! Nancy tells us that the Pompidou Center has museums inside as well as great restaurant at the top. The restaurant overlooks the entire city....

And now - an obligatory Wayne's World moment:

WAYNE: "The Georges Pompidou Centre was founded by Georges Pompidou. This 20th-century museum houses modern and contemporary art in all forms. The architectural design of the building itself suggests what lies within. Escalators on the outside of the building take visitors between the floors, with the exhibitions on the sixth level and the permanent museum on levels five and four.

GARTH: "Yeah man!! French collections from the beginning of the 1900s to the present day are showcased in chronological order, including modern art, contemporary art, graphic art, architecture and design, photography, new media and films. There are also 1,400 works by great artists who built modernism, including Matisse, Picasso and Miro."

WAYNE & GARTH: "EXCELLENT !!!!"

Smarte Car
Frank Bevacqua shows just how small a Smarte Car is on the streets of France...
EUROPE - ITALY
Coliseum
Our first pictures from Europe came courtesy of the Bevacqua family - who found many photo opportunities throughout their recent trip to the Mediterranean. More to come.....!!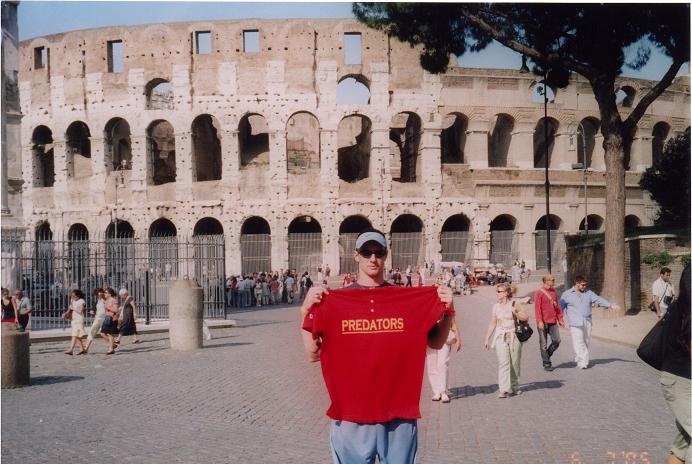 Frank Bevacqua in front of THE Coliseum in Rome, Italy
Tower of Pisa
Frank at the Leaning Tower of Pisa - Italy
ASIA - CHINA
Great Wall of China
Our first pictures from Asia came courtesy of PREDATORS friends Preston and Deanna Ray who recently came back from a really neat trip to Mongolia....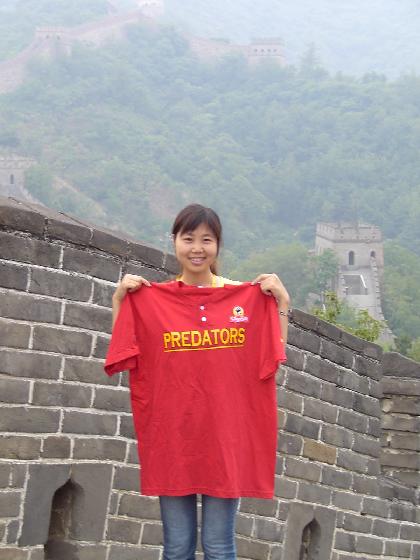 A Tour Guide at the Great Wall of China - in Mongolia China
Mongolian Steppe
A Dwelling in Mongolia
Riding in Mongolia
EUROPE - GREECE

Olympic Stadium (the original one)
Frank Bevacqua at yet another ancient arena of competetion - the Old Olympic

Stadium

in Athens, Greece.
Parthenon
Frank presenting the Predator shirt at the Parthenon atop the ancient Acropolis in Greece.
Delios Island
.....and at the deserted Delios Island in Greece....
EUROPE - VATICAN CITY
Vatican City - Featuring an Appearance by Pope Benedict XVI
In Vatican City - the smallest country on earth - the Predator jersey was presented.  Even the Pope was nearby for this close encounter!
The Pope's Apartment
ASIA - TURKEY
Virgin Mary's House
Just how far has the PREDATORS shirt gone? Can you believe Turkey? Yup! Here are some photos starring Mary Bevacqua....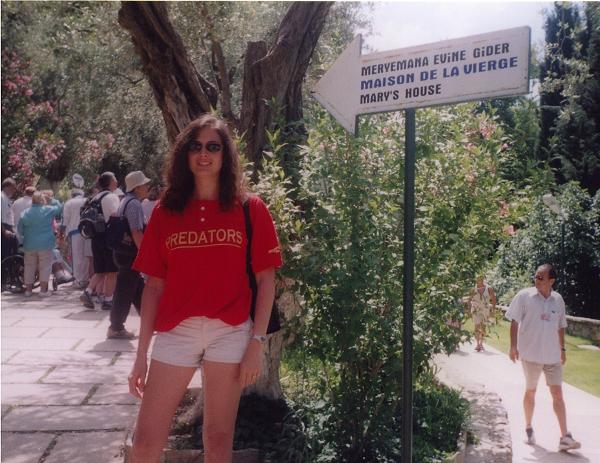 Mary at The Virgin Mary's home in Kusadasi, Turkey ...
Marketplace in Kusadasi, Turkey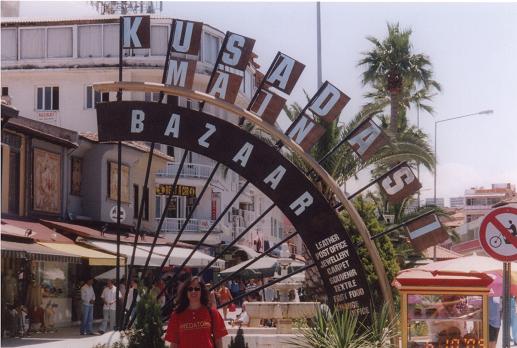 Mary at a marketplace in Kusadasi, Turkey.