Milford Predators Softball: Welcome
Thursday, May 9
Game Scheduled Sunday May 12th To Be Rescheduled
The game will be played at a date in the future to be announced. Enjoy your free weekend!!
Monday, May 6
Predators Taken Down By Star Factory 19-5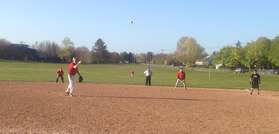 Kevin McTigue pitching against Star Factory - May 5, 2013
Milford, CT (5/5/2013) The Milford Predators opened up their 30th season in the Milford Sunday League on a beautiful Cinco de Mayo afternoon at Platt Tech Field against Star Factory. Unfortunatley for the Predators, Star Factory's offense proved too much to overcome as the Predators dropped their season opener by a score of 19-5.
In the top of the first inning, the Predators pushed the first run of their 30th season across the plate after Mike Ranilla singled and later scored on an RBI single by the Predators veteran catcher Fred Bialka. The bottom of the first would turn out to be a nightmare for the Predators as Star factory (formerly known as the Beachcombers) scored 9 runs on a mix of solid hitting and Predator errors. Down 9-1 heading into the top of the 2nd inning, the Predators climbed back into the game. Jon Berchem - making his Predator debut today in Right Center - led off with a walk. Matt Kraynak singled to right center advancing Berchem - who subsequently scored on a single by 1st baseman Dain Runestad. With Kraynak on 3rd and Runestad on 1st, Barry Kresen launched a drive to deep left field for a 2-run triple. In a flash, Kresen assumed the team lead for slugging percentage. Kresen was then driven home when David Weiss grounded to shortstop to make it a 9-5 game. Unfortunately for the Predators, that would be the last of their scoring as Star Factory continued to pour it on en route to a 19-5 victory over the Predators.
Game Notes: With his 2nd inning triple, Barry Kresen took the team lead in slugging percentage and RBIs. For now, Matt Kraynak is able to boast a 1.000 batting average and 1.000 on base percentage. The Predators were missing several key players this week including Todd Slade, Carl Malinosky, Tim Meyers and Matt Fleming.
Friday, May 3
Slade Completes Successful Winter Softball Season in FL - Returns To Predators in May
Todd wearing a Predators jersey playing for Executive Shuttle in FL - April 2013
Merritt Island, FL (5/3/2013) After extending his softball season playing for Executive Shuttle on Florida's east coast, Todd Slade is expected to return to the Predators in early May. While in Florida, Slade is credited with batting .692 going 27 for 39 including 2 home runs, helping his team to a 3rd place finish. Slade also cracked a grand slam home run, driving a ball right through the driver's side window of a Brevard Country truck. The Predators hope to hit as well as Slade did as they embark on their 30th season which kicks off on May 5th.
On his way back from Florida, the Slades are planning to tour a few more states with the Predators shirt, looking to pick up Louisiana, Alabama, Mississippi and Missouri. In the coming weeks, check back to our Predator Nation page to see the pictures!!
Monday, April 29
Pre-season Over, Predators Set Sights on their 30th Season Opener
Predators batting practice at Platt Tech April 20, 2013
Milford, CT (4/29/2013) This past weekend the Predators concluded their 3rd and final pre-season practice of 2013 with a spirited workout at Foote Field. After their traditional infield practice, the Predators worked hard in batting practice to fine tune for their 30th season opener scheduled 6pm on May 5th at Platt Tech. The attitude of the team remains optimistic as they look to bounce back from a regrettable 2012 season.
Among the notable missing players at this week's practice included "King Carl" Malinosky who usually commences his holdout antics this time of year. According to his agent, Carl was not holding out due to his contract, but rather he was unavailable due to an emergency "double ACL" surgery he had on Friday morning. Predator management is skeptical of this excuse and has demanded that proof of the surgery is to be produced, or Carl may face being cut from the team. No word has been received back from Carl's agent at this time.
Another player absent from practice is Todd Slade - however unlike King Carl, Todd has a legitimate excuse. After dedicating his Winter by playing softball in Florida, Todd is expected to rejoin the Predators in early May.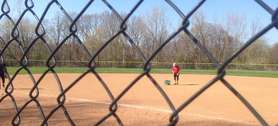 Bob Paradis sets up to toss batting practice at Foote Field April 27, 2013
Wednesday, April 10
Kresen Announces Departure From Predators In 2013
Barry Kresen Moving On in 2013
Milford, CT (4/10/2013) Long Time Predator Outfielder/Catcher Barry Kresen has announced plans to leave the Predators during the 2013 season in order to stay with his day job that is moving to New Jersey this summer. The announcement sent shockwaves through the Predator community, and will continue to be heard and felt in the coming months.
Kresen is most notably known for having a stranglehold on the title of "Strikeout King" for the last several seasons. In 2012, Kresen was credited with setting the Predator's all-time record for lowest batting average attained over a full season of play. By all accounts this announcement has lead to wild speculation regarding how the void he leaves behind will be filled. There is some talk already underway about retiring Barry's number (0.087) representing the record low batting average he set - so that it may never be attained again.
"I will not go out on that note" said Kresen - referring to his batting average. Kresen vows to make his farewell season his best season yet. It is unclear if the announcement will draw additional fans to Predator games wanting to catch a glimpse of Kresen. Anticipating a potential opportunity - the Predator Marketing Department will consider producing Predator Jerseys and Mugs with the now familiar 0.087 number - or the alternative "Oh Eighty Seven!!" on them.
Saturday, March 23
Early Spring Update
Milford, CT (3/23/2013) Matt Kraynak reported that several changes for the Milford Sunday Night league are in the works. The most significant changes are outlined below:
Long time League Director Al DelloRusso has retired. Steve Rainey has taken his place.
Each team is expected to provide 3 ASA approved bats for each game, and these bats can be used by either team.
After June 1st, we will switch to the .52 COR / 300 compression ball which will be the ASA standard by 2014.
Each team will pay the umpires fee at the beginning of the game (a change from the past 29 seasons as DelloRusso handled it for us)
In the event of a forfeit, the team who forfeits the game must pay the umpires fee on behalf of both teams. (That's not in our budget - so let's not even go there guys)
The rest of the Milford Recreation Rules continue to apply - such as but not limited to the 1 & 1 count, no fouls after 2 strikes, and no alcohol at the fields.
All in all, these changes tend to favor our team as we have always played a clean game using legal bats, and balls that have not been kept frozen in a cooler. The 2013 playing field will be more level for us - even at West Shore!!

Saturday, February 23
Predators 2013 Winter Meeting
Milford, CT (2/23/2013) The Milford Predators maintained their long-standing tradition of holding a Winter Meeting by getting together for beer, pizza, and more beer this evening at Bella Napoli Restaurant in Milford. The traditional agenda of drinking beer, eating pizza, and mocking each others athletic faults quickly took hold. This exchange led to a discussion of the statistical "lowlights" of 2012, which included team records set for lowest batting average in team history and the least amount of home runs hit by the collective team for a season in team history.
→ In 2012, Barry Kresen was active for the entire season, yet batted a record low 0.087 - setting the low watermark for batting by any player in team history.

→ In 2012, the Predators collective team managed only one home run for the entire season. Bob Paradis clubbed the team's only home run during the final regular season game to snap the dry spell.
Among other oddities discussed, the most bizarre statistic of 2012 also involved Bob Paradis.....
→ While Bob had reasonable success at the plate throughout 2012, he only scored once. Bob's only run scored came in the final game of the 2012 regular season when he hit the Predators first (and final) home run of 2012 to drive himself in. Every other time Bob got on base in 2012, he was left stranded by his teammates.
On that depressing note, a motion was passed to withhold any further discussion of the 2012 season. The motion was immediately passed. With the pizza phase of the Winter Meeting completed, but still with some lingering thirst, several players extended the team outing by shifting venues. The remainder of the 2013 Winter Meeting was conducted at the Seven Seas Restaurant. To protect the innocent, no minutes of the meeting were recorded there.