Milan Youth League: Opening Day 2012
Friday, May 4
2012 Photo Schedules
Click the link below to view the scheduled picture times for
all
teams.
Handout:
Photo Schedules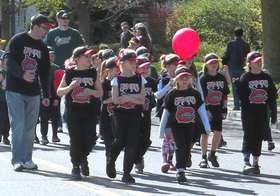 The 2011 Mud Cats
Tuesday, May 1
2012 Opening Day Timeline
Before leaving home:
Pack your sunscreen, sunglasses, camera, lawn chairs, blankets, and walking shoes.
Bring your canned goods to donate to Aid in Milan!
Bring money for concessions, raffles, T-shirts, sweatshirts, and ball caps, and any trinkets you may want to purchase while enjoying all of the Opening Day festivities.
Don't forget to invite all those wonderful family members and friends to enjoy the baseball fun with you.
Line Up! 9:30 a.m.
Drop your player off at Marble Memorial United Methodist Church (across from the Post Office on Main Street) to get lined up for the parade.
Drop off any siblings that will be riding their bikes in the parade for the bike contest.
Players, coaches, and sponsors should wear their uniforms and appropriate shoes (no cleats)
Coaches: bring a banner that identifies your team
NO CANDY TO BE THROWN!
The Parade 10:00 a.m.
Included in the parade:
Milan Scouts Color Guard
Milan Police and Fire Department
Milan School Band
Special Guests
...and YOUR CHILD!
The parade route begins at Marble Memorial United Methodist Church, runs downtown on Main Street to Wabash, then left onto Neckel Court to the ball fields.
Opening Day Program 10:30-ish a.m. following the parade
When the parade finishes, there will be a brief ceremony at the ball fields. At this time, the winner of the bike contest will be announced, we will be welcomed by the Milan Youth League President, the 2012 season invocation wil be offered, and the National Anthem will be played. Ceremonial First Pitches will be thrown and it's time to play ball! Games will follow the Opening ceremony on all fields.
Games Begin 11:00 a.m.
Check your schedule for your team's game time.
Questions???
Contact Chris Roe at 734-660-1692 or roec@milanareaschools.org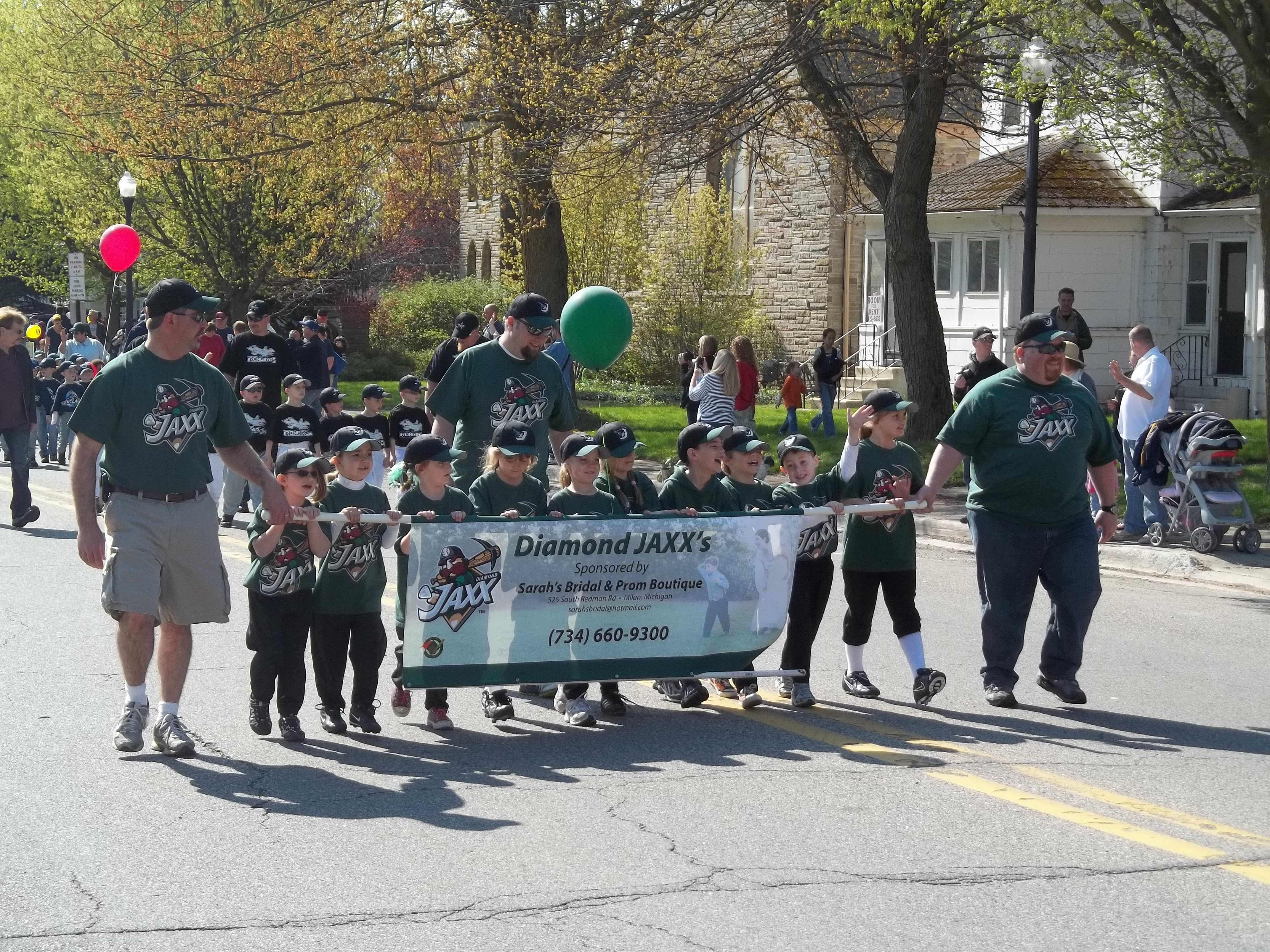 The 2011 Diamond Jaxx
Tuesday, May 1
Opening Day Game Schedule
Main Fields Schedule (Home Team listed first)
Field A
Field B
Field C
Field D
11:00 a.m.
Pee Wee
#1 vs #6
Pee Wee
#3 vs #7
8U Softball
Dexter vs Red
Minors
#1 vs #6
1:00 p.m.
Pee Wee
#2 vs #5
8U Softball
Orange vs Blue
12U Softball
Dexter vs Blue
Minors
#2 vs #5
3:00 p.m.
12U Softball
Black vs Red
Pee Wee
#7 vs #4
10U Softball
Blue vs Maroon
Minors
#3 vs #4
4:45 p.m.
10U Softball
Dexter vs Red

Gump Lake Fields Schedule (Home Team listed first)
Gump Lake North Field
Gump Lake South Field

11:30 a.m.

14U Softball
Red vs Black
14U Baseball
#1 vs #2

1:30 p.m.

Majors
#3 vs #4
Majors
#1 vs #2
T-Ball Schedule (Home Team listed first)
Field T

11:00 a.m.

T-Ball
#5 vs #6

12:15 p.m.

T-Ball
#1 vs #2

1:30 p.m.

T-Ball
#9 vs #10

2:45 p.m.

T-Ball
#3 vs #4

4:00 p.m.

T-Ball
#7 vs #8
Enter the Opening Day Bike Contest!
Players:
Do you have a brother, sister, or friend that does not play ball but would like to be in the parade? Invite them to decorate their bicycle and ride in the parade Bike Contest! The winner will be announced following the parade during the program of Opening Day. Line up for the Bike Contest entries will be at the front of the parade that will begin at Marble Memorial United Methodist Church at 9:30 a.m. this Saturday, May 5th.