Welcome to the Fraternal Northwest Little League Website:


FNWLL provides a great league for kids from ages 4-12. We have Tee Ball, Coach Pitch, AA, AAA and Majors levels of baseball that serves approximately 400 families. Through these levels we provide the kids with a fun and challenging baseball experience.

Monday, November 25


FNWLL is Preparing for the 2014 Season






Attention FNWLL families....Though the weather is getting colder baseball will be here before you know it. Somethings to note during the winter:

~IMPORTANT---Our league's Umpire in Chief has retired from the position. We are in need of a volunteer to fill that position. Without a UIC we may not have umpires for the upcoming seasons games. This is a board position. Please consider volunteering for this position. For more information please contact Steve Shinske.

~We will be offering the Atheletic Republic winter training sessions again. More details soon. Please contact Steve Shinske if you are interested, steveshinske.fnwll@charter.net

~FNWLL winter clinic is coming up beginning in January. Watch for more details.

~2014 registration will begin in January. Watch for more details.

~If your interested in managing a team this season watch for a league email soon and please reply to get on the list.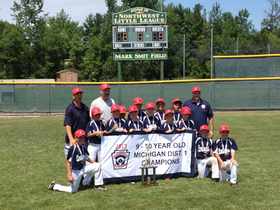 2013 FNWLL 9/10 District 1 Champions!
Sunday, July 21


Congratulations to the 2013 District 1 9/10 District Champions!


FNWLL would like to congratulate our 2013 9/10 District 1 Champions! The teams next stop is the state tournament hosted by Oakridge Little League. It is at Flickema Park located at 137 S. Park Street, Muskegon. Let's cheer on our boys for a state title!



To Which Midland Little League Organization Do You Belong?




In the area surrounding Midland, there are 5 different leagues associated with Little League. Your primary residence determines to which league you belong. Please check out the simple map attached to this message to determine if you live in the FNWLL area. If you have questions regarding which organization to sign up with, do not hesitate to contact one of the board members listed.


Handout: FNWLL Boundary Maps

Saturday, December 15


2013 FNWLL League Calendar Now Available




See the handout below to access the 2013 FNWLL League Calendar to see all the important upcoming dates and events.


Handout: Calendars

Sunday, March 3


Link to Jr/Sr Baseball Website




If you are interested in baseball for ages 13-16, please click on the link directly above for the Midland Jr/Sr Program.





Consider Volunteering to Help Fraternal Northwest!!




Fraternal Northwest Little League is proud of its programs, facilities, and the fun offered for hundreds of enthusiastic baseball players each year. The quality of our programs is entirely dependent on a dedicated team of volunteers that serve on our board or take specific roles to support the league. We would love to have your help in any one of a number of activities from serving as a volunteer for field maintenance, support for tournament activities, or more involved work on the board. If interested, please contact the League President or any of the FNWLL Board of Directors.