: ELS Softball
Sunday, February 20
2012 Softball Season Signup Dates & Times
Registration Dates:

Registration for Softball is Closed.
Click here - SAVE 10% ON ALL YOUR SPORTING GOODS at Dick's Sporting Goods!

If you missed registration, and want to play, please send an email ASAP to:
Softball@EastLouisvilleSports.com.
2012 Softball Evaluations (age 7 & up):
When: Sat, Feb 25th at Phenom Facilty from 8:45am to 10:45am
When: Sun, Feb 26th at Eastern HS Fieldhouse from noon to 1pm
Questions: Contract Brian Mallory at (502) 773-5775

Season
- Practices - Begin approximately the first week of March (depending on weather)
- Opening day/Games begin - March 31, 2012
- Season includes a minimum of 10 games and a tournament at the end of the season (except Mini-Coed). Season usually ends no later than mid-June.
Fees:


SOFTBALL(ages as of Dec 31, 2011): Machine-pitch, $110; Prep and Rookie leagues, $120; and Senior League, $130. Family discounts available for families with three or more players. Proof of age required at registration.Game sites: Crosby Park in Middletown, 11500 Cedardale Road (Fields 1-4) and behind Middletown Elementary School on Old Harrods Creek Road (Fields 5 & 6).
Field Cleanup
: Saturday, March 17 with rain date of Sunday, March 18

ELS All Star Tournament
: Wednesday, June 21 - Sunday, June 25 (Coaches meeting, Monday, June 19)
Softball - Ages for the 2012 season are as of December 31, 2011
Softball League Commissioner - Jeff Ashley 502.298.5160 (JeffAshley3@yahoo.com)
8U Softball Commissioner - Jennifer Fitzgerald (wolfpack58@bellsouth.net)
10U Softball Commissioner - Michelle Heareth (bogeyh@insightbb.com)
12U Softball Commissioner - Jeff Ashley (jeffashley3@yahoo.com)
14U Softball Commisioner - Jeff Ashley (jeffashley3@yahoo.com)
16U Softball Commissioner - Brian Mallory (btmallory@insightbb.com)

Information: visit our website at www.EastLouisvilleSports.com or:
Softball questions: email Softball@EastLouisvilleSports.com
or call the information line at (502) 245-7585.

Friday, June 24
10U All-Stars Ready for Battle
The East Louisville Sports are READY FOR BATTLE!

Posing with players
Wednesday, April 28
ELS Softball Day at U of L
ELS Softball players and families enjoyed a great day at the U of L Women's softball game for the 2010 ELS Day.  U of L beat St. John's on Senior Day, and the ELS players had a great time watching the game and meeting the Louisville players afterwards.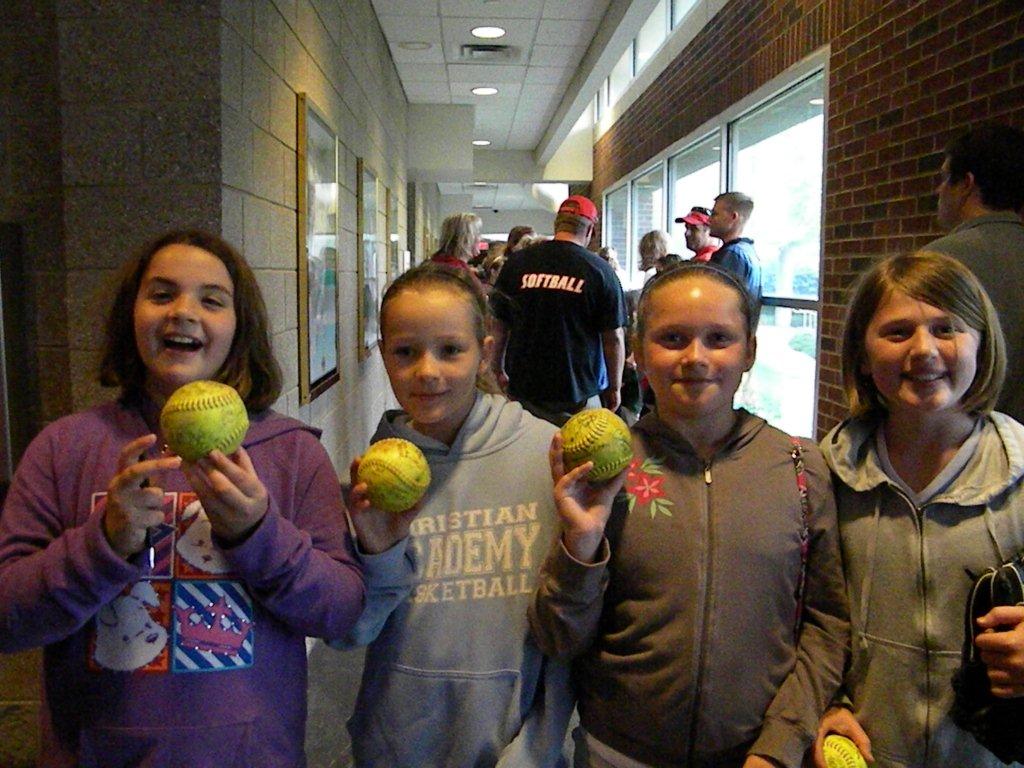 The girls show off their autographs