MIDDLESEX RAPIDFIRE: Welcome
Middlesex Rapidfire Team Tryouts listed below - 144 school street - Woburn Ma. behind Senior Center... Give us a TRY-OUT!
U12 Players are welcome for 2014-15 season!
U12 TEAM - 4:45pm - 8/10 & 8/17 - THIS IS A NEW TEAM SO PLENTY OF OPENINGS
U14 TEAM - 6pm - 8/10 & 8/17 - 4-5 PLAYERS NEEDED INCLUDING A FULL TIME CATCHER
U16 - 7PM 8/10 & 8/17 - LIMITED POSITIONS. LOOKING FOR 1 PITCHER
VETERANS FIELD - 144 SCHOOL STREET - BEHIND THE SENIOR CENTER - WOBURN MA.
YOU ONLY NEED TO ATTEND ONE OF TWO TRYOUTS - WE WILL ANNOUNCE ADDITIONAL TRYOUTS IF REQUIRED
PLEASE FILL OUT APPLICATION - OR COME A BIT EARLY TO SIGN UP
U18 College Showcase TEAM is very limited and please email if interested.
go to HANDOUT section to print a copy of tryout application to save time!
MIDDLESEX RAPIDFIRE
U14, U16 Black Team and U18 Gold Team
Contact - Keith V. kwvdevil@aol.com
---
U18 Gold Team Website
http://www.eteamz.com/middlesexrapidfire/index.cfm?league=5913477&subsite=5917906
To view the U18 Player Profiles, please visit the Handout Section in the U18 Website
---
TRY OUT INFORMATION FOR 2015!!!!
We think every player should give Rapidfire a try!!!
We want you in 2015!! If interested email us at kwvdevil@aol.com
---
We put the FUN into the GAME!!!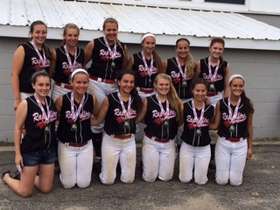 Congrat to U16 for their 2nd Place win!
Thunderstruck by AC/DC