Michigan Metro Girls Hockey High School Hockey League: News from 2011
Monday, March 14
2011 All-State D-1 and D-2.
MICHIGAN METRO GIRL S HIGH SCOOL HOCKEY LEAGUE
ALL STATE TEAMS
DIVISION

1
First Team
Caley Chelios F Cranbrook
Lauren Grigg F Northville
Sydney Sakwa F Cranbrook
Haleigh Bolden D Grosse Pointe University Liggett
Taylor Moody D Grosse Pointe North
Colleen Jacoby G Cranbrook
Second Team
Claire Boyle F Grosse Pointe South
Jennifer Cusmano F Grosse Pointe North
Rachel Freeman F Ann Arbor
Beth Johnson D Ann Arbor
Natalie Skorupski D Grosse Pointe North
Taylor Cook G Port Huron
DIVISION

2
First Team
Amanda Heisler F PCS
Madeline McClain F Farmington Hills Mercy
Maddie VanAntwerp F Detroit Country Day
Sarah Coleman D PCS
Sierra Kett D Warren Regina
Cortney McAdoo G PCS
Second Team
Emma Crone F Walled Lake
Erica Suave F Warren Regina
Megan Taylor F Warren Regina
Lauren Hensick D Farmington Hills Mercy
Rebecca Montgomery D Warren Regina
Kelsey Erne G Warren Regina
All State Honorable Mention
Julia Bleznak CK, Amanda Schimpke CK, Katelyn Meck Northville, Allison Holden Northville, Lindsay Kreichelt Northville, Julia Franceschi AA, EmyGuttman AA, Megan Bergeron GPN, Kailley Sickmiller GPN, Andrea Marshal GPSl, Dylon McColl GPS, Avery Allman Northville, Sydney Supica AA.
All League
Anna Mondrusov Mercy, Megan Eustice Walled Lake, Anastasia Diamond GPS, Jenny Rohn Ladywood, Hannah Pereira Ladywood, Brittany Galvin Ladywood, Marissa Monforton GPS, Tenley Shield GPS, Emma Huellmantel GPN, Mariah Passalacqua Liggett, Sara Villani GPN. Natalie Demuro Northville.
Monday, March 14
GROSSE POINTE SOUTH 2011 STATE CHAMPS!!!
The Blue Devils did it again.
For the third time in four years, the Grosse Pointe South girls hockey team claims the state championship with a victory over Ann Arbor Pioneer 6-2 Sunday afternoon.
Check out the full write-up in "Grosse Pointe Patch" from "Student and Athlete" on-line! http://grossepointe.patch.com/articles/state-champs-blue-devils-clinch-girls-hockey-title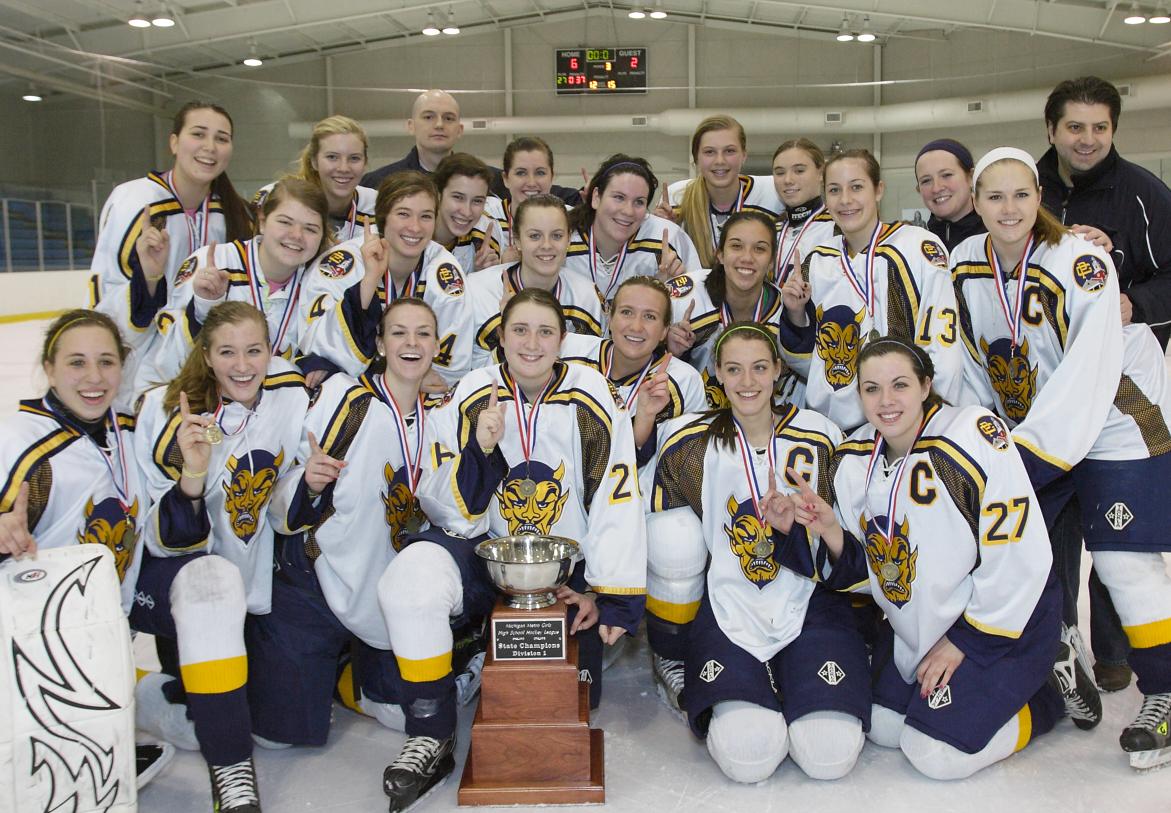 Picture by Bob Bruce
Monday, March 14
Pictures from the Skills Competition!!!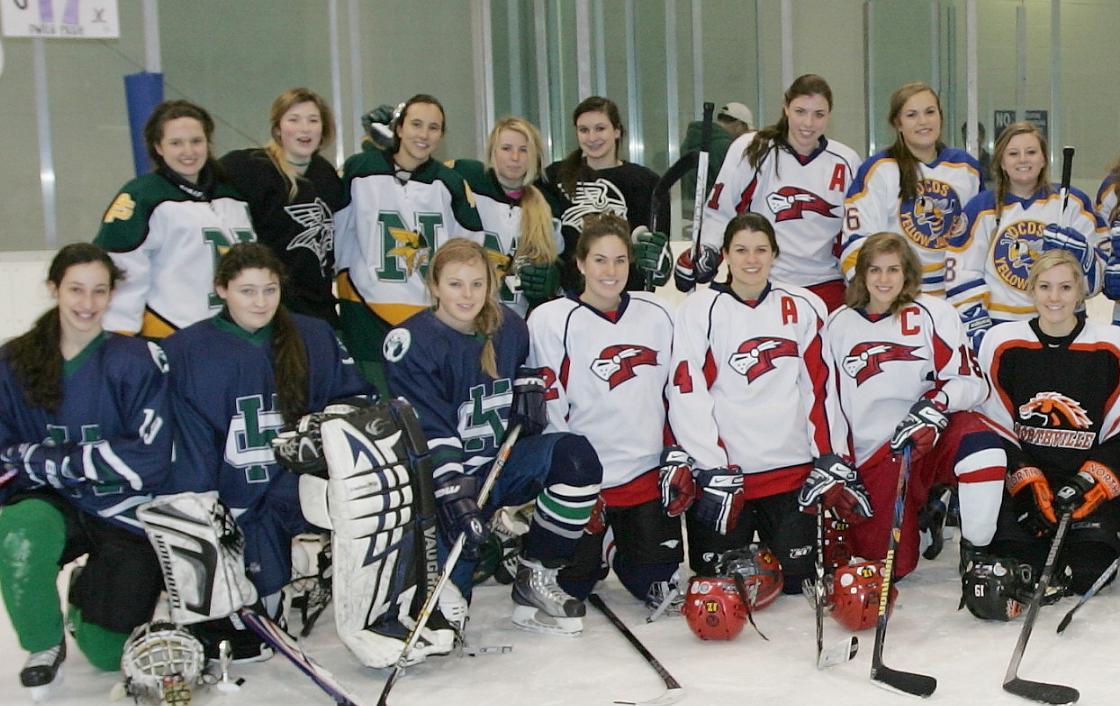 Picture by Bob Bruce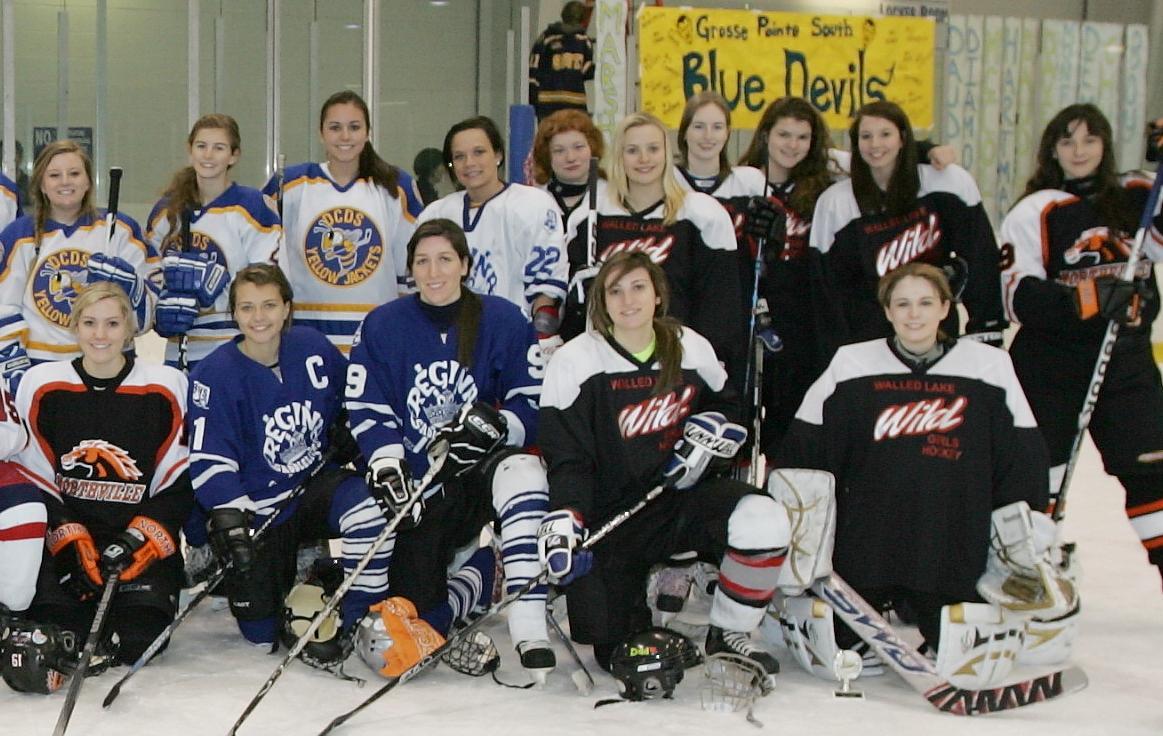 Picture by Bob Bruce
Monday, March 14
State Championship Bracket set!
QUARTERFINALS
SEMI-FINALS
CHAMPIONSHIP
Monday, March 7
Wednesday, March 9
Sunday, March 13
DIVISION 1 TOURNAMENT
Grosse Pointe North
Skills Competition
6:00 PM Rink A

Grosse Pointe North

2:00 - 2:50 PM Rink A
Liggett
8:00 PM Rink A

Ann Arbor Pioneer

Ann Arbor Pioneer
8:00 PM Rink A

Ann Arbor Pioneer

Regina
3:00 PM Rink A

Grosse Pointe South

Cranbrook

STATE CHAMPIONS!

7:00 PM Rink B

Northville

Northville
6:00 PM Rink A
Grosse Pointe South

Grosse Pointe South

9:00 PM Rink B

Grosse Pointe South

Port Huron
Sunday, March 6
*****UPDATED Division 2 REGINA D-2 CHAMPS!
| | | | | |
| --- | --- | --- | --- | --- |
| Wednesday March 2 | Friday March 4 | Saturday March 5 | | |
| | | | | |
| Walled Lake | | | | |
| 4:3O PM | Regina | | | |
| Mercy | 4:30 PM | Regina | | |
| | Mercy | | | |
| | | 3:30 PM | Regina | |
| | PCS | | D2 CHAMPION | |
| Bloomfield | 6:30 PM | PCS | | |
| 6:30 PM | Country Day | | | |
| Country Day | | | | |
Saturday, March 5
Scoring Leaders as of 03/05/11

Player

Team
Goals
Assists
Points
Sydney Sakwa

CK

27
23
50
Caley Chelios

CK

24
25
49
Kailey Sickmiller

GPN

19
22
41
Jennifer Cusmano

GPN

14
25
39
Maddie VanAntwerp

DCDS

25
13
38
Amanda Schimpke

CK

15
21
36
Claire Boyle

GPS

14
22
36
Megan Bergeron

GPN

16
19
35
Rachel Freeman

AA

21
13
34
Andrea Marshall

GPS

15
17
32
Lauren Grigg

Northville

20
12
32
Haleigh Bolton

ULS

22
10
32
Sierra Kett

Regina

14
16
30
Elizabeth Clem

GPS

20
9
29
Sara Villani

GPN

14
14
28
Emy Guttman

AA

12
15
27
Marissa Monforton

GPS

9
18
27
Hannah Pereira

Ladywood

12
15
27
Jenny Rohn

Ladywood

15
11
26
Taylor Moody

GPN

12
12
24
Julia Franceschi

AA

7
15
22
Amanda Heisler

PCS

14

8
22