Michigan Metro Girls Hockey High School Hockey League: News from 2007
Sunday, March 11
PLYMOUTH - CANTON - SALEM 2006-2007 STATE CHAMPIONS !!!
The PCS Penguins completed an undefeated season and defeated Cranbrook by a score of 5-2. It was a very exciting well played game by both teams. Kristie Kowalski was outstanding in net during the playoffs, recording two shut-outs, and Katie Zimmerman added a hatrick in the championship. It was a total TEAM effort. Congratulations Penguins.
Saturday, March 10
Girls showcase their talent at 2007 skills competition.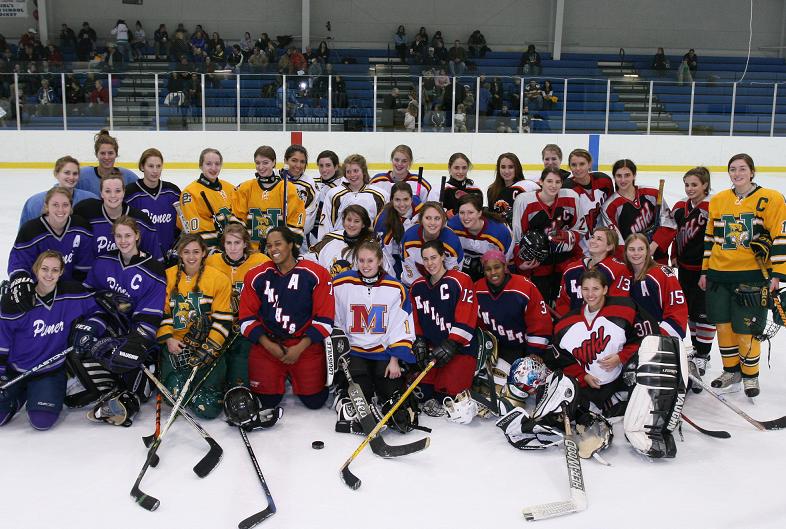 Top league players show off!!!
More pics taken by Mike Dosch... click the link:
http://eteamz.active.com/michhockey/albums/index.cfm?id=454279&subsite=1662746&league=1246494
Saturday, March 10
2007 State Tournament Results.
Monday, March 19
And the 2007 Miss Hockey winner is........
This year's Ms Hockey is Ladywood's Laura Szwed.
Monday, March 19
2006-2007 All-State and All-League players named!!! Click here for details!
Tuesday, March 20
2007 HS Coach of the year....
Congrats to Bruce Peck of Ladywood named "2007 Girl's High School Coach of the Year"!
Thursday, March 22
GIRLS ACADEMIC ALL-STATE WINNERS 2006-2007