Mississauga Girls Softball Association: Welcome
Wednesday, January 31
The Mississauga Girls Softball Association (MGSA) is an umbrella organization that provides a venue for young ladies in Mississauga to play competitive house league softball. Through our member leagues, we provide fastpitch softball for players from age 8 to age 22, from Mite to Midget. We also have a Ladies recreational division for players 23 and up.

Our season runs from mid-May to late August for Midget. The Mite through Bantam & Ladies season is from mid-May to mid-September. Registration is through your local league. You can email us for the league closest to you.
---
2018 Registration:
Our leagues are now registering for the 2018 season. Most accept players from 7 to 22 years old. Some have t-ball or other junior divisions for 4-6 yr olds. And, some have teams in our Ladies division for 23 and older. To finid out the right league that you should register in, please email us at mgsa@live.ca with the players birth year and the closest major intersection (or your street name). We will connect you with the closest member league.
---
2017 Champions:
Ladies Regular Season winners: ERINDALE RED
Ladies Playoff Champions: ERINDALE RED
Midget Regular Season winners: MARTINGROVE 406
Midget Playoff Champions: MARTINGROVE 406
Bantam Regular Season winners: ETOBICOKE 303
Bantam Playoff Champions: ETOBICOKE 303
Novice Regular Season winners: MNBA 207
Novice White Playoff Champions: MNBA 207
Novice Blue Playoff Champions: ETOBICOKE 204
Squirt Regular Season winners: ETOBICOKE 102
Squirt White Playoff Champions: ETOBICOKE 102
Squirt Blue Playoff Champions: ETOBICOKE 105
Mite White Playoff Champions: ETOBICOKE 004
Mite Blue Playoff Champions: ERINDALE 003
---
2017 Select Champions:
Many of our Associations also field Select teams for their house league players who desire a more competitive level of play.The following teams were medal winners at this years OSSTA & Softball Ontario Championships:
Mite: Etobicoke Chaos - Silver (OSSTA)
Squirt: Etobicoke Chaos White - Silver (OSSTA)
Etobicoke Chaos White - Gold (Softball Ontario)
Etobicoke Chaos Grey - Bronze (Softball Ontario)
Bantam: Etobicoke Chaos - Gold (OSSTA)
Midget: Erindale Cardinals - Gold (OSSTA)
Congratulations to these teams for their success at Provincials and all the players who participated on a Select team in 2017.
---
Schedules and Standings:
We are now using Game On Mobile for game schedules and scores. Links to the division schedules are located at the bottom of this page. Click on the icon for your division to be taken to the schedule/standing page for that division. Directions on downloading the app for iOS and Android devices can be found by
clicking here
. If you are using the app, you may need to search by "MGSA" to find the new sites. Remember to mark them as favourites so they are always shown when you open the app.
---
Constitution & Playing Rules:
The Constitution and Playing Rules are now available in the Handouts section.
---
Mississauga Litter Free:
With the outdoor season underway we wanted send a friendly reminder to our groups to keep our outdoor facilities clean and litter free. Please see
letter
from City of Mississauga Community Services about keeping our parks litter free.
---
Smoke Free Ontario Law Now in Effect:
As of January 1, 2015, it is illegal to smoke on and around children's playgrounds and publicly owned sport fields and surfaces (e.g., areas for basketball, baseball, soccer or beach volleyball, ice rinks, tennis courts, splash pads and swimming pools that are owned by a municipality, the province or a postsecondary education institution) More info here
http://www.ontario.ca/health-and-wellness/smoke-free-ontario
---
---
Diamond Locations:
All currently used diamond locations have been updated in the "Park Locations" tab of the menu. There is a clickable Google map available for each.
---
Score Reporting:
Please click on your divison link to report your score. Reminder that all scores must be reported within 7 days.
Please use the following format in the subject portion of your email:

Thu. Aug 11 Erindale 102 (13) vs Etobicoke 104 (14)

If you need to report details (e.g, ejections, issues) use the body of your email and indicate "report included"

Report Mite Scores Report Squirt Scores Report Novice Scores
---
Parking at Eringate, Martin Dobkin and Crookes:
Click here for a note on parking at these locations.

---
Milton/Mississauga/Oakville Park Closures:
To confirm whether the park you are playing at is open, please click on the following link: Mississauga Scroll down to "Sports Field Status", and select Softball Diamonds in the drop box. If your diamond is highlighted in pink, it is closed. For Oakville diamonds, click here, Oakville. For Milton diamonds, click here, Milton
---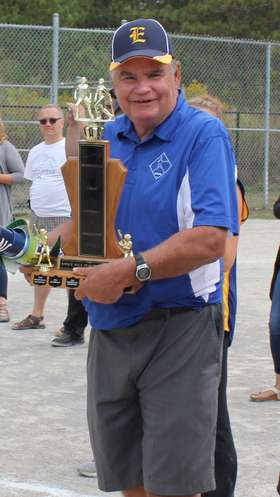 Larry Glen - 2017 Playoffs
It is with a heavy heart that we announce the passing of Larry Glen.Larry was a long time coach with Eringate Softball, executive member of Eringate and it's sucessor, Etobicoke Girls Softball, and a convenor with MGSA.MGSA shares it's condolences with the Glen family and friends..