Merritt Island Little League: Welcome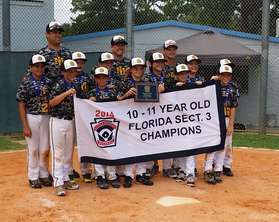 2014 10-11 All Star Section 3 Champions
Thursday, July 17
CONGRATULATIONS GO OUT TO THE 2014 10-11 ALL STAR TEAM IN THEIR WIN OF THE SECTION 3 ALL STAR CHAMPIONSHIP. THEY ARE HEADING TO THE ALL STAR STATE CHAMPIONSHIP IN FT. MYERS, FL THIS WEEKEND. LET'S GIVE THEM A SHOUT ON FACEBOOK WEBPAGE SUPPORTING THEM. BRING HOME THE STATE BANNER BOYS!!! WE WILL PROUDLY DISPLAY IT FOR YOU!!!!
2014 Merritt Island Little League 9-10 All Stars - Anthony Cartagena, Meric Collins, Ethan Corces, Tyler Coutu, Brady Denaburg, Rylan Diaz, Connor Dusch, Gage Garcia, Aiden Hart, Willson Hatataway, Bobby Ives, Grant Papparella - Manager: Bobby Ives, Coaches: Jose Cartagena and Brandon Collins
2014 Merritt Island Little League 10-11 All Stars - Brandon Barna, Adam Beil, Logan Chesser, Ryan Duggan, Anthony Glover, Tanner Goforth, Jack Jabbari, Ery Javier, Logan Legg, Ethan Milton, Joseph Negele, Jacob Raucci - Manager: Dave Milton, Coaches: Joe Raucci and Mike Glover
2014 Merritt Island Little League 11-12 All Stars - Cody Clark, Kieron "Ki" Crowder, Ian Farrow, Brandon Gay, Karl Hartman, John Huber, Kolton Morrill, Paul Nolan, Bobby Pazos, Robby Pemberton,Kyle Richardson,Payton Stepenovitch Manager: Bobby Pazos, Coaches: Jeff Crowder, Jeff McDuffie
FALL BALL REGISTRATION DATES:
REGISTRATION FOR FALL BALL WILL BE HELD AT MILA FIELD 2 CONCESSION (UPSTAIRS) FROM 6:00 pm TO 7:00 PM ON THE FOLLOWING DATES. PLEASE BRING PHOTO ID WITH CURRENT ADDRESS, TWO FORMS OF PROOF OF ADDRESS IF REGISTERING FOR THE FIRST TIME. YOU MAY FILL OUT AND PRINT REGISTRATION FORM ONLINE TO SAVE TIME ALSO REGISTRATION FEE IS $70.00
JULY 8, 2014 ,JULY 10.2014,JULY 15,2014, JULY 17,2014,JULY 22,2014, JULY 24,2014
PARENTS!!!!
For those team parents that are volunteering to work in the concession stands during the baseball games, please make sure that you are in the concession stand at least 1/2 hour before your game and remain until you are relieved by the next team parent. Please remember that no matter who the home team (re: visiting interleaguing teams) is - IT IS THE MERRITT ISLAND TEAM'S RESPONSIBILITY to attend to the concession. It is important that even if there are two visiting teams- a MILL team volunteer must attend to the concession stands.
Schedule of events for the next week appears at the bottom of the page.
Please do not create a new web account if you already have an account. If you've forgotten your login account information, I can send it to you from the website. If you're not sure you've got an account, please check with me first, and I'll let you know. jgeorg82@cfl.rr.com
Monday, October 28
Little League Regulations for Bats Usage for 2013/2014 Season
2014 Licensed 2 1/4" Bat List
Below you will find the website link for the list of 2 1/4" maximum diameter bats that are currently licensed for use in the baseball divisions of Little League (Little League (Majors) Division and Below). This list is effective as of October 15,2013. The list includes all licensed models organized by manufacturer, including those composite barrel bats that have received a waiver from the composite-barreled baseball bat moratorium. If the bat you are searching for does not appear on this list, please review Rule 1.10 to determine its usability in Little League play.
Link: http://www.littleleague.org/learn/equipment/licensedcompositebats.htm
Monday, June 16
Board of Directors Meeting
The monthly Board of Directors Meeting will be held on Monday, June 23,2014 at 6:00 pm at Mila Field 2. All Board of Directors are requested to attend this meeting!
Thursday, February 27
2014 Approved Volunteer List