Meridians Baseball: Welcome
National Amateur Baseball Federation (NABF) Baseball (18+) 
Top-tier Cincinnati team with College-level experienced players:  NKU, Xavier, Miami University, UC-Clermont, Wooster, Concord, Kent State & Kentucky State
Meridians team colors are royal blue and white.
(meridian = the highest point or stage of development; peak, a zenith) 
Formed in 2002, the Meridians have a 159-92-3 overall record in their 11 seasons in the Cincinnati Recreation Commission (CRC) league and NKABL:  2013 NKABL Champions, 2011/12 NKABL Tourney Runner-up, 2009 Regular Season Champions (18-1) and #1 seed in the 2009 NKABL Tournament - #2 / 2011-2, #3 / 2010 NKABL Tourney, 2008 and 2006 CRC City Tournament.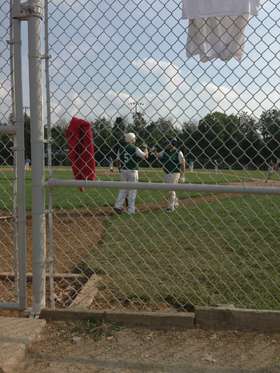 Slap hands, slap hands!
Monday, September 2
IABL Labor Day Tourney
Derek Reese & Justin Kraus headed west into Indiana over the long weekend to join Reese's uncle's Indy Shamrocks team for the holiday tournament.   Uncle Bobby Herbert somehow allows Kraus to start on the bump for Game 1, but that reckless abandon pays off as he goes 5 innings (3 ER) and keeps them in a barnburner that they eventually win, 9-8.   Reese steps in for the Save with 2 K's and goes 1-3 with a 2-run home run in the opener.
Game 2 was a wash in more ways than one, resulting in a 7-7 tie due to rain (Reese with the Hold).   The Shamrocks handle Games 3 & 4 easily though (8-2 & 9-1), but do eventually fall in the championship game.
Reese tallys 8 RBI over the weekend, going 7-15 with that HR while sporting the Meridians' blue hat that clashed nicely with the Shamrocks' green.   Kraus goes 3-7, 2 HBPs overall with 2 2Bs in the Game 4 victory.
Thursday, August 22
Meridians 2013 season wrap-up
~ 1 game in August.. that's all we got, 1 game in August ~
We are the last team standing in the NKABL as the other 3 teams in the league confirmed last week that they are done for the summer. (LYC Raiders on 8/11, C. White Tile on 8/16 and the Whales later that night). So no tournament and no rightful end to our tenure in the league where we amassed an overall record of 47-12-1 since 2009.
Best of luck to our college contingent of Robert Humpert at UC-Clermont, Cameron Bommer at Anderson (IN) University, 2013 Meridians Silver Slugger - Nick Woltermann at Brescia University (Owensboro, KY) and Tim Easterling wherever he takes his talents next Spring.
Thursday, August 1
2013 Season Stats
Cameron Bommer (Anderson University):  3-1 (38 K's in 24 innings)
Derek Reese:  1-1, Save      Justin Kraus:  1-0      Daron Williams:  0-1
Jeff Mears:  2-1, Save
   Complete Game Win for Cincinnati Chiefs with 10 K's in 8/1 NABF Regional Tourney vs. Louisville Mustangs
2013 Meridians HRs
Derek Reese (2), Justin Kraus
Silver Sluggers
Rack would swing at this pitch!
2013: Nick Woltermann
2012: Derek Reese & Jeff Mears
2011: Derek Reese
2010: Mike Soto
2009: Chuck Moore
2008: Kevin McClung
2007: Jack Parkhurst
2006: Jim Rack (Summer) and Mike Soto (Fall)
2005: Scott Bush & Jared Cutter (Summer) and K.C. Fread (Fall)
2004: Blain Williams (Summer) and Scott Bush (Fall)
2003: Kevin McClung
2002: Jim Rack
The Meridians hit 150 wins!
A weekend sweep with 2 wins in 2 states - an easy one in NKy (6/8) and a come-from-behind, 7th inning rally (6/9) puts us at 150 wins early in 2013. Returning to the CRC while maintaining a schedule in the NKABL as well, we hit 125 wins in the home stretch of the 2011 season (7/31).
100 wins: A great maiden voyage in the NKABL sees us at 13-1 after our first August game (8/2) of the summer. After a rain-shortened 2007 season (6 games played), the Meridians get back to it in 2008 and then dominate most of 2009 in the new league.
With a shutout and enforcing the 10-run rule in the same game, the Meridians reach 75 wins in the final game (10/15) of the 2006 season. We play in only 1 tournament and average less than 20 league games per year so a good feat in 5 short seasons.

With a 2-1 victory over the Hilltoppers on our Opening Day (5/22) and sweeping the Outlaws the next weekend (5/29), the Meridians hit 50 wins early in the 2005 season.
Thursday, August 1
Bluegrass State
The Meridians finally make it back down to Kentucky to play after more than 2 and a half weeks due to two forfeits and rain. The bigger news though, was another hour and a half south where Jeff Mears joined the Cincinnati Chiefs in Louisville for the NABF Regionals. Mears tosses a CG 2-hitter with 10 K's to earn the club a 5-1 Win in their first round match-up!
Just across the river though, things were a bit more murky. Coach had the day off with family (Godsons) in town, but he did his best to throw 11 men down to meet the Whales at Morscher Field. Interim Coach Reese was a gametime arrival so Parkhurst took over initially. Pitching highlights: Imperiale throwing a season-high 4 innings with 7 K's, Dolan with his season-high of 2 innings, Bommer with 2 innings (despite a throwing session 2 days prior), 2 K's and Woltermann with his mound debut and a dominating 9th inning, 2 K's.
Yes.., 9th inning. The pitching on both sides command the night for the most part as neither team can plate a 5th run and darkness prevails wrapping up the contest in a 4-4 tie.
Parkhurst with a multi-hit night, Woltermann - 3B/RBI, Sickinger (BB, 2 Runs) & Reese both with 2Bs, Hump - H, RBI, R and first Meridians hits for Imperiale and Dolan.
Thursday, July 25
Each time we get the Chiefs, it's after a 10 day break from playing. The offense clicks right away though with Couture drawing a walk, Woltermann doubling him to 3rd and Parkhurst poking a liner through to score him. Couture and Woltermann both add doubles later in the contest, but that's it for the scoring as their pitching shores up our swinging the rest of the way.
Imperiale works around 2 hits in a scoreless 1st thanks to Woltermann chasing one down on the other side of 2nd and firing to 1st in time to close the frame. Brian fights through a long 2nd to keep us in it at that point as well (3 K's in 2 innings). Mears wraps it up with 6 K's in his 3 innings, but they keep swinging and add multiple runs in each of the next 3 innings to wrap it up in 5.
Thanks to Danny McCullough Jr., borrowed from the Hooks in the CABL, who helped us out on these north side college games this summer.
Sunday, July 14
Meridians melt
There's just something about them, but we rarely seem to play like we should vs. C. White Tile... Bommer dominates, running through 5 innings (6 K's) despite the errant strike zone, 2 weeks off and the sweltering heat - leaving with a 7-2 lead and what seemed like the game in hand.
We remain dormant the final two frames while they continue to chip away scoring another 2 in the 6th and 4 in the 7th to walk us off. Final: 7-8 We finally get to Morscher Field after rainouts every other time we've been scheduled there, but we've now got some demons to erase next time we're back.
Lasers off the bats of Reese (2B, 2 RBI, 2H, R), Couture (2B, BB, R) and Mears (3B, 2 RBI, R) provide the bulk of the damage. Woltermann with 2H, 2R, RBI and handles a double play on his own at his home park - Clim, 2R.
Thursday, July 11
Back at it...
After a week and a half off swimming throughout Cincinnati, the Meridians finally get back to some baseball. Williams brothers cameos help fill up the dugout at Lakota West and guys coming late are even later after Coach tries to get everyone through a locked soccer fence... Great job by all involved with the multiple switches throughout to keep the lineup legal.
Despite some sloppy play behind them, the pitching staff holds their own. Mears gets us started handling the first 3 innings (3 K's, pick-off), Imperiale with a quiet 4th in order (K) and Daron Williams (2 K's) wraps it up with his first Meridians action since 2010. The defense does temporarily stave off their first run of the game with a strong relay from Woltermann (SS) in left center to McCullough at the dish with a swipe tag.
Woltermann also has another multi-hit day including a 3B right away in the 1st. Easterling & Reese with our only other knocks (both shots that would normally have been 2Bs) and Mears with a Sac Fly to scamper home Kraus (BB & reluctantly going 1st to 3rd on Wolt's other knock) who stops, plays duck-duck-goose with the catcher before finally tap-dancing to the plate for our lone run. Final: 1-4 vs. Cincinnati Chiefs
Sunday, June 30
Sunday split
After rainouts on Thursday (independent) and Saturday (NKABL), we roll into Roselawn on Sunday afternoon for our CRC double-dip to find an empty dugout across the diamond.   A no-show by the Redhawks (who also had a DH scheduled) leave us with some infield work, loaning out the college guys (Humpert, Easterling) along with Mears & Reardon to the game next door (where they waste all their hits for the day...) and a bullpen session for Dolan since we now have 4 pitchers for just 1 game...   (Rumors swirl about Easterling pimping a single and Mears getting picked-off by a mile...)
We do get to 3 of our arms though unfortunately as the Bombers come in even stronger than our opening weekend against them.   We do give them some more free passes, but they do more to earn it this time out - scoring 5 and 6 respectively in the first two innings.  We don't do much to counter, as their pitching has improved as well and we fall easily in 5 innings.
Mears tidies up the mess with 3 K's in the final 1.2 innings to close it out.   Imperiale gets a sticker for his helmet for quieting the scoring with 1 pitch to end the long 2nd inning and an appropriate HBP in the 3rd to earn his early exit from the ball yard.
Woltermann jumps off his flight from a 10-day vaca, drives an hour and a half and proceeds to rip a 2B right away and scoring our only run (2-2).   Kraus (2-2) drives him in and Clim makes his return from the DL.
Sunday, June 23
3-day weekend
We pick up an independent game for Friday night vs. the Queen City Legends and they were more than we thought they were coming in. We knew we had a college team on our hands, but with a smattering of D1 and JuCo guys in the mix - this crew was a little bit more than that. We get caught with our college kids unavailable and while we hang in for a bit, it turned out to be a quick night as they walk us off in 5 innings.
Mears fights through 3 innings on the bump and should have also had our only RBI, Kraus and Reese take a turn as well. Knocks by Reese, McCullough, Couture and Kraus (2B).
Saturday brings a barnburner and a logistics nightmare as we switch fields twice due to a burst pipe & scheduling issues and wind up on a skin field with no mound... Reese picks back up after his appearance the night before and gets relieved after 3 due to a plethora of relief pitchers on hand. Koppelman, Dolan and Herbstreit each get an inning before Reese has to come back in to finish off the long night. Per Meridians statute 124.07 - Reese gets the Win. Final: 16-10 over the LYC Raiders.
Each Meridians hurler gets at least 2 K's in their respective innings with Reese tallying 7 in his 4.1 total innings. Herby sets the modern-day record with 3 HBP in his inning of work (he mixed in a BB in between - otherwise, it would have been 3 in a row...). Kyle tries to make good though, with a 3B, 2H and 2R on the night. His fellow Transylvania alum, Muench tries to lose one right away in the 1st and ends up with a 2B off the fence. Parkhurst, 2-3, 2R - Lahmers, 2B, 2R - Reardon, 3 BBs, HBP, 3R - Humpert, 3B, 2H, 3R - Soto, 2-3, 2B and Koppelman with his 1st Meridians hit.
We then get the Redhawks in CRC play who we got a look at a few weeks prior for a quick scrimmage. Unfortunately, they get Bommer after a week on vacation. He runs through them facing only 1 more than the minimum, 8 K's including the side in the 4th and we wrap it up in the lightning-shortened 5th inning (Final: 10-0). Mears, 2B, 2 RBI - Reese, 2H - Humpert & Rutherford, 2R each
Sunday, June 16
Meridians keep the brooms out
We get washed out of our non-league Thursday contest, but Saturday finds us up against a continually improving Whales team and we yet again find a way to make it a close one (Final: 9-8) despite being in control throughout.
Mears goes the first 6 innings with 10 K's and Reese wraps it up (2 K's). Cameo from Jamie Vaughn (2H, 3R) who starts us off right away with Woltermann right behind him (3BB, 2R) each scoring on the 3R blast by Reese in the 1st. Kraus follows suit in the 4th with a solo shot to left center.
Reese's HR in the 1st earns him an Intentional BB in the 4th (with runners on 1st & 2nd no less) to get to Jack (2H, BB), who drops a hustle 2B into left for 2 RBIs. Couture: 2BB, R - RBI from Humpert (2) and Mears
Sunday we see Springdale Cleaners for the first time (although it was pretty easy to see them from a distance so far this summer). They come in light on pitching and we take more than our fair share of walks including Kraus (2) with a HBP as well to score all 3 times. Reese (2H, 2R, SB) cranks his first Meridians wood bat HR, the day after losing his first one with metal for us.
Imperiale starts us off on the bump, leaving with the lead in the 3rd - Kraus then picks up the vulture Win, tossing the final four - Final: 8-4. Woltermann: 2H, SB, 2R - Humpert: 2B, Sac Fly and we see the return of Tim Easterling (U of Rio Grande) who was plucked from us last year.
Sunday, June 9
Weekend Sweep
A new field (Highland Hills Park, home of Muench's Highlands HS), a new opponent (LYC Raiders) and a much-improved Cincinnati Chill team result in two Wins (team's 150th overall), but injuries a plenty with half the team suffering from ankle, hand, hamstring and cheek ailments by the end of the weekend.
Bommer starts the NKABL opener off with another stellar start, earning the CG Win (5 innings, Final: 11-1) with 8 K's and retiring the side in order in each of the first 3 innings.
Each Meridian with a hit, RBI, run or multiple - key contributors being Mears with a laser 3B off the fence, RBI - Woltermann: 3B, 2H, RBI, R - Parkhurst: 2H, 2R - Muench: 2R, RBI
While at 2nd in the last inning, Mears flips to Reese for a double play, Woltermann turns another pair on his own earlier in the day. 2013 Meridians debuts of Drew Clim and Ross Rutherford on Sunday then.
CRC play brings the Chill and a much better ball game with the Meridians' only lead in the deciding 7th. The wood bats remain fairly silent for the majority of this one as we face an 0-4 deficit for the bulk of the game.
Biscotti knocks in 3, going 2-4, 2B, R. Reardon (2-3) knots it up in the 6th with a RBI, Woltermann (3-4, 3 RBI) rips a 3B plating Soto (2 BBs, 2R) & Clim (1-3, BB, R) for the go-ahead runs in the 7th.
Mears goes the distance (several K's) for the Win, helping himself with a 2B and the game-tying Run scored. Final: 8-4
Sunday, June 2
Meridians Week 2
Bommer returns after his pre-season debut at UC the weekend prior to breeze through his first several innings, amassing 13 strikeouts with 75 pitches through 6 innings. Striking out the side in each of the first 3 innings and retiring the side in order in the 4th as well, Boom starts the regular season in full stride. Mears then shuts the door, striking out the side in the 7th.
While the Meridians' offense is still struggling, we still push across just enough to take home the victory - Final: 4-3 over the Star Tunes. Great over-the-shoulder catch by Couture in left while in full stride.
RBI's by Reese (2-3, R), Kraus and Averwater - 2B, 2 Runs by Woltermann
We then pick up the Redhawks for a brief scrimmage afterwards. Teams agree to metal bats and they want the field first. Mears stays on the bump to retire their first few in short order and the Meridians proceed to bat twice through the lineup with the highlights being Reese tongue-punching a no-doubter high off the scoreboard in left center to shatter a light bulb (grand salami to boot) and Woltermann following suit later, golfing one off the scoreboard as well. Reese steps up to the bump then to run through the rest of their lineup and we all call it a day.
Good warm-up for hopefully our first NKABL action this week in whatever dirt hole we can find to play in.
Press Release:
Meridians discontinue the developmental BAM throwing program until stronger (or shorter) fences can be installed...
Sunday, May 26
Meridians Opening Weekend
We visit Marge Schott Stadium Friday night (5/24) for 7 innings vs. the Cincinnati Cobalts and thoroughly enjoy the new facility despite the outcome. The home of the Cincinnati Bearcats welcomes both squads with wonderful weather for our first action of the year despite the sunset in straight-away left field.
Our bats show the rust as we only muster hits by Parkhurst, Soto and Reese who later also added a Sac Fly for our only run. Bommer (pronounced boomer by the way) gets his 2 innings in while Imperiale tallys 3 with Kraus tossing a perfect 1-2-3 frame at the end of the night.
Meridians then come into Sunday and match hits with the Cincinnati Bombers, but that's a measly 4 knocks a piece while we walk 8 of their 9 guys at least once for 12 total free passes (and 2 HBP). Multi-hit day for Woltermann with base hits by Mears and Reardon as well, but we fall easily in our CRC league opener.
Web gem by Woltermann as well with a diving snare in left center.
Thursday, April 11
Soto, Witt and Mears take care of over 6 pounds of the Mud Bugs. No newbies this go-around as we've all had the critters before with Mears the last man to fall to Crawfish temptation after perusing the menu for 18 minutes (to be fair, there are no pictures in their menus...)
Only 3 Meridians this year, but just like the small band of brothers 2 years ago - certainly enough to keep the streak alive.
Thursday, August 1
Meridians Manager records
Mike Soto: 154-85-2 (2002-2006, 2008-2013~)
Jack Parkhurst & Derek Reese: 0-0-1 (2013)
Justin Kraus: 1-3 (2010 & 2012)
Jason Ehrhardt: 1-0 (2011)
K.C. Fread: 2-4 (2007)
Jared Cutter & Scott Bush: 1-0 (2005)