Maryland District 7: Welcome
Wednesday, August 27
MARYLAND DISTRICT 7 LITTLE LEAGUES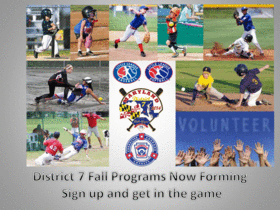 FALL BALL STARTS IN 2 WEEKS!
MARYLAND DISTRICT 7 We are comprised of 10 local leagues serving Anne Arundel,Calvert, Charles, Prince George's, St. Mary's and and Montgomery Counties. The following is a list of our chartered member leagues with active web sites.
Questions about Little League?
Please visit our Parent Information page for anwers to most common questions.
Locations? Please use the DISTRICT 7 GOOGLE MAP to find your local league.
Still don't know where to go? Use this link and download, complete and return the District 7 Information Form per directions on the form. You will recieve a prompt reply.
CALVERT AMERICAN LITTLE LEAGUE
HUGHESVILLE BASEBALL & SOFTBALL ASSOCIATION
NORTHERN CALVERT LITTLE LEAGUE
ST. MARY'S AMERICAN LITTLE LEAGUE
ST. MARY'S NATIONAL LITTLE LEAGUE
---
For information on 2014 Fall Programs please contact your local league or visit their web site.
Want daily updates, pictures, stories? Would you like to share pictures, information, ideas?
THEN FOLLOW US ON FACEBOOK
https://www.facebook.com/mdistrictadmin.
---
"I trust in God.
I love my country and will respect its laws.
I will play fair and strive to win.
But win or lose I will always do my best."
Little League Public Service Announcement
Tuesday, January 14
WHAT PARENTS SHOULD KNOW