Mt. Carmel High School Sundevils Baseball: Welcome
Quick Links
MaxPreps RainedOut Sign-Up for Mt. Carmel Baseball Emails

Coaches' Email 2016 Winterball Schedule 2015-16 Tentative Schedule

---
Work Party
Date: Sunday, February 14, 2016
Time: 10 a.m. – 4 p.m.
Where: MC Fields
Please make some time to join us to work on our fields from 10am - 4pm. There is plenty of work to be done--from making both infields as nice as possible...to clearing brush...to weeding...to cleaning out the Snack Shack...to putting up banners and more. The boys are expected to participate, but to really make this work we need plenty of parent participation as well! No special skills are required, just a willingness to pitch in and have fun doing it!
Please check your email for the complete "To Do" list of projects. Please consider bringing any of the items you can from the list and let Scott Schaller know which of these items you plan to bring. Also, if you are willing to head up a specific task or group noted below, please contact Scott to let him know that as well. You can contact Scott by sending an email to sschaller7@sbcglobal.net. Thank you!
---
**2016 Spring Schedules**
Below are the 2016 Spring Schedules for the Varsity, JV, and Freshman levels. Note: These schedules are not final, but they are as close as we can get to date. Please watch for future updates.

2016 Varsity Schedule (as of 02-10-16)
2016 Junior Varsity Schedule (as of 02-10-16)
2016 Freshman Schedule (as of 02-10-16)
---
Monday, January 25
Summer Dead Period
FORWARD PLANNING! The dead period being purposed for the summer is June 13-26.
---
Sunday, January 3
Reminders
Winterball Season runs from January 4 – February 13. All practices will begin at 3 pm and will end at dark. Punctuality is very important to us and players need to communicate directly with their level coach if they will be late or miss a practice for any reason.
Players should arrive 1:15 before any away game and 1:30 before any home game.

Players and parents - please remember to subscribe to RainedOut for your assigned team.
Program Work Party is on Sunday 2/14 from approximately 9 am – 4 pm. Please plan on bringing the family and spending a couple of hours with us beautifying our fields for the upcoming season. Lunch will be provided by the Booster Club. We are always looking for people with construction, welding, and electrical knowledge. Please contact Coach Mueller if you have any ideas for the work party.

Spring Tryouts will begin on Saturday 2/20. All players interested in playing baseball must be in attendance.
---
Monday, December 21
Inaugural Sundevils Alumni Game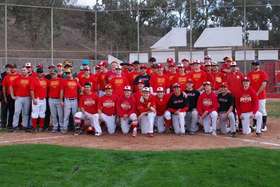 Alumni vs. Varsity 12-19-15
Friday, December 11
Winterball Schedule Updated
I received the winterball schedule earlier this week. I have added it to the schedule. I was mistaken on the times for the Team 2 & Team 3 games so please take a look.
2016 Winterball Schedule (Updated 12-11-15)
---
Thursday, November 12
Congratulations, Dan and Jack!
Sundevils Dan Cope and Jack Melton joined other San Diego Athletes at the Hall of Champions on Wednesday, November 11 to sign their letters of intent to play baseball and continue their education next year. We are so proud of you boys!!
Friday, November 6
Congratulations Jack Melton
Sundevils pitcher Jack Melton (Class of 2016) has verbally committed to play baseball and continue his education at Colorado Mesa University after he graduates from Mt. Carmel in the Spring of 2016. Congratulations, Jack!
---
Congratulations Daniel Cope
Sundevils catcher Daniel Cope (Class of 2016) has verbally committed to play Division I baseball and continue his education at Cal State Fullerton after he graduates from Mt. Carmel in the Spring of 2016. Congratulations, Daniel!
---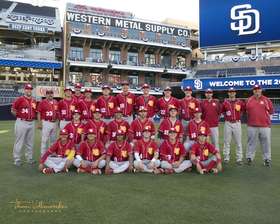 Varsity @Petco Park 04-17-15
Saturday, May 2
Mt. Carmel Baseball 2015-16 Tentative Schedule
Please click on the link below to see a tentative schedule for the 2015-16 Mt. Carmel Sundevils Baseball program (including summer schedule). Thank you!
Update: Baseball P.E. will not be offered this year.
2015-16 Tentative Schedule
---
Sign Up for Mt. Carmel Baseball Emails
If you would like your name added to the list to receive emails from Mt. Carmel Sundevils Baseball, please send an email to eb4sundevils@gmail.com and ask that your name be added. Parents of any student interested in playing baseball at Mt. Carmel this year should sign up, to make sure you receive the most timely updates and information from the coaches and booster organization. You can add as many email addresses as you'd like. Thank you!

*If you are already on the list, no need to add again. Only new email addresses, or new players.
---
Thursday, January 9
RainedOut Notification System - Please Subscribe!
This year we will once again be using the RainedOut Notification System to send timely alerts and notifications to players and parents. You can sign up to receive notifications on your cell phone, by text message, and/or to your e-mail address. This is how the coaches will let us know about any last minute schedule changes, location changes, cancellations, etc.

Coaches for all three Winterball Teams will be using this communication tool, so please subscribe as soon as you can. Note: If you have previously been subscribed at one team level, and you are now at a different team level, please re-subscribe so that you receive alerts for the correct team.

Please note, if you do not individually sign up, then you will not be able to receive the notifications.
---
MaxPreps Link
Below is the link to Mt. Carmel Baseball's MaxPreps page. Please visit this page to view schedules, scores, and rosters for all three teams this season. MaxPreps will have the most up to date information on upcoming games and results of games played. Go Sundevils!!

Mt. Carmel Sundevils Baseball on MaxPreps
---
Thursday, January 16
Follow Us On Twitter!
Big News! Coach Mueller has established an official MC Baseball Twitter feed -- follow us at MCBaseball7
---
Wednesday, December 4
eScrip and Ralphs Rewards Renewal/Registration
If you are currently supporting MC Baseball by being registered with eScrip (through your Vons card), it is time to renew. Please click on the instructions below and renew your membership and commitment to the Mt. Carmel High School Baseball Boosters. If you have not yet registered for eScrip (Vons) or the Ralphs Rewards Community Contribution program (Ralphs), please do so. If you are registered and supporting a different program, you can add Mt. Carmel High School Baseball as one of your recipient organizations. When you register your Vons or Ralphs Rewards cards with these programs, a percentage of your total shopping dollars will be donated to our baseball program at no cost to you. Please take a minute to register or renew, and spread the word and ask your friends, neighbors and co-workers to do the same. Thank you!
eScrip/Ralphs Rewards Sign Up Instructions
---
Chachi Mueller
Head Varsity Coach
484-1180 ext. 3447
cmueller@powayusd.com
Wednesday, April 8
::THANK YOU FAMILY SPONSORS::
Wednesday, April 8