Mt. Carmel High School Sundevils Baseball: Welcome
Summer Weightlifting Schedule - Updated
I have a new weightlifting schedule for everyone. The following times will now be in effect.
Monday and Friday will begin at 9:30 am on the varsity field. Tuesday and Thursday will remain at 6:30 am in the gym
. Please be aware that the gym's roof is leaking and will be shut down for a period of time. The situation is still in flux and I will continue to communicate with you all where weightlifting will be moved. It will still happen as scheduled. Also, please join our weighlifting rainedout.com group so we can communicate with you via text and email. Please follow this link to join:
https://www.rainedout.net/team_page.php?a=f3fe811839bfda53c153
---
.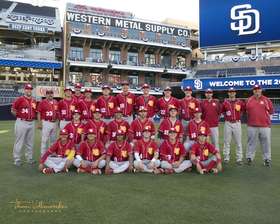 Varsity @Petco Park 04-17-15
Saturday, May 2
Tuesday, April 21
Mt. Carmel Baseball 2015-16 Tentative Schedule
Please click on the link below to see a tentative schedule for the 2015-16 Mt. Carmel Sundevils Baseball program (including summer schedule). Thank you!
2015-16 Tentative Schedule
---
Wednesday, April 8
::THANK YOU FAMILY SPONSORS::
Wednesday, April 8
Tuesday, March 10
THANK YOU SPONSORS!!
The Mt. Carmel High School coaches and players would like to thank all the sponsors that generously donated to Sundevils Baseball. Please support our Sundevil Sponsors.
Sunday, March 8
Release Times
Did you know...
That the Athletic Team release times are always posted on the Mt. Carmel High School website, at the bottom of the Daily Bulletins? For each team having a game on any given day or week, the release (and departure, if applicable) times are listed. The Release Times vary from game to game. Also, you will notice that the departure time is normally no more than 15 minutes after release time. Click here to view the Daily Bulletins page.
---
Thursday, January 9
RainedOut Notification System - Please Subscribe!
This year we will once again be using the RainedOut Notification System to send timely alerts and notifications to players and parents. You can sign up to receive notifications on your cell phone, by text message, and/or to your e-mail address. This is how the coaches will let us know about any last minute schedule changes, location changes, cancellations, etc.

Coaches for all three Winterball Teams will be using this communication tool, so please subscribe as soon as you can. Note: If you have previously been subscribed at one team level, and you are now at a different team level, please re-subscribe so that you receive alerts for the correct team.

Please note, if you do not individually sign up, then you will not be able to receive the notifications.
---
Sign Up for Mt. Carmel Baseball Emails
If you would like your name added to the list to receive emails from Mt. Carmel Sundevils Baseball, please send an email to barb.crena@gmail.com and ask that your name be added. Parents of any student interested in playing baseball at Mt. Carmel this year should sign up, to make sure you receive the most timely updates and information from the coaches and booster organization. You can add as many email addresses as you'd like. Thank you!

*If you are already on the list, no need to add again. Only new email addresses, or new players.
---
Thursday, January 8
We are hard at work securing business sponsors for the 2015 baseball season and need your help! If you know of any businesses that would be interested in sponsoring our baseball program, please contact Deb Devine, our Fundraising Chariperson at ddevine1@san.rr.com, and she will be happy to help get you the proper paperwork and information.
Click here for our 2015 Sponsorship Form.
Thanks for your support.
---
Saturday, March 1
MaxPreps Link
Below is the link to Mt. Carmel Baseball's MaxPreps page. Please visit this page to view schedules, scores, and rosters for all three teams this season. MaxPreps will have the most up to date information on upcoming games and results of games played. Go Sundevils!!

Mt. Carmel Sundevils Baseball on MaxPreps
---
Friday, April 18
2014 Varsity Sundevils Win Lions Tournament!!
Congratulations to our varsity Sundevils who went undefeated in the 2014 Lions Tournament to win the division yesterday. Way to go MC!
Check It Out!
A new canopy was installed last week over the home stands. Sundevils fans will now be able to watch the games in cool comfort. Many thanks to Jeff Basford of PahaQue Wilderness Company for making this happen!
---
Thursday, January 16
Follow Us On Twitter!
Big News! Coach Mueller has established an official MC Baseball Twitter feed -- follow us at MCBaseball7
---
Wednesday, December 4
eScrip and Ralphs Rewards Renewal/Registration
If you are currently supporting MC Baseball by being registered with eScrip (through your Vons card), it is time to renew. Please click on the instructions below and renew your membership and commitment to the Mt. Carmel High School Baseball Boosters. If you have not yet registered for eScrip (Vons) or the Ralphs Rewards Community Contribution program (Ralphs), please do so. If you are registered and supporting a different program, you can add Mt. Carmel High School Baseball as one of your recipient organizations. When you register your Vons or Ralphs Rewards cards with these programs, a percentage of your total shopping dollars will be donated to our baseball program at no cost to you. Please take a minute to register or renew, and spread the word and ask your friends, neighbors and co-workers to do the same. Thank you!
eScrip/Ralphs Rewards Sign Up Instructions
---
2013 Championship Game
Chachi Mueller
Head Varsity Coach
484-1180 ext. 3447
cmueller@powayusd.com