MCKIM KNIGHTS WRESTLING TEAM: My Site News
Friday, June 8
2012 national duals virginia beach,va.mp4
Thursday, May 17
Kevin Barrett All-American
Nebraska-Kearney celebrates after winning its second national team title in wrestling. Gary Abbott photo. PUEBLO, Colo. – Nebraska-Kearney seniors Dalton Jensen and T.J. Hepburn stepped onto the elevated platform for the final time in their college careers. And made an impact they will never forget. Jensen and Hepburn both locked up cradles to earn dramatic finals pins to lift the Lopers to the team title at the NCAA Division II Championships before 3,295 fans on Saturday night at CSU-Pueblo's Massari Arena. Third-ranked Nebraska-Kearney, which also had a champion in 149-pounder Raufeon Stots, edged No. 1 St. Cloud State 107-95 in the team race. The teams were tied 91-91 entering the finals. UNK won its second national title after previously winning in 2008. St. Cloud State, shooting for its first title, finished second for the second straight year. "It was an absolute roller coaster today," UNK coach Marc Bauer said. "St. Cloud had a heck of a run this morning, but our guys responded and stepped it up. It was a storybook ending for these seniors. It was an amazing weekend for us. I'll never forget this. It's unbelievable." The top-ranked Jensen, second in this event last year, slapped a cradle on fourth-ranked William Young of Newberry to score a dramatic second-period fall in the 141-pound finals. Young was second at 133 last year. Jensen, a past starter for Iowa State, leaped to his feet in celebration. "This was my last competition and I left it all out on the mat," Jensen said. "It's a great way to finish my career. It's been 20 years in the making." Stots scored a pair of early takedowns before holding off unranked freshman Keenan Hagerty of Maryville 5-4 in the 149 finals. Hepburn was up next at 157, and he wasted little time when he cradled West Liberty's Jarrod Shaw to record a pin just 2 minutes, 17 seconds into the match. Hepburn leaped into the air as he officially clinched the team title for the Lopers. "I told these guys, 'I'm going for a pin in the finals,'" said Hepburn, who placed second in this event at 149 last year. "It feels great to go out this way. It's awesome. We worked so hard and it finally paid off." St. Cloud State fought back valiantly in Saturday's first session after Nebraska-Kearney had taken a big lead after Friday's first day. The Huskies went 1-2 in the finals. St. Cloud State's Derek Skala capped his college career with a 9-3 win over Findlay's Adam Walters in the 184 finals. "One of my main goals was to win it as a team," Skala said. "We battled, but you have to take your hat off to Kearney. They wrestled really well. I just had to try and block that out and focus on my match. It's unbelievable to win a national title." Top-ranked Upper Iowa junior Trevor Franklin won his second straight national title after edging third-ranked Andy Pokorny of St. Cloud State 3-2 in the 133 finals. Franklin won an NCAA title at 125 last year. Franklin became Upper Iowa's first two-time national champion in Division II. "He's a tough kid," Franklin said. "I expected him to go hard the whole seven minutes and he did. Winning this again, it's just as exciting as last year. It's just awesome." Returning heavyweight champion Matthew Mueleners of Northern State beat St. Cloud State's Jake Kahnke for the second straight year in the finals, earning a 3-1 overtime win. Grand Canyon junior Kyle McCrite became his school's second national champion when he downed Augustana's Cody Lensing 9-3 in the 125 finals. Senior teammate Victor Carazo followed suit by beating top-ranked Luke Rynish of Wisconsin-Parkside 8-3 in the finals. Rynish also finished second in 2011. Grand Canyon and Findlay tied for third place with 58 points apiece. Junior Mike Williams became the first national champion in UNC-Pembroke history when he beat Findlay's Mason True 5-2 in the 165 finals. Fourth-ranked Luke McPeek of Adams State pulled out a wild 14-12 win over top-ranked Dan Scanlan of Limestone in the 197 finals. McPeek trailed 10-4 in the match before staging a furious rally as many in the crowd cheered him on. McPeek, 26, a senior, previously served in the U.S. Marine Corps in Iraq. McPeek was named Outstanding Wrestler of the tournament. Findlay's Shawn Nelson was named coach of the year. Ashland 197-pounder Joseph Brandt won the award for most falls in the least amount of time. TOP 10 TEAMS Nebraska-Kearney 107, St. Cloud State 95, Findlay 58, Grand Canyon 58, Newberry 46, Upper Iowa 45.5, Wisconsin-Parkside 45.5, Adams State 42.5, North Carolina-Pembroke 42.5, Augustana 41.5, Central Oklahoma 41.5. MEDAL MATCHES 125 Pounds 1st – Kyle McCrite (Grand Canyon) dec. Cody Lensing (Augustana), 9-3 3rd – Dave Fogle (Pitt-Johnstown) dec. Ben Sergent (Findlay), 4-3 5th – Kenny Trumbetta (Seton Hill) dec. Joshua Kieffer (Indianapolis), 4-1 7th – David Demo (Minnesota State Mankato) dec. Garrett Evans (Ouachita Baptist University), 6-2 133 Pounds 1st – Trevor Franklin (Upper Iowa) dec. Andy Pokorny (St. Cloud State), 3-2 3rd – Ryan Fillingame (Adams State) dec. Evan Yenolevich (Kutztown), 4-2 5th – Jason Jeremiason (Augustana) dec. Michael Magaha (Limestone), 4-1 7th – Justin Reinsma (Southwest Minnesota State) dec. Adli Edwards (Ashland), 6-2 141 Pounds 1st – Dalton Jensen (Nebraska-Kearney) pinned William Young (Newberry), 4:18 3rd – Daniel Ownbey (North Carolina-Pembroke) dec. Chism Fink (Augustana), 3-2 5th – Casy Rowell (Central Oklahoma) 31-12 won by decision over Trevor Johnson (Mary), 3-2 7th – Tywan Claxton (King) dec. Aaron Smith (American International), 3-0 149 Pounds 1st – Raufeon Stots (Nebraska-Kearney) dec. Keenan Hagerty (Maryville), 5-4 3rd – Bobby Ward (Grand Canyon) dec. Nathan Link (Pitt-Johnstown), 5-3 5th – Ky Corley (Central Oklahoma) dec. Ethan Swope (Gannon), 8-3 7th – Josh Hensley (Adams State) dec. Marc Hoff (Ashland), 13-5 157 Pounds 1st – T.J. Hepburn (Nebraska-Kearney) pinned Jarrod Shaw (West Liberty), 2:17 3rd – Dillon Bera (Wisconsin-Parkside) dec. Taylor Knapp (Newberry), 5-2 5th – Bobby Williams (Ouachita Baptist) dec. Braden Turner (East Stroudsburg), 6-3 7th – Zachary Lundgren (Pitt-Johnstown) dec. Jeremy Bommarito (Limestone), 12-7 165 Pounds 1st – Mike Williams (North Carolina-Pembroke) dec. Mason True (Findlay), 5-2 3rd – Tad Merritt (St. Cloud State) dec. Joey Wilson (Nebraska-Kearney), 3-0 5th – Taylor Nagel (Mary) dec. Matt Vandermeer (Lake Erie College), 7-2 7th – Cody Quinn (Minnesota State Mankato) dec. Chester Granard (Colorado Mesa University), 3-2 174 Pounds 1st – Victor Carazo (Grand Canyon) dec. Luke Rynish (Wisconsin-Parkside), 8-3 3rd – Elliot Copeland (Western State College) dec. Shamus O`Grady (St. Cloud State), 10-5 5th – Michael Lybarger (Findlay) pinned Travis Sheehy (Newberry), 1:26 7th – Travis McKillop (Pitt-Johnstown) dec. Mark Fiala (Nebraska-Kearney), 7-0 184 Pounds 1st – Derek Skala (St. Cloud State) dec. Adam Walters (Findlay), 9-3 3rd – Ross Brunkhardt (Nebraska-Kearney) dec. Tanner Keck (Central Oklahoma), 4-2 5th – Mitch Schultz (Upper Iowa) dec. Dallas Smith (Ouachita Baptist University), 10-5 7th – Nick Peterson (Colorado Mesa University) dec. Matt Gille (Wisconsin-Parkside), 3-1 OT 197 Pounds 1st – Luke McPeek (Adams State) dec. Dan Scanlan (Limestone), 14-12 3rd – Eddie Ebewo (East Stroudsburg) dec. Lucas Munkelwitz (St. Cloud State), 7-5 5th – Charles Morgan (King) dec. Shane Nolan (North Carolina-Pembroke), 13-0 7th – Joseph Brandt (Ashland) pinned Celic Bell (Grand Canyon), 1:41 285 Pounds 1st – Matthew Meuleners (Northern State) dec. Jake Kahnke (St. Cloud State), 3-1 OT 3rd – Jacob Southwick (Ashland) dec. Kevin Barrett (Nebraska-Kearney), 1-0 5th – Zach Rosol (Upper Iowa) dec. James Malechek (Wisconsin-Parkside), 7-1 7th – Jake Elkins (Newberry) 26-7 dec. J.D. Ramsey (West Liberty University), 8-3 OT
Thursday, May 17
Kevin Barrett contributes to National title team
PUEBLO, Colo. -- For the second time in program history, the Nebraska-Kearney wrestling team has won the NCAA Division II national championship. On Saturday night in Pueblo, Colo., the Lopers tallied 107.0 team points to hold off a huge charge by top-ranked St. Cloud State, Minn. (95.0). This marks the Lopers 11th straight top 10 finish; UNK's other national title came in 2008. Ross Brunkhardt and the other Loper seniors go out in style By winning, UNK also keeps the national title in Nebraska. Since 2004, Nebraska-Omaha has six first place finishes, the Lopers two and Central Oklahoma one (2007). The SCSU Huskies won their first 10 matches on Saturday to not only catch UNK but also hold a brief lead. The two teams entered the finals with 91.0 points apiece but the Huskies lost the 133 lbs. match when defending national champ Trevor Franklin of Upper Iowa edged Andrew Pokorny, 3-2. UNK then won three straight national titles to secure the team title. "It was an absolute roller coaster today," UNK coach Marc Bauer told USA Wrestling. "St. Cloud had a heck of a run this morning, but our guys responded and stepped it up. It was a storybook ending for these seniors. It was an amazing weekend for us. I'll never forget this. It's unbelievable." At 141 lbs., top-ranked Dalton Jensen (Missouri Valley, Iowa) was leading Newberry's B.J.Young 2-1 midway through the second period. Building up a point of riding time, Jensen managed to turn Young and record a fall at 4:18. Jensen beat third-ranked Chism Fink of Augustana, 7-4, to reach the finals for a second straight year. Winning 20 of his last 21 matches, Jensen finishes his senior season 30-4. Up next, junior Raufeon Stots (Houston, Texas) faced unranked and true freshman John Hagerty of Maryville (Mo.) in the 149 lbs. finals. Stots used two takedowns to grab the early lead before Hagerty went to one knee to keep Stots away from his legs. Hagerty took a couple of shots but Stots fought them off to win by a 5-4 score. The former Labette C.C. All-American reached the finals thanks to a 6-1 decision over Ky Corley of Central Oklahoma. After medically redshirting last winter, and competing unattached first semester, the Lopers "secret weapon" closes out the 2011-12 season with a 30-6 combined record. Raufeon Stots Finally, senior T.J. Hepburn (East Hampton, Conn.) finished off one of the best careers in school history by pinning Jarrod Shaw of West Liberty State (W.V.) at 2:17 to win the 157 lbs. national title. A three-time All-American, Hepburn goes 36-3 as a senior, ending on a 26-match win streak. He also finishes 118-16 as a Loper. "I told these guys, 'I'm going for a pin in the finals,'" Hepburn said. "It feels great to go out this way. It's awesome. We worked so hard and it finally paid off." To reach the finals, he needed overtime to beat top-ranked and undefeated Dillon Bera of Wisconsin-Parkside, 4-2. UNK had four other All-Americans in senior Ross Brunkhardt (3rd/184 lbs.), senior Joey Wilson (4th/165 lbs.), sophomore Mark Fiala (8th/174 lbs.) and redshirt freshman Kevin Barrett (4th/285 lbs.). Now a two-time All-American, Brunkhardt (Merino, Colo.) lost 3-1 to SCSU's Derek Skala, the eventual national champ, in the semifinals. He came back to beat Mitch Schultz of Upper Iowa, 4-2, for the second time in the tournament to place third. Wilson (Half Moon Bay, Calif.), also an All-American again, fell to the eventual national champ, Mike Williams of UNC-Pembroke, 2-1, in the semifinals. He beat Matt Vandermeer of D2 newcomer Lake Erie (OH), 5-2, before falling to SCSU's Tad Merrit, 3-0, in the third place bout. On Friday, Wilson scored a key 5-3 win over the top-ranked Merritt. In his semifinal match, Barrett (Boys Town H.S.) lost a heartbreaking 4-3 decision to now two-time national champ Matt Meuleners of Northern State. With UNK trailing in the team race, Barrett pinned Zach Rosol of Upper Iowa at 2:22 to tie things up at 91.0. After upsetting fourth-ranked Jacob Southwick of Ashland (OH) on Friday, Barrett lost to him by a 1-0 score for third place. Not able to crack the national rankings all season, the UNO transfer ends 2012 with a 27-9 mark (14 falls). Finally, Fiala (Seward) lost to Western State's Elliott Copeland, 9-5, and to Travis McKillop of Pitt-Johnstown, 7-0, on Saturday. He did win twice to earn All-American status and score some key team points.
Saturday, November 5
McKim Alumni Albert Woody currently wrestling for Lehigh Univesity
Albert Woody Position: 141 Class Year: Jr./So. Major: Bioengineering Hometown: Pikesville, Md. Previous School: McDonogh Why Lehigh: "Lehigh epitomizes the sense of a tight-knit community that fosters both academic and athletic advancement. This is something I wanted to be a part of." Woody on Santoro: "Coach Santoro is a down to earth individual who takes pride in his athletes excelling both on the wrestling mat and in life." In 2010-11: Posted 8-9 record with four bonus wins… competed at Buffalo, East Stroudsburg, Penn State and Wilkes Opens… made varsity dual debut, dropping 4-2 decision versus Brown. In 2009-10: Deferred eligibility… posted 10-8 record competing unattached in open tournaments… finished second at Wilkes Open in late December… also competed in Binghamton, East Stroudsburg, Penn State Opens and Shorty Hitchcock Memorial Classic. In secondary school: Three-time Maryland place winner and two-time National Prep place winner … compiled a 147-51 career record which culminated in a Maryland Independent Schools state title … placed fourth and second in the state tournament in previous years … went 45-4 in his senior season at 130 … earned eighth and fourth place finishes at the National Prep Championships at Stabler Arena. Personal: Son of Albert and Lena… brother Malik (15). CAREER RECORD Overall Dual PCT Bonus Tournaments 2009-10 2010-11 Deferred Eligibility 8-9 0-1 .471 4 2nd Wilkes Open Total 8-9 0-1 .471 4
Tuesday, March 25
TWO STATE CHAMPIONS MCKIM HAS TWO JUNIOR LEAGUE STATE CHAMPIONS
CONGRATULATIONS TO ANTHONY "ANTMAN" WILLIAMS STATE CHAMPION AT 140LBS. CONGRATULATIONS TO TYSHAWN WILLIAMS 2TIME STATE CHAMPION AT 65LBS. MCKIM ALSO HAD 3 OTHER PLACE WINNER AT THE MD/VA STATE CHAMPIONSHIPS DARIUS COLEMAN AT 60LBS TOOK 2ND, RONNI POWELL JR. AND AVERY WILLIAMS ALSO PLACED.
Thursday, April 3
Kevin Barrett A McKim Great
Kevin Barrett more affectionately known as Grunt son of Steve Barrett is winning championships so fast it is hard to keep up. Grunt has won the Nebraska State Championship twice and has just won the Junior Nationals in
Virginia Beach
that means that the McKim Wrestling team has produced 3 national champions and Steve has produced 2 of them.
All of us here at McKim would like to congratulate Grunt on Three Championships in two years. Good Job!!!!
Thursday, April 3
Two State Championships Two Differnt States
Deonte Carter McKim Alumni has won two state championships in two years in two different states. Deonte won his first state championship in
Nebraska
wrestling for
Boys
Town
High School
. He repeated his climb to the top here in
Maryland
winning the 125lb weight class state championship wrestling for
Woodlawn
High School
.
Congratulations Deonte!
Monday, February 11
YET ANOTHER CHAMPION
MCKIM CONTINUES TO PRODUCE HIGH SCHOOL CHAMPIONS, COUNTLESS MCKIM ALUMNI HAVE GONE ON TO BE CHAMPIONS AT THE HIGH SCHOOL LEVEL. OUR CURRENT CROP OF MCKIM ALUMNI IN HIGH SCHOOL ARE CARRYING ON THAT LONG STANDING TRADITION.
ALBERT WOODY, WRESTLING FOR MCDONOGH HIGH SCHOOL HAS WON THE MIAA CHAMPIONSHIP IN THE 135 WEIGHT CLASS.
Thursday, January 31
4 Mckim Wrestlers to Wrestle McDonogh Duals
On Saturday February 2, 2008, Four Mckim wrestlers will wrestle on Team MJWL, at the McDonough duals. Team MJWL is composed of the top wrestlers in the MJWL League so this is a great accomplishment please congratulate: Anthony, Avery, Tyshawn and Ronnie.
Thursday, January 31
Family and Friends Day an overwelming success
Family and Friends Day was an overwhelming success
Family and friends day was great the turnout was phenomenal. The wrestlers had a really good time lets hope this is the start of a tradition.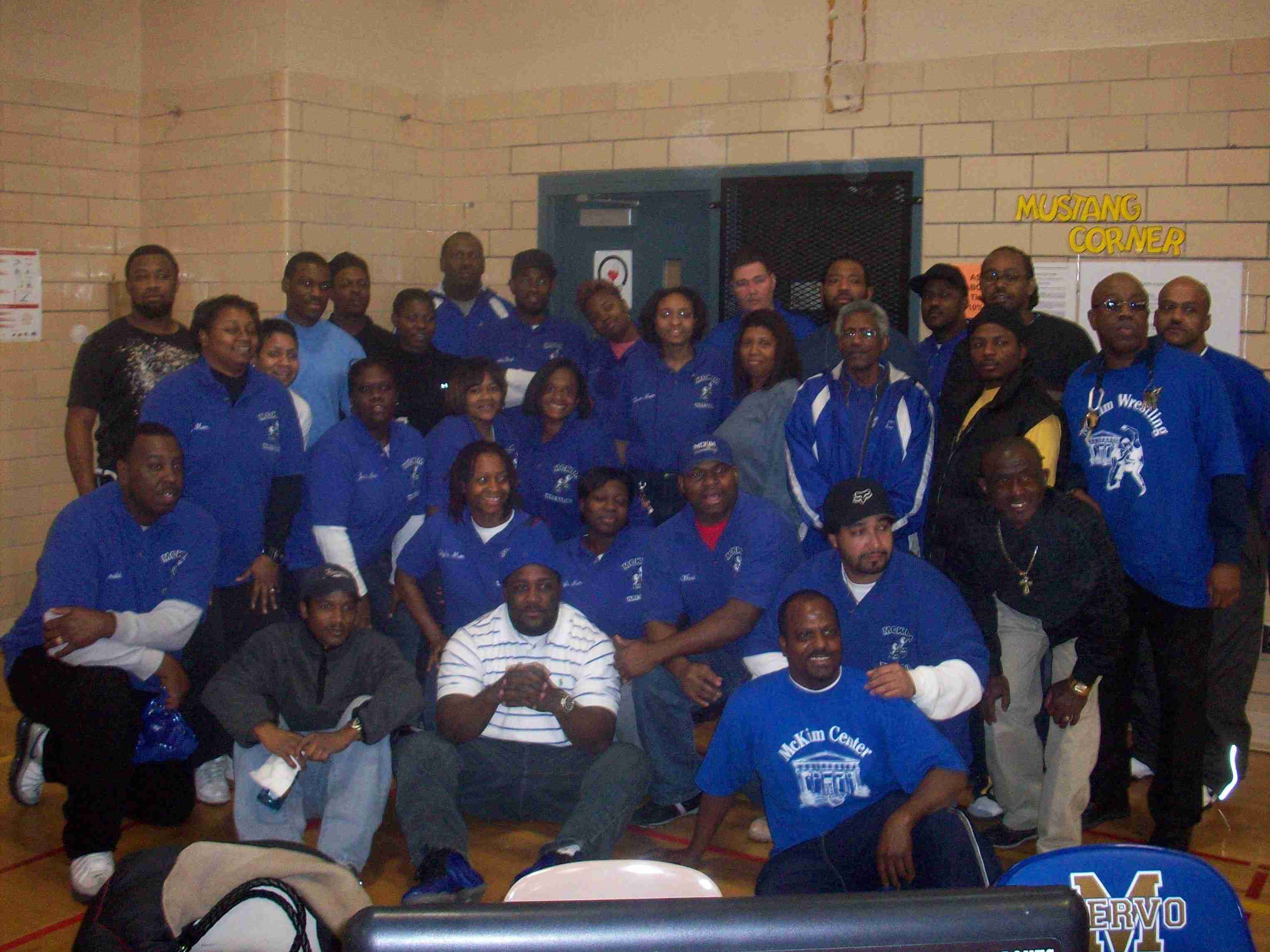 Mckim Family
Tuesday, February 5
MCKIM TRAVELS TO WATCH MARYLAND WRESTLING
MCKIM KNIGHTS TRAVELED TO SEE UNIVERSITY OF MARYLAND WRESTLING DEFEAT NC STATE ON JANUARY 26, 2008
Wednesday, February 13
ALBERT WOODY'S MIAA TITLE HONORS HIS MOTHER & FATHER
by Lem Satterfield

When McDonogh's Albert Woody Jr. labels this wrestling season as "one of many ups and downs," the 135-pound junior means much more than just the fact that he has, at times, switched weight classes with 140-pound senior Eagles' teammate Josh Fitch.
The phrase includes failing to place at 140 pounds during last month's Mount Mat Madness Invitational, considered the most difficult tournament in Maryland.
It encompasses a last-second loss to Archbishop Curley's Bubba Corbett, when Woody was headlocked in the closing seconds of a 7-5 loss after leading by as much as 5-2.
And most importantly, it deals with the role of his mother, Lena, whose poise against her battle with breast cancer makes her "a positive example of perserverance for me," Woody said.
"From my mother, I must say, I have truly learned to perservere through any situation," said Woody, a student with a 3.5 grade point average. "She's very supportive me. She taught me to put God in front, and that he will always lead you down the right path."
On Saturday afternoon, that focus led Woody down the road to victory, as he captured his first Maryland Interscholastic Athletic Association Tournament title after having placed fourth, and second, respectively, over his previous two seasons.
With Lena Woody watching from the stands, Albert Woody pinned his first round opponent in 36 seconds, blanked his second, 6-0, decisioned his third, 9-2, and then, built a 7-0 second-period lead over Mount St. Joseph's Danny Orem on the way to winning their title bout, 10-3.
"Albert did a great job today, and showed great character and integrity," said Lena Woody, who met Albert Sr., her husband of 19 years, when they were students at Morgan State.
"The sport of wrestling is enjoyable to him, and I'm very proud of him," Lena Woody said. "This has been a great day."
In victory, Woody matched the effort of his father, Albert Woody Sr., who, as a senior at Walbrook High in 1983, was named Outstanding Wrestler for winning a Maryland Scholastic Association title.
"I really stepped up my game for this tournament, and I was mentally prepared for this match," said Woody, who was seeded No. 3 behind No. 1 Orem, and No. 2 Corbett, who finished third. "It doesn't really matter what seed you are, you just come out and wrestle."
Woody said his loss to Corbett was a motivator for him entering the tournament, and played a role in the strategy he developed for Orem.
"My whole drill preparation was to stay in the center and to not back out, so that I wouldn't get called for stalling," said Woody. "I decided to change that up, be physical and come out here and just do my thing. I think this means a lot to my family, and it brings me one step closer to where I want to be in preparation for states and National Preps."
Corbett called Woody's title bout "his best match of the year," adding that "he wrestled awesome -- never seen him look so good this year."