Mathews Little League: Welcome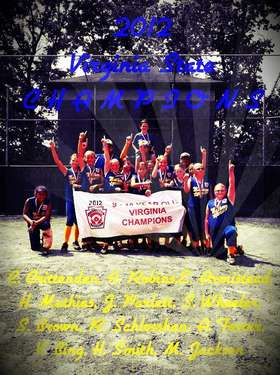 MLL Minor SB STATE CHAMPS!
~2013 MATHEWS LITTLE LEAGUE~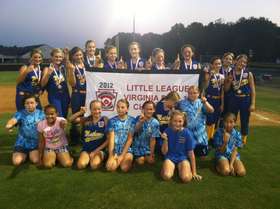 MLL Mj SB 3rd in STATE!!
SUSPENDED GAMES: games will resume where they left off. All records, including pitching shall be counted.
Welcome to the Mathews Little League website. The website is to give you information about MLL. Our Complex is located at 7138 Buckley Hall Road, Hudgins, VA 23109. Our goal is to provide the best possible baseball and softball experience for the children in our area. MLL owns and operates our facility. All monies taken in through registration costs, sponsorships, advertising, and Fundraising efforts are reinvested into the baseball and softball programs and the facility.
S P R I N G has finally S P R U N G!!
Schedules are up!
it's time to "P L A Y B A LL"
Congratulations Minor~Softball STATE CHAMPS and Major~Softball 3rd in State 2012!!!
Mathews County is part of the District 15 Division
http://www.eteamz.com/vadistrict15/
"The essential elements of character building and ethics in sports are embodied in the concept of sportsmanship."
~2013 Mathews Little League~
2013 Mathews Little League
Board of Directors

Name
Position
Home Phone
Cell Phone
email
Tom Wathen
President

N/A
N/A
Heather McElligott
Executive Vice President/ Fundraising

725-3305

384-8533

Charlie Crittenden
Vice President Softball

725-9832

Jerry Dehoux
Vice President Baseball

725-3353

815-9320

Steve Gayle
Chief Umpire
Darlene Jackson
Information Officer

725-3095

815-8644

Richard Stewart
Field Maintenance/Park Cleanliness

725-4965

824-4254

Dawn Lewis
Concession Stand Liaison
Shelby South
Sponsorship/ Team representative

725-4119

694-6233

Cathy Mise
Treasurer

725-5889

815-2742

cmise@chesbank.com

Lianne White
Secretary

725-2090

815-6047

Ryder Cullison

Safety Officer/ Equipment Manager
Friday, May 17
May Minutes 2013
Mathews Little League
Board of Directors Meeting
Date: May 6, 2013
Time: 7:06pm
Place: Mathews Ruritan Club
Members in Attendance: Charlie Crittenden, Ryder Cullison, Jerry Dehoux, Steve Gayle, Darlene Jackson, Dawn Lewis, Heather McElligott, Cathy Mise, Shelby South, Richard Stewart, and Tom Wathen
Members Excused from Meeting: Lianne White
Chris Williams was also in attendance as a future board member.
Because the minutes of last month's meeting were sent to all board members via email, a motion was made by Steve Gayle to waive the reading of the previous month's minutes. A second was made by Heather McElligott, and all approved.
Meeting Business:
· Cathy Mise gave the Treasurer's report.
· Tom Wathen proposed Survey Monkey to get the votes for board approval in September, rather than paper ballots. Darlene Jackson will look into it.
· Heather McElligott is taking care of getting new receptacles for cigarette disposal for the park.
· Sundays have now been opened up to complete make-up games due to rain cancellations. Games will start at 2:00pm.
· After an extensive discussion about time limits on games, it was decided that no changes would be made at this time. The Chief Umpire will have game umpires police times between innings.
· We are still waiting on all-star tournament determinations.
· Tom Wathen reported that we received new PA equipment.
· There was a discussion regarding a new strategy for jerseys for next year's uniforms. This is still being researched.
· Steve Gayle made a motion to purchase a new AC unit for the concession stand, Dawn Lewis seconded the motion, and all approved. A new AC unit will be purchased and installed by Western Shore for $3000.
· Team pictures have been rescheduled for May 16th.
· Steve Gayle made a motion to have Charlie Crittenden tend to ordering plaques for last year's championship teams, at a maximum cost of $375, which will be placed on the concession stand wall, Dawn Lewis seconded the motion, and all approved.
· Tom Wathen reported that the board did an on-line vote as to whether or not to allow Reggie Johnson to play up on the Senior League team. The results were 11 yeses, and 1 no. Therefore, the request was approved.
Steve Gayle made a motion to adjourn the meeting, Cathy Mise seconded the motion, and the meeting was adjourned at 8:47pm.
llw
Thursday, February 25
Mathews Little League Images