Mathews Little League: Welcome
~2014 MATHEWS LITTLE LEAGUE~
Welcome to the Mathews Little League website. The website is to give you information about MLL. Our Complex is located at 7138 Buckley Hall Road, Hudgins, VA 23109. Our goal is to provide the best possible baseball and softball experience for the children in our area. MLL owns and operates our facility. All monies taken in through registration costs, sponsorships, advertising, and Fundraising efforts are reinvested into the baseball and softball programs and the facility.
2014 Spring Registration
Saturday,February 15, 22,
& March 1st
9am - 1pm
THMS Cafeteria
Boys & Girls Ages 4-16
$70 per player
T-Ball & Coach Pitch
Minor, Major,
Junior, Senior
Softball & Baseball
(Families with 3 or more players; first 2
players $70
any after $35 per player)
Opening Day
Please click on the link below to read the montly newsletter from Little League International.
Congratulations Minor~Softball STATE CHAMPS and Major~Softball 3rd in State 2012!!!
Mathews County is part of the District 15 Division
http://www.eteamz.com/vadistrict15/
MLL Alumnus Sharese Jarvis Continues Winning Ways: below is the URL to the news story
http://www.gazettejournal.net/index.php/sports/sports article/jarvis named to all atlantic first team
"The essential elements of character building and ethics in sports are embodied in the concept of sportsmanship."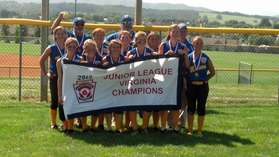 MLL Jr SB STATE CHAMPS
Thursday, February 25
Mathews Little League Images
Thursday, January 16
Mathews County Little League