Website updates:
*******
We currently have openings for:
12U utility/outfielder

16U catcher
16U pitcher
2 16U utility players
1st baseman/outfielder on showcase team
Please call Carol at 774-222-3076 for a tryout
If you are interested in ordering a Drifters jacket
Please contact Robin Brown at 774-218-8331
Welcome to the Mass Drifters Softball Program
We offer 12U, 14U, 16U, 18U and 23U programs.
**Important Clubhouse Information**
Effective immediately, players are only allowed in the clubhouse during your regularly scheduled practice time with your coach. The clubhouse will be closed all day on Sundays.
The clubhouse wil be open for extra hitting and pitching at the following times:
Monday - 5:30pm to 7:00pm
Saturday - 9:00am to 1:00pm
Thank you for your cooperation.
We are the Mass Drifters.

Girls who are committed to the game of softball. We strive for excellence and we learn from mistakes which enable us to compete against some of the best softball organizations in the northeast each and every week. The Drifters organization is in its 25th year under the direction of Carol Savino, current Norwood High School Varsity Softball Coach.
The Mass Drifters mission is to educate, encourage and promote the growth of girls softball while preserving the integrity of the game. We focus on total player development, building a tradition for the future of our girls, to improve their tactical and technical softball training, and most of all, team participation and camaraderie.
We seek to positively impact athletes by encouraging sportsmanship, respect for players, coaches, umpires, spectators and by providing these athletes the opportunity to achieve their potential.
We play "A" level Fastpitch softball and compete in ASA, NSA, PONY, USSASA and Triple Crown tournaments throughout the Northeast area. Along with the States and the Regionals, we offer those girls who aspire to play college softball the opportunity to Showcase on one of our two 18U Showcase teams. These teams will attend 6-8 Showcase tournaments over the summer/fall season.
We couldn't accomplish all that we have over the years without the hard work of all our players, volunteer coaches, and the support of the parents. Thanks to all of you who make our organization as strong as it is each and every day.
The Mass Drifters offer year round training at our "Club House," located in Taunton, Mass. Players can workout year round on every aspect of the game. We have 5 batting cages and hitting stations and additional space to workout as a team. We also offer our 14U, 16U, and 18U teams the ability to play softball indoors at the Bridgewater Dome in the Fall and Winter sessions.
Feel free to look around our website, and before you go, sign our guest book and let us know what you think. If you are interested in our program or have questions, please contact us at: coachcarolas@yahoo.com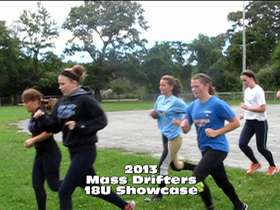 2013 18U Mass Drifters Showcase


sweet caroline