Massachusetts District 3 Little League : Welcome
Chuck Stone Major Girls Softball - 2014 District Champions
---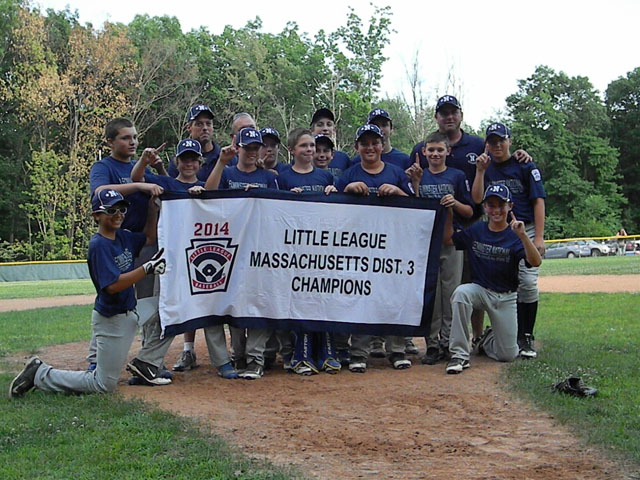 ---
Leominster National, 2014 Major Baseball Champions.
---
Leominster National lost to Holden in the Section Final 2 -1. They were the only team so far to hold Holden, who had outscored their opponents 123 - 4 in six games, to only two runs!
With this loss the International Tournament has come to an end in District 3. Congratulations to all of our District Champions
Major Baseball - Leominster National
Major Softball - Chuck Stone
Junior baseball - Winchendon
Senior baseball - Orange
Big League baseball - District team
Don't forget, the Jimmy Fund Tournament is still underway. You can still catch some great games and support a good cause!

---
JF Reminders:
Each league is responsible for providing their own umpires for their home games.
It is the Home/Host team's responsibility to send in scores and innings played to Mike Vigue
Rookies Division - Dropped 3rd strike does not apply - since 8 year olds are playing, they use Minor league rules.

The schedule has been updated - please check to make sure that you have the most recent copy . Team managers - please make sure that you print out and have the pitching affidavit in you binders. The Jimmy Fund rules packet, handouts packet, and baseball and softball pitching affidavits are available in the Handouts Section
---
REMINDER - ANY SPECTATOR WHO USES INAPPROPRIATE LANGUAGE THAT IN ANY WAY REFERS TO OR REFLECTS UPON ANY MANAGER, COACH, PLAYER, OR UMPIRE WILL BE ASKED TO LEAVE THE GAME SITE. DISTRICT 3 STAFF AND LOCAL GAME DIRECTORS ALSO HAVE THE AUTHORITY TO BAN SUCH SPECTATORS FROM THE GAME SITE.
---
The MA State Softball Tournament will be hosted by Winchendon Little League July 10 -13 for Major Softball and July 19 - 20 for Junior and Senior Softball. If you are interested in seeing some great games, stop by the field and check out the action!
---
---
Congratulations to D3 umpire Mike Welch on his appointment to umpire in the Junior League Baseball Regional Tournament in New Jersey this summer!
Congratulations to D3 umpire Jose Rivera on his appointment to umpire in the Senior league Baseball Eastern regional Tournament in West Deptford, NJ this summer!
---
Are you managing or coaching a T- Ball team this season? Do you have a child who plays T-Ball? Little League International has created a new program for Tee Ball-age players (ages 4-6); and their parents or guardians, that is specifically designed to provide a foundation and introduction to baseball and softball that is grounded in fundamentals, fitness and having fun. The new Little League Tee Ball program is a 10-week co-ed plan and resource that features structured learning, highlighted by one practice and one game per week. Over the course of the season, coaches and parents will engage in a series of lessons utilizing up to 40 activities that include skills, drills and plenty of physical activity. Jennifer Rodgers, an educator with a background in physical education and a coach in Williamsport, Pa., worked in conjunction with Little League International on the development of the practice plans. In addition to contributions from the Positive Coaching Alliance and the Baseball Factory, SKLZ, a preferred training partner of Little League Baseball and Softball, has provided video presentations of basic Tee Ball skills; see "SKLZ FUN-damentals," on the Coaches Resource Center (CRC). Registration for the Little League Coaches Resource Center is free and available here. New registrants, and those previously registered with the CRC, have access to the all of the Tee Ball materials. The entire program, complete with explanations, descriptions and instructions, can be downloaded. Also available for download are illustrated practice plans. These "Quick Plans" provide coaches and parents the freedom to take the lessons with them on to the field.
---
Important reminders:
Background checks are mandatory for all volunteers who have repetitive contact with players. Little league offers 125 FREE nationwide background checks through Lexisnexis. If your league does not already use this great service, sign up today. It is FREE!
---
**New**
Little League Chartering & Marketing Toolkit
Little League International has developed a Local League Chartering and Marketing Tool Kit to assist local leagues in preparation for the upcoming season. A new, related website has also been launched.
---
15th Item Added to the ASAP Program
League Player Registration Data or Player Roster Data and Coach and Manager Data can be completed through the Little League Data Center. Completion of this information is a mandatory requirement for an approved ASAP plan in 2014.
---
Little League's LexisNexis Background Checks
Little League's 125 free background checks, provided through LexisNexis, will re-set as of Nov. 1, 2013. Each check done after a league's 125th check will cost $1 each. The information collected through LexisNexis should be kept, and remain, confidential.
---
The Power Of Little League
Check out a video Little League has produced showing the effect of Little League Baseball has not only in the United States, but all all over the world.
---
---
District 3 LL is now on Facebook, check out our page here
Other info:
The Little League Baseball and Softball Coaches Toolkit (previously called the Coaches Registry) was created in 2007, to help managers and coaches improve their knowledge and learn how to be more effective in their many roles as a coach. In addition to instructional information, the Toolkit provides coaches with the latest Little League rulebook, a Positive Coaching Alliance (PCA) handbook with helpful tips on how to be a better coach, and "What's the Score" explaining how to score a game and a scorebook. Also, members have the ability to download the latest version of the Electronic Rulebook. The E-Rules section of the Little League web site also has video explaining frequently misinterpreted rules. For more information on the Little League Coaches Toolkit, or to purchase your Coaches Toolkit package, visit:The Coaches Toolkit