Marlton Athletics Baseball Club: 25+ A's Page
May 25, 2008
Bloomfield HS Senior 1B Mike Chiaravalloti, nephew of A's GM Terry Annese, waits for a pitch to drive during a recent game at the 2008 Greater Newark Tournament.

WALK THE PLANK
Lawlor, Murray Shut Down Bucs, 10-3
Murray 4-for-4, HR, Lee 3 Hits; Hazel 1-for-3 in Return


Rotary Field 1 2 3 4 5 6 7 8 9 R H E
R'side Pirates (4-4) 3 0 0 0 0 0 0 0 0 3 6 0
Marlton A's (6-3) 0 2 2 1 2 0 3 0 x 10 18 3
WP: Lawlor (2-1); LP: Dorety (2-1); SV: Murray (1)
2B: Talarico (M), TDavis (M), Murray (M), JDavis (M),
Dorety (R); HR: Volkmar (3) [M], Murray (1) [M]
HBP (by Ward): Madden (M)



JUNE 8- The 25+ Marlton Athletics pounded out a season-high 18 hits, including a pair of long balls, to erase an early 3-run deficit en route to a 10-3 victory over Riverside Pirates this past Sunday at Rotary Field.

Aiden Lawlor hooked up with Riverside's Joe Dorety in a battle of ace righthanders. The Pirates capitalized on a pair of Lawlor walks and two infield errors to jump out to a quick 3-0 advantage before the A's came to bat. After going down 1-2-3 in the bottom of the frame, the Amazins' cut into the Bucs' lead in the second, as 3B Chris Murray led off with a single, moved to third one out later on C Eric Talarico's long double off the leftfield fence before 1B Lee Madden and EH George Felder stroked consecutive RBI singles to make it 3-2.

In the home third, 2B Travis Davis led off with a double and one out later stole third. CF HoWon Lee immediately followed with a run-scoring single to center to tie the game at three, with Lee taking second on the throw. After Lee swiped third, EH Mike Volkmar singled him home to give the Amazins' a one-run lead they would never relinquish.

The pesky A's used small ball to extend their lead in the home fourth. With one out, Felder dropped a drag bunt down the third base line for a single and stole second. After Gregg Jewett single the runner to third, RF Phil Anselmo lifted a short fly down the leftfield line that eluded the Pirates' infield for a bloop single. Felder held third on the play, but scored one batter later on Travis Davis' RBI single to make it 5-3.

Meanwhile, Aiden Lawlor (2-1) was shutting down the Pirates, at one point retiring eight straight batters following the Bucs first inning uprising. Former Marlton catcher Bill Hazel would finally break the string with a one-out line drive single to right with one out in the fourth. Things got a bit testy after another former A's player, centerfielder Ray Jobson walked behind Hazel to put two men on, but Lawlor used his sinker to get Rick Avery to bounce into a 5-4 fielder's choice before Brian Carter skied to left to end the inning.

With Marlton still leading 5-3 going into the top of the fifth, Dorety ripped a leadoff double that immediately brought the tying run to the plate with nobody out. After Scott Ward popped up on the infield for the first out, Lawlor recorded the biggest out of the day for the Amazins', striking out Drew Kirchner swinging on a 3-2 pitch before escaping the jam by getting Dave Slough on a fly ball to third baseman Murray to retire the side.

The A's (6-3) immediately capitalized on the Bucs stalled momentum in the bottom of the inning, as Lee led off the fifth with a single off of Dorety, stole second and scored one out later on Murray's bloop double to left. SS Jason Davis then followed by ripping an RBI double up the gap to plate Murray and open up the A's lead to 7-3.

Murray took over for Lawlor in the sixth, dancing around an infield single from 3B Pat Jankowski and Tom Burbage walk by retiring EH Ed Kenney on a fly ball to left and Hazel on a ground ball to third.

Dorety (2-1) was also lifted after five innings, in favor of Villanova product Scott Ward, who retired the A's in the sixth before the M&M Boys, 'Mike (Volkmar) and (Chris) Murray' put the game on ice for the men in green. With two outs in the home seventh, Lee singled and Volkmar immediately followed with a towering two-run homer to left that made it 9-3. Not to be outdone, battery-mate Murray went back-to-back, drilling a solo shot nearly to the same location as Volkmar's blast a few pitches earlier.

Murray cruised home from there, retiring the Pirates (4-4) without fanfare in the eighth and ninth, including three strikeouts, notching his first save of the season as the A's won their fourth straight game by a final score of 10-3.

AMAZIN' NOTES: Every A's player in the starting lineup but one collected at least one basehit on the day, led by Chris Murray's 4-for-4 effort that included an RBI double and a long solo home run in the seventh. HoWon Lee added three hits in four at bats, while stealing a pair of bases and scoring three runs. Travis Davis stroked an RBI single and a double in three at bats with a run scored and a stolen base while Mike Volkmar and George Felder each went 2-for-4. Volkmar drove in three runs with a 2-run homer and an RBI single, while Felder drove in a run, scored a run and added a stolen base.

On the hill, Aiden Lawlor went the first five innings to notch his second win in as many weeks, allowing three runs (one earned) on three hits while striking out two and walking three. Chris Murray earned a four-inning save, allowing no runs on three hits, striking out six while walking a pair.

In his Rotary Field return, longtime A's catcher Bill Hazel collected a single and reached on an error in four at bats. Former A's outfielder Ray Jobson went 0-for-3 with a walk, a run scored and an RBI. Next week, the 25+ A's take their longest road trip of the season - traveling down to Atlantic City to take on the Rumor B&G Phillies in a doubleheader this SATURDAY, June 14th, down at Bernie Robbins Stadium. Gametime is approximately 11am. The Amazins', who dropped a 12-inning, 6-4 heartbreaker to the Phils back on Mother's Day, currently trail their arch rivals by a game-and-a-half in the South Jersey MSBL 25+ American Division.

---

NO PLACE LIKE HOME
Murray & Lawlor Whitewash Sens
Volkmar Blast, Amazin' Defense Pace DH Sweep




GM 1: Cherokee HS 1 2 3 4 5 6 7 8 9 R H E
Wash. Twp Sens (2-5) 0 0 0 0 0 0 0 x x 0 5 1
Marlton A's (4-3) 0 1 2 0 0 0 x x x 3 10 0
WP: Murray (2-0); LP: Horner (0-3); SV: (None)
2B: Pavlik (WT), Lebron (M), Paolini (M);
HR: Volkmar (M); HBP (by Horner): Volkmar (M)




JUNE 1 - Catcher Mike Volkmar drove in four runs and reached base five times on the day, including a homerun and a double, while Chris Murray and Aiden Lawlor held the Washington Township Senators to just eight hits over fourteen shutout innings - as the 25+ Marlton Athletics swept a doubleheader from the Washington Township Senators, by scores of 3-0 and 7-0, this past Sunday at Cherokee High School.

The opener featured a pair of local hurlers, as Cherokee grads Chris Murray and Ed Horner faced off against one another. Both would hold their respective opponents scoreless in the opening inning. While Murray retired the Senators in order, traditional A's Killer Horner loaded the bases without allowing a hit - issuing a pair of walks sandwiched around a fielder's choice and a hit-by-pitch. However, the Sens' righthander induced Murray to bounce into a force play to end the threat.


In a twinbill that featured some impressive defense on both sides, no play turned out to be more telling than the dazzler that ended the top of the second. After Murray struck out the first two Senator batters, first baseman Gary Barbara singled and catcher Mike Pavlik followed with a high drive to left-center that split the gap and headed towards the wall. As Marlton centerfielder HoWon Lee sprinted over to retrieve the drive, Barbara circled the bases in full stride, turning third just as Lee's throw came in to the infield. Cutoff man Jason Davis received the relay and in a flash fired a strike to an awaiting Volkmar, who put the tag on Barbara to end the inning with the game still scoreless.

The A's offense would get things going in the bottom of the frame, as third baseman Aiden Lawlor led off with a single. EH Eric Talarico followed with single to left to put two men on. Horner then helped himself out, albeit temporarily, picking off Talarico on a close play for the first out, but rightfielder Gregg Jewett followed with an RBI single to give the A's a 1-0 lead. Horner would again load the bases after a pair of hits from EH Marcus John and second baseman Travis Davis, but escaped further jeopardy after Lee popped out to first and Kuzma hit an inning-ending comebacker.

After Murray struck out the side in the Sens' third, EH Cris Lebron led off the bottom of the inning with a long double over the head of WT centerfielder Frank Chandler. Volkmar followed with his second homerun of the season, launching an impressive two-run bomb to left center to make it 3-0, Amazins'.

The Washington Township Senators did not win the first four championships of the 2000's and appear in the last two Championship Games by folding under pressure. Predictably so, the Sens would make their biggest push in the top of the fourth - in an all-out effort to get back in the ballgame.

Rightfielder Bill Radeke led off with an infield single and speedy leadoff man Frank Chandler followed with a bouncer up the middle that appeared ticketed off the bat for centerfield - that is until a second dose of Amazin' A's defensive magic took over. Murray, who was falling off towards the first base side as the ball was struck by Chandler, somehow was able to reach back towards third and snatched the bounding ball out of the air with his bare hand. Without wasting a beat, Murray spun and threw a strike to shortstop Jason Davis, who in turn fired the relay on to first to retire a surprised Chandler on an impressive 1-6-3 double play. The Sens' would continue their march forward, however, mounting a 2-out uprising after leftfielder John Mader was hit by a pitch, third baseman Allen Stowell singled and catcher Bruce Stowell walked to load the bases. However, Murray bore down and retired Horner on a comebacker to end the last major Senator threat of Game 1.

Murray subsequently retired the Sens in order in the fifth and worked around a leadoff walk in the sixth when shortstop Josh Copskey lined into a double play. Sensing the finish line, the A's righthander turned it up a notch in the seventh, striking out Mader and Allen Stowell before getting Bruce Stowell to bounce to short to end the ballgame.



GM 2: Cherokee HS 1 2 3 4 5 6 7 8 9 R H E
Marlton A's (5-3) 0 0 0 1 2 3 1 x x 7 9 4
Wash. Twp Sens (2-6) 0 0 0 0 0 0 0 x x 0 3 2
WP: Lawlor (1-1); LP: Shaw (0-2); SV: (None)
2B: Volkmar (M), Murray (M);
HBP: Volkmar 2 (M), (Shaw; AStowell)




The nightcap showcased a pair of veteran righthanders, as the Sens' Bruce Shaw locked horns early with the A's Aiden Lawlor, seeking his first win of the season.

Both teams threatened but did not score in the first. Kuzma led off the game with a walk, stole second and moved to third on Lee's bunt attempt that went for a sacrifice. However, Lebron bounced back to Shaw for the second out and Volkmar struck out swinging to end the inning. In the bottom of the first, Chandler reached on a 1-out infield error and stole second. Mader then flew out to center but Allen Stowell walked as Chandler stole third to put runners at the corners. However, Bruce Stowell struck out looking to retire the side.

After a scoreless second, the A's took another shot at the lead in the road third. Third baseman Marcus John led off with a walk, stole second and crossed over to third on a ground out. Travis Davis followed with a fly ball out to left as John tagged up at third. It was then Mader's turn to flash some defense, firing a strike to the plate that nailed the incoming John to end the inning. John would turn an ankle on his slide into catcher Bruce Stowell during the play - hobbling the A's veteran infielder to a point where he eventually left the game two innings later for precautionary reasons.

Marlton (5-3) would finally grab the lead for good in the fourth. Kuzma led off with a single, stole second and moved to third on Lee's infield single. Lebron followed with a blistering line drive up the middle that Shaw snagged out of the air and tossed over to first - easily nailing a helpless Lee for a double play as Kuzma held third. Up stepped the hot-hitting Volkmar, who fought off a steady diet of off speed stuff from Shaw before finally ripping a RBI double down the left field line to make the score 1-0.

After Lawlor worked around a 1-out single from Mader to retire the Sens' in the bottom of the fourth, the Amazins' took advantage of an uncharacteristic bout of wildness from Shaw in the fifth to extend their lead. Murray led off with a hit-by-pitch and following a Talarico ground out, Gregg Jewett walked to put two men on. After John popped out for the second out, rightfielder Phil Anselmo was hit with a pitch to load the bases. Travis Davis followed with a basehit to left that plated both Murray and Jewett to make it 3-0, Marlton.

The Amazins' put Game 2 away with a 3-Spot in the sixth. Lee led off with a bloop single to right, stole second and took third ahead of a Lebron walk. Shaw then made an errant pickoff throw to first, allowing Lee to trot home with the A's fourth run as Lebron went to second. Shaw then hit Volkmar with a pitch to put two men on. Jason Davis, Chris Murray and Eric Talarico each followed with consecutive singles, scoring two more runs to make it 6-0.

The A's capped things off with an unearned run in the seventh off of Sens' reliever Allen Stowell, who walked Anselmo and Travis Davis to lead off the inning. Pinch hitter Terry Annese then reached on a throwing error from second baseman Gary Shears to load the bases with nobody out. Shears would leave the game after his misque, collapsing to the ground with an abdominal injury following the play. After Stowell battled back to strike out Lee and Lebron, amazingly, Volkmar was hit for the third time in the doubleheader, driving in Anselmo to complete the scoring.

Meanwhile, the Sens' bats could do very little with Lawlor, who pitched around singles in the fifth and sixth, before issuing a one-out walk in the seventh. After Horner flew to left for the second out, Barbara and Shears each reached base on a pair of consecutive infield errors to load the bases for Bruce Fortunato. However, Lawlor induced the hard-hitting Senators' EH to lift a pop up along the third base side, where Steve Paolini ranged over into foul territory, scaled the chain link fence and made one final fantastic play, snagging the ball in his outreached glove for the final out and a doubleheader sweep for the Amazins'.

AMAZIN' NOTES: The Marlton pitching staff was the big story on this day, with Chris Murray and Aiden Lawlor each twirling complete game shutouts on both ends of the twinbill.

In the opener, Murray allowed no runs on five hits over seven innings, striking out nine, walking two and hitting a batter. Lawlor was just as impressive in the nightcap, allowing just three hits over seven scoreless innings, striking out three and walking two.

Mike Volkmar's hot bat paced the A's offense for the second straight week, reaching base five times in seven plate appearances in the doubleheader. The slugging catcher launched his second homerun of the season in Game 1 to go along with an RBI double in the nightcap. Overall, Volkmar scored two runs, drove in four and had three hit-by-pitches. In addition to his Game 1 pitching prowess, Murray went 3-for-5 at the plate, including a double, an RBI, a run scored and a hit-by-pitch. Marcus John went 2-for-3 on the day - including two singles in Game 1 and a walk and stolen base in Game 2. Travis Davis added a pair of singles in four official at bats, driving in two huge runs with a two-out, two-run single in the fifth inning of Game 2.

While the double whitewash was certainly a first against the Senators, it was the second time the Marlton A's have accomplished the feat in their 10-year history. The first took place when the Amazins' swept the Millville Mudcats (by scores of 9-0 & 5-0) on June 26, 2005. On that day, recently retired Marlton ace Ken Ferry and Steve Paolini each struck out nine in winning their respective ends of the twinbill. This past Sunday also represented the second and third times the A's have shutout the Senators. The initial honor belongs to Ferry, who shut out the Sens nearly three years ago to the day, on June 5, 2005, also at Cherokee High School. Interestingly, Murray's Game 1 masterpiece was somewhat remincent of Ferry's 2005 performance, in that both hurlers allowed five hits, struck out nine and both won by a 3-0 score at Cherokee.

Sunday's victories served as a minor dose of payback for the last time these two clubs faced off in a doubleheader, on August 25, 2002. On that day, it was the Sens who posted a double whitewash on the A's, winning by scores of 4-0 and 8-0, at Washington Lake Park.

The day also represented a pair of offensive milestones for the Amazins'. Mike Volkmar's Game 1 homerun was the fourth ever by an A's player at Cherokee High School, and the first since Ken Ferry's 2-run blast against the Ocean Mariners nearly 8 years ago to the day, way back on June 4, 2000. The other two Cherokee dingers belong to OF/P Gary Giese (2-R HR on 5/9/99 vs. Burlington Blacksox) and Ferry (3-R HR on 4/18/99 vs. Mercer Mets). Volkmar's three hit-by-pitches also set a new mark for a doubleheader.

Finally, the A's Game 1 victory broke a (really, really) long streak of futility against longtime A's killer Ed Horner, a stretch that goes back nearly 8 seasons and followed Horner to three different teams (Willingboro Knights, Delran Cardinals & WT Senators). Before Sunday's defeat, Cherokee grad Horner had been a perfect 7-0 (including three playoff wins) in eight appearances against the Amazins' since 2001, the A's very first MSBL season after spending two years in the USOTB.

---

CHEV COMPLETING BANNER SEASON
GM's Nephew Heading To Iona Next Fall

MAY 26 - Senior first baseman (and one-time Marlton Athletics' bat boy) Michael Chiaravalloti is in the process of completing a record-setting season for his Bloomfield Bengals' ballclub, which currently sits at a 21-6 record after Tuesday's 9-5 victory over North Bergen in the North Section 1, Group 4 State Semifinals.

Chiaravalloti helped pace the Bengals offense with a 3-for-4 effort that included his 11th homerun of the 2008 season. This Friday, Bloomfield takes on the winner of Memorial (West New York) and Livingston in the North Section 1 State Championship Game.

His very proud uncle, A's GM Terry Annese, is also happy to announce that this coming fall Mike is headed to Iona College in New Rochelle, New York, on a (Division I) baseball scholarship. In addition to playing flawless defense - courtesy of his godfather, former A's 1B Barry Annese, 'Chev' leads the Bengals this season with an impressive .475 batting average that includes 11 homeruns and 46 RBIs.

Congrats Michael!

---

BACK ON TRACK
Volkmar & Murray Tag Team Yanks, 5-4
Lee, Lebron, J-Dog, Jewett: 2 Hits Apiece; Lawlor Sharp




Rotary Field 1 2 3 4 5 6 7 8 9 R H E
Middle Twp Yanks (4-1) 0 0 0 0 0 4 0 0 0 4 6 1
Marlton A's (3-3) 2 0 2 0 0 1 0 0 0 5 14 3
WP: Murray (1-0); LP: CLeusner (3-1); SV: (None)
2B: Volkmar (M), Lee (M); HR: Volkmar (1); SF: Lee (M)







MAY 18 - Catcher Mike Volkmar's sixth inning homerun broke a 4-4 tie, which righthander Chris Murray and some nifty Marlton A's defense made stand up, as the Amazins' broke a two-game losing streak with a 5-4 victory over the previously unbeaten Middle Township Yankees this past Sunday at Rotary Field.

Aiden Lawlor and Chris Leusner took to the hill for the A's and Bombers, respectively. After a scoreless top of the first, the Amazins' jumped out on top as leftfielder Ho Won Lee led off with a single, stole second and third and scored on a groundout by first baseman Cris Lebron. Volkmar followed with a two-out double to left and came around to score on shortstop Jason Davis' RBI single to make it 2-0, A's.

After retiring the first seven Yankee hitters, Lawlor ran into minor difficulty in the third, as Schultz singled with one out, stole second and moved to third one out later on Mike Jefferson's infield single. After Jefferson stole second to move the tying run in scoring position, Lawlor induced a comebacker from Chris Leusner to end the threat.

Marlton (3-3) expanded their lead in the bottom of the frame, as right fielder Gregg Jewett and second baseman Travis Davis lead off with singles and Lee lifted a sacrifice fly to centerfield to make it 3-0. After Marcus John forced Davis at second for the second out, Lebron and Volkmar followed with consecutive singles to plate John and give Lawlor and the Amazins' a 4-run advantage after three.

The Yanks (4-1) mounted their second threat of the day in the fifth, when leftfielder Polls reached on an infield error and looked destined to circle the bases one out later after 1B Charles Seppy lifted a drive to deep left that was headed for extra bases. However, Lee made a running catch a few steps from the outfield fence as Polls, already around second and headed to third by the time the ball was caught - missed second base on his retreat back around the bases. Lee subsequently fired a throw over to first baseman Cris Lebron, who put the tag on Polls to complete an inning-ending double play.

The score would remain 4-0 A's into the sixth, when the Bombers would finally get on the scoreboard in a big way. Jefferson led off reaching on an infield error and moved to second on a wild pitch. Catcher Matt Leusner immediately drove him home with a single to center to make the score 4-1. Lawlor then retired Chris Leusner on a comebacker for the first out. However, during the at bat, brother Matt Leusner stole second and moved to third on a wild pitch. Tony Giannini then reached on an infield hit, scoring Luesner to cut the A's lead in half. With still only one out and the tying run at the plate, A's manager Terry Annese went to his bullpen, summoning Chris Murray to try and douse the Middle Township rally.

The righthander from Marlton responded by immediately pumping three fastballs past Maguire for the second out and nearly got out of the jam after getting two quick strikes on third baseman Mark Bohn. However, Murray's next delivery got up into Bohn's kitchen, striking the Yankee third baseman in the helmet to put two men on. The gritty Yanks continued their climb forward one batter later, as Polls was jammed with a two-strike pitch and muscled a base hit to left, scoring Giannini to make the score 4-3. Bohn crossed over to third on Lee's throw home as Polls took second on the play. Second baseman Schultz followed with a topper over the pitcher's mound into no-man's land for another infield hit, scoring Bohn to tie the game at four. Polls, running on contact, also tried to score all the way from second on the play, but was gunned down at the plate by Jason Davis to end the inning.

It was Mike Volkmar who received the throw from Davis throw to end the Yankee 4-run uprising in the top of the sixth. The A's catcher would need just one swing of the bat to single-handedly restore the Marlton lead in the bottom half of the frame, launching a no-doubt-abouter to left on a 1-1 pitch that gave the good guys a 5-4 lead. From there Murray would do the rest, retiring the Yankees over the final three innings in quiet fashion, striking out three more batters while scattering a pair of walks over the span to close out a one-run victory for the home club.

AMAZIN' NOTES: Volkmar's homerun was his third hit of the day, following a first inning double and an RBI single in the third. A chance for the cycle went by the boards in the eighth when the A's backstop bounced into a force play. The remaining A's offense was paced by leadoff man Ho Won Lee, who went 2-for-3 with a double, RBI, run scored and two stolen bases; as well Cris Lebron (2-for-4, RBI, SB), Jason Davis (2-for-4, RBI) and Gregg Jewett (2-for-3, RS, SB). On the bump, Aiden Lawlor received a no-decision in his first start of the season, allowing three runs (one earned) on five hits over 5 1/3 innings work, striking out two and walking none. Chris Murray collected his first A's win, going the final 3 2/3 innings, allowing an unearned run on two hits, walking two, striking out four and hitting a batter.

---

AMAZINS' SIGN MURRAY

MAY 2 - The Marlton Athletics 25+ ballclub is pleased to announce this evening the signing of RHP/3B Chris Murray. The righthander from Marlton, who most recently played for Vincentown in the Rancocas Valley League, will provide a well needed boost for the shorthanded A's pitching staff. Chris pitched at the Division I level for George Mason University of the Colonial Athletic Association; after completing a stellar four-year career at Cherokee High School, where he was a two-time all-state and All-South Jersey selection for the Chiefs. Murray holds several Cherokee pitching and hitting records, including single-season school records with 10 wins and 88 strikeouts as a senior as well as marks for career wins (25) and strikeouts (227). He also batted .505 with 40 RBI and a school-record 47 hits as a senior and holds the all-time Cherokee RBI record (76).

---
PHOTO ESSAY: It Runs In The Family
- Mike's sweet stroke brings back memories of his Godfather -
Bloomfield H.S. sophomore Mike "The Diesel" Chiaravalloti shows off his sweet swing inherited from his uncle, former Marlton A's player Barry Annese. Both also share an affinity to man the first base bag with authority.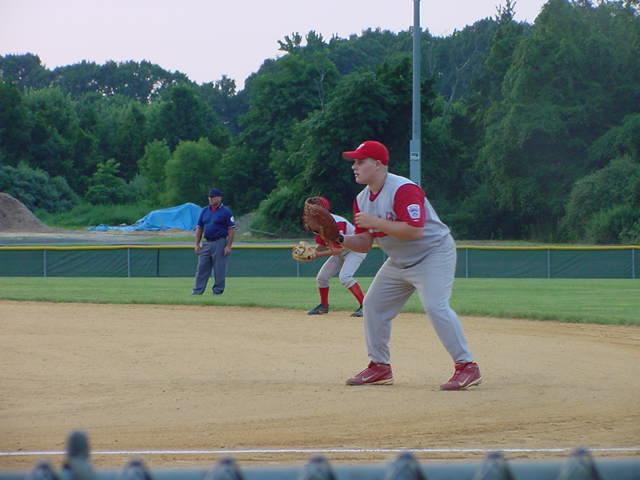 - Chev starts for Bloomfield HS varsity & yes, he's using his uncle's glove -
ALL MARLTON A's TRANSACTIONS (2001-Present)
The A's are looking for a few good....
Ballplayers!!!.....If you an experienced baseball player and are looking to play Over-18+, Over-25+ or Over-35+ baseball, email us today with your information! (click on the Marlton Athletics Baseball Club listing up above for email jump)
Click on "A's GAMEDAY" for more on the team......
Click here for the Marlton A's Photo Album
Click Here for Marlton A's Team History