Last Significant Update- 12-2-13
Wednesday, September 18
THANK YOU!
To the fans of this website, some of you know who I am but to those of you that don't, allow me to introduce myself. My name is Tito Workman and I'm the administrator of this website. I have ran this website since 2000.
Last weekend, after twenty-one seasons of playing softball I have decided to call it quits. The slow pitch game has changed so much since I first started playing in 1993 that it is no longer fun for me to play. I'm not a fan of the equipment that is used in the game today. I now realize that I'm in the minority and that the game of softball will not ever go back to the way it was when I first started playing. Plus participation is declining at a rapid rate each season and travel increases more and more. So, it's time to step away.
I will miss seeing all the friends I made through the years and the camaraderie of being with my teammates. However, the bad outweighs the good and that is why I decided to no longer play competitive softball.
I will not miss the sandbagging, cheating, traveling, marathon softball games, tournaments that are way behind schedule, dealing with the large egos and selfishness of many players today and all the softball drama in general.
Due to the feedback from many of you I will keep posting "blast from the past" articles every month. Good luck and best wishes to all my friends and former teammates who will continue to play. Thanks for supporting this website through the years.
Tito Workman #22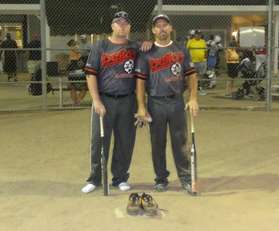 Myself and my younger brother after my final game.
Monday, December 2
BLAST FROM THE PAST I (October 24, 2006)
Buck Workman slides safely at home.
Marion Moose/BWW/C&G Foundation/All Sports Grill go 1-2 in NSA 'C' Super Worlds

WINTER HAVEN, FL.- The Marion Moose/Buffalo Wild Wings/C&G Foundation/All Sports Grill Softball team went to Florida with high hopes of improving upon their disappointing World showing, however the bats didn't seem to make the trip with them as they hit a dismal .544 as a team in going 1-2 in the 31 team field of the NSA Class 'C' Super World Series.
Things got off to a good start as they defeated would be eventual tourney runner-up Microtel Inn/Mizuno from North Carolina 16-13 in a tightly fought contest. Dana Waddell, Matt Albert, Scott Carr and Gary Martin each had three hits apiece and both Waddell and Albert drove in four runs each in the contest. The Mooseketeers would next play MFP Thunder from Western New York who eventually finished third overall and would drop a close one 13-9. The Moose ran themselves out of innings on two different occasions and hit into two double plays and allowed a nine run inning which proved to be the difference in a closely contested game.
In their final game of the season, they trailed Deluxe Bakery from New Jersey 19-1 headed into the bottom of the fourth. Needing to score four runs to prevent being mercy ruled the Moose would answer with an eight spot to cut the lead to ten. Deluxe would answer with a seven spot in the top of the fifth to regain a seventeen run lead and force the locals to score eight runs to continue playing. They would fire up another eight spot to cut the lead to nine and outscore the Jersey boys by three in the sixth inning to cut the lead to six headed to the final frame with Uncle 'Mo' clearly on their side. They were able to hold the Doughboys to two tallies and were chasing eight runs headed into the bottom of the seventh, however, it was not to be as the Mooseketeers would go three up three down to end their overall season slate at 102-20-1 for the year, which included a 54-14 tournament record.

Monday, December 2


BLAST FROM THE PAST II (November 7, 2006)




Marion Moose/Buffalo Wild Wings/Caster Connection/C&G Foundation 2006 tourney results



Updated 11-07-06




| | | | |
| --- | --- | --- | --- |
| DATE | TOURNAMENT | LOCATION | RESULT |
| 4/15 | NSA C Grand Slam Qualifier Leg One | Berliner Park- Columbus, Ohio | 1st- 3-0 |
| 4/22 | Host Round Robin Tournament | Sawyer/Ludwig Park- Marion, Ohio | |
| 4/29 | NSA Super C NIT | Cooperstown Complex- Jackson, Michigan | 1st- 5-0 |
| 5/6 | WEEKEND OFF | | |
| 5/13 | ASA C NIT | Kettering Fields- Dayton, Ohio | Canceled |
| 5/20 | NSA C Grand Slam Qualifier Leg Two | Berliner Park- Columbus, Ohio | 1st- 4-0 |
| 5/27 | WEEKEND OFF | | |
| 6/3 | NSA Super C NIT | Kentuckiana Sports Complex- Louisville, Kentucky | 1st- 5-0 |
| 6/10 | Ohio State Moose Tournament | Marysville, Ohio | 1st- 4-0 |
| 6/17 | ASA C Dayton Metro Championship | Kettering Field- Dayton, Ohio | 2nd- 4-2 |
| 6/24 | WEEKEND OFF | | |
| 7/1 | WEEKEND OFF | | |
| 7/8 | USSSA C Districts | Berliner Park- Columbus, Ohio | Canceled |
| 7/15 | ISA Kim Longo Memorial (Cleveland Top 25) | Kennedy Complex- Brook Park, Ohio | 2nd- 4-2 |
| 7/22 | Moose International Tournament | Greeneville, Tennessee | 1st- 6-1 |
| 7/29 | WEEKEND OFF | | |
| 8/5 | NSA C State Championship | Berliner Park- Columbus, Ohio | 5th- 2-2 |
| 8/12 | WEEKEND OFF | | |
| 8/19 | Mansfield World Series | Cyclops Circle- Mansfield, Ohio | 1st- 6-1 |
| 8/26 | Marion World Series | Lincoln Park- Marion, Ohio | 1st- 6-1 |
| 9/2 | WEEKEND OFF | | |
| 9/9 | WEEKEND OFF | | |
| 9/16 | NSA C World Series | Midwest Sports Complex- Indianapolis, Indiana | t16th- 3-2 |
| 9/23 | WEEKEND OFF | | |
| 9/30 | WEEKEND OFF | | |
| 10/07 | WEEKEND OFF | | |
| 10/14 | NSA C Super World Series | Winter Haven, Florida | 1-2 |
Monday, December 2


BLAST FROM THE PAST III (November 21, 2006)




2006 Season Review

The 2006 season came to a close in mid-October for the Marion Moose/Buffalo Wild Wings/C&G Foundation Softball team and a disappointing finish in the NSA Class 'C' Super Worlds. However, let's take a closer look at the entire season. Entering the 2006 campaign, the Mooseketeers main focus was to improve on their 2005 record of 77-35. The roster for the most part remained intact and the only exception was the addition of shortstop Jeremy Litteral from A&B Express. The team put a lot more effort in the off season in both the conditioning and fielding areas and they were able to win both a Grand Slam Series event along with garnering a Super World berth in their first two outings of the year. However, no one expected to begin the season with a string of thirty-eight straight victories against some quality competition, but it seemed to make the team more cohesive and have the attitude that there wasn't anyone that they couldn't compete against and win. "The Streak" featured five tournament championships which included two NSA NIT titles in Jacksaon, Michigan and Louisville, Kentucky. Finally, in the middle of June in an ASA NIT in Dayton, the Mooseketeers would fall to Vickers Sports of Dayton but pushed them to the 'IF' game in unbearable heat. The team would finish the season with an impressive 102-20-1 ledger that included eight tourney titles and two league championships (Mansfield Premier and Columbus Premier).

HIGHEST POINTS:
Obviously "The Streak" was one of the highlights of the season and the Mooseketeers were often accused of sandbagging or cheating because of their success. There were some breaks that went the teams way, but the biggest difference was the marked improvement in clutch situations and their improvement on the defensive side. Also, the chemistry and the fact that everyone was on the same page and not bickering with one another made a huge difference. That was something they focused on and continually talked about in the off season that had to happen. Another high point was winning the Columbus Premier League after finishing in seventh place a year ago in which they were under .500 on the year. This year the record was 17-2-1 and they were able to clinch by winning a triple header in one evening. Finally, the last highlight of the year was beating two time defending Moose International Champ Bedford, Virginia in a phenomenal championship game in which there were four lead changes the last two innings and the Mooseketeers were able to walk away with the title in their inaugural attempt. On a smaller scale the team was able to win both the Mansfield and Marion World Series end of year titles.

LOWEST POINTS:
With expectations high based on early successes in the season it didn't carry over to either the NSA Worlds or Super Worlds. As the Mooseketeers went a combined 4–4 in these two events and were considered by many to be one of the favorites to compete for the title. Another disappointment was not completing the Trifecta which was to win all three regular season leagues. They were able to repeat as Mansfield League champs and surprised everybody in winning the Columbus Premier League. However, they were ambushed in the one game playoff for the Marion League title by a scrappy and gritty team in Jack's Pawn Shop. Had they not beat them twice in the Marion Little World Series the Moose would've finished with a losing record against them. Also, the animosity between these two teams carried over to a fall tournament in which there were accusations and taunting that caused the cancellation of this benefit tournament permanently.

IRON MAN AWARD:
The Iron Man Award goes to the player who played in the most games throughout the season. During the 2006 season the team played in a total of 123 games and Eric Workman played in every one of them. Also, Matt Montgomery deserves some kudos for playing the most innings in the OF when the team played 5-Man IF all year. Eric started all but one game however, he made a pinch hit appearance to keep his streak intact.

MOST IMPROVED:
This season two individuals shared the Most Improved Award. They are Gary Martin and Doug Virden. Gary joined the team midway through last season after his team folded and struggled initially trying to prove he could compete at the higher level. He hit just under .500 and worked extremely hard in the off-season in improving his conditioning and changing his whole hitting philosophy. He was able to improve his average by 90 points and his RBI numbers tripled over last year's output and he became a very good clutch hitter especially in the end of year tournies. Doug is a saavy veteran that has been playing slow pitch softball for just over twenty-five years. He also was able to raise his average from last year over ninety-five points from the previous season. This can be contributed to the fact that he had less a propensity to swing for the fence than in previous seasons, but he can still hit them when warranted. Also, his RBI numbers were up significantly as well and both of these guys anchored the middle to bottom of the line-up.

TEAM MVP:
This award is voted on by the members of the Marion Moose/Buffalo Wild Wings/C&G Foundation Softball team. Once again Eric Workman is MVP in another close vote over Scott Carr. Eric did not lead the team in average and tied for the HR lead but he led pretty much every other statistical category and anchored the three man outfield. Dana Waddell also clouted 77 big flies and was the next closest in RBI's with 265 on the season. Scott Carr led the team in hitting and on base percentage with a stellar .708 average. Eric put up numbers of a .698 avg. which included 77 HR's and 324 RBI's and a 1.412 Slugging percentage.

2007 OUTLOOK:
After returning from a work assignment in Alabama Kevin "Otto" Graham is stepping down as the manager after a combined record of 179–55–1 over the past two years. He was able to garner his second Mansfield World Series title to go along with his three runner-up finishes and his tenth Marion World Series title. He will begin anew with a more youthful, and less tournament tested team and will retain the Marion Moose sponsorship to compete in the class D circuit. However, the cupboard is certainly not bare as the entire roster except one has committed to returning from last year's squad and a couple of key additions will allow this team to continue to pursue the ultimate goal of winning a National or World title. The only thing left is to secure a primary sponsor which is currently in negotiations. Next year's squad will play a predominantly USSSA schedule and mix in a tourney or two from the other various associations. Finally, the 2006 season marked the end of storied career for John Stover. He was a good friend and a great example of what a team player was over the past two seasons. He will spend his extra time golfing, fishing and boating and we wish him the best.

Wednesday, September 18


Bellas/Mojo/Miken/Yuengling end season with ninth place finish at USSSA B Worlds





First baseman Brook Crawford
KISSIMMEE, FL.- Bellas/Mojo/Miken/Yuengling concluded the 2013 season going 3-2 at the USSSA B Worlds for a very respectable ninth place finish. Thirty-one teams from all across the country competed in this event held at the Fortune Road Athletic Complex in Kissimmee, Florida. Bellas/Mojo/Miken/Yuengling was one of three C teams to step up to play in the B Worlds.
    Bellas/Mojo/Miken/Yuengling opened up against Famous/Premier/Easton of California as heavy underdogs. Bellas/Mojo/Miken/Yuengling overcame deficits of eight runs in the first inning and nine runs in the second inning to earn a hard fought upset win 26-22.
    In the second game however, it was ugly from the first inning on as Bellas/Mojo/Miken/Yuengling got run ruled by 3rd Street Financial/Louisville Slugger 24-7.
    On to the losers bracket where Bellas/Mojo/Miken/Yuengling faced YOLO/Anarchy of Florida. Bellas/Mojo/Miken/Yuengling overcame some poor defensively play to squeak out a 17-14 win.
    Advancing on Bellas/Mojo/Miken/Yuengling took on ChecKing/Worth of Connecticut. Bellas/Mojo/Miken/Yuengling scored five runs in the first and never looked back earning a relatively easy 14-4 victory.
    The good times came to end in their next game though. Holding a slight 9-6 lead after three complete innings, Bellas/Mojo/Miken/Yuengling scored only a single run the rest of the game and were bounced from the tournament by OC Swats/Easton of California 16-10. Top on base percentage for the weekend went to Ian Craze .789, Chris Hoffer .700, Brook Crawford .631, Cory Hogle .647 Scott Carr .600 and Ryan Disbennett .600.
    Bellas/Mojo/Miken/Yuengling finish the season with a record of 50-25. 
Wednesday, September 11
Great start ends with a thud at USSSA C National
Eric Workman and Scott Carr greet Ryan Disbennett and Ian Craze after scoring.
COLUMBUS- Bellas/Mojo/Miken/Yuengling Softball started out red hot in the twelve team USSSA C National at Berliner Park this past Saturday. They quickly advanced to the winners bracket semi-finals with victories over Players Warehouse/Louisville Slugger of Kentucky 27-8 and Nail Driver/Pole Position of Michigan 27-12. For whatever reason, their red hot sticks went ice cold in the semi-final game by getting pounded by S&S Pools/Sportsco/Easton 20-6. In the losers bracket, Players Warehouse/Louisville Slugger earned a rematch with Bellas/Mojo/Miken/Yuengling. The score may have been different but the result was the same as Bellas/Mojo/Miken/Yuengling eliminated Player Warehouse/Louisville Slugger 13-6. That setup a showdown with in state rival Cooper Enterprises/Meridian Insurance who have been an hemorrhoid for the Bellas/Mojo/Miken/Yuengling bunch taking five of the previous seven meetings between the two. This game was no different. Both teams exchanged leads that was never more than two runs throughout the game. Trailing 14-12 in the bottom of the seventh, Bellas/Mojo/Miken/Yuengling managed to load the bases with one out. The next batter however, hit into a 1-10-3 double play to end the game and dealt Bellas/Mojo/Miken/Yuengling another crushing defeat to Cooper Enterprises/Meridian Insurance and a fourth place finish. Top hitters for Bellas/Mojo/Miken/Yuengling were Chris Hoffer .750, Larry McCoy .750 and Ian Craze .631.

Monday, August 19


Bellas/Mojo/Miken/Yuengling second at USSSA C State





All Tournament team member Scott Car.
CINCINNATI- After a three week layoff, Bellas/Mojo/Miken/Yuengling Softball returned Mid-America Ballyard for the third time this season to compete in the nine team USSSA C State tournament.
After slipping by Dill's Plumbing/PB Roofing in the first game 19-16, Bellas/Mojo/Miken/Yuengling next faced their in state rivals Cooper Enterprises/Meridian Insurance. Bellas/Mojo/Miken/Yuengling held a commanding twelve run (15-3) lead after two and a half innings. However, just like previous meetings against Cooper Enterprises/Meridian Insurance, Bellas/Mojo/Miken/Yuengling laid eggs three out of the next four innings and were handed yet another frustrating 19-18 defeat.
Bellas/Mojo/Miken/Yuengling were able to recover and regroup in the losers bracket defeating NJB/Gabriel Homecare 18-8, S&S Pools/TPE/Sportsco/Easton 19-16 and Fred's Boys 14-7 to earn another crack at Cooper Enterprises/Meridian Insurance in the championship.
Once again Bellas/Mojo/Miken/Yuengling kept it close only trailing by two runs (16-14) after three complete but went scoreless three out of the next four innings losing 26-17.
Top hitters and named to the All-Tournament team were Scott Carr .814, Chris Hoffer .667, Doug Shanyfelt .667 and Ryan Disbennett .708.
Wednesday, September 18
2013 Bellas/Mojo/Miken/Yuengling Softball Tournament Schedule
Last Update 9-18-13
NOTE: Schedule is subject to change. Check back often for updates. TBA = To Be Announced. Updates in BOLD indicate change.

| | | | |
| --- | --- | --- | --- |
| DATE | TOURNAMENT | LOCATION | RESULT |
| 3/09 | Chilly Tournament (pre-season) | Chillicothe Paints VA Stadium- Chillicothe | t3rd 2-1 |
| 3/16 | OFF |   |   |
| 3/23 | GSL Open (Mojo Moneyball Madness) | Berliner Park- Columbus | t3rd- 3-1 |
| 3/30 | OFF |   |   |
| 4/6 | OFF |   |   |
| 4/13 | USSSA Open NIT (Tri-State Conference) | Rivershore Sports Complex- Hebron, Kentucky | 3rd- 2-2  |
| 4/20 | OFF |   |   |
| 4/27 | USSSA C NIT (Tri-State Conference) | Art Van Atta Park- Vandalia | 3rd- 2-2 |
| 5/4 | USSSA C "In It To Win It" NIT (Tri-State Conference) | Kettering Field- Dayton | 1st- 5-0 |
| 5/11 | OFF |   |   |
| 5/18 | OFF |   |   |
| 5/25 | USSSA Open NIT (City Slam) | Mid America Ballyard- Cincinnati | 3rd- 3-2 |
| 6/1 | USSSA Major NIT | Berliner Park- Columbus | t9th- 3-2 |
| 6/8 | OFF |   |   |
| 6/15 | USSSA Major NIT | Lucas County Rec Center- Maumee | t5th- 3-2 |
| 6/22 | OFF |   |   |
| 6/29 | GSL B (King of the Hill) | Berliner Park- Columbus | 3rd- 6-2 |
| 7/06 | OFF |   |   |
| 7/13 | OFF |   |   |
| 7/20 | USSSA Major NIT | Mid America Ballyard- Cincinnati | 0-2 |
| 7/27 | OFF |   |   |
| 8/03 | GSL B State | Berliner Park- Columbus | Canceled |
| 8/10 | OFF |   |   |
| 8/17 | USSSA C State | Mid America Ballyard- Cincinnati | 2nd- 4-2 |
| 8/24 | OFF |   |   |
| 8/31 | OFF |   |   |
| 9/07 | USSSA C National | Berliner Park- Columbus | 4th- 3-2 |
| 9/14 | USSSA B World | Fortune Road Athletic Complex- Kissimmee, Florida | t9th- 3-2  |