Marina Vikings Girls Volleyball: Welcome
Welcome to the Marina Vikings Girls Volleyball Website. This site is to keep you updated on all our tournaments, games, events, and camps.
Without our Parent Volunteers Marina would not have the outstanding Volleyball program that we do. We need your help to continue this excellent program. Many of us that are volunteering this year have senior players and will be leaving next season. Please volunteer and let's keep this program going strong for our girls. We look forward to working with you!!
Please make sure to check our Announcements Page for new and updated Information!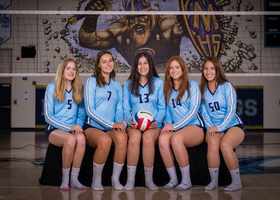 Lauren (5), Carina (7), Julia (13), Kelsey (14) and Amy (50)
Thursday, October 19
Senior Night is Coming
Thursday, October 19 is our Senior Night. Come out to recognize and celebrate our graduating seniors! All teams will be playing that night!