Marblehead Softball Little League: Welcome
Friday, November 18
---
Marblehead Softball Little League is open to girls who are 6 – 16 years old as of December 31, 2014. This is an instructional league, where girls learn the skills of softball, develop character, and learn how to be a team player, all while having lots of fun. If you have any questions or issues, please contact
info@marbleheadsoftball.com
.
Friday, March 13
Player Evaluation March 28,2015
Player Evaluation
March 28, 2015
Minors 9 am to 10:30 am Majors 11 am to 12:30pm
Marblehead Veterans Middle School Gym
Please bring your glove and a water bottle and wear your sneakers.
Your daughter will be placed on a team that day and you will be contacted by her coach by the end of the weekend.
Still time to register for the Spring Season at:
http://www.eteamz.com/marbleheadsoftbal
Saturday, November 15
Registration Is Now Open
Registration Opens November 15, 2014.
News Flash: Now accepting 6 year olds for Lower Minors.
Regular (11/15/2014 - 3-21-2015): $185 (Single Player); 2 or more players recieve a family discount
Registrations received after March 21st will be placed on a waitlist. We cannot guarantee waitlisted a position on a team. Registration for the upcoming Spring Season will close on Friday March 21st at midnight.
Please be sure to get medical forms in and if your daughter is new to softball this year, we will need a copy of her birth certificate. LikeUs
Thursday, June 26
Marblehead All Stars District 16 Champions
Marblehead L.L. softball all-stars capture District 16 championship
By Joyce Erekson / The Daily Item Posted: Thursday, June 26, 2014 3:00 am
LYNN — There's a new sheriff in town. The Marblehead Little League softball All-Stars won the District 16 championship Wednesday with a 9-2 win over Saugus at Wyoma's Lynn Woods Field. This is the first time Marblehead has won the district.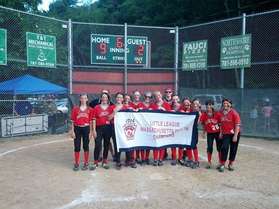 2014 District Champions