Marblehead Softball Little League: Welcome
Friday, November 18
---
Marblehead Softball Little League is open to girls who are 6 – 14 years old as of December 31, 2012. This is an instructional league, where girls learn the skills of softball, develop character, and learn how to be a team player, all while having lots of fun. If you have any questions or issues, please contact
info@marbleheadsoftball.com
.
A big thank you to all who participated in the very successful Unos fundraiser!
Thursday, June 26
Marblehead All Stars District 16 Champions
Marblehead L.L. softball all-stars capture District 16 championship
By Joyce Erekson / The Daily Item Posted: Thursday, June 26, 2014 3:00 am
LYNN — There's a new sheriff in town. The Marblehead Little League softball All-Stars won the District 16 championship Wednesday with a 9-2 win over Saugus at Wyoma's Lynn Woods Field. This is the first time Marblehead has won the district.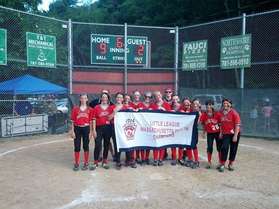 2014 District Champions
Tuesday, May 13
PIZZERIA UNO FUNDRAISER!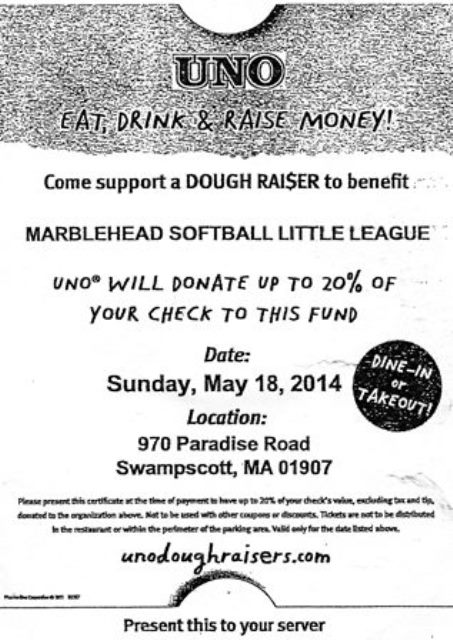 Print and Cut Out
PIZZERIA UNO FUNDRAISER!
TO BENEFIT MARBLEHEAD SOFTBALL
SUNDAY MAY 18TH
ALL DAY!
COME INTO PIZZERIA UNO IN VINNIN SQUARE ANYTIME ON SUNDAY AND PRESENT YOUR COUPON WITH YOUR BILL. A PORTION OF THE BILL WILL BE DONATED TO MARBLEHEAD SOFTBALL! COME WITH YOUR FAMILY OR COME WITH YOUR TEAM! COUPONS WILL BE HANDED OUT AT THIS WEEKS GAMES!
Monday, May 5
How parents are ruining youth sports
PERSPECTIVE
How parents are ruining youth sports
Adults should remember what athletics are really about.
By Jay Atkinson MAY 04, 2014
Monday, April 28
Play Ball
Season Opens today......
2014 Minors Season Opener
Gaints vs. Cubs
Dodgers vs. Phillies
Monday, April 28
Picture Day May 3, 2014
Online Photo Registration now available!
Order forms will be available at Photo Day, but now you can skip that manual process and order directly on our secure site.
Please click the Sportography graphic to be taken to their secure Online Photo Registration system.
Inside you'll find detailed instructions for how to use this simple and easy to navigate application.
Michael Bryant
Account Manager Lifetouch Sports and Special Events
mibryant@lifetouch.com 877-792-9257 x305 (o)
508-481-0562 (f) 508-981-4082 (m) Toll-free Customer Service Center: 888-255-5191 for parent/coach inquiries
Monday, April 8
University of New Hampshire Softball Clinic

University of New Hampshire Softball Clinic
The UNH Softball Team and Coaches will be holding a clinic for all Little League Players and Coaches. This is a great opportunity to learn from the coaches and players on UNH Wildcats. The clinic will take place this Saturday April 12th at 10am to noon. The location for the clinic will be at Piper Field, Marblehead High School. Players and coaches please bring your equipment.
Sunday, April 6
Marblehead High School Softball Season Opens
The Marblehead High School Softball season opens this week.
The Varsity team season opens this Monday in Newburyport at 4:15 pm
The Junior Varsity team opens this Tuesday in Lynn at 4 pm
The Freshman (JV2) team opens this Thursday in Winthrop at 4 pm
The High School teams home opener is Friday at 4:30pm.
Please come and support our home team......
Varsity at Vet 1
JV at Vet 2
Freshman at MHS