Marblehead Softball Little League: Welcome
Upcoming Events
Date
Event
Time
Location
Mon 12/9
Coaches Meeting
7:30 PM - 9:00 PM
Marblehead Community Center
Friday, November 18
---
Marblehead Softball Little League is open to girls who are 7 – 15 years old as of December 31, 2012. This is an instructional league, where girls learn the skills of softball, develop character, and learn how to be a team player, all while having lots of fun. If you have any questions or issues, please contact
info@marbleheadsoftball.com
.
A big thank you to all who participated in the very successful Unos fundraiser!
Friday, December 6
Early Registration Begins Tonight at Midnight
Spring Registration Opens Tonight at Midnight
Save $25 when you sign-up during Early Registration starting tonight at midnight running till January 30th.

Early Bird (thru12/07/2013): $165 (Single Player); 2 or more players recieve a family discount

Regular (2/1-3/8): $190 (Single Player); 2 or more players recieve a family discount

Registrations received after March 23rd will be placed on a waitlist. We cannot guarantee waitlisted a position on a team.
Registration for the upcoming Spring Season will close on Friday March 23rd at midnight.
Please be sure to get medical forms in and if your daughter is new to softball this year, we will need a copy of her birth certificate.
Friday, November 15
2014 Spring Registration Opens December 7th
Due to technical issues, Registration has been delayed until Saturday December 7th. We regret the delay.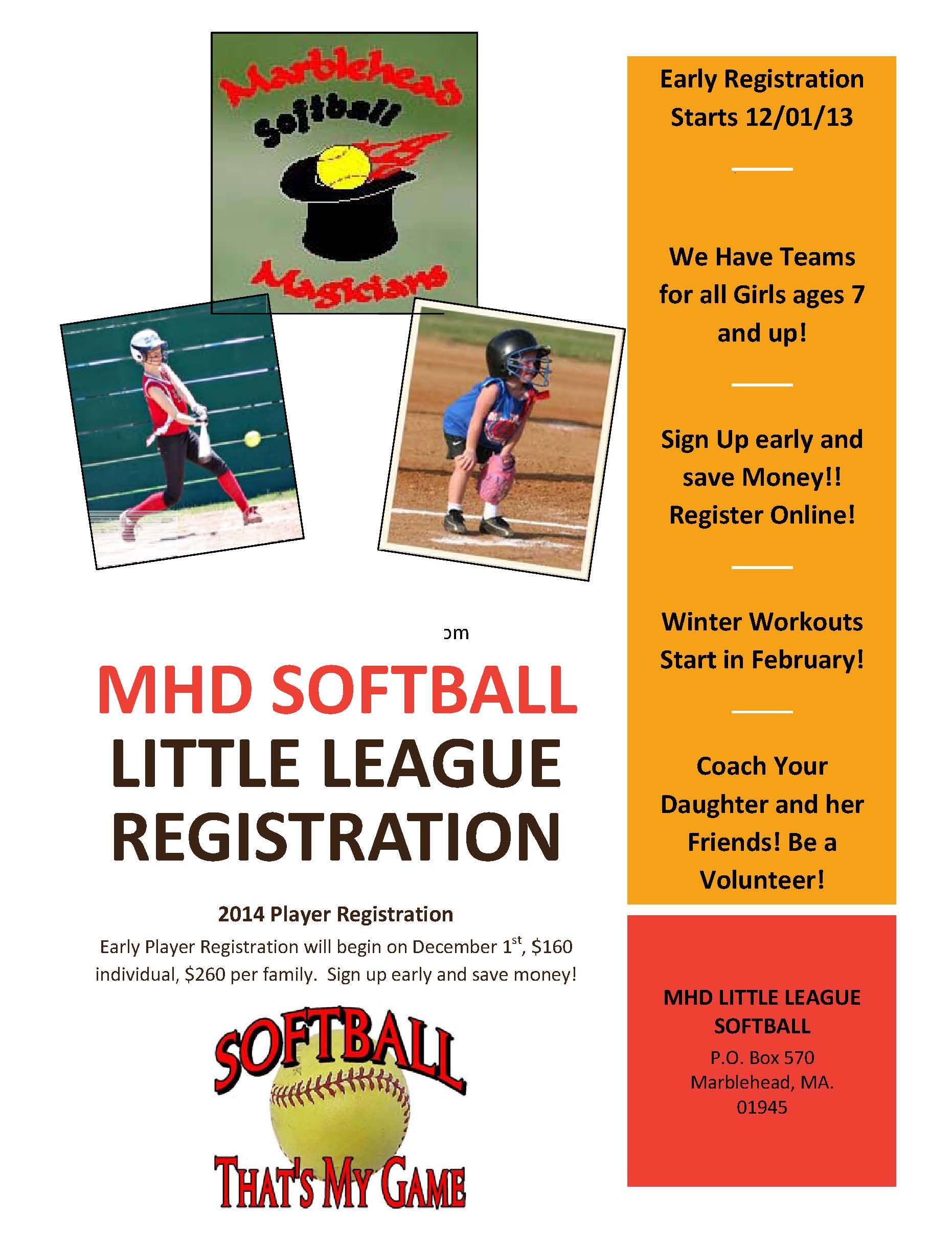 Tuesday, June 11
2013 All Stars Majors
Marblehead Softball Little League
2013 All Stars Majors
Bella C.
Mandy D.
Maggie D.
Madi E.
Katie K.
Elizabeth L.
Gabriella M.
Lizzie M.
Katherine P.
Mercedes P.
Bel S.
Sammy T.
Sophia V.
Congratulations to all our All Stars, and all the players this year.
They are all All Stars…..
Marblehead opens up their tournament run on Friday 6/21 at Vet #1 against Peabody at 5:30pm.
Be there to cheer on our All Stars.