Maple Creek Soccer Club: Welcome
For 2017 registrations use the Bonzi system using the same log in ID/ email address and associated password as previous Affinity Sports registration system . http://maplecreek.calnorthlive.com
Welcome to the Maple Creek Soccer Club Website!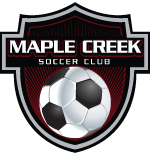 Make sure to follow us on Facebook!

Maple Creek Soccer Club Announces Pre-Season Practice Dates For August 2017
Overview
The pre-season practices are for players registered at the Maple Creek Soccer Club in the U6, U8, U10, and U12 age groups. It allows players the opportunity to come to the fields and participate in skill drills and small-sided games. The practices are generally held at the middle of August before school starts. Players are assigned to a field based on their age group, so we don't have U8 players playing against U12 players.
The practices give the players a chance to get onto the fields and sharpen their skills with players of the same gender and age group. It also gives our coaches an opportunity to meet the players and evaluate their skills. Maple Creek Soccer Club is a "recreational" soccer program. We are not a competition-based soccer program, so we do our best to place players on teams with other players of similar ability. This allows every player the best experience and the most playing time.
Players may attend all of the practice sessions if they wish to. In fact, it's encouraged!
Registration
To participate in the practices, your child MUST BE REGISTERED and the fee must be paid, NO EXCEPTIONS.
Check-In
Please arrive 10-15 minutes before the start of the session to allow for check-in.
Equipment
Players must wear shin guards and soccer cleats to the practices.
2017 Schedule
All practices are 1 hour and run from 7:00-8:00 p.m.
| | | |
| --- | --- | --- |
| Boys (U6-U12) | | Girls (U6-U12) |
| Monday, August 7 | | Tuesday, August 8 |
| Wednesday, August 9 | | Thursday, August 10 |
| Monday, August 14 | | Tuesday, August 15 |
| Wednesday, August 16 | | Thursday, August 17 |