Manchester South Jr. Soccer League: Welcome
For more info on our new registration system, please click on the Register Now button on the left.
Manchester South Soccer is going paperless!
We are excited to announce our new easy to use registration process through our partnership with Dick's Sporting Goods & Blue Sombrero. Using the new system families will be able to register their players and pay their registration fees online, using a credit card as well as the option of payment plans. The new system will also help facilitate better communication thru the use of a smartphone app, integrated texting & emails and the new "Parent Portal."

Please create an account by clicking below, which will allow you to register your players for the 2016 season. Please visit the Registration Info tab on the main MSJSL website for additional registration Info. You can also send an email to info@msjsl.com if you have questions. We appreciate your patience while we transition to this on-line registration process.

At the "in person" registration events will also be utilizing our new & easy to use registration system using one of our laptops or tablets. Our goal is to be completely paperless.
Friday, October 9
A note from the concession stand
I would like to take a moment to thank everyone who has volunteered in the concession stand this season. I would also like to apologize for the growing pains we have experienced in the last few weeks. And I am happy to have this opportunity to thank Martha Harrington for her many years of service to MSJSL.
I am sure we all know that without Martha's tireless efforts and dedication there would have been thousands of hungry and thirsty players and family members through her years as concession stand manager. We wish Martha all the best with all of her future endeavors.
At times the concession stand can be a hot and sweaty place to be. Serving people coffee when the pot is empty or apologizing to customers and refunding money because the fryolator stopped working. Running out of Mozzarella Sticks or Ring Pops. Opening the windows to cool the kitchen off only to be bombarded by customers before we are ready to serve them. All of these things can contribute to a stressful environment. I want to personally apologize to anyone with whom I may have been rude to or short tempered with. Your help is and was greatly appreciated.
The concession stand has seen many changes this season and last season. The selling of Concession Cards. The separating of the candy window and the hot food window. The change in fryolators. The new sale of MSJSL merchandise. The new sanitation system and the on-boarding of Sysco as our food supplier. Pepsi products rather than Coke and many other changes. The changes we have made have resulted in an approximate increase of 50% in revenue and a 65% decrease in wait times over years past. The patience and willingness of the parents to pitch in has always been and will always be what makes it possible to keep the concession stand open and successful. So I truly thank you for all of your efforts and promise a smoother year next year.
Special thanks to Nick Gardner, Kim and Ashley Fudala, Jeff Kimball, Robin Motaraso, Lennie and Melissa Hodgkins, Larry and Nicole Casale for going above and beyond the call of duty on more than a few occasions. This season would have bean a disaster without you.
If any one has any concerns or suggestions as to how we may be able to improve next season, please feel free to email me at, ChefRoland@ManchesterSouthSoccer.org.
Have a great winter and see you next season!
My best,
Chef Roland
Fall Soccer Sign-Ups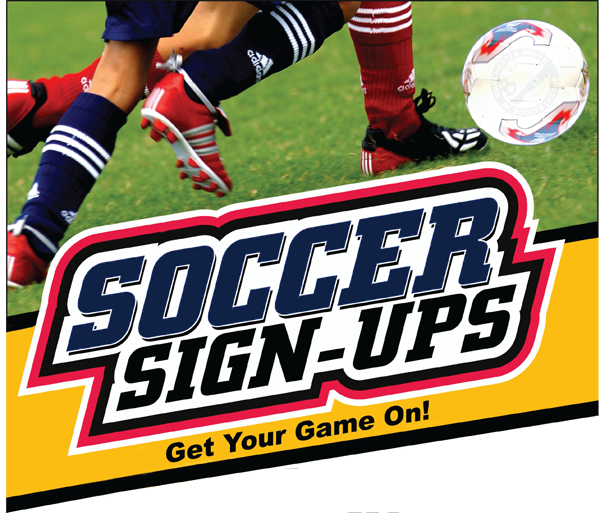 U6 through U19 Coed Divisions
Ages 4 -19
In-Person
Date Where Time
Sat 4/23/2016 South Soccer Clubhouse 10am – 3pm
Sat 5/14/2016 South Soccer Clubhouse 12pm – 3pm
Sat 5/28/2016 South Soccer Clubhouse 10am – 3pm
Sat 6/11/2016 South Soccer Clubhouse 10am – 3pm
(w/late fee)
South Soccer Clubhouse – at the field behind Wendy's on South Willow Street
The registration fee is $60.00 per player, $140 max for 3 or more
Please pay with a check or money order (payable to MSJSL) if possible.
Your child will not be placed on a team until paid in full.
Please provide a copy of your child's birth certificate
for the league registrar if this is your first year.
Registrations received after June 11th (or postmarked after June 11th)
will be $70.00 per player, $160 max for 3 or more.
Any registrations received after July 16th may be put on waiting list.
****PLAYER EVALUATIONS WILL BE ON SAT JULY 16TH****
To help ensure better balanced teams and fair & competitive play for all.
We will require All players in U10, U12 & U14 divisions to attend player evaluations.
We are looking forward to a great season!
Erin McNelly, President, emcnelly@manchestersouthsoccer.org
Pizza by Tommy K's!!
We are happy to announce that the concession stand is now Pizza by Tommy K's!! We will be selling cheese for $1.50 & pepperoni for $2.00. So be sure to grab a piping hot slice of Tommy K's pizza tonight!!
Concession Stand now accepting Credit Cards!!
We are happy to announce that Manchester South Jr. Soccer League is now accepting credit cards & concession cards at the concession stand!!

You now have the convenience, of using cash, credit or concession cards!! Stop by the concession stand and save yourself $5.00! Use your credit card to purchase a prepaid $30.00 concession card for $25.00!!