Manchester Colt League: My Site News
Saturday, December 1
END OF YEAR INFORMATION
Greater Manchester Colt League parents, players, and coaches;
Thank you all for making 2018 another successful year of quality baseball in our program! Congratulations go out to the following teams:
Pony League Spring Champions: BRAVES (Coaches Cam Fosman, Jason Blodgett)
Colt League Spring Champions: ORIOLES (Coaches Rick Walters, Erik Page)
Thorobred League Spring Champions: MARLINS (Coach Mark D'Ambrosio)
Pony League Fall Champions: MARINERS (Coaches Cam Fosman, Jason Blodgett)
Colt League Fall Champions: ORIOLES (Coaches Jim Chrabolowski, Erik Page, Mike McCaffrey)
Palomino/Thorobred Fall co-Champions: Dodgers (Coach Joe Blodgett)Tigers (Coach Matt Pellerin, Greg Jackson)
Our Annual Awards Banquet will be held on Friday, February 8th 7:00pm at the Executive Court Banquet Facility (1199 So. Mammoth Rd. Manchester). There will be aroast beef, lasagna, and chicken finger buffet raffles for Bruins, Celtics, Red Sox tickets and area merchant gift certificates. The cost has been reduced this year to$25.00/adults and $15.00 for players and children 12 and under. THIS IS ALWAYS A SPECIAL NIGHT WHEN THE LEAGUE COMES TOGETHER AS A FAMILY TO ACKNOWLEDGE ACHIEVEMENT! Tickets can be purchased at our EARLY 2019 SPRING REGISTRATION ON SATURDAY, DECEMBER 8TH AT WENDY'S ON SO. WILLOWSTREET IN MANCHESTER FROM 11:00AM TO 2:00PM.
Early Spring Registration Fees:
Pony League (Ages 13-14) Registration Fee $125.00
Colt League (Ages 15-16) Registration Fee $150.00
Palomino/Thorobred Combined League (Ages 17-23) Registration Fee $175.00
*Players age is determined as of September 1st**New players are asked to bring a copy of your birth certificate time of registration
**THE LEAGUE IS PROUD TO ANNOUNCE WE WILL HAVE A BRONCO LEAGUE (AGES 9-12) FOR THE FIRST TIME IN LEAGUE HISTORY IN 2019!! This league willbe played on a 60 foot diamond with a 45 foot pitching distance. Games will be played behind the Pony field during the spring and the players and their families will be treated to the same enjoyment as the Pony League!! Players will wear major league replica jerseys, there will be a full league schedule, anda travelling All Star Team selected to compete in the 2019 Bronco Regional held in New York! The early registration fee will only be $50.00!! THERE ARENO BOUNDARIES SAME AS THE PONY AND COLT LEAGUE AND ALL PLAYERS FROM MANCHESTER AND OUTSIDE THE CITY ARE WELCOME TO PLAY! For anyquestions please call me @ (727) 452-1882
WINTER WORKOUTS: Once again this year Joe Blodgett will conduct our winter workouts at the Ultimate Sports Academy for all players in our league. The pricewill be $10.00/player to cover the facility cost and the sessions will be broken into two groups HIGH SCHOOL PLAYERS (Colt League) and MIDDLE SCHOOL PLAYERS (Pony League). Starting date will be announced shortly.
In closing we would like to thank all those who worked very hard to keep our league the "BEST RECREATIONAL BASEBALL PROGRAM" in Southern New Hampshire!You should all be proud of what we have accomplished!!Have a safe holiday season!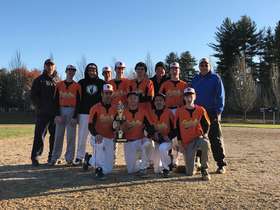 ORIOLES ARE CHAMPIONS!
Saturday, December 1
2018 FALL BALL COLT LEAGUE CHAMPIONS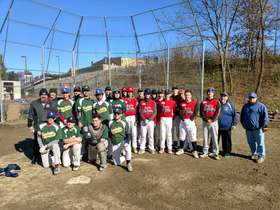 PALOMINO/THOROBRED ALL STARS
Saturday, December 1
Palomino Thorobred All Stars for Fall Ball 2018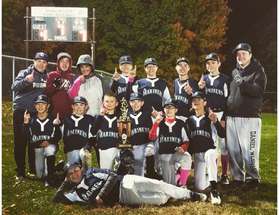 2018 PONY FALL BALL CHAMPIONS
Tuesday, November 6
2018 FALL BALL PONY LEAGUE CHAMPIONS!
THE MARINERS ARE THE 2018 PONY LEAGUE FALL BALL CHAMPIONS!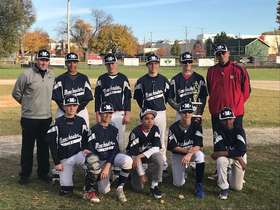 12 YEAR OLD FALL BALL ALL STARS
Tuesday, November 6
2018 FALL BALL 12 AND YEAR OLD ALL STAR TEAMS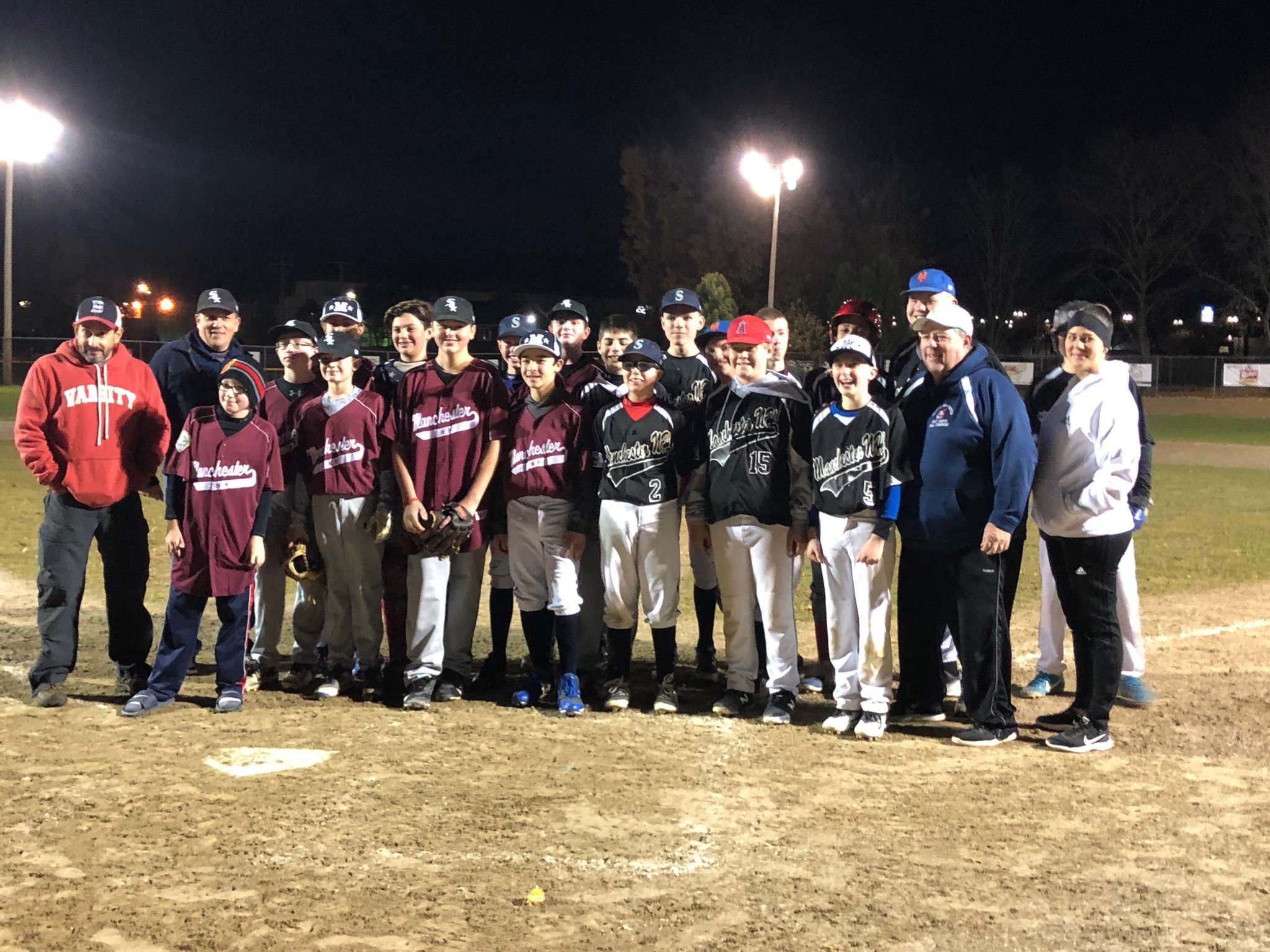 13 YEAR OLD FALL BALL ALL STARS