MAV: MAV Explosion
MAV Explosion Feb 9 and 10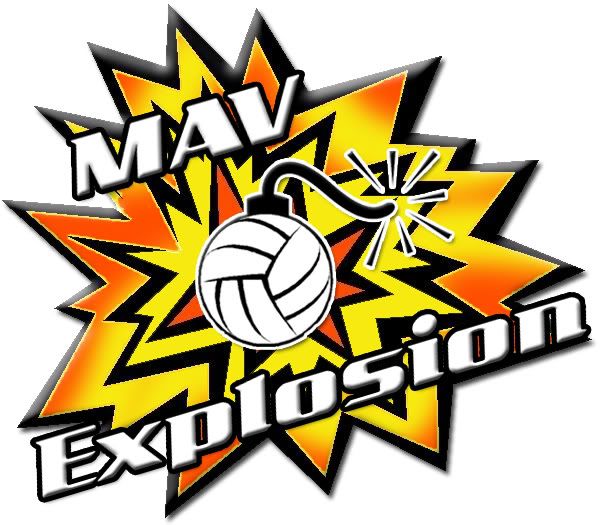 | | | | | | |
| --- | --- | --- | --- | --- | --- |
| 18 | 17 | 16 | | | |
| Tampa Raptors | Primetime 17 | Boom shaka-laka | | | |
| Riptide 18 | Raptors 17 | Boom-tastic | | | |
| Spirit 18Wolf Pack | TUVA 17 Red | Plant City Elite 16 | | | |
| SWSVB Diamonds | TUVA 17 United | Tampa U16 Elite | | | |
| SWSVB Jags | Tampa U 17 Elite | Tampa Warriors 16 | | | |
| TUVA 18 United | Suncoast 17 | TUVA 16 United | | | |
| Naples 18 Extreme | | TUVA 16 Black | | | |
| Tampa U18 Elite | | TUVA 16 Red | | | |
| | | SFRVC 16 (Riptide) | | | |
| | | Raptor 16 | | | |
.
.
USAV MEMBERSHIP REQUIRED
THERE WILL BE A $5 SPECTATOR CHARGE AND CONCESSIONS AVAILABLE.
The MAV EXPLOSION is a 2 day USAV event. Saturday will consist of an AM & PM wave of pool play. Sunday will be a single elimnation playoff. All sites will have concessions available.
Check in will be the Saturday with the site director before your Wave
All teams must have their Medical Releases & USAV Webpoint Roster for check in. Teams will not be allowed to participate with out them.
ALL players must carry their USAV Medical Releases with them at all times.
No coolers in any gym area. They may keep them outside or in designated areas
Wristbands will be given to spectators to wear for entry & exit. 8 and under Free
If you have any questions please email tcothron@tampabay.rr.com
Pools will be posted Wednesday night before the event.
GYMS:
SOUTHEAST HIGH SCHOOL- AM-11, 12, 13 PM 15, 16, 17
PALMETTO HIGH SCHOOL AM-18 PM 16
LEE MIDDLE SCHOOL AM 14 PM 14
OUT OF DOOR ACADEMY PM 15
Handout:
MAV Explosion