Mad Dogs Hockey: Tina Brink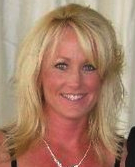 Tina Brink
Board Member
Tina Brink
Position:
Board Member
Email:
tinabrink@verizon.net
Profile:
Tina Brink has been involved with the Mad Dogs Organization since her oldest son started playing with the Mad Dogs in 2003. Her son was recruited after being seen playing ice hockey for the Frederick Fury Ice Hockey team. At the end of the first season of her son's involvement with the Mad Dogs she saw how much her son enjoyed playing as well as how much the inline hockey improved her son's ice hockey skills. That is when she volunteered to manage the team the next season. Tina believes that all travel ice hockey players should use inline hockey as a way to strengthen their skills. Inline hockey encourages long passes, spreading the play out, being patient with the puck and keeping possession. Every year she sees vast improvement in both of her sons' hockey skills and speed. At times Tina has managed two Mad Dogs Teams (1995 and 1999) and in 2007 she became a board member.

When Tina is not acting as a hockey mom, team manager or board member she is working in sales. She holds both a Maryland and Virginia Real Estate License and has worked for the past 4 years as an Account Executive.