Wednesday, August 31
MACSA: Mexican American Community Services Agency, Inc.
MACSA Futsal® of San Jose, California
660 Sinclair Drive, San Jose, CA 95116 - The Home of the Champions!
Mission Statement:
Our Mission is to enrich the lives and to advance the interests of the Latino Community of Santa Clara County. Cultivating Health, Education, and Culture.
Hello Everyone,
YES - WE ARE OPEN FOR FALL WINTER PLAY!
Winter League starts January 09, 2012 for U8-U14's
The Team Fee is $350 for 8 Game Qualifiers, Play-Offs and Finals.
MACSA would like to cordially invite you to MACSA Futsal® of San José.
A leader in US Futsal® Development and High Performance Achievement.
We are seeking Teams and Players of all ages and of both genders to participate in our legendary youth program.
MACSA FUTSAL LEAGUE REGISTRATION IS NOW OPEN!
To register your Team please go to the Handout Link on the website menu and download the PDF registration forms, complete, fax and contact Jorge Santillano.
If you have any questions please call or write:
Jorge Santillano - Futsal® Program Director
santillanoj@macsa.org
MACSA (408) 929-1080
Winter 2011/2012 SEASON
www.allprosoftware.net/macsafutsalspring2011
Handout:
Spring Futsal League Packet 2011
MACSA Futsal® of San José Leagues
The History of Futsal®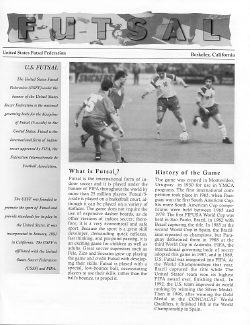 The origin of Futsal® (Five-a-Side Soccer) can be traced back to Montevideo, Uruguay, in 1930 when Juan Carlos Ceriani devised a five-a-side version of soccer for youth competion in YMCAs. The game is played on basketball-sized courts, both indoors and out without the use of sidewalls.

The term FUTSAL® is the international term used for the game. It is derived from the Spanish or Portuguese word for "soccer"-- FUTbol or FUTebol, and the French or Spanish word for "indoor" -- SALon or SALa.

The term was adopted by U.S. Futsal since it includes the initials "fUtSAl" (USA). The term was trademarked in the United States after U.S. Futsal changed its corporate name within the state of California.

The game is frequently referred to as Five-A-Side or Mini-soccer. Once Ceriani got the ball rolling, Futsal gained rapid popularity throughout South America, particularly in Brazil. The skill developed in this game is visible in the world-famous style the Brazilians display outdoors on the full-sized field. Pele, Zico, Socrates, Bebeto and other Brazilian superstars developed their skill playing Futsal. While Brazil continues to be the Futsal hub of the world, the game is now played, under the auspices of FIFA, all over the world, from Europe to North and Central America and the Caribbean, South America, Africa, and Asia and Oceania.

The first international competition took place in 1965, when Paraguay won the first South American Cup. Six more South American Cups were held through 1979, with Brazil winning all of them. Brazil continued its dominance with a victory in the first Pan American Cup in 1980 and won it again the next time it was played in 1984. A U.S. team took part in the 1984 cup, but finished out of the running.

The U.S. Futsal Federation was founded in 1981 and incorporated in January, 1983. Osvaldo Garcia was it's first president. The game is referred to as Minisoccer, five-a-side soccer, Futbol Sala or Futebol de Salao, but it is also widly refereed by it trademark name, Futsal. The current Federation president is Alex J.C. Para.

The first Futsal World Championship conducted under the auspices of FIFUSA (before its members integrated into FIFA in 1989) was held in Sao Paulo, Brazil, in 1982, with Brazil finishing in first place. The Brazilians repeated as champions at the second World Championship in 1985 in Spain, but lost in the third World Championship in 1988 in Australia to Paraguay. FIFA took over direct sponsorship of the event in 1989 in Holland and 1992 in Hong Kong. Brazil won both times. The U.S. Futsal (Indoor Team), finished third in 1989 and second in 1992 at the FIFA Five-a-Side World Championship. The highest showing by any team from the United States in a FIFA tournament until the U.S. Womens team won the gold medal in China for outdoor soccer. The Third FIFA World Championship was held November 24 through December 11, 1996, in Spain and for the first time FIFA names it the FIFA Futsal World Championship. The Fourth FIFA Futsal World Championship was held in Guatemala between November 18 to December 4th, 2000. The fifth Futsal World Championship was held in Taipei in December 2004.

The first international Futsal match played by the U.S. Futsal National Team was in May 1984 in Nanaimo, Canada, and the United States won 6-5. The first international Futsal match in the United States was held in December, 1985, at Sonoma State University in Rohnert Park, California. The U.S. select team, defeated Australia, 9-5.

U.S. Futsal has conducted a National Championship each year since 1985. Futsal is establishing itself at the youth level in the U.S. The Boys and Girls Clubs of America took a strong interest after the Columbia Park Club in San Francisco asked the Federation to give a demonstration. The national organization adopted the sport, and it is now played at about 1,100 Boys and Girls Clubs throughout the U.S. The American Youth Soccer Organization (AYSO) also plays the sport in a close working relationship with U.S. Futsal since 1988.

The U.S. Youth Soccer Association (USYSA) and U.S. Futsal signed an agreement in August of 1995 and in 1999, to promote futsal in all their National State Association as their game of choice for indoor soccer under the auspices of U.S. Futsal



Tuesday, October 23


MacsaFutsal Article in 90:00 minute Soccer Magazine




MACSA has spent the last ten years building a futsal dynasty. Unquestionably the dominant force in youth club futsal at the national level, MACSA is not only laying the foundation for the future of futsal in America, but is also building a better life for its players.

Decade of

DOMINANCE

words: David Shin

When futsal players hear MACSA (Mexican American Community Services Agency), they think about an elite club that has enjoyed unparalleled success at the national level. In 2006, they won a staggering six National titles, and continued their domination in 2007 by reaching seven finals and winning four. More than 119 players have won a National title with MACSA in a decade of their program; but their success as a club is only an exterior people see. People don't know the real reason they are the club that exists today. MACSA's heartbeat is in the east side Mayfair district of San Jose, where 70 percent of its residents struggle below the poverty line. As a nonprofit, they serve everyone from at-risk kids to senior citizens, through various services and programs. The athletic program is one of these. When Mario Gonzalez became Sports Director at MACSA in 1996, he didn't know he would be building a nationally renowned program. His goal was to get kids involved in sports and away from the gangs and vices that plague their community. And he found out quickly that soccer was the sport that ran through their blood. "Our gymnasium has 6 basketball courts," said Gonzalez. "But every time we brought a basketball out, the kids wanted to kick it. We tried volleyball, and they wanted to kick that ball too. We tried indoor football, and they didn't want to play." So soccer would be translated to the gym, and futsal would be the way. MACSA futsal began with one league of 6 teams of neighborhood kids. Soccer coaches would bring their teams in to improve their skills, and little by little, the sport that nobody knew about started growing. Word of mouth spread, as one league turned into multiple leagues and competition expanded to include girls and boys of all ages. With passion consuming imaginations and numbers growing, coaches and players started asking what the next step was to push this evolving effort to the next level. So they established select teams, comprised of players from their leagues, who would come together for tournaments at the state, regional, and national levels. And they quickly became the elite. As MACSA dominated at the regional level, players from other communities took notice and started coming in from the top soccer clubs in the Bay Area. Families from all racial and economic backgrounds came to MACSA, and they became what Gonzalez refers to as the MACSA futsal family. Kids from the suburbs have invited their MACSA teammates from Mayfair to join their soccer clubs, as they were invited to play futsal at MACSA. Those who couldn't afford to play club soccer have joined their futsal teammates' clubs like De Anza Force and Santa Clara Sporting, where teams sponsor these players, and families take them to and from practice each day. MACSA has held this futsal program together through endless volunteer work, fund-raising, and donations. Gonzalez is thankful for the help they've received, and kids who were raised through MACSA are now becoming adults who are giving back. "Through our futsal program, we have created community leaders," said Gonzalez proudly. "We have hired somewhere in the neighborhood of 16-20 staff members through our futsal program, and these former players are now running after school programs." One of these former players is Enrique Tovar, who helped Gonzalez coach five teams at Nationals. Tovar also plays for the California Cougars in MISL, and is a member of the U.S. National Futsal Team. "What I like seeing is for our kids to go through our program," said Gonzalez. "Let them be free, let them go express themselves, and let them experience as many things as they can. And the ultimate for me, is for somebody like Enrique to come back and show our 8, 9, and 10 year-olds what he has learned, and help develop these kids not only as soccer players—but as young men and young ladies." MACSA continues to enrich lives through futsal, and they've caught the attention of those around them through their integration of cultures and communities on and off the courts. Their strength as a club has come from these bonds, and they have become the standard by which other clubs judge themselves.

"90 Minutes Soccer Magazine"



Tuesday, October 23


MACSAFutsal Nationals 2007




MACSA Futsal Has Strong Showing at

2007

U.S.

Futsal National Championships

A number of teams from MACSA Futsal of San Jose, California participated in the XXII 2007 U.S. Futsal National Championships in Anaheim, California. MACSA Futsal is part of the Mexican American Community Services Agency (MACSA) which cultivates health, education and culture in the San Jose, California area. MACSA Futsal was defending champion in a number of age groups, so each game was a battle to the end. One player from another team was quoted as saying that the most memorable games of the tournament were against MACSA. Mario Gonzalez, Director of Futsal for MACSA and coach said that he was impressed by how well organized this years tournament was and at the quality of the competition and encourages other leagues and teams to get more involved with Futsal. The skills, strategy and tactics of some of the teams were impressive and a credit to how popular Futsal is becoming in the U.S.A., Mario said after the end of the tournament.

Four MACSA Futsal teams were crowned 2007 U.S. Futsal National Champions and three teams were U.S. National Finalists. The MACSA 2007 U.S. Futsal National Champions and U.S. National Finalist are as follows:

U10 Boys National Finalist

U10 Girls National Finalist

U12 Boys National Champions

U12 Girls National Champions

U16 Boys National Finalists

U16 Girls National Champions

U 19 Men National Champions

For the MACSA Futsal family it was an especially satisfying tournament for all the families involved supporting the MACSA Futsal teams. Seen throughout the tournament play were MACSA families in their trademark yellow t-shirts with the MACSA logo imprinted. Another highlight was having MACSA Futsal alumni, Enrique Tovar volunteer as coach for the U19 Boys, U19 Girls, and U10 Girls teams. Enrique is also a member of the U.S. National Futsal Team as well as member of the MISL California Cougars. It's great to see alumni helping a program after they have gone on to higher levels of futsal and soccer, said Mario Gonzalez of MACSA. Assisting Coach Tovar with the U19 Girls and U10 Girls and also assisting Coach Gonzalez with the U15 Boys was another MACSA Futsal alumni and current MACSA Youth Sports Center staff member Noe Guzman. Coach Noe was also a member of the U19 Men's MACSA 2007 U.S. National Championship team. For Edwin Luna, volunteer coach for the 2007 U12 Boys and U16 Girls U.S. National Championship teams the U12 Boy's championship game was an especially rewarding experience since most of the U12 Boys team members were new to the team because a number of the boy's that were on last year's championship team could not participate in the tournament due to other family and personal commitments. Coach Luna said that many in the community didn't give the U12 Boys team a chance of winning the championship. However, he knew what the boy's were capable of as a team and they stuck with the basic game plan along with the determination of the team, the U12 Boy's were able to defend and kick their way into the championship and ended the tournament with an impressive four shut-outs and 18 goals for and two goals against. However, by the end of the tournament, Coach Luna could barely talk because his voice was hoarse from all the cheering and coaching on the sidelines.





CIF High School Player Eligibility Rule Soccer vs. Futsal


Handout: CIF High School Eligibility For Soccer vs Futsal



CHECK OUT OUR ALBUMS


This page contains pictures from tournaments we've participated and other events that we've hosted.