SOFTBALL - MAJORS: Welcome
LYSA Softball Majors
Softball - Majors is a competitive league for girls ages 11 - 12 (as of 11/30/17)
Practices start on or about April 1st and a 14 game season starts in Mid-April.
Softball - Majors Rules Include the following:
- 60 foot bases & 40 ft. pitching mound
- Girls fast pitch (windmill is allowed)
- Inter-League games versus teams from the Riverhead and East End Little Leagues!!!
- Inter-League All Star Game for the leagues elite players to be held in June
Past Champions
| | | |
| --- | --- | --- |
| YEAR | TEAM | MANAGER |
| 2014 | None | None |
| 2013 | None | None |
| 2012 | None | None |
| 2011 | Black | Bill Hutcheon |
| 2010 | Sooners | Fred Weil |
| 2009 | Yankees | Fred Weil |
| 2008 | Orioles | Bill Smith |
| 2007 | Athletics | Glenn Ellis |
| 2006 | Storm | Ray Morgan |
| 2005 | Reds | Craig Aliperti |
| 2004 | Yankees | Lou Thristino |
| 2003 | Angels | Matt Covati |
| 2002 | Yankees | Kathy Talbot |
| 2001 | Yankees | Matt Covati |
| 2000 | Yankees | Matt Covati |
| 1999 | Yankees | Grant Parpan |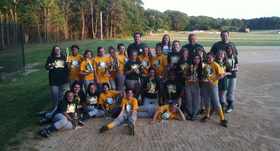 2012 Majors Softball