Lehigh Valley Legion: Welcome
Tuesday, September 30
Next Lehigh Valley Legion Baseball League Meeting - PLEASE NOTE DATE CHANGE
The next meeting of the LVLBL will be held on Wednesday, October 8th, at 7:30 pm in Room A128 of Parkland High School. An agenda will follow.
Thursday, August 14
Miiller, Milios Win Player and Pitcher of the Year in the LVLBL
South Parkland's Zach Miiller and Southern Lehigh's Nikos Milios have won Player and Pitcher of the Year, respectively, in the Lehigh Valley Legion Baseball League for the 2014 season.
Miiller batted 0.449 in the regular season, with 7 doubles, one triple, one home run, and 16 RBI's. He finished with a slugging percentage of 0.694, and when combined with an OBP of 0.565, he achieved an OPS of 1.258. In the playoffs, Zach had 5 hits, including one double, while scoring 4 runs on 10 plate appearances. In addition to his offensive skills, Miiller pitched 32 innings for a 3-2 record in the regular season, with 24 strikeouts and an ERA of 1.97 and a WHIP of 1.19.
As Pitcher of the Year, Milios was the workhorse of the Southern Lehigh staff, pitching 41 1/3 innings with a 5-1 record and 1 save, striking out 48 and only walking 8. He gave up 8 earned runs for an ERA of 1.35 and a WHIP of only 0.65. On the offensive side of the ledger, Nikos batted 0.319 with 3 doubles and 11 RBI's.
Congratulations to Zach and Nikos on their successful 2014 seasons.
Sunday, July 20
Lehigh Valley - Schuylkill Berks Donate to VA Medical Center
Prior to Saturday's 7:30 PM Region 2 tourament game, All-Star players from both Muhlenberg and North Parkland Legion baseball teams presented members of the VA Medical Center in Lebanon, PA with a check in the amount of $1300. The $1300 were the proceeds from the Lehigh Valley - Schuylkill-Berks All Star game, held on June 23rd, at FirstEnergy Stadium in Reading, PA.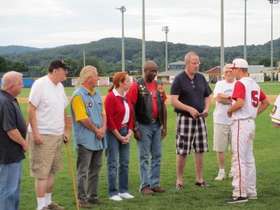 North Parkland's Justin Afflerbach Presents Check to Vets
Friday, August 1
Final Regular Season Batting and PItching Leaders in the LVLBL
Final batting and pitching leaders in the Lehigh Valley Legion for the regular season: