Lower Perk Longhorns: Welcome
Lower Perk Longhorns Leagues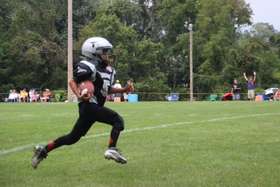 ANTHONY RODRIGUEZ STREAKS INTO THE ENDZONE FOR A TOUCHDOWN!!!!
New Sponsors:
All That Jazz
IM Welth Partners
Avalanche Salon & Spa
Castle Academy

Jim & Ralph's Produce

Parker's Barber Shop

Collegeville Deli

JP Mascaro (Trash Cans w/Lids)

Pizza Stop

Rapid Dough

EDGE Signs, LLC

Aspiring Champions

Mike Vereb, State Rep.

Miller Restoration
Be sure to Thank our new sponsors support. Thank You to Joe, Courtney, Sean, Jeff, Jen B, Jen C, Rey, Steve & Janelle for reaching out to the new sponsors!
Would you like to sponsor the Longhorns? Click here for Forms & Information
Key Dates:
September 20th -

Parents Appreciation weekend

September 27th (7 - 10 pm) - Longhorns Night Out at the Trappe Tavern (tickets on sale at practice)

See Courtney Rodriguez, Ginny Buckwalter, or Jennifer Boyd

Cost $30 per persion ($40 at the door) - Includes Open Bar with hot & cold appetizers

October 18th - Cow Plop & Fall Festival
Thirty-One Fundraiser - Purchase bags through this direct link and Longhorns will get 20% of total sales. Orders due September 29th
Spirit Wear:
the 2014 Spirit Wear Order Form is now available. Next order due on September 24th. Order forms can be returned to the Snack Bar or the Spirit Wear table.
Practice Jerseys are available for $10 - Longhorns Football printed on front. Sizes Youth S/M, Youth L/XL, Adult S/M, or Adult L/XL. Please contact gBucky@comcast.net or See Spirit Wear Table for purchase.
Bux-Mont 2014 Association shirts are now available $15 at the Spirit Wear Table.
---
USA Football **Click for Free Parent -
Heads Up Safety Course
**
Heads Up program
---
Like us on Facebook Lower Perk Longhorns
Follow us in Twitter @LowerPerkHorns #gohorns
SNAP! Football Action Pictures
---
Volunteers Needed: Longhorns need help with the following activities: field painting (weekly task), field maintenance (weekly or bi-weekly task), Trash removal (weekly task), Yearbook (organizing the publishing, & advertising), and many more - Come to a board meeting or talk to your team parent/coach if you have the time & skills to help improve our organization!
---
Lower Perk Longhorns
Home of the 2010 Pop Warner Eastern Region Junior Pee Wee Champions, the 2010 Bux-Mont League Junior Pee Wee Champions, and the 2009 Bux-Mont League Junior Pee Wee Champions.
Home of the 2013, 2012, 2011 and 2009 Bux-Mont League Midget Competitive Cheer Champions, and the 2013, 2012 Bux-Mont League Pee Wee Competitive Cheer Champions