Admin

Last updated

07-23-16 01:16 PM

Los Osos H.S. Cross Country

Michael Oravets

909-260-9577

Rancho Cucamonga, California

91737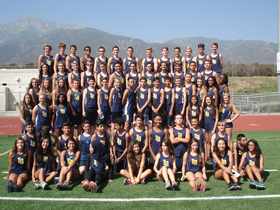 2015 Team Picture
Los Osos H. S. has competed in the powerful Baseline League since the school opened in the Fall of 2002.
Girls: League Champions 2004, 2005, 2012 (Ind)
Girls: Baseline runner-up 2006, 2007, 2008, 2009
Girls: CIF 2002, 2003, 2004, 2005, 2006, 2007, 2008, 2009, 2010, 2012, 2013, 2015 (Ind)
Boys: League Champion 2004 (Ind), 2007 (Ind), 2014 (Ind)
Boys: Baseline runner-up 2005, 2006
Boys : CIF 2005, 2006, 2007, 2008 (Ind), 2009 (Ind), 2010 (Ind), 2013 (Ind), 2014
Boys : State 2004 (Ind), 2005 (Ind)
Coaches Contacts
Coach "O" moravets@charter.net (909) 260-9577
Coach Skiles thomas.skiles@cjuhsd.net (909) 263-3317
Coach Hawkins dhawkin1@alumni.nd.edu (909) 223-4308
Thursday, July 14
THIS WEEK WITH THE GRIZZLIES!!!
***Be sure to hydrate, hydrate, hydrate! Not just water; please also consume sports drinks as well.
BEFORE YOU ATTEND ANY PRACTICE:
1. You must be cleared on athleticclearance.com - I will accept NO physical paperwork as done in the past. We have posted on the website how to get cleared since school let out and how it is different from past years. We have also warned about the lag time and to make sure you are cleared in plenty of time. I will have athleticclearance.com accessed at practice and if you aren't completely cleared, you will not be able to practice, simple as that. It doesn't matter if you have the paperwork with you, or the physical was uploaded...you need to have it uploaded with enough time for Shannon, our trainer, to approve it.
Common problems that have come up:
* You must choose cross country as one of your sports. That is the only way I can see that you are cleared...I only have access to cross country and track, not the entire database.
* Can't find where to upload my doctor's form. When you log on, you should see a grid. Look under Student Info and click on the image of a pencil next to "completed." Scroll to the bottom and you will see where it says "Upload Physical Form" and choose file.
* Uploading the wrong form. You must upload the page the doctor signed where it says "Upload Physical Form." Take a picture or scan it (picture is easier). I can see some that have uploaded the wrong file here (health history or something completely unrelated).
* Uploading issues. Try a different browser.
Please check it before you come to practice. If you don't see your name, don't waste a trip because you are going to be turned away. It won't matter what you say or what papers you have with you, you will not be able to practice.
2. Team Rules Packet Signature Page - You may practice without turning this in, but you will not get credit for attending that practice. Go to "Handouts," review the packet with parents, print out the last page, and have it signed.
3. Be registered for our team on Running2Win - There are directions for doing this at the bottom of the News and Notes section...please do it exactly as directed. Many times people are signed up, but they didn't "join a team," which means I can't see your training logs. Like the Signature Page, you don't get credit for attending practice until this has been done correctly.
Monday, July 25th - Practice at Day Creek Park at 8:00am
Tuesday, July 26th - Practice at Heritage Park at 5:00pm
Wednesday, July 27th - No organized practice - On Your Own; follow the training calendar
BOOSTER CLUB MEETING at 7:00pm at Tio's (Day Creek and Baseline) - Everyone is welcome to attend...they are very casual meetings. We will meet about 5 times over the course of the season.
Thursday, July 28th - Practice at Heritage Park at 5:00pm
Friday, July 29th - Time Trial #2 - 7:00am at Central Park (meet at NE corner of park along the bike path at Milliken) - This is not counted as one of the summer practices, but it must be done at some point. Please arrive early to warm-up; we are doing these an hour early to beat the heat.
We had 24 successfully complete the time trial on the first attempt on what was the hottest day of the summer thus far. That was over half that attempted it, so great job. Some were close and some found out how far out they are. With consistent practice, we have seen dramatic drops from week to week in past years. Don't be discouraged if you did not make it...keep working at practice, run on the days we don't have organized practice, and know that it will be cooler next week (all will start at 7:00am in one group...because of numbers, today is the only time we run two races).
Saturday, July 30th - Practice at Marshall Canyon in LaVerne at 7:00am - Directions: 210 west, exit Fruit and go right, left on Baseline, right on Wheeler, park at Oak Mesa Elementary School or the park next to it
***The parking lot is torn up, limiting the number of spaces. Please arrive early as you may have to walk from your car.
***The run begins promptly at 7:00am; if you arrive late, we will be gone and it is unlikely you will be able to find us if you haven't been before.
***Parents, please stay in the area (or join us for a run/jog/walk); these are fast as there is no team stretch after...some will be done as early as 8:00am
Friday, July 22
PARENT MEETING IN THE BOOKS!!!
Thanks to those that attended the one and only parent meeting we held. It was nice to share our program with you. If you ever have questions or concerns for me, please email me...it is the most efficient method.
If you were not able to attend the meeting, most of what was covered is contained in the Team Rules Packet, which most of you have signed so I assume you have read it. If you need clarification or have questions, please email me.
I had the "Parent Help/Sign Up Sheet" at the meeting last night and was pleased to see much was filled in. Those with veterans on the team, I will list the blanks and if you would like to sign up, please email me. I have openings for...
Wed, Sept. 28th at Red Hill Park - Fruit
Wed, Oct. 19th at Bonelli Park - Fruit
Sat, Oct. 22nd - Mt. SAC Invitational - maybe on the Mt. SAC course - Fruit
Wed, Nov 2nd - League Finals - assume it's at Glen Helen - Fruit
Team DVD??? If anyone has skills in this area and would like to put this together with pictures provided by parents, we could use your help.
Monday, April 25
JULY NEWS AND NOTES!!!
New Handouts - Posted in the "Handouts" section is the Lettering Criteria and the sponsor form for our Run-A-Thon Fundraiser. We would really like this to be our only major fundraiser, so please go out and get sponsors!
Coaches Practice - For your planning purposes, Tuesday, July 19th (5:00pm at Heritage Park) will be the first official summer practice with the coaches. The complete practice schedule for the summer is up, subject to changes (keep on the website). You can access it through "Events" or via the complete Training Calendar, now posted in "Handouts."
Team Rules Packet - Now posted in "Handouts." This must be read and reviewed; there is a REQUIRED signature page at the end. Please print it out and bring it to the first coaches practice on Tuesday, July 19th (DO NOT TURN THEM INTO THE CAPTAINS). Included inside is the time trial information in terms of what 3 mile time you will need to run to be considered for the team. Some of you may be on the fence, trying to decide if cross country is the right fit for you. With all the information in this packet, it may help with your decision.
Time Trial Target Times - Now posted in "Handouts." If you ran a race last year, you can see what your target time is. If you are new, please refer to the Team Rules Packet for target times.
Physicals..."Am I Cleared???" - See the post below about physicals. Here is a list of people who are cleared (I will update often leading up to the 19th). Once again, if on the 19th you aren't "Cleared" for whatever reason, you will be turned away and cannot participate until you are. Common reasons for not being cleared: Expired physical (good for one calendar year), missing signature, no insurance info, paperwork signed by a medical professional who is not a doctor (chiropractor, nurse practitioner, etc.). If you don't see your name and you think you should, go on athleticclearance.com and figure out what is missing. Also keep in mind that there will be a lag time between when you submit something and Shannon, our athletic trainer, processes it.
Boys that show cleared (updated 7/22): S.Abrego, E.Agosto, T.Aligaen, J.Atkinson, K.Buchanan, D.Carlmark, B.Chang, A.Combalecer, M.Combalecer, M.Coria, L.Corona, S.Dhillon, E.Diaz, J.El-Gaouny, C.Farren-Stroud, F.Farrugia, L.Garcia, T.Gazzaniga, R.Hernandez, N.Hills, C.Horton, S.Hsiao, L.Jennings, B.LaClaire, N.Larkins, A.Lopez, M.Magno, R.Mannion, M.Mitsos, R.Nath, J.Nguyen, T.Nilsen, Aa.Oravets, An.Oravets, M.Ospina, S.Perez, C.Plummer, C.Punzalan, D.Ramos, J.Rasheed, W.Rivas, M.Rodriguez, J.Ruedas, E.Ruiz, J.Salcedo, T.Shunkwiler, E.Silver, R.Solis, D.Sternberg, D.Vasquez, D.Warbritton, T.Wolf, E.Woolf, A.Yip
Girls that show cleared (updated 7/22): T.Adri, N.Arciniega, F.Berge, M.Botros, D.Campos, Y.Chen, J.Cornell, K.Cummings, R.Dossa, B.Duncan, M.Favela, R.Garcia, H.Genualdi, I.Goltara, N.Gonzalez, N.Hernandez, H.Ismael, L.Jensen, R.Juarez, K.Kuminkoski, I.Larkins, N.Lorenzo, S.Mondragon, C.Myung, S.Neilson, H.Plummer, J.Rodriguez, O.Salter, L.Sandhu, R.Silva, S.Spacher, N.Tambunan, S.Toor, E.Uranious, M.Uranious, B.Zeledon, M.Zwerner
Can't Get A Doctor's Appointment In Time??? - Here is a place that will do sports physicals on a walk-in basis...Ontario Testing Center at 402 S. Milliken Ave, Suite E-2 in Ontario. Phone Number is 909-937-3955. Hours are Mon-Fri 9am-4:30pm, Sat 9am-12:30pm
Logging Miles: You must log miles for cross country. It's not only required but it's a great way of seeing progress and motivating yourself. There's even a running2win app now to make logging easier! Register now if you do not already have an account. Miles begin to count on June 1st. You need to "Join A Team" for us to see your activity. Directions are below:
1 Go to this Free Web Site: www.running2win.com.
2.Register yourself with a username and password and some other basic information.
3.Once you've registered, click on the link within the site to "join a team." You will be prompted to enter a Team ID; it is T-7864100205-20, then click "Submit Request". That sends an email to Coach O who will grant you access.
Fill out your mileage daily!!

Unsure of your mileage??? Go to Google Earth, click on the ruler icon in the toolbar above the image...when the window opens, click on Path, then measure your route and it keeps a running total of mileage!

Wednesday, May 11
GET YOUR PHYSICAL EARLY!!!
All athletes for all sports must have medical clearance (every year) before any tryout, practice, or competition. This always causes people to delay attending practice or to be turned away from practice.
What's New This Year? We are going paper-free! All paperwork will be submitted online and coaches will access emergency cards via their mobile device. Parents need to go to athleticclearance.com and fill out the appropriate paperwork and download the physical form to bring to the doctor and then upload it once it is filled out. With a new system, there could be bumps in the road, so it's better to deal with this sooner rather than later...trying to get it done prior to the first official practice on July 19th.
***Keep in mind, any physical done by a chiropractor, nurse, physician's assistant, etc. will NOT be valid and you will be denied clearance.***