Admin

Last updated

06-26-16 11:17 AM

Los Osos H.S. Cross Country

Michael Oravets

909-260-9577

Rancho Cucamonga, California

91737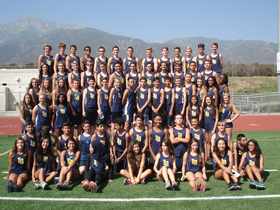 2015 Team Picture
Los Osos H. S. has competed in the powerful Baseline League since the school opened in the Fall of 2002.
Girls: League Champions 2004, 2005, 2012 (Ind)
Girls: Baseline runner-up 2006, 2007, 2008, 2009
Girls: CIF 2002, 2003, 2004, 2005, 2006, 2007, 2008, 2009, 2010, 2012, 2013
Boys: League Champion 2004 (Ind), 2007 (Ind), 2014 (Ind)
Boys: Baseline runner-up 2005, 2006
Boys : CIF 2005, 2006, 2007, 2008 (Ind), 2009 (Ind), 2010 (Ind), 2013 (Ind), 2014
Boys : State 2004 (Ind), 2005 (Ind)
Coaches Contacts
Coach "O" moravets@charter.net (909) 260-9577
Coach Skiles thomas.skiles@cjuhsd.net (909) 263-3317
Coach Hawkins dhawkin1@alumni.nd.edu (909) 223-4308
Sunday, June 26
PRACTICE START DATE CHANGED!!!
The first day of "Coaches Practice" has been changed. Instead of Monday, July 18th, it has been changed to Tuesday, July 19th, with time and location to be announced later. I am working on the summer schedule and will post dates and times after the 4th of July holiday period.
Monday, May 23
WHAT TO EXPECT THIS SUMMER!!!
As track season winds down, you can expect more info to trickle on to this website, so be sure to visit regularly.
1. Expect a phone call from a captain at the end of the May or in early June. It is common for captains to organize regular running get-togethers. They are certainly optional, but it's a great way to see if cross country is for you and to make friends prior to school starting. They are informal gatherings for the purpose of running together; they are not considered practices nor will or can coaches be present.
2. Many newcomers (and returners) wonder what kind of running they should be doing and how much. The captains will probably help with this, but if you click on "Handouts." you will find a training calendar that will give you that info. If you go on vacation, you will know exactly what you should be doing.
3. Expect the Team Rules Packet to be posted in early July. This will give you more info to determine whether this is for you along with the time trial information, including the time you will have to run to make the team. If your game plan is to start running when the practices begin, you will have a very small chance of making the time trial. You should be running ALL summer and following the training calendar.
4. You can expect to be turned away from any and all practices starting July 19th if you do not have your physical paperwork completed and cleared. There are no exceptions. SEE INFO BELOW CONCERNING PHYSICALS.
5. Please do not contact the school concerning scheduling of classes with regards to 6th period athletic PE. I will add people into the class as they successfully complete the time trial prior to school starting. They will not add anyone until they get my lists.
Your Captains: Andrew, Carissa, Duncan, Hollie, Lorenzo, and Sidney
Monday, April 25
JUNE NEWS AND NOTES!!!
New Info - Please check back frequently during the summer for information to be added.
Coaches Practice - For your planning purposes, Tuesday, July 19th will be the first official summer practice with the coaches. More details during the summer.
Parent Meeting - Our one and only parent meeting is scheduled for Thursday night, July 21st at 7:00pm in the LOHS Lecture Hall. This is primarily for new parents, returning parents need not attend. Expect it to last about an hour and a half, depending on the number of questions.
Logging Miles: You must log miles for cross country. It's not only required but it's a great way of seeing progress and motivating yourself. There's even a running2win app now to make logging easier! Register now if you do not already have an account. Miles begin to count on June 1st. You need to "Join A Team" for us to see your activity. Directions are below:
1 Go to this Free Web Site: www.running2win.com.
2.Register yourself with a username and password and some other basic information.
3.Once you've registered, click on the link within the site to "join a team." You will be prompted to enter a Team ID; it is T-7864100205-20, then click "Submit Request". That sends an email to Coach O who will grant you access.
Fill out your mileage daily!!

Unsure of your mileage??? Go to Google Earth, click on the ruler icon in the toolbar above the image...when the window opens, click on Path, then measure your route and it keeps a running total of mileage!

Wednesday, May 11
GET YOUR PHYSICAL EARLY!!!
All athletes for all sports must have medical clearance (every year) before any tryout, practice, or competition. This always causes people to delay attending practice or to be turned away from practice.
What's New This Year? We are going paper-free! All paperwork will be submitted online and coaches will access emergency cards via their mobile device. Parents need to go to athleticclearance.com and fill out the appropriate paperwork and download the physical form to bring to the doctor and then upload it once it is filled out. With a new system, there could be bumps in the road, so it's better to deal with this sooner rather than later...trying to get it done prior to the first official practice on July 18th.
***Keep in mind, any physical done by a chiropractor, nurse, physician's assistant, etc. will NOT be valid and you will be denied clearance.***
Monday, March 28
HOLLOWAY TO BE A BRUIN!!!
In the winter of her freshman year, Sarah Holloway got her first college letter of interest. It was earlier than most and it came courtesy of UCLA. After careful consideration of all aspects, she has rewarded the school that first turned their eye her way. This weekend Sarah verbally committed to UCLA after visiting numerous schools, including other UC's in Santa Barbara and San Diego and the Air Force Academy. In the end, everything felt right about Westwood and they will be very happy to have her. The tenacity shown while competing her book-end years and during her two years of frustrating injury is to be admired. While those two years were maddening for her, they now work to her advantage, as college coaches are much more interested when the outstanding accomplishments came at little cost in terms of wear and tear. Congratulations on your decision Sarah!