Admin

Last updated

10-09-15 05:02 PM

Los Osos H.S. Cross Country

Michael Oravets

909-260-9577

Rancho Cucamonga, California

91737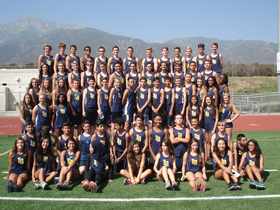 2015 Team Picture
Los Osos H. S. has competed in the powerful Baseline League since the school opened in the Fall of 2002.
Girls: League Champions 2004, 2005, 2012 (Ind)
Girls: Baseline runner-up 2006, 2007, 2008, 2009
Girls: CIF 2002, 2003, 2004, 2005, 2006, 2007, 2008, 2009, 2010, 2012, 2013
Boys: League Champion 2004 (Ind), 2007 (Ind), 2014 (Ind)
Boys: Baseline runner-up 2005, 2006
Boys : CIF 2005, 2006, 2007, 2008 (Ind), 2009 (Ind), 2010 (Ind), 2013 (Ind), 2014
Boys : State 2004 (Ind), 2005 (Ind)
Coaches Contacts
Coach "O" moravets@charter.net (909) 260-9577
Coach Skiles thomas.skiles@cjuhsd.net (909) 263-3317
Coach Hawkins dhawkin1@alumni.nd.edu (909) 223-4308
Friday, October 9
A NOTE TO PARENTS...
I would ask that you have an honest conversation with your son/daughter about why they are running cross country. My expectation would be that the answers would include fitness reasons, becoming a better runner, becoming more competitive and racing faster. Today's practice makes me question the reason for many of them. Because of the scheduling changes and the fact that we have not had a full participation meet in some time, I decided the fairest way to choose next week's league meet participants was to run a mini time trial (1.8 miles). Those boys that broke 20 minutes and girls under 24 minutes at Red Hill were automatically entered in the Bonelli Park meet. Everyone else that has been healthy and had successfully completed workouts were invited to Central Park to run their way on to the bus and into the meet. Only 16 of the 33 invited showed up, with the others opting to do the other workout and not even try. I don't want to pull the "back in my day" card, but I have been doing this for 30 years and never have I seen this kind of apathy. Races are the game in cross country, so to me it's like going through the pain of football practice on a daily basis and then on Friday night, not showing up to the game, or when the coach sends you in, you opt out. And all of this is AFTER holding summer time trials...you can only imagine what would happen without those. We have stressed trying to move participants towards being competitors, and apparently we have failed in that effort. To sum up, please ask them, "If you are not there to race, why are you there?" Feel free to share their responses with me, as I am curious.
Also, as stated in the rules packet and at our parent meeting, I will not take sick or injured to meets. You must be able to demonstrate the ability to complete practices successfully, and if you haven't done that, I cannot race you. When you tell me you need to see the trainer because something is bothering you, I will not say no. I have no reason to doubt you, but if you are spending your time there, you are not completing workouts, and therefore I cannot enter you in races until it's clear that you can successfully compete.
Friday, July 10
THIS WEEK WITH THE GRIZZLIES!!!
Monday, Oct 5th - Regular Practice
***Poor timing with the massive downpour this afternoon. Practice cancelled, students released at 2:55. Please run on your own if the conditions improve.
***Deadline to let me know you CANNOT attend the Mt. SAC Invitational on Saturday, Oct. 24th (races could be between 7:00am and 1:00pm)...meet is open to most, but there are numbers and ability limitations imposed by meet management.
Tuesday, Oct 6th - Regular Practice
***If you are planning to participate in Track and Field in the spring, there is a Parent Information Meeting at 6:00pm in the Lecture Hall.
Wednesday, Oct 7th - Regular Practice
Thursday, Oct 8th - Regular Practice
***Deadline to let me know you CANNOT attend the Inland Empire Challenge at Glen Helen Regional Park on Saturday, Oct. 17th (races could be between 7:30am and noon)...meet is open to all.
Friday, Oct 9th - Regular Practice
Saturday, Oct 10th - Coach Hawkins will hold an optional practice at 8:00am...meet at the LOHS outdoor basketball courts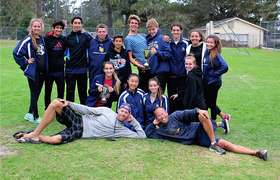 Post-Meet Team Picture
Sunday, October 4
SUCCESSFUL TRIP UP NORTH!!!
TEAM TOPS OVERALL RESULTS
There are many wasy to measure success, but by any measure this was a successful trip. Taking a break from the circus atmosphere of the Stanford Invitational and hectic driving of San Francisco, the team made their annual trek up north to a different location on a different weekend to compete in a different meet. And we loved it! What's not to love about the Monterey Peninsula?
The vans departed on Thursday at 1:15 and headed up the 101 as opposed to the 5...this trip was already better. The team arrived in San Luis Obispo for dinner around 5:00 and most followed the Oravets' lead and hit Firestone Grill, while others ate at Woodstock Pizza. There are so many great places to eat here that it's really hard to go wrong. Thursday night means Farmers Market downtown and this is a big one with most restaurants set up along with street performers...a really cool atmosphere. The team arrived in Monterey just before 10:00 and turned in.
Friday morning began with breakfast (waffles!) and a morning swim for most. At 10:00am, it was time for our run and we made our way down to the Peninsula Coastal Trail. We've never seen deer on our run on the San Francisco Bay Trail, but we did this morning. After cleaning up, it was off to Santa Cruz with a lunch stop on the way. It was a beautiful day at the Beach Boardwalk, and even though we missed the roller coaster, everyone had fun in the arcade and playing Laser Tag (congrats to our winner, Carissa). We drove back to Monterey, where everyone had some free time at the Cannery, along with dinner. After parking the vans, we walked across the street to the movies and saw Everest. It was a successful day!
In the morning we checked out and made the 10 minute drive to the meet. The format was completely unique...grade level races and the team scoring was based on a track invitational, 10 for first, 8 for second, 6-4-2-1, so only the first 6 in each race scored, but all grade level races counted. On paper, it favors a big team, not a team of 7, but we made it work and if you combine the boys and girls score, the Grizzlies raced to victory. They didn't give a combined award, but the boys took first by one point, while the girls finished second.
One of the best parts of the day was being able to focus on just one or a couple of runners in each race instead of all being in the same race. When everyone listens and executes the strategy laid out, that makes for a successful meet. This was a 5K course (3.1 miles) that may not have had any big hill, but had substantial elevation changes along with some slow grass surface and we preached patience and a plan to move up throughout the race and everyone did a fantastic job with that. All 14 runners finished in the top 15 in their respective race and nearly all medaled. The most enjoyable part may have been wearing a sweatshirt the entire meet without even thinking about taking it off...overcast, cool conditions the entire meet.
For the boys, Ruben Ruiz picked up 2 important points in the frosh race to kick things off, with Marco Ospina coming back for a 3rd place finish in the soph race. Lorenzo Corona went off course briefly but ran strong to finish 4th with Andrew Oravets moving up to finish 10th and Luke Mason, after a nasty fall, finishing 12th. Bradley Ewart took 2nd in the senior race with Joshua Sullens finishing 15th. That all adds up to a one point win over another traveling squad, Newport Harbor, with the host school 4 points back.
In the girls race, Tali Adri, in just her 3rd race, took 12th while Carissa Myung finished 5th and Hollie Genualdi 11th in the sophomore race. Sidney Spacher ran strong in the junior race, finishing 3rd and picking up 6 big points. The seniors closed things out in impressive fashion with a 3-4-7 finish by Sarah Holloway, Susan Herrera and Sabrina Parra. It all added up to a 2nd place finish, 4 points behind North Tahoe. There is a twist...the meet allows athletes to move up into higher grade races (frosh could run in sophomore race), although it doesn't appear to be advantageous unless you knew there was a stud in the junior race that couldn't be beat and you had someone who could win the senior race. That was not the case, as two sophomores went 1-2 in the senior race...if they run in the sophomore race, they still go 1-2, but we go 1-2-5 in the senior race and win the meet by 4 points.
The estimated return time was 9:00pm and we pulled in at 8:59pm. Thanks to all who attended and behaved very well. Thanks to the parents that were on hand for support, especially the Holloway's, who provided an EZ Up and a run to the store for us. The drive was better, the Friday was better, the meet was better, so as long as our schedule would support it, we will look to return in 2016.
Complete Results:
Boys Team Results (those with at least 10 points): 1. LOS OSOS - 20; 2. Newport Harbor - 19; 3. Pacific Grove - 16; 4. King City - 14; 5. Bret Harte - 11; t6. Trinity - 10; t6. North Salinas - 10; t6. Watsonville - 10
Boys Individual Results:
Seniors (63 runners): 2. Bradley Ewart - 16:43; 15. Joshua Sullens - 18:17
Juniors (76 total): 4. Lorenzo Corona - 17:05; 10. Andrew Oravets - 18:09; 12. Luke Mason - 18:18
Sophomores (74 total): 3. Marco Ospina - 17:42
Freshmen (86 total): 5. Ruben Ruiz - 18:38
Girls Team Results (those with at least 10 points): 1. North Tahoe - 22; 2. LOS OSOS - 18; 3. North Salinas - 17; t4. Live Oak - 10; t4. Branham - 10; t4. Greenfield - 10
Individual Results:
Seniors (38 total): 3. Sarah Holloway - 20:04; 4. Susan Herrera - 21:44; 7. Sabrina Parra - 21:50
Juniors (44 total): 3. Sidney Spacher - 21:23
Sophomores (60 total): 5. Carissa Myung - 22:27; 11. Hollie Genualdi - 23:12
Freshmen (45 total): 12. Tali Adri - 23:08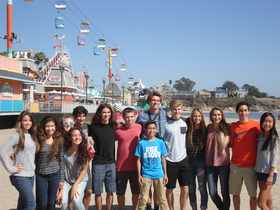 Group Picture at Santa Cruz Boardwalk
Monday, April 25
OCTOBER NEWS AND NOTES!!!
Picture Day - Note: the picture I posted on the website above is NOT the official team picture that team members will be receiving. I took that with my camera...unfortunately not everyone was listening and looking at the camera.
Quarter Grades - The end of the quarter is quickly approaching and many athletes have not been logging their miles. If they are not up-to-date, they will receive a one letter grade deduction in their 1st Quarter Grades.
Schedule Change - With ongoing construction at Mt. SAC, we expected our League Finals to be relocated. The meet will be held at Glen Helen Regional Park on the same course as the IE Challenge on Tuesday, November 3rd. In addition, due to a scheduling conflict at Bonelli Park, the second league meet has been moved up a day to Tuesday, October 13th.
The Heat Is On! - We can still expect to have high temps under normal conditions along with stretches of extreme heat and it's really important that everyone hydrates, hydrates, hydrates. It's an ongoing process that should be foremost on your mind throughout the season. Evening, at school, always hydrate. Please include sports drinks as well and not just water. Parents, it is important for us to train in these conditions (modified in extreme conditions) to prepare for the strong chance of high heat at races.
Important Athletics Handout Now Posted - Admin has asked that we post the LOHS Athletics Chain of Command handout. If you have an issue or concern about cross country and your athlete's involvement, please refer and adhere to this handout.
San Bernardino County Cross Country Rankings - Now posted on the County website. Go to http://www.eteamz.com/sanbernardinocountycrosscountry/
Logging Miles: You must log miles for cross country. It's not only required but it's a great way of seeing progress and motivating yourself. There's even a running2win app now to make logging easier! Register now if you do not already have an account. Miles begin to count on June 1st. You need to "Join A Team" for us to see your activity. Directions are below:
1 Go to this Free Web Site: www.running2win.com.
2.Register yourself with a username and password and some other basic information.
3.Once you've registered, click on the link within the site to "join a team." You will be prompted to enter a Team ID; it is T-7864100205-20, then click "Submit Request". That sends an email to Coach O who will grant you access.
Fill out your mileage daily!!

Unsure of your mileage??? Go to Google Earth, click on the ruler icon in the toolbar above the image...when the window opens, click on Path, then measure your route and it keeps a running total of mileage!

Wednesday, September 30
TEAM KICKS OFF LEAGUE AT RED HILL!!!
The first League Meet finally took place on Wednesday and the message was simple. Nothing we do today will solidify anything, so run loose, race hard, and have fun. Some took that to heart, while others were anything but loose, and in the end, we move to the next meet with nothing decided. A pair of 4th place finishes leave us pointing towards another League Finals showdown for the final CIF spot.
The day of racing began with the girls JV race and Marleah Bode ran a steady race to lead the girls with an 11th place finish. It was a pleasure all day long to provide a course strategy and watch many runners execute it to perfection. Kaiya Sanabria and Rylee Noreen ran very smart, determined races, improving their position throughout the race.
Duncan Carlmark, Blake LaClaire, and Nick Hills really shined in the boys JV race as the team finished 3rd, the highest finish of the day. Duncan and Blake were probably 25th to 30th after a half of a mile, but steadily moved forward to finish 6th and 10th.
A year ago, the girls varsity took a beating by St. Lucy's here and chipped away each meet after to close the gap. In 2015, every team in the league is better, maybe with the exception of St. Lucy's, as they graduated their #1 runner, so there is little margin for error. With mixed results, the Grizzlies came up 5 points short, but managed to hold off Etiwanda for 4th place. Susan Herrera debuted in impressive fashion, finishing 16th while the team got a huge lift from Sabrina Parra, who finished 20th in her first race in the Baseline League.
Look below and see the level of improvement by the varsity boys, and it still left them 32 points behind Damien, whose top runner struggled on the day. Despite the improvement, these boys have not had their best day, and they will need to chip away at that point lead over the next month. Bradley Ewart won this race a year ago and ran 20 seconds faster today, but fell just short of Chino Hills' Peter Torres. He ran the #4 mark in school history, which is an accomplishment because of the course change in 2010.
If we are going to reach the postseason, we cannot have bad days...everyone will have to have a good day, as that margin of error is very small. The good news today is that there was no damage done and we did not have our best day. Some had a fantastic day, and that is the result of the hard work you have put forward. Continue to do that and good things will happen.
Thanks to the Carlmarks and LaClaires for the water and fruit. This very busy week continues as the coaches and 14 hit the road for the Monterey Peninsula tomorrow.
Complete Results (improvement from 2014 indicated):
Varsity Boys: Team Scores: 1. Rancho Cucamonga - 31; 2. Chino Hills - 47; 3. Damien - 67; 4. LOS OSOS - 99; 5. Etiwanda - 131; 6. Upland - 140
Individual Results: 2. Bradley Ewart - 15:38 (-:20; #4 mark all-time); 16. Marco Ospina - 16:48 (-1:05); 26. Luke Mason - 17:22 (-:04); 27. Joshua Sullens - 17:26 (-1:35); 28. Andrew Oravets - 17:34 (-2:20); 29. Lorenzo Corona - 17:39 (-1:06); 34. Dylan DeMasi - 18:18
Varsity Girls: Team Scores: 1. Chino Hills - 20; 2. Rancho Cucamonga - 69; 3. St. Lucy's - 90; 4. LOS OSOS - 95; 5. Etiwanda - 109; 6. Upland - 128
Individual Results: 11. Sarah Holloway - 20:04; 16. Susan Herrera - 20:32 (-:57); 20. Sabrina Parra - 20:49; 23. Sidney Spacher - 21:03 (-1:23); 25. Sara Bock - 21:07 (-:29); 30. Carissa Myung - 21:41; 36. Tali Adri - 22:39
JV Boys: Team Scores: 1. Rancho Cucamonga - 15; 2. Chino Hills - 47; 3. LOS OSOS - 85; 4. Damien - 114; 5. Etiwanda - 190; 6. Upland
Individual Results: 6. Duncan Carlmark - 17:42 (-2:28); 10. Blake LaClaire - 17:48 (-1:09); 17. Nick Hills - 18:11 (-1:17); 19. Ruben Ruiz - 18:20; 33. Tor Nilson - 18:57; 34. Josh Atkinson - 18:59; 35. Sammy Abrego - 19:01 (-:45); 37. Chandler Plummer - 19:10 (-2:00); 46. Roberto Solis - 19:36; 48. CJ Punzalen - 19:40 (-:50); 52. Joshua Nguyen - 19:50 (-2:39); 57. Aiden Peltier - 20:03; 60. Noah Larkins - 20:05 (-2:03); 61. Kevin Maldonado - 20:06; 70. Chase Pellitteri - 20:22; 71. Drew Ramos - 20:23 (-1:49); 78. Karl James - 20:39; 85. Troy Larson - 20:44; 90. Jack Holloway - 20:56; 94. Luke Garcia - 21:02; 97. Denislav Nikolov - 21:12; 98. Marcos Rodriguez - 21:16; 107. Tyler Gazzaniga - 21:51; 119. Andrew Combalacer - 22:47
JV Girls: Scores not available, will update later...1. Rancho Cucamonga; 2. Chino Hills; 3. Etiwanda; 4. St. Lucy's; 5. LOS OSOS; 6. Upland
Individual Results: 11. Marleah Bode - 22:50 (-1:16); 18. Kaiya Sanabria - 23:21; 19. Hollie Genualdi - 23:32; 23. Rylee Noreen - 24:17; 24. Frida Rueda - 24:22; 26. Natalia Hernandez - 24:32; 37. Anaya Villasenor - 25:24
Sunday, September 20
POWER OUTAGE AT WOODBRIDGE!!!
Okay, the power never really went out in Irvine, it was more like a rolling blackout. Each year the team attacks this invitational with intensity and vigor. It's flat and fast and has served as the qualifier for the upcoming trip up north. A conscious decision to try to avoid the Wednesday letdown that tends to follow this meet, the incentive of the trip qualifier was changed to this week's league meet. In other words, we want that intensity and vigor to be there when it really counts! The downside is that with the unfortunate conflict of Homecoming, many opted out of the meet and there seemed to be a lack of electricity in the air with the exception of a couple of races.
Another Woodbridge...another course change and from the feedback, a slower course from last year. That means those that did improve their time really accomplished something. Not sure of the future of the meet as this may have been the last go-around at the Great Park. Also not sure of our future in this meet...if we are not using it as the trip qualifier, is it worth what amounts to a major drive and hassle, and an expensive one at that?
One race where the electricity seemed to be there was the varsity boys. Missing a couple to Homecoming and taking any Frosh/Soph out to run grade level, they still managed an 8th place finish. Bradley Ewart is still rounding into shape and finished 7th with Lorenzo Corona trying to run him down on the finishing stretch to take 8th just 3 seconds back. Lorenzo has really been working hard and knocked 1:14 off his time from last year as he ran the 8th fastest time at this meet in school history. Running 4-5 for the boys in that race, Andrew Oravets trimmed 1:20 off last year's mark to break 17 for the first time on any course while Duncan Carlmark ran well, shaving a full minute. Marco Ospina was solid in the sophomore race, finishing 12th while Ruben Ruiz finished 30th in the freshmen race. Our untested boys followed race strategy very well as Tor Nilson moved up throughout the race to take 4th in the novice race. Julian Castillo, Aaron Oravets and Luke Garcia also notched top 25 finishes.
The girls were VERY shorthanded as only 8 of our 21 girls attended. Sarah Holloway ran a very smart race, methodically moving up to finish 5th in the varsity race, running the 4th fastest time at this meet for a LOHS runner. She was 1:24 faster than a year ago when she limped her way over the finish line. The novice girls, like their male counterparts, also executed a smart race plan of starting conservatively and picking their way forward in the second half of the course. Leading the way was Anaya Villasenor, who finished 20th in the race of 454.
Next up is our first league meet at Red Hill Park on Wednesday, where much more will be at stake...and I'm not referring to Monterey.
Complete Results (improvement from a year ago included):
Varsity Boys (8th of 14, 99 runners): 7. Bradley Ewart - 15:41; 8. Lorenzo Corona - 15:44 (-1:14; #8 mark all-time); 53. Dylan DeMasi - 16:52; 59. Andrew Oravets - 16:57 (-1:20); 79. Duncan Carlmark - 17:27 (-:59); 98. Nick Denbo - 18:33
Varsity Girls (137 runners): 5. Sarah Holloway - 18:30 (-1:24; #4 mark all-time); 73. Sidney Spacher - 20:16
Senior Boys (188 runners): 137. Kevin Maldonado - 19:26; 174. Denislav Nikolov - 21:23
Junior Boys (240 runners): 108. Nick Hills - 18:16; 167. Joshua Nguyen - 19:24; 207. Tyler Gazzaniga - 20:23
Sophomore Boys (27th of 35; 380 runners): 12. Marco Ospina - 16:30 (-:02); 101. Blake LaClaire - 17:52; 154. Sammy Abrego - 18:28 (-:32); 244. Roberto Solis - 19:37; 262. Jack Holloway - 19:48; 302. Damian Vasquez - 20:27
Sophomore Girls (195 runners): 45. Carissa Myung - 22:09; 77. Hollie Genualdi - 22:58
Frosh Boys (351 runners): 30. Ruben Ruiz - 17:41; 128. William Fernandez - 19:19; 228. Karl James - 20:38
Novice Boys (207 runners): 4. Tor Nilson - 19:50; 16. Julian Castillo - 21:05; 20. Aaron Oravets - 21:12 (-1:00); 23. Luke Garcia - 21:32; 26. Marcos Rodriguez - 21:38; 43. Dylan Greco - 22:14; 49. Kyle Buchanan - 22:26; 73. Conor Farren-Stroud - 22:56; 76. Steven Perez - 23:01; 116. Devon Sternberg - 24:12
Novice Girls (454 runners): 20. Anaya Villasenor - 24:30; 53. Melissa Boulware - 25:24; 126. Laila Johansson - 26:37; 134. Diana Dahlan - 26:43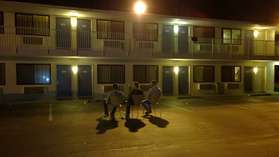 Coaches on duty!
Saturday, September 12
ESCAPE FROM THE INLAND EMPIRE!!!
There are many reasons we begin the season with a road trip; September heat in the IE being at the top of the list...and it has been brutal this past week. Morro Bay offers relief and despite it being warm for them, it sure was nice for us. Great weather and a great group make for a great trip, and not only did most race well, but they came together as a team and made lasting friendships and memories. The meet is not the lure, although it's become more competitive over the ten years we have attended...wow 10 years! It's very low key, operating on beach time...no team scores, medals only the last two years, a course that changes with the tides, and lots of sand. It's a tough course that runs like 3 miles with the sand, grass and sharp turns.
There were games on the bus, a chance to run over the course on Friday, the remodeled Motel 6, the beach time that included the most people in the frigid water ever, and the team dinner and breakfast. All in all, a really fun time! Oh, and races. Sarah Holloway matched her best time on the 2.76 mile (this year) course at 19:47 to take 4th overall...a great job considering she spent the better part of two weeks on a stationary bike. Sabrina Parra finished 4th in the JV race with Tali Adri and Hollie Genualdi placing in the top 25. For the boys, with Bradley Ewart not making the trip, Lorenzo Corona stepped up and improved nearly 1:30 from a year ago to finish 21st in the varsity race. Marco Ospina and Luke Mason finished 2-3 for the team, both placing in the top 50. The competition was fierce after that as 5 boys came in within 14 seconds of each other, led by Andrew Oravets, who knocked the most time off from a year ago. Duncan Carlmark, dealing with a knee problem, moved to the JV race and took a strong 8th place. William Fernandez was the winner of the 15 LOHS entrants in the novice boys race, as he finished 43rd.
A huge thank you to all the parents who assisted to make the trip a success and to the many parents who made the long trip to watch their kids compete. Even if they don't say it, know that it means a great deal. This meet was all about experience and a step in working toward running our very best at the end of the season, and simply put, it would not happen without our fantastic parents stepping up to handle the meals. Quarterbacking the effort for so many years now, we have to start by thanking the Garcia's. Thanks also to the Carlmark, Hernandez and Sullens families for assisting with both meals and to the Abrego's for keeping me "coffeed up" and for the amazing desserts!
I dropped the ball on pictures this year, so if you have any really good ones to pass along for the website, please email me. For now, you can enjoy Jessica Garcia's contribution.
Complete Results (no team scores, improvement from 2014 included for those that ran here last year):
Varsity Girls (134 total runners): 4. Sarah Holloway - 19:47 (-:16)
JV/Novice Girls (180 total runners): 4. Sabrina Parra - 22:21; 15. Tali Adri - 23:22; 22. Hollie Genualdi - 23:57; 39. Rylee Noreen - 24:55; 46. Melissa Boulware - 25:11; 78. Natalia Hernandez - 26:23; 79. Awlien Brown - 26:26
Varsity Boys (152 total runners): 21. Lorenzo Corona - 16:53 (-1:24); 38. Marco Ospina - 17:31; 46. Luke Mason - 17:44 (-14); 61. Andrew Oravets - 18:05 (-1:54); 62. Joshua Sullens - 18:07 (-1:35); 70. Blake LaClaire - 18:12 (-:37); 76. Dylan DeMasi - 18:17 (-03); 78. Nick Denbo - 18:19 (-:42); 111. Ruben Ruiz - 19:25; 120. Sammy Abrego - 20:07 (-:10)
JV Boys (111 total runners): 8. Duncan Carlmark - 18:59 (-:58); 32. Kevin Maldonado - 20:52; 39. Tyler Gazzaniga - 21:06; 48. Denislav Nikolov - 21:36
Novice Boys (192 total runners): 43. William Fernandez - 19:46; 67. Noah Larkins - 20:46; 75. Karl James - 20:58; 87. Drew Ramos - 21:15; 98. Jack Peterson - 21:36 (-:25); 99. Jake Burgi - 21:37 (-:31); 103. Damian Vasquez - 21:46; 104. Jack Holloway - 21:46; 127. Liam Austin - 22:34; 128. Aaron Oravets - 22:37 (-:06); 129. Steven Perez - 22:38; 132. Luke Garcia - 22:50; 138. Conor Farren-Stroud - 22:58; 151. Devon Sternberg - 23:52; 160. Kyle Buchanan - 24:11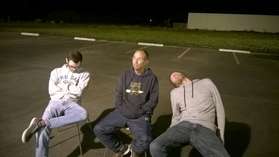 The 4:00am shift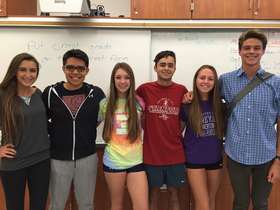 L to R: Sarah, Kevin, Sara, Dylan, Sidney and Bradley
MEET YOUR 2015 CAPTAINS!!!
We have three returning captains and three new ones. Captains are chosen for their ability to lead, whether it is verbally or through their actions or in some cases, both. Their biggest responsibility is organizing summer workouts and for that, I thank them for their hard work and dedication.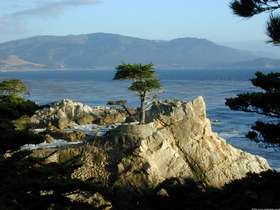 We are going to Monterey!!!
MEET SCHEDULE FOR 2015!!!
Our meet schedule could look very different this year...there are more questions than answers at this point. With construction at Mt. SAC and no one knowing the actual impact of it which puts the invitational in question as well as our league finals. CIF Prelims has already been moved out of Mt. SAC and will be held on a new course developed solely for cross country in Riverside. Woodbridge has major issues and those could result in a significant downsize or site change.
All of this means a delay in the posting of the schedule. Some dates are known and will be posted in "Events." Morro Bay and our league schedule is set!
One big change...we are going to Monterey! The Stanford meet in the Bay Area has been replaced with the Pacific Grove Invitational on the Monterey Peninsula and we look forward to a smaller meet and a shorter drive.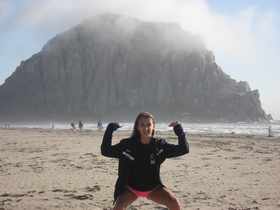 We have very strong captains