Admin

Last updated

01-16-16 08:07 AM

Los Osos H.S. Cross Country

Michael Oravets

909-260-9577

Rancho Cucamonga, California

91737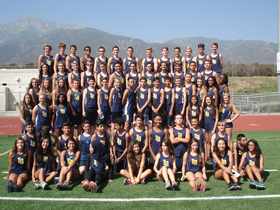 2015 Team Picture
Los Osos H. S. has competed in the powerful Baseline League since the school opened in the Fall of 2002.
Girls: League Champions 2004, 2005, 2012 (Ind)
Girls: Baseline runner-up 2006, 2007, 2008, 2009
Girls: CIF 2002, 2003, 2004, 2005, 2006, 2007, 2008, 2009, 2010, 2012, 2013
Boys: League Champion 2004 (Ind), 2007 (Ind), 2014 (Ind)
Boys: Baseline runner-up 2005, 2006
Boys : CIF 2005, 2006, 2007, 2008 (Ind), 2009 (Ind), 2010 (Ind), 2013 (Ind), 2014
Boys : State 2004 (Ind), 2005 (Ind)
Coaches Contacts
Coach "O" moravets@charter.net (909) 260-9577
Coach Skiles thomas.skiles@cjuhsd.net (909) 263-3317
Coach Hawkins dhawkin1@alumni.nd.edu (909) 223-4308
Friday, December 4
END OF 2015 SEASON!!!
With the close of the season, this website will see little use. Track season is upon us, and Track and Field Team news and results will be posted on that website, accessed via "Links." If there is specific info for distance runners, I will post it here.
Handouts Updated! A season wrap-up is now available in the "Handouts" section and the record book has all been updated...check it out!
Where did all the meet results go??? They are still here and can be accessed from the menu to the left. They have been moved to "2015 CC Results."
Monday, April 25
WINTER NEWS AND NOTES!!!
Logging Miles: You must log miles for cross country. It's not only required but it's a great way of seeing progress and motivating yourself. There's even a running2win app now to make logging easier! Register now if you do not already have an account. Miles begin to count on June 1st. You need to "Join A Team" for us to see your activity. Directions are below:
1 Go to this Free Web Site: www.running2win.com.
2.Register yourself with a username and password and some other basic information.
3.Once you've registered, click on the link within the site to "join a team." You will be prompted to enter a Team ID; it is T-7864100205-20, then click "Submit Request". That sends an email to Coach O who will grant you access.
Fill out your mileage daily!!

Unsure of your mileage??? Go to Google Earth, click on the ruler icon in the toolbar above the image...when the window opens, click on Path, then measure your route and it keeps a running total of mileage!