Admin

Last updated

04-02-15 10:41 AM

Los Osos H.S. Cross Country

Michael Oravets

909-260-9577

Rancho Cucamonga, California

91737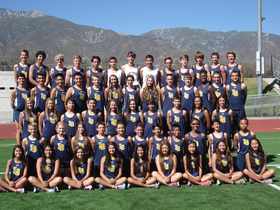 2014 Team Picture
Los Osos H. S. has competed in the powerful Baseline League since the school opened in the Fall of 2002.
Girls: League Champions 2004, 2005, 2012 (Ind)
Girls: Baseline runner-up 2006, 2007, 2008, 2009
Girls: CIF 2002, 2003, 2004, 2005, 2006, 2007, 2008, 2009, 2010, 2012, 2013
Boys: League Champion 2004 (Ind), 2007 (Ind), 2014 (Ind)
Boys: Baseline runner-up 2005, 2006
Boys : CIF 2005, 2006, 2007, 2008 (Ind), 2009 (Ind), 2010 (Ind), 2013 (Ind), 2014
Boys : State 2004 (Ind), 2005 (Ind)
Coaches Contacts
Coach "O" moravets@charter.net (909) 260-9577
Coach Skiles tmskiles@hotmail.com (909) 263-3317
Thursday, April 2
BIG TURNOUT AT 8TH GRADE PARENT NIGHT!!!
Thank you to all the incoming eighth graders and their families that spent time at the Cross Country table...we are looking forward to working with you this summer. Thanks also to the current captains and other athletes that came out to help...I know the newcomers would rather here from you then me, so it's always a big boost to have you there.
If you filled out an interest form, you will be contacted early in the summer by the captains. If you took a flyer and didn't fill out a form or you are visiting the website for the first time and are interested in coming out for cross country, send contact information to moravets@charter.net and I will add you to the list.
Please browse through the website and come back often. As track season winds down, more information will appear here...this is the primary method of getting information to athletes and parents.
A copy of the flyer from the parent night is in the "Handouts" section if you didn't receive one.
Monday, April 25
APRIL NEWS AND NOTES!!!
Looking Ahead - For summer planning purposes, coaches practices will begin on Monday, July 13th.
Blog Post Worth Reading - As mentioned at the banquet...Want to get faster? It's not complicated...read the blog at http://blog.petemagill.com/blog/guest-blogger-christian-cushing-murray/
Logging Miles: You must log miles for cross country. It's not only required but it's a great way of seeing progress and motivating yourself. There's even a running2win app now to make logging easier! Register now if you do not already have an account. Miles begin to count on June 1st, but you can start today. You need to "Join A Team" for us to see your activity. Directions are below:
1 Go to this Free Web Site: www.running2win.com.
2.Register yourself with a username and password and some other basic information.
3.Once you've registered, click on the link within the site to "join a team." You will be prompted to enter a Team ID; it is T-7864100205-20, then click "Submit Request". That sends an email to Coach O who will grant you access.
Fill out your mileage daily!!

Unsure of your mileage??? Go to Google Earth, click on the ruler icon in the toolbar above the image...when the window opens, click on Path, then measure your route and it keeps a running total of mileage!

Saturday, January 3
DAILY BULLETIN NAMES OSPINA "NEWCOMER OF THE YEAR"
At the end of each sport season, the Inland Valley Daily Bulletin releases their "All-Area" honors for each sport. Best I can tell, the "area" covers from LaVerne in the West to Fontana in the east as well as going south to include as far as Chino. Both boys and girls teams ended ranked 8th in the area and Bradley Ewart was named to the 2nd All-Area team. Freshman Marco Ospina was named the boys "newcomer of the year" so congratulations to both of them.
Sunday, December 21
END OF SEASON INFO!!!
With the end of the 2014 cross country season comes some housekeeping. Where did all the results from this year go??? You can still access them by clicking on "2014 CC Results." What about the records you said you were going to update??? You will find them all updated by clicking on "Handouts"...all records updated and a 2014 season recap that you can print out and keep.
As we transition to track season, our track team website will become active (click on Links) and this one will only have distance specific info on it (training calendar, etc). As 2015 moves along, more info for the 2015 cross country season will begin to appear.