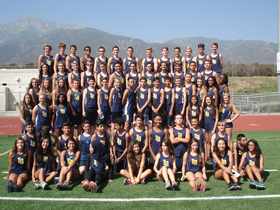 2015 Team Picture
Los Osos H. S. has competed in the powerful Baseline League since the school opened in the Fall of 2002.
Girls: League Champions 2004, 2005, 2012 (Ind)
Girls: Baseline runner-up 2006, 2007, 2008, 2009
Girls: CIF 2002, 2003, 2004, 2005, 2006, 2007, 2008, 2009, 2010, 2012, 2013, 2015 (Ind)
Boys: League Champion 2004 (Ind), 2007 (Ind), 2014 (Ind)
Boys: Baseline runner-up 2005, 2006
Boys : CIF 2005, 2006, 2007, 2008 (Ind), 2009 (Ind), 2010 (Ind), 2013 (Ind), 2014
Boys : State 2004 (Ind), 2005 (Ind)
Coaches Contacts
Coach "O" moravets@charter.net (909) 260-9577
Coach Skiles thomas.skiles@cjuhsd.net (909) 263-3317
Coach Hawkins dhawkin1@alumni.nd.edu (909) 223-4308
Thursday, July 14
THIS WEEK WITH THE GRIZZLIES!!!
***Please help us encourage healthy habits to decrease injuries and health issues...getting enough sleep, hydrating properly, eating a decent lunch.
***Morro Bay invitations will go out early this week.
Monday, August 22nd - Regular Practice
Tuesday, August 23rd - Regular Practice
Wednesday, August 24th - Regular Practice
Back To School Night - there will be no formal presentation for 6th period Cross Country since we did the parent meeting earlier. I will be on hand in the gym to answer questions if you have any, but feel free to get a jump on traffic.
Thursday, August 25th - MINIMUM DAY - Regular, but early Practice - they may want to pack a morning snack to eat between periods since practice will begin around noon.
***No Rancho Fun Run tonight - misprint on the training calendar
Friday, August 26th - Regular Practice
Time Trial #5 - 5th and final time trial at Central Park at 5:00pm. Meet at the water fountain along the bike trail in NE corner near Milliken. Must be completely cleared to participate. Due to the progress of the team and the six weeks of practice everyone has participated, we will hold strictly to the time that must be met...no 30 second cushion.
Saturday, August 27th - Practice at Marshall Canyon in LaVerne at 7:00am - Strongly suggested for Blue Group and any that aspire to run varsity this season, optional for everyone else. Directions: 210 west, exit Fruit and go right, left on Baseline, right on Wheeler, park at Oak Mesa Elementary School or the park next to it
Monday, April 25
AUGUST NEWS AND NOTES!!!
Fundraising - Nobody enjoys fundraising, but it has to be done. We were hoping that the Run-A-Thon would be enough, but not everyone participated. If you didn't or were unable to at the time, it's not too late, you can still bring in money. Rising costs of the Morro Bay trip and invitational costs going up means we are still looking at other options.
One date to keep clear on your calendar is Tuesday, September 20th. We will do our Chipotle dinner fundraiser that afternoon/evening. They give 50% back to your program, which is unheard of. This year, if your group can bring in $2000 in sales, they will up it to 75%! Last year we were over $1500, so it is within reach, but we will have to get friends and relatives involved too.
Drinks/Fruit Sign Ups - I had the "Parent Help/Sign Up Sheet" at the New Parent Meeting and was pleased to see much was filled in. Those with veterans on the team, I will list the blanks and if you would like to sign up, please email me. I have openings for...
Wed, Oct. 19th - League Meet at Bonelli Park - Water/Gatorade
Wed, Nov 2nd - League Finals - assume it's at Glen Helen - Fruit
Can't Get A Doctor's Appointment In Time??? - Here is a place that will do sports physicals on a walk-in basis...Ontario Testing Center at 402 S. Milliken Ave, Suite E-2 in Ontario. Phone Number is 909-937-3955. Hours are Mon-Fri 9am-4:30pm, Sat 9am-12:30pm
More Cross Country??? - If you are looking to learn more about the sport, check out the "Links" on the left. A few years ago I created a website for San Bernardino County Cross Country that has results, league previews and rankings. It can give you more perspective on high school cross country in the Inland Empire. And of course there is the premier state-wide coverage that PrepCalTrack provides.
Logging Miles: You must log miles for cross country. It's not only required but it's a great way of seeing progress and motivating yourself. There's even a running2win app now to make logging easier! Register now if you do not already have an account. Miles begin to count on June 1st. You need to "Join A Team" for us to see your activity. Directions are below:
1 Go to this Free Web Site: www.running2win.com.
2.Register yourself with a username and password and some other basic information.
3.Once you've registered, click on the link within the site to "join a team." You will be prompted to enter a Team ID; it is T-7864100205-20, then click "Submit Request". That sends an email to Coach O who will grant you access.
Fill out your mileage daily!!

Unsure of your mileage??? Go to Google Earth, click on the ruler icon in the toolbar above the image...when the window opens, click on Path, then measure your route and it keeps a running total of mileage!