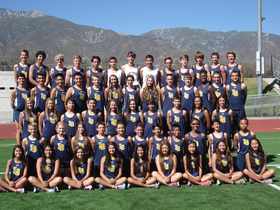 2014 Team Picture
Los Osos H. S. has competed in the powerful Baseline League since the school opened in the Fall of 2002.
Girls: League Champions 2004, 2005, 2012 (Ind)
Girls: Baseline runner-up 2006, 2007, 2008, 2009
Girls: CIF 2002, 2003, 2004, 2005, 2006, 2007, 2008, 2009, 2010, 2012, 2013
Boys: League Champion 2004 (Ind), 2007 (Ind), 2014 (Ind)
Boys: Baseline runner-up 2005, 2006
Boys : CIF 2005, 2006, 2007, 2008 (Ind), 2009 (Ind), 2010 (Ind), 2013 (Ind), 2014
Boys : State 2004 (Ind), 2005 (Ind)
Coaches Contacts
Coach "O" moravets@charter.net (909) 260-9577
Coach Skiles thomas.skiles@cjuhsd.net (909) 263-3317
Coach Hawkins dhawkin1@alumni.nd.edu (909) 223-4308
Friday, July 10
THIS WEEK WITH THE GRIZZLIES!!!
***Cooler weather ahead!!! Looking forward to a great week of practice, but athletes still need to properly hydrate, eat right, and get enough sleep.
Monday, Aug 31st - Regular Practice (Monday practices: Central Park days, expect they won't be done until 4:15)
Tuesday, Sept 1st - Regular Practice
Wednesday, Sept 2nd - Regular Practice
Thursday, Sept 3rd - Regular Practice
***Help Requested! The Garcia Family has been very generous over the years to lead the effort to organize meals in Morro Bay, It is not an easy task and if any parents are making the trip and could help with the transport of items and/or setting up, they would appreciate it. Jessica can be reached at jessica@garciadepot.net or (909) 945-1599.
Friday, Sept 4th - Regular Practice
***Last Day to turn in Morro Bay paperwork. If the coaches do not receive everything today, it will be assumed they are not attending. Parent Consent form, cash and any roommate requests go in a SEALED ENVELOPE with athlete name on the outside.
***Gear is in and will be distributed after practice on Friday.
***Last day to tell the coaches that you cannot attend the Woodbridge Invitational on Saturday, Sept. 19th. Please check calendars so we don't waste money by entering you and then you not show up. That is frowned upon and will result in NOT being chosen for the upcoming league meet.
Saturday, Sept 5th - Optional practice at Marshall Canyon - 7:00am - highly recommended for blue group and anyone who aspires to be on varsity this season, optional for others. (Directions: Take 210 west to LaVerne, exit Fruit and turn right, turn left on Baseline, turn right on Wheeler, park at Oak Mesa Elementary School or adjacent park)
***Run begins promptly at 7:00am...be on time***
Monday, April 25
AUGUST NEWS AND NOTES!!!
Couple of Things To Remember:
1. Missing practice for a club function (meeting, fundraiser, etc.) is a choice you are making and will be counted against you in terms of your 4 days.
2. Every week we have at least one person who cannot locate their backpack in the locker room. Each time, they have put it in a locker and not used their lock. From 2:00 to 4:00, nearly every athlete on campus has been in the locker room. PLEASE LOCK UP YOUR BELONGINGS EVERY DAY!
Morro Bay Info - Morro Bay info due NO LATER THAN FRIDAY (earlier is good). Cash, parent consent form and any roommate requests in a SEALED ENVELOPE with name of athlete on the outside is what we need. If not received by Friday, it will be assumed they are not attending the meet. Side note...the phone number for the motel has changed, it is now 805-979-9808. If any parents are making the trip and can assist the Garcia's with the meals, please see the contact info above in This Week With the Grizzlies.
Chipotle Fundraiser - The Christmas Tree Fundraiser may not happen, so we need to take advantage of this one. Save the date! Tuesday, September 29th...please plan on dining at the Chipotle on Foothill Blvd. between Milliken and Haven. We will get 50% of the proceeds, which is unusually high! More details to follow.
Schedule Change - With ongoing construction at Mt. SAC, we expected our League Finals to be relocated. The meet will be held at Glen Helen Regional Park on the same course as the IE Challenge on Tuesday, November 3rd. In addition, due to a scheduling conflict at Bonelli Park, the second league meet has been moved up a day to Tuesday, October 13th.
The Heat Is On! - We can expect August and September to have high temps under normal conditions along with stretches of extreme heat and it's really important that everyone hydrates, hydrates, hydrates. It's an ongoing process that should be foremost on your mind throughout the season. Evening, at school, always hydrate. Please include sports drinks as well and not just water. Parents, it is important for us to train in these conditions (modified in extreme conditions) to prepare for the strong chance of high heat at races.
Important Athletics Handout Now Posted - Admin has asked that we post the LOHS Athletics Chain of Command handout. If you have an issue or concern about cross country and your athlete's involvement, please refer and adhere to this handout.
San Bernardino County Cross Country Rankings - Now posted on the County website. Go to http://www.eteamz.com/sanbernardinocountycrosscountry/
Logging Miles: You must log miles for cross country. It's not only required but it's a great way of seeing progress and motivating yourself. There's even a running2win app now to make logging easier! Register now if you do not already have an account. Miles begin to count on June 1st. You need to "Join A Team" for us to see your activity. Directions are below:
1 Go to this Free Web Site: www.running2win.com.
2.Register yourself with a username and password and some other basic information.
3.Once you've registered, click on the link within the site to "join a team." You will be prompted to enter a Team ID; it is T-7864100205-20, then click "Submit Request". That sends an email to Coach O who will grant you access.
Fill out your mileage daily!!

Unsure of your mileage??? Go to Google Earth, click on the ruler icon in the toolbar above the image...when the window opens, click on Path, then measure your route and it keeps a running total of mileage!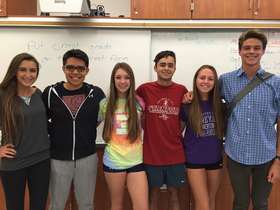 L to R: Sarah, Kevin, Sara, Dylan, Sidney and Bradley
MEET YOUR 2015 CAPTAINS!!!
We have three returning captains and three new ones. Captains are chosen for their ability to lead, whether it is verbally or through their actions or in some cases, both. Their biggest responsibility is organizing summer workouts and for that, I thank them for their hard work and dedication.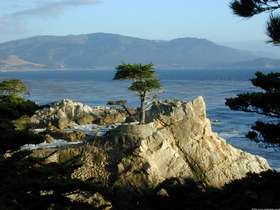 We are going to Monterey!!!
MEET SCHEDULE FOR 2015!!!
Our meet schedule could look very different this year...there are more questions than answers at this point. With construction at Mt. SAC and no one knowing the actual impact of it which puts the invitational in question as well as our league finals. CIF Prelims has already been moved out of Mt. SAC and will be held on a new course developed solely for cross country in Riverside. Woodbridge has major issues and those could result in a significant downsize or site change.
All of this means a delay in the posting of the schedule. Some dates are known and will be posted in "Events." Morro Bay and our league schedule is set!
One big change...we are going to Monterey! The Stanford meet in the Bay Area has been replaced with the Pacific Grove Invitational on the Monterey Peninsula and we look forward to a smaller meet and a shorter drive.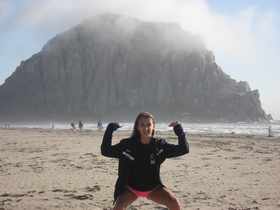 We have very strong captains