Los Altos & Los Altos Hills Little League (Bay Area): Girls Softball - Overview
Girls Softball Right at Your Local School!
Los Altos & Los Altos Hills Little League is pleased to offer Girls Softball divisions for girls aged 5-8U for Spring 2016: Girls Softball Farm/T-Ball (T-ball/Coach Pitch) and Minors Divisions. In 2015, nearly 200 players participated in our program!
Fields are at Los Altos schools: Almond, Gardner Bullis, Bullis Charter/Egan, and Santa Rita
Teams are created based on friend requests
Divisions are based on skill level and experience, not strictly by age
Recreational and Developmental Focus – Everyone Plays!
"It's all about having fun!"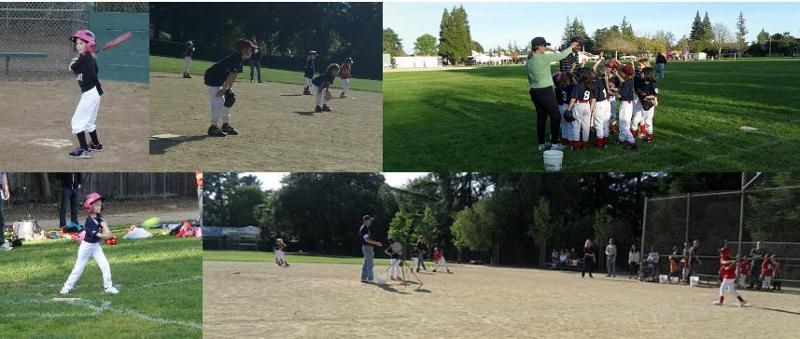 Girls Teams Based on Schools and Friends To the Extent Possible
The goals for our Girls Softball program are instruction, recreation, and fun. To the extent possible we will build teams around schools, grades, and buddy groups. We hope to have at least one team in each division at each of the schools in our core territory in north Los Altos and Los Altos Hills. When possible, teams will practice and play games at the school they attend. If you volunteer and are selected as a head or assistant coach, your commissioner will work with you to build a team with children and parents who wish to play together.
Field Locations
Practices and games will be held at fields in your neighborhood - Santa Rita, Almond, Gardner Bullis, or Egan/Bullis Charter. School based teams are formed with a total commitment to fast-paced recreational play.
Everyone Plays – Recreational Focus
All of our Girls Softball Divisions are recreational, with players rotating through the various defensive positions and with all players batting in the lineup regardless of whether they are in on defense or not at any given time.
Pitching and Hitting
Each division offers a pitching level suitable for the skill levels of the players, allowing the girls to focus on hitting fundamentals. For instance, T-Ball players initially hit off the Tee and move to Coach Pitch after a few games.
Hitting Machines for Minors Division
Our Hitting Machines in our Minors Division toss pitches into the hitting zone more consistently than players or coaches can. Hitting machines toss balls at about 28-30 mph, level enough to encourage perfect swings. Better pitches mean more focus on hitting, with faster and more exciting games!
The Minors Division will begin with machine pitch with player pitch introduced around Spring Break.
See our fun and exciting Video of the end-of-season Tournament showing how much the girls' hitting improves over the season:
Player Assignments and Team Formation
Girls Softball Farm/T-Ball and Minors Division Players are assigned to teams by the Softball Commissioners and Softball Player Agent based on coach recommendations. There will be a player evaluation in late January for girls registering for the Minors division. The evaluations are informal and fun to make sure players are assigned to the right division. Teams are balanced based on evaluations, while keeping friend groups together as much as possible.
All Baseball Divisions Remain Open to Girls
As in the past, girls who are interested in playing baseball on predominantly boys teams are always welcome to register for any of our baseball divisions.
Volunteers Needed
As with any youth sports program, we need parents to volunteer for Head Coaching, Assistant Coaching, and Team Parent positions. We are also seeking volunteers for our Girls Softball programs, including events, administrative and board positions, such as marketing and leadership positions with the program.
Here's what some of our parents said about our Little League Girls Softball program in past years:
"Wonderful experience for the girls and the parents. We would love to sign up again next year and have the same coaches and girls on the team!"
"We really enjoyed the new softball league! We are hoping to play again next year."
"[Our coach] is everything that you could possibly want in a girls' softball coach. Completely dedicated, upbeat, knowledgeable, encouraging."
"Very good experience for both kids."
"Coaches were patient and positive"
"Great season and great coaches"
"Thank you for organizing the girls softball leagues"
Registration
Click here to register!
Wednesday, February 23
A league of their own
Check out the Los Altos Town Crier article about our new girls softball league, in the February 23, 2011, edition.