Long Ball Durham: Staff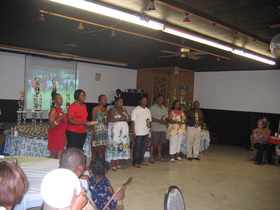 Long Ball Staff
Thursday, May 31
Long Ball Staff 2012
Long Ball Staff at end of the year banquet 2011 which was held at the Durham Bull City Elk's Loung on S. Alston Avenue. They have donated their building every year so that these young men can have a banquet and receive their seasonal and tournament trophies.
The staff are from left to right:
Pat Nobles -President
Myra Blackwell - Vice President

Juanita Johnson - Administration and staff
Pam Mitchell - Treasurer

Tony Leak - Staff and coach
Robert James - Staff and security

Wanda Daye - Staffand stats

Cornell Royster - Advisor and umpires
Thursday, May 31
Tina Gust, first female Minor League Vice President speaks at Long Ball Banquet
Tina Gust attended the Long Ball banquet on Sunday August 6, 2011 where she enjoyed a buffet dinner and presentation of trophies to the players and coaches. She also attend the two championship games on Saturday which was held at the Durham Athletic Park where the 13-15 Timber Rattlers defeated the Diamond Jaxx and the 16-18 Bull's defeated the Storm. All four teams played hard and each have a win one for the season and one for the tournament.
Tina spoke about the games and the program and how proud Minor League Charities were of what we were doing with the program. Tina became our contact from Minor League Charities when John Cook took another position to be close to home. Minor League Charities continue to give us an A plus for what we are doing for these young men and our communities.
We are so thankful that Minor League Charities has made our dreams reality and because of them we are able to help our inner city middle and high schools to improve their baseball fields and players. 80% of our players make their school teams and have a better understanding of how important it is to get good grades.