Long Ball Durham: Welcome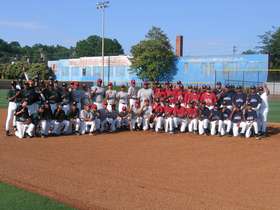 13-15 Long BallTeams 2010
A special thanks to Minor League Charities and Chevy Youth Wired Baseball for their continued support.
The Long Ball Program came to be when the free 13-15 inner city baseball program was cancelled in 2009. The coaches decided that we would run the league ourselves. After a successful first year, Minor League Charities like what we were doing and decided it was something they wanted to sponsore provided we added academic support for the players that needed it. It was their way of reintroducing the many opportunities available in baseball to inner city youths. We have 120 young men in the program ages 13-18, along with 24 male coaches and 10 staff members volunteering their time to oversee the program. There are 4 teams 13-15 and 4 teams 16-18 all competing for the title in their age bracket. Our program continues to be free to our participants.
We offer free conditioning clinics and life skill seminars to our players in order to introduce them to various careers in the baseball industry as well as free academic support for the players that need it. Our first year 2 young men went back to school so that they could participate in the program. They are doing quite well as one will be graduating in June. We make sure our players understand that no matter how good they are they don't have a chance without good grades. We invite college coaches to come out to the games and see this amazing unseen talent. We are always looking for volunteers to share their knowledge with these young men who love the game of baseball and now they get to play at the Historic Durham Athletic Park which is a minor league facility where the Durham Bull's come back to play once a year.
Wednesday, February 29
Nobles goes deep in Durham Community
Nobles goes deep in Durham community
01/06/2011 10:00 AM ET
By Benjamin Hill / MLB.com

Great things can arise from adversity, and this has proven to be the case when it comes to Patricia Nobles and the Durham Long Ball program.
The genesis of this groundbreaking inner-city youth baseball initiative can be traced to 2009, when Durham's parks and recreation department canceled its age 13-15 youth baseball league on the day that registration was supposed to have occurred.
Nobles, who had a son in the league and served as an assistant coach, immediately sprang into action. She spearheaded a successful campaign to keep the league going, recruiting players and volunteers, securing the use of playing fields and equipment, raising funds and devising the schedule. Her motivation for taking on the tremendous task was simple.
"There have to be people who are passionate about these kids and who are passionate about their success," said Nobles. "We are mothers first and foremost, and these are young boys. It's very important that we reach out to them."
Nobles' efforts kept the league afloat, but there was far more work to be done. An excellent opportunity presented itself in August 2009, when Minor League Baseball reopened historic Durham Athletic Park (commonly called "the DAP") after extensive renovations.
"I met [Minor League Baseball president] Pat O'Conner at the grand reopening of the DAP, and the rest is history," she said.
Indeed. O'Conner quickly agreed that Minor League Baseball would sponsor the league, pledging financial support, equipment donations and the use of the DAP as a practice and game facility.
"We agreed to sponsor on two conditions," recalled O'Conner. "The kids had to stay in school until the end of the semester, and we wanted to create a developmental program that included one hour of tutoring and mentoring a week."
This mix of on- and off-field extra-curricular activities was named The Long Ball Program, and in its inaugural 2010 season, 120 youths between ages 13 and 18 participated. The stay-in-school requirement paid immediate dividends, as two students who had previously dropped out re-enrolled in order to participate in the program.
Meanwhile, the tutoring and mentoring portion gave O'Conner a chance to practice what he had been preaching. The president has lately called for increased involvement in urban communities, remarking in his opening address at the 2010 Baseball Winter Meetings that "this type of effort is an investment in our future as an industry, community and country with long-term positive gains and returns."
"One thing that we've found is that, when kids stop playing, they quit thinking of baseball as a career. That's a problem for us," elaborated O'Conner. "We want to make playing baseball fun, but along with that we need to integrate the message that careers in baseball can be non-athletic as well.
"When we'll really start to see a difference is when we're on the radar of high school and even middle school kids, who understand that baseball jobs can include journalism, sales, marketing and accounting. ... That's when we'll start to see well-grounded, well-founded change."
The Long Ball Program is already providing a template for inner-city youth baseball success, one that O'Conner hopes to see implemented in Minor League markets nationwide. It will certainly continue to thrive in Durham, with Nobles remaining a driving force.
"This is my passion," she said. "I went from having one son to having 120."
The Long Ball Program is always looking for baseball industry volunteers to deliver lectures and host skill clinics, and Nobles encourages anyone interested in doing so to get in touch with her through the Long Ball website, through Long Ball's Facebook page or by calling her at 919-638-7066.