Monday, September 29
LONDON SOCCER - OHIO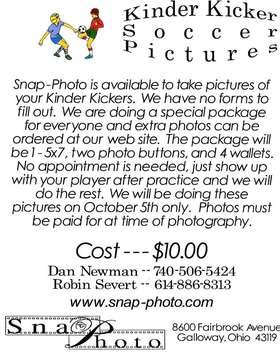 KINDER KICKERS PICTURE SPECIAL 10/5/14
WELCOME TO LONDON
SOCCER (OHIO)
##### L O N D O N S O C C E R C A L E N D A R (tab here) #####
##############################################################
Welcome to London Kiwanis/Takacs Soccer Program.
Week #4, Sunday September 21st,A Great Day of Soccer!!
Soccer Players are Required to have Shin Guards and Socks that cover their shin guards. Cleats are better, but not required!
All Games are played on Sundays with some Saturday games played in West Jefferson. West Jeff games are played at Converse Park which is the road accross from the WJ Middle/High School.
Weekly Game schedule will be on the front main page of LONDONSOCCER.org.
_________________________________________________________
Please do not hesitate to send an email with questions, and or comments. Our goal is for everyone to enjoy themselves, and to have fun.
Remember this is FOR THE KIDS, and we are all out here to HAVE FUN, so let's have fun and play soccer.
Our kids will have fun and enjoy it better if we have fun.
Thank You.
****************************************************************************************************
***************NEVER STOP PREPARING TO BE BETTER !! **********************
EVERYONE MUST BE IN THIER GAME, AND READY TO PLAY HARD IF YOU WANT TO WIN GAMES.
DO YOU WANT TO STOP ME? CAN YOU STOP ME?
Do you want to stop me from dribbling, turning, passing, or shooting toward your goal?
I am the opposing team, the Oponent that wants to take you dawn !!!
Remember to practice as much on your own as possible. There is just not enough time to learn the skills that you need.
Ball control, First Touch and Speed is so very important.
HAVE YOU TAKEN YOUR SOCCER BALL FOR A WALK LATELY?
Jeff Stiffler ♦ 1406 Itawamba Trail ♦ London, Ohio 43140 ♦ 740-852-5540
%%%%%%%%%%%%%%%%%%%%%%%%%%%%%%%%%%%%%%%%%%%%%%%%%%%%%%%%%%%%%%%%
Jeff Stiffler-Director of Youth Soccer Development
"Building SKILLS with GOALS in Mind"!
And supported by
London Middle School Soccer Program
London High School Mens / Womens Soccer Programs



Jeff Stiffler 740-852-5540
Thank you. Jeff Stiffler 614-306-3742 (texts ok)
West Jeff's Converse Park @ the Water Tower


Chicago Bulls Theme

Soccer Cow


London Soccer Teams Photography
Monday, September 8


SNAP PHOTOGRAPHY -- TEAM PHOTOGRAPHER






Robin & Dan have been photographing our Soccer Teams for many years.

Please call them and set up a time to photograph your team!!

614-886-8313 -- Robin

740-506-5424 -- Dan



Tuesday, September 23


London Kiwanis / Takacs Soccer Score Card


Here is a copy of the London Kiwanis / Takacs Soccer Score Card
Handout: Soccer Score Card - pdf file

Tuesday, September 30


Blank Soccer Formation Page for Coaches






You can use this page to help you lay out your formation so that your players can see and understand better!!

Good Luck!


Handout: Field Position Form - blank

Thursday, September 18


Coaching Youth Soccer






Coaching Youth Soccer should be a Fun, Encouraging, Learning and often Entertaining evironment!!

Let's please make sure that our youth enjoy their activities so that they will continue to play and be active in the sport!!

Win or Lose, if they Learn and have fun doing it, they will continue to.

I am going to try to put many of the articles that I have written and used in coaching soccer here, so that it can be utlized in helping youth coaches coach this great game of SOCCER!!

Jeff Stiffler





Have Fun with A Soccer Maze


Have some fun, and see how long it takes you to score a goal.
Handout: Soccer Fun Run for Fun



Soccer Word Search--Have some Fun


Soccer Word Search--Have some Fun
How many words can you find?
Handout: Soccer Word Search--Have some Fun