Lockport Pride: Welcome
Newest Addition to Pride: Batting cages, infield practice and hitting stations.
Pride 00 CHAMPS at Hawks ASA National Qualifier
Welcome to the Lockport Pride
Fastpitch Softball Team Site
2013 Travel Team Tryouts
Limited Spots still available at 11U and 13/14U. Please contact Jean Kelly jskelly22@hotmail.com if interested in a private tryout, or practice with the team.
Lockport Pride Softball is a girls' competitive fastpitch softball organization for girls competing at the 10U, 12U, and 14U levels. We are a division of Lockport Junior Miss Softball.
Keeping kids physically active is now a major goal for our nation. What we do for them now, may save their health in the future plus have a financial impact on the nation. In addition, girls that are challenged and make achievements through sports can help boost their self-esteem and lessen depression. This helps make them stronger young ladies to face the demands and trials of the world ahead of them. A team sport is an excellent avenue for a girl due to the social aspects. We like to think that fastpitch softball is particularly great! Besides all skills and fundamentals of sportsmanship that they learn...we all have a great time playing the game!
"The way a team plays as a whole determines its success. You may have the greatest bunch of individual stars in the world, but if they don't play together, the club won't be worth a dime." .... Babe Ruth
"Practice with Purpose ... Play with Pride"
A Division of Lockport Junior Miss Softball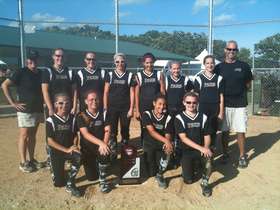 Lockport Pride 12U Takes 2nd at ASA Northern Nationals
Handout:
2013 Registration Form